August 15, 2014
8 Ways to Use Video to Make the Most out of Event Marketing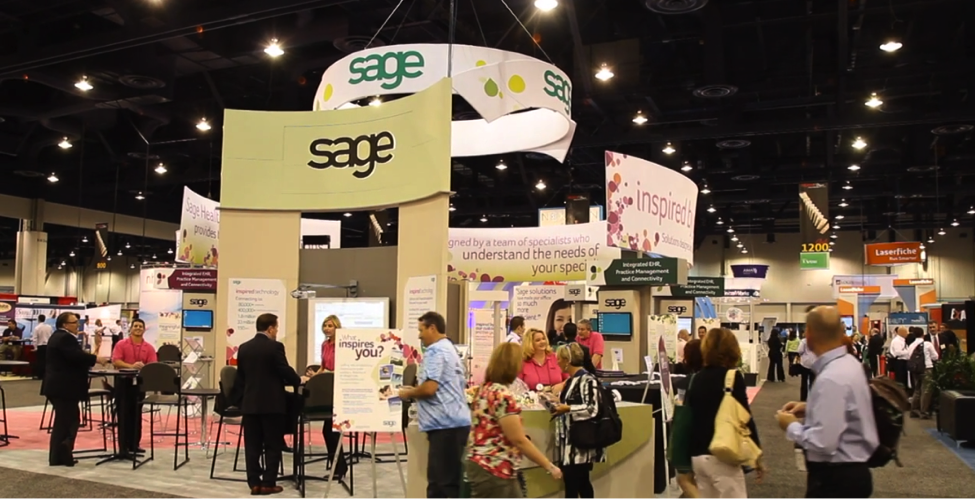 Imagine that in three months, you're flying out to set up your booth at your industry's biggest conference. You'll be right in the middle of thousands of attendees in your target audience (not to mention high-rolling industry partners), and you're ready to show them why your company is the solution they've been looking for.
But you're also right in the middle of 350 other exhibitors with the exact same plan. How in the world are you going to stand out and attract real business to your booth?
Creating a memorable experience starts long before you even show up at the event and one of the absolute best tools for achieving a stand-out status is video marketing.
Here are eight ways I've found to go from "Lonely Exhibitor #6245 with an Empty, Forgettable Booth" to "Industry Authority Exhibitor who Owns the Exhibit Hall". Let's see what you can do!
Put Your Videos to Work Create, host, manage, and share your videos.
Sign Up Free
Before the Event
Below there are three types of videos you'll want to consider creating and distributing about six weeks before your event. They can certainly live on YouTube, but the primary purpose for these three types of videos is for sending them directly to your highly targeted registered-attendee list with a personalized email (you should receive this list of attendees once you register as an exhibitor). You can opt to create two or three of each type of video, alternating the different types as you send them out.
1. Value Videos
Just like at the conference, other exhibitors will be competing for your potential customers' attention through email well in advance of the event. Break through that clutter and get your emails opened by providing value. Don't send out 50 emails and videos about how awesome you are and why they should stop by booth 4657 in 6 weeks.
Instead, create videos that educate the highly targeted conference audience on industry topics (which you should be doing all the time anyway). Or better yet, send them videos full of tactics specific to the event. For instance:
How to get the most out of this year's Expo
The insider's guide to navigating exhibit halls
5 Tips for networking at this year's conference
The key here is to make this about them, not you. Get seen right from the start as a resource and attendees will keep opening the emails you send and watching the videos you post.
2. "You" Videos
If you're going to be the one in the booth during the event, you need to get yourself on camera for at least three of the videos you send out. As much as I harp on the aspect of making these videos about the attendees, they need to see you. You talking about them or something for them is the best, but seeing you on camera builds authority and creates the "celebrity effect". It makes no difference that it's only three videos they'll see with you in them. If they walk by your booth and recognize you, there is a human-nature response for them to be drawn to you and hold you in higher esteem than your "complete stranger" competitors in the booths next to yours.
Here are some ways you can use this type of video:
Quick introduction and "look forward to seeing you there" video. This would be the bare minimum and not very valuable.
How-to instructional videos (as mentioned above, with you presenting the tactics).
Interviews. You can have someone interview you or you can be the interviewer. Either way, the topics should be about what the attendees (the viewer) can learn/gain/accomplish at the event.
You could also head to the destination city and make a series of videos with you as the host showing the future attendees what's awesome about that location.
3. Prize-Promotion Videos
Go a step beyond just giving away an iPad at your booth. Make sure everyone knows about it by creating a high-energy sizzle reel about it. Go even further by running a pre-event contest on Facebook and Twitter that will generate engagement and shares for your brand well before the event. In the video about the contest, let them know that the winner will be drawn for and announced in the first hour that the exhibit hall is open, but they must be present to win. If you promote it right, you'll have a giant throng of attendees at your booth right when the doors open. Make sure you're prepared for them and make it a party!
During the Event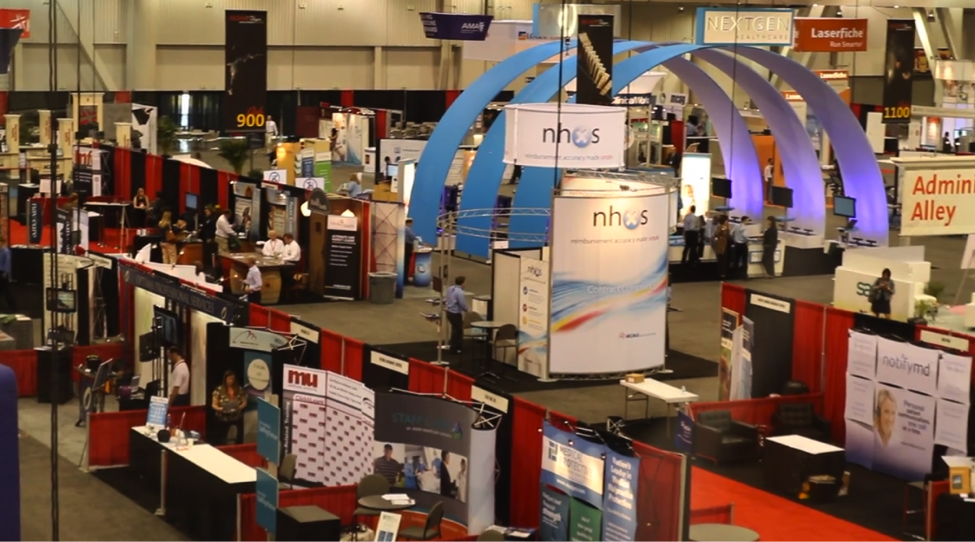 Now you're all set up in the exhibit hall and the fun is just beginning! It's time to not only talk to the folks coming by your booth, it's also time to continue marketing and get more of them there in the first place. Creating videos during the event is also about taking advantage of the crowd and the environment and building your marketing video library. Conduct interviews to feature on your blog, ask industry influencers who stop by some questions, or use video to get your potential customers explaining their unique buying cycles. Create content during the event that can be used to promote next year's booth!
4. Be the "Unofficial" Channel
Have your video folks and an on-camera journalist acting as news reporters all over the event, not just at your booth. Again, ideally that "host" is one of your sales team at the booth, even if they never appear on camera. The process of shooting interview video snippets can be lead generation and you want someone involved who can speak about your brand and guide people to your booth as the host.
Ask each person you stop three questions:
What is your favorite booth or technology or idea that you've found so far?
What are you looking to accomplish/solve/find at the expo this year?
What is your biggest problem in your business right now?
See what we did there? The answers to questions two and three should give you a great natural opening to go into what your company provides and that at your booth, you can show them exactly how you do it. Walk and talk! If they show the slightest interest, you walk them right over to your booth yourself.
And of course, you put these branded videos on your existing YouTube channel or your start a special one for the event, embedding videos on your website. Make sure to have each person sign a release form after the fact with all their contact info. Shoot them an email after their "episode" is up and ask them to share it.
5. Testimonials
Different from the interviews/testimonials mentioned above, here you want to get quick sound bites specifically about your brand to use later on your site and YouTube channel. If you have customers that you know will be attending, schedule shoot times with them to come by your booth and shoot a testimonial.
For folks who aren't customers, you can get a testimonial from them about a presentation that you give in your booth or what they think of the product you're offering.
After the Event
You've built up a lot of "juice" marketing to your people before the event and all during it. Don't lose the momentum now!
In addition to your sales team doing their routine post-expo follow up with leads, keep the event and (more specifically your brand) in the forefront of your prospects' minds. Here are three video ideas to do this and all can be shot on site during your event while you already have your video crew and the event as a great backdrop.
6. Event Recap Video
Have you or whomever was your host to give a quick "this was a great event" direct-to-camera message and then show how you and your brand were "everywhere" during the event. This major presence is another way to imply authority within your industry.
7. Best Thing/Survey Results
Take all of the snippets of people describing their favourite booth/idea/technology you shot during the event and edit them into a single video. The angle for the email being sent out and the video is "The results are in!" and present as you would survey results.
8. Share with the Event Organization
Especially if this is an event you plan on attending again, share all of the content you've created with the folks who put it on. Let them know that they are free to use and share any of it if it helps them get more attendees next year.
You could even take snippets from your interviews, re-edit them and create a video specifically promoting the event. This will get you a lot of mileage and special consideration at the following year's event and will again establish you as a leader in the industry if the event organization itself is sharing your branded videos.
I hope I've gotten your brain muscles working overtime now figuring out how you can use some of these videos to supercharge your next conference appearance. It's all about using video to attract, maintain attention, and make your event marketing live on long after the actual event.
Put Your Videos to Work Create, host, manage, and share your videos.
Sign Up Free