Solution
Vidyard, Marketo, and Salesforce Combine for Better Video Tracking and Richer Sales Conversations
With video playing an increasingly important role in their lead generation efforts, it was time for FinancialForce's team to add a more sophisticated video management system into their marketing stack.
"We were pulled into a meeting with our revenue marketing team who wanted to be smarter with video. I had used the platform with a previous company, so was familiar with its core features. It became a question of: 'Can the platform get through security?' 'What's the plan for bringing all of our videos into the platform?' 'Can it be implemented in a timely fashion?'" said Bobby Burns, Marketing Operations Manager at FinancialForce.
Those key questions were promptly addressed by Vidyard, who demonstrated a slick integration with Marketo and Salesforce and provided FinancialForce with what the team calls 'white glove' service and support.
"They stepped up and migrated hundreds of videos over from Vimeo and YouTube to the Vidyard platform without a hitch. It was a seamless, behind-the-scenes export and import," says Bobby.
Michaleen adds: "Vidyard's support team is just phenomenal. They are always going the extra mile for us and are super responsive."
With Vidyard up and running, the FinancialForce team plunged in to familiarize themselves with the platform and get their videos organized into groupings of assets.
"We created a folder for each type of asset. Then we tied events to those assets and associated a Marketo form to those events. So, if a prospect fills out a form and that lead falls into the product tour genre, Vidyard will allow that information to pass through to Marketo, and Marketo tells Vidyard if that individual is a first time viewer or has been ID'd with a cookie," explains Bobby.
Using Vidyard's video ID, FinancialForce is able to systematically identify a prospect as net new, determine if the prospect is watching the video again (no form required), and can associate the video to a specific marketing channel or campaign.
Says Bobby, "This is a key piece of information for us and allows us to track the performance of a video across various uses. It also allows us to update a lead's campaign member status in the Salesforce campaign, so our sales folks know up front if they are having a conversation with a brand new prospect or someone who is already engaged with us. On the marketing side, we have the ability to now track which videos are driving more net new conversations, which ones are driving the most views and which videos are most engaging."
Vidyard also allows FinancialForce to track percentage views on video assets. This valuable metric is used for lead scoring and is also communicated to sales.
"We initially reveal this data via Marketo Interesting Moments, which creates a highlight for the sales rep. They can see the status of downloaded items, video views and percentage watched. It allows them to be smarter in their follow up. With this information in hand they can carve the sales conversation in the right direction," says Bobby.
For reporting purposes, marketing also runs nightly batch campaigns for all video programs in Marketo. Each program is tied to a video, and thus calculates the watch percentage specific to that video view. The nightly batch syncs the highest video watch percentage for each viewer to its corresponding Salesforce campaign, with a member status that reflects the watch percentage categories of 100%, 75%, 50%, and 25% views. Those contacts with 100% views are not scooped up in subsequent batch runs. Because people frequently watch videos multiple times, this process ensures that a 100% watch status won't be overwritten.
Example of Marketo Program Structure: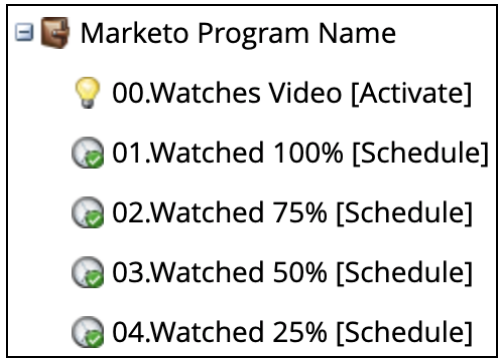 00.Watches Video [Activate] Smart List
00.Watches Video [Activate] Flow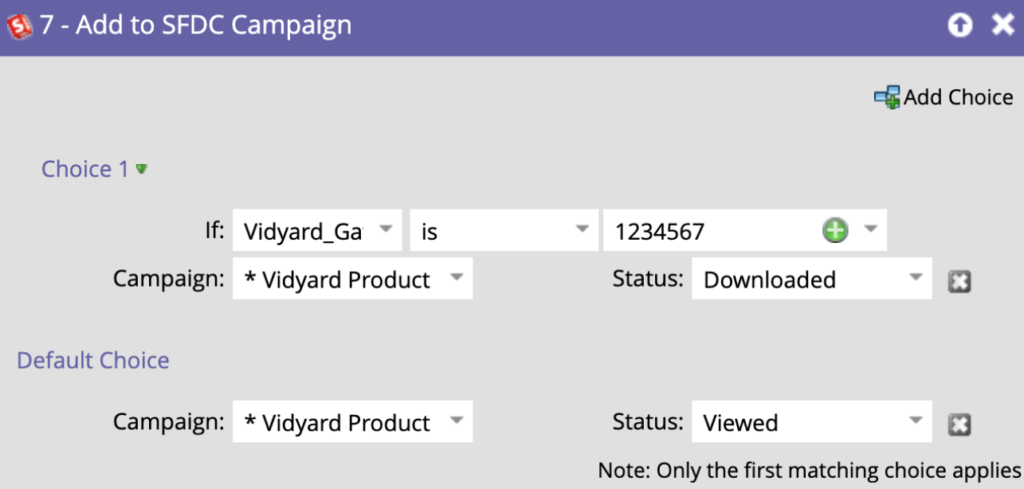 01.Watched 100% [Schedule] Smart List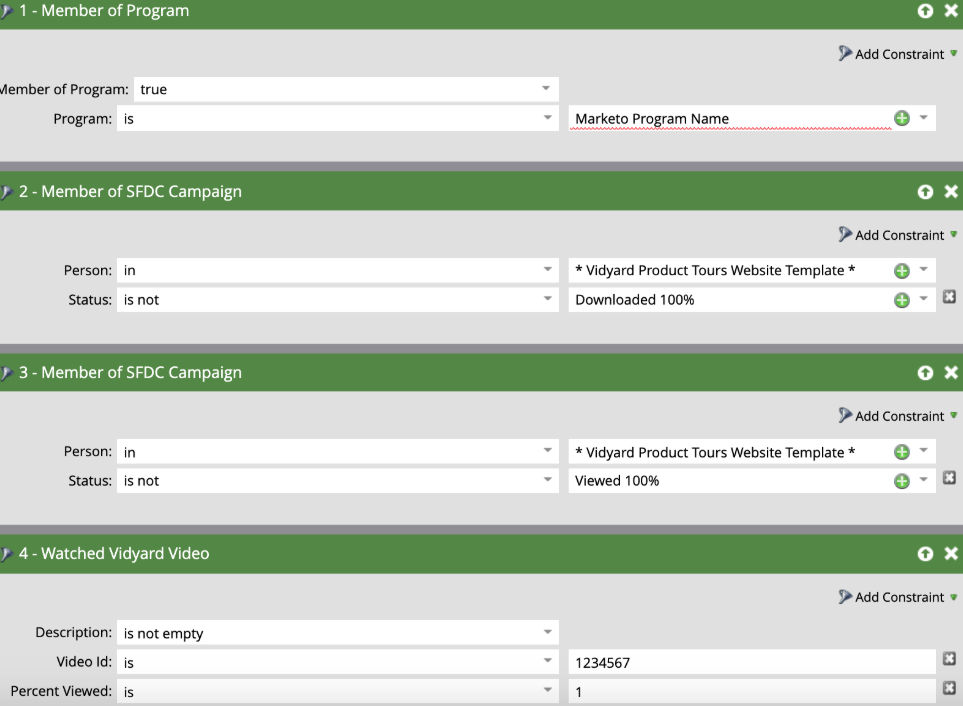 01.Watched 100% [Schedule] Flow