November 6, 2018
How Top Video Marketers Use Video to Generate More Pipeline
Bunnos. Beef Loving Texans. Personalized videos to battle GDPR. Two minutes in the pool. And tens of millions of dollars in new pipeline. The 2018 Video in Business Awards had it all, and we're thrilled to share the stories of this year's Video Marketing winners so we can all learn from their video awesomeness.
Online video is changing the way that brands communicate with audiences. No longer is it a question of "why video," but rather: how do we make most of it to connect with audiences in more engaging and impactful ways?
This year's edition of the Video in Business Awards recognizes 12 marketing and sales teams using video in creative ways to deliver some incredible results. No budget? No problem! The results achieved by this year's winners were a result of big ideas and impeccable execution, not big budgets.
Five finalists were selected for each category, the winners and runners-up were selected by celebrity judges Ann Handley, Jay Baer, Matt Heinz, Andrew Davis, Salma Jafri, and Linda West.
Without further ado, join us in congratulating—and getting inspiration from—the winners of the 2018 Video in Business Awards Marketing categories.
Put Your Videos to Work
Create, host, manage, and share your videos.
Sign Up Free
The Video Marketing Storyteller: PortoBay Hotels
First, we laughed. Then we cried. Then we subscribed for more. The Storyteller understands that the art of creative storytelling isn't just for Hollywood. This exceptional marketing team writes masterful scripts that result in share-worthy videos that inspire action.
Winner: PortoBay Hotels
Runners-Up: Lucidchart, Thermo Fisher
Honorable Mentions: Contract Hound, Discoverorg
PortoBay Hotels was faced with a monumental challenge in May of 2018. With General Data Protection Regulation (GDPR) coming into effect in the European Union, they risked losing a sizeable portion of their addressable database if they couldn't get individuals to opt-in for ongoing communications. While others sent utterly ignorable emails begging customers to give their permission, PortoBay Hotels took a different approach to ensure they would stand out and inspire their customers to act quickly.
They delivered an irresistible personalized video campaign with exceptional storytelling, resulting in a whopping 65% of their database opting in for future communications!
The runners-up exhibited an incredible knack for storytelling in the B2B space. The LOL-worthy "Lucidchart Explains the Internet" series has garnered more than 170 million views and a massive ROI. These are possibly the best B2B software "ads" ever (do yourself a favor and binge watch).
And for an inspirational dose of customer storytelling, check out Thermo Fisher's Keep Seeking video series where they tell the stories of their customers, modern scientists, through the lens of one of their greatest challenges: facing failure almost each and every day.
The Video Marketing Contender: No Lift Install System
These small businesses prove that video doesn't have to be a big production to get big results. The Contender is a small business using video to stand out from competitors and punch above its weight class. This scrappy and resourceful team uses creative and authentic video to stand out, boost engagement, and generate big business on a small budget.
Winner: No Lift Install System
Runners-Up: River Pools, Synthio
Honorable Mentions: Leighton Interactive, Mango Languages
No Lift Install System provides a unique solution for countertop installation professionals that the written word just won't do justice. This small business recognized that their product had to be seen to be appreciated, and that the human stories of their clients living healthier lives as a result of their solution had to be heard.
This resourceful team didn't let a modest budget get in the way of creating dozens of powerfully authentic videos to showcase exactly what their product could do and what type of impact it was having on their clients. Check out the No Lift Install System YouTube channel to browse their full library of videos.
"The results have been amazing. We have sold out of all our inventory and are scrambling to keep up with the demand thanks to all the inquiries coming from our videos. Our videos have been shared all over and drove more business then we can currently produce. We have even had guys watch one video, pick up the phone, and buy one of the carts immediately."
The runners-up have also used a wide range of video content to generate more inbound leads and improve the customer experience. River Pools' library of over 100 educational videos has helped them more than double their annual flow of leads and increase the size of their dealer network by five times. Synthio is using in-house created videos to fuel the success of everything from inbound marketing to outbound sales to customer communications.
The Video Marketing Visionary: Loyola University Maryland
From syndicated video content series to brilliant hyper-personalized videos, to super authentic social video, these marketers are ahead of the pack and reaping the benefits of being first-to-market with creative video experiences that truly stand out. Recognizing that 'good enough' is no longer good enough, these marketers are creating exceptional video experiences that engage prospects and customers in unique and innovative ways.
Winner: Loyola University Maryland
Runners-Up: Drift, Texas Beef Council
Honorable Mentions: AT&T Business, Frontier Communications
After running a small personalized video campaign in 2017, Loyola University Maryland heard from a number of new students that their personalized video set them apart from other schools, playing a material factor in their enrollment.
The success of that campaign prompted them to do something bold and send out their admission decisions via personalized video to drive more students to accept their offer. Now that's what we call 'visionary' for the education market! Here is an example of the video personalized for a prospective student named Carley:
"The video was outrageously successful. We saw the highest click-through and engagement rates of any campaign we've run in recent years. It was viewed by nearly 12,000 students and shared actively on social media. Combined with the rest of our marketing content, we yielded our largest first-year class in recent history."
Drift, the leading provider of conversational marketing solutions for business, has taken their own conversational tone to the next level with an innovative approach to social video. Drift has found significant success with their approach to episodic video series (including Coffee with a CMO and Seeking Wisdom) and conversational videos on LinkedIn.
Meanwhile, the Texas Beef Council has found the perfect recipe for online audience engagement with their highly impactful BBQuest video series, which has netted them more than 4 million minutes watched since the series launched just over a month ago (not to mention a healthy impact on sales).
The Video Marketing Performer: Act-On
Talk about business impact! The Performer knows that when it comes to video in business, view counts don't count. This team uses video throughout the buyer's journey to generate more leads, accelerate pipeline, and close more deals—and has the data to back it up. The Performer is a best-in-class example of how to use video content and video analytics in a strategic and integrated way to deliver real business results.
Winner: Act-On
Runners-Up: Gordian, IR (Integrated Research)
Honorable Mentions: Mulesoft, Smashfly
Act-On originally started with video as a way to offer on-demand webinars for lead generation. But as they say, webinars are simply the gateway drug for a broader video strategy! Act-On now uses video extensively throughout their entire marketing and sales funnels. Their videos build brand awareness, generate leads, accelerate deal cycles, and onboard new customers. They also use personalized videos to surprise and delight (and drive really high engagement!).
Thanks to their 8-minute on-demand product demo, live and on-demand webinars, video-based customer stories, thought leadership series, and much more, Act-On has seen a 40% increase in lead volume, 4x more engagement time in their content, two times higher response rates to outbound sales programs, and a 70% increase in email nurture engagement thanks to their video strategy. Whoa.
The teams at IR and Gordian have also seen a significant impact to their marketing performance thanks to video. With a new video-based 'demo center', IR has seen a 410% increase in the amount of pipeline generated via its website and a significantly increased close rate. Gordian recently launched a new video series Job Order Contracting 101, which has influenced millions of dollars in pipeline and revenue in just a few short months.
The Video Marketing Trailblazer: Impulse Creative
This exceptional marketing team is using video in creative ways to fuel the success of digital marketing, demand generation, brand, and social media programs. They're using video in unexpected ways to stand out in their market and blaze new trails for their business.
Winner: Impulse Creative
Runners-Up: CPower, Marketo
Honorable Mention: GPS Insight, Thomas
Imagine creating several new videos every day while ensuring every blog post you publish is supported with video content. Imagine doing multiple episodic video series at the same time along with social video on YouTube and LinkedIn to expand your reach and diversify your message. Now imagine doing all that amongst just a few people in a business of less than 20 total employees. There's no better word to describe Impulse Creative than 'Trailblazer'!
This incredibly resourceful team is blazing new trails when it comes to how they use video to build their community, establish trust, and generate new business opportunities. From their highly engaging Sprocket Talk series to their wide range of thought leadership, Impulse Creative is setting the bar for their advanced use of video to engage their community. And did we mention that every blog post they publish includes a custom video teaser for the article? Wowza.
Runner-up CPower is blazing trails in the energy industry by leveling-up their content strategy with video. Thanks to their use of creative video and their Demand-Side Energy Management 101 series, CPower has dramatically increased engagement in website content and email campaigns, increased lead flow by nearly 250% year-over-year, and improved response rates to outbound sales by 60%.
Marketo, the leading provider of engagement marketing solutions, is boosting their own audience engagement through the strategic use of online demo videos, customer testimonials, video-based thought leadership, personalized video campaigns, and more.
The Video Mastery Award

This visionary organization is embracing video to transform every stage of the customer journey. From marketing and sales to success and support, they use a wide range of video content to humanize their brand, educate their buyers, accelerate sales cycles, and connect with customers in more personal ways.
Winner: Tech Data Corporation
Runners-Up: Ceridian, Zycus
Ceridian, Tech Data Corporation and Zycus are all seeing tremendous results from incorporating video into the fabric of their marketing, sales and customer success programs. More than just a supporting character, video is playing a starring role in how they represent their brand, communicate with audiences and build relationships with their customers.
All three teams are leveraging video extensively across their digital, demand gen, social media and marketing communications, and have embraced the Vidyard Chrome extension to empower their sales teams with 1-to-1 personalized videos. Congratulations to these teams on taking a big step towards the future, and for making Business-to-Business look a lot more like Human-to-Human.
Inspiration and Lessons Learned from 5 Award-Winning Video Marketing Programs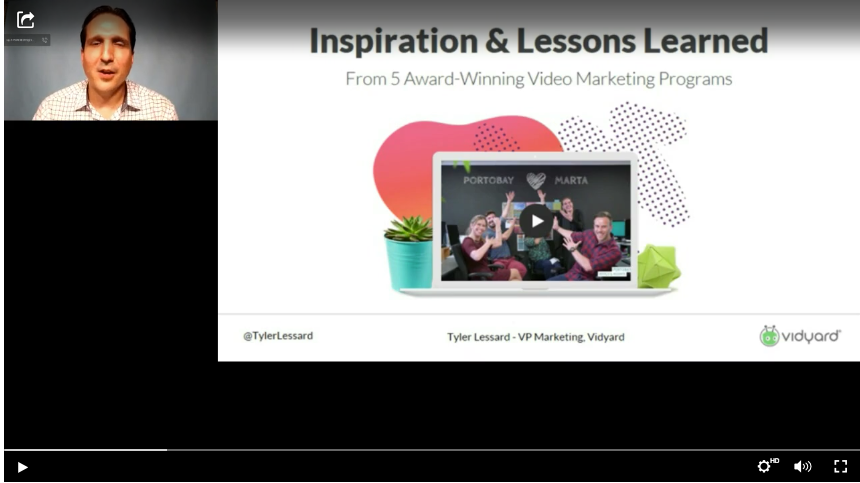 5 award-winning video marketing programs, 5 healthy doses of video inspiration for every marketer. Now you can dive deeper into how they did it, and walk away with new practical ideas for how to use video more effectively throughout your organization. So whether you're a small business just getting started or a large enterprise looking to mix things up check out our Fast Forward session
BONUS! Best Video to Support a VIB Awards Nomination: GPS Insight
So here's the thing. We asked all nominees to post a short video explaining why they should win a Video in Business Award. The finalists for this surprise category went above and beyond to create a video that was hard to ignore.
Congratulations to our winner GPS Insight for taking us back to the early days of film; to our runners-up Danby Appliances for their spot-on parody of Anchorman and Listen360 for CRUSHING their Fresh Prince of Bel-Air parody; and to our honorable mentions Leighton Interactive for serenading us with their songwriting and top-shelf ukulele skills and Suzi Lindner for reminding us all that sock puppets are never a bad idea.