Careers at Vidyard
You're in good company
Whether you're working from your home office or at our collaboration center, you'll join a team of smart, passionate people. Together, we win with experience—across our employees, community, and customers.
See Open Positions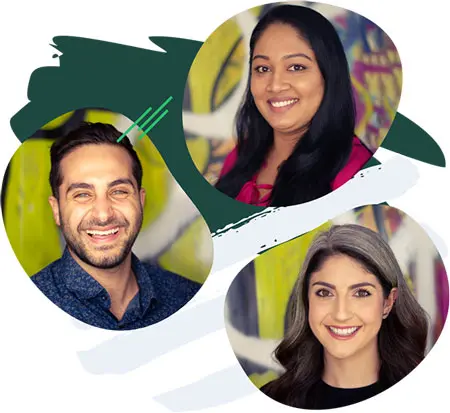 We help companies succeed through
the strategic use of online video
All Aboard
We're always planning our next move to revolutionize online video. To do it, we need to commit fully to Vidyard's mission, contribute to team goals, and bring our whole selves to work—including our experiences, opinions, and unique abilities.
Relentlessly Resourceful
We empower our team to create innovative solutions (i.e. get scrappy). You see this in our open-concept collaboration center design, cross-functional hackathon events, product office hours, and company-wide open forums—all intended to ensure we're constantly pushing the envelope.
Direct and Transparent Communication
We hold a weekly team-wide meeting to cover updates and strategy, openly talk about company finances, share key takeaways from board meetings, and more to ensure we all have the information we need to be aligned.
Own It
You, as a Vidyardian, are a shareholder in Vidyard. We've created an environment filled with opportunity, but you're responsible for yourself and your own success. This is your chance to be a part of a movement—seize it!
"I love being part of the Vidyard team because you're never limited by what you alone can achieve – you've always got the entire team behind you to bring the best ideas to life!"
Jesse Walsh
Segment Marketing Manager
"Vidyard is fantastic – I truly feel like my voice is heard and I have good insight on how my work affects the company. My colleagues are genuine, wicked-smart, and extraordinarily caring – I feel incredibly supported in my role."
Pim Vermeyden
Software Developer
"My favourite part of Vidyard is that you have the ability to influence strategy and drive growth – within your team and across the entire organization. Not only can you make these contributions – but you build true partnerships across teams."
Anna Magolon-Parobek
Sr. Manager, GTM Enablement and CX Operations
Previous
Next
Benefits & Perks
Collaboration Center
Our downtown Kitchener location is a converted historical building, close to public transit.
Community Care
Community is a key stakeholder at Vidyard. We founded Plugin to host charitable events to support local groups and, as a company, we provide more than 2,000 volunteer hours in the community every year.
Vidyardians
You'll work alongside passionate team members and always have access to our leadership team. Together, we want to help our customers succeed.
Working Well
We believe that people know what works best for them and should take the time they need to refresh, so we offer flexibility and wellness programs.
Benefits
We offer RRSP matching, a health and wellness subsidy, professional development fund, access to the Employee Assistance Program (EAP), and more.
Stock Ownership
We want our people to be invested in our exciting future and benefit from their own hard work.
Works with Companies Like
See Open Positions
Open Positions
We're looking for people to join the team. If you are ready to join a fast paced team focused on helping customers succeed with the use of video then check out our open roles.
Don't see the term or co-op role you are looking for? Send an email to campusrecruitment@vidyard.com
Don't see what you're looking for?
Use Vidyard to reach out to our Talent Team!
Connect with us
Accommodations for candidates with disabilities are available in all aspects of the selection process. If you have accessibility requirements, please let us know by emailing us at recruitment@vidyard.com. Information received relating to accommodation needs will be addressed confidentially. Thank you for your interest in working at Vidyard!