Focus on selling, we'll do the rest!
You're busy enough as it is. Managing your videos shouldn't get in the way. This past year, we streamlined Vidyard so you can spend more time focusing on what's really important: closing more sales! Check out this digest of Vidyard's latest features
Quick Steps for Professional Videos
These improvements take the guesswork out of how to look more professional on camera.
Use built-in templates and speaker notes to confidently hit the right points
Discover new selling techniques with Sales Feed content right inside your Vidyard account
Quickly preview your video to make sure you're on track
Add video chapters to make your content easy to watch
Remove anything you don't like with a quick, easy trimming tool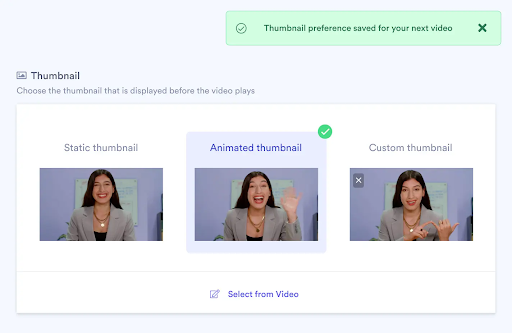 Set It and Forget It
Don't like fiddling with video settings? Neither do we. Set up these features once, and they'll automagically apply everywhere.
Set a default expiry to automatically disable video viewing access after a certain date and time
Help your team drive more follow-ups by creating Actions that anyone on your team can use
Choose your preferred thumbnail style to make future videos use that type of thumbnail by default
Integrate Vidyard Wherever You're Selling
Vidyard's already integrated with the tools you use every day, like email, LinkedIn, and Salesforce. This year, we added new integrations into two of the most popular sales tools.
Track prospect activity and video engagement right inside Salesloft. Video view notifications are now sent directly to the activity and live feed. Identify hot leads and perfectly time your outreach.
Gong: Track which contacts are watching videos, what they're watching, and for how long—right inside Gong. Get more insight into how in-flight deals are progressing.
Fast, Targeted Reports and Dashboards
Get easy insight into analytics so you can understand how your video strategy is performing. Make data-driven decisions that have a bigger impact on your sales results.
See team members' video performance so you can celebrate successes and support reps who need help
New options for reports give you the information you need in a hurry, so you don't waste time wading through irrelevant data
Meet your video control and logging needs with robust event monitoring