January 4, 2023
·
15 min read
How to Cold Call: The Pros Share Sales Conversation Starters, Opening Lines, and More
In this guide to cold calling, we share the five steps to help you connect with better openers, get the conversation started, handle objections with ease, and ultimately book more meetings.
Cold calling is both an art and a science. You have to generate enough interest in that first conversation for your prospect to want an in-depth conversation—and you have to do it by interrupting their day, pinpointing their unique challenges, and convincing them you meet their needs. All that in under a minute at the mercy of their index finger, hovering over the hang-up button. Sounds scary? It doesn't have to be.
This guide will help you figure out exactly how to successfully cold call—from sales conversation starters and opening lines to asking the right questions, handling objections, and booking the meeting. It's all here—along with lots of real-world scripts and lines lifted right from the industry's top sales experts.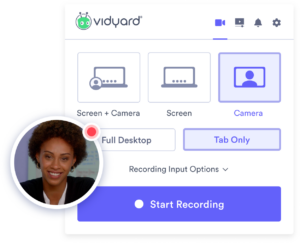 The Best Cold Calling Companion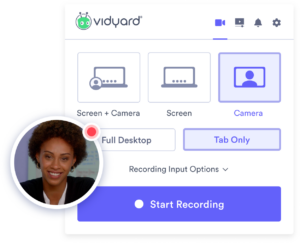 Recording and sending a Vidyard video message is the perfect follow-up to your call.
Get it Free
Contents
1.4.1.4 "Not Interested"
1.4.1.5 "We Have Something Already"
1.4.1.7 "Is This a Sales Call?"
1.4.1.8 "Where Did You Get My Number?"
1.4.1.9 "Send Me an Email"
Want to Be Better at Cold Calls? Learn How in These 5 Steps
Every seasoned salesperson has tried and tested methods for cold calling. We've consulted several of them to share their five steps to cold calling that anyone can use—whether you're a beginner starting from scratch or a sales veteran looking for fresh ideas.
Learn from the Pros
Check out this master class in cold calling with Sale Feed's Will Aiken.
1. Start With Research to Pinpoint Your Prospect's Challenges
Before you start "smiling and dialing," you have to know something about the people and companies you're calling. If they actually pick up, what question will you ask to hook them?
To avoid the dreaded hang-up, thoroughly researching your prospect is the best way to plan for an engaging conversation. Research the company, your prospect's role, who they might report to, and what their company is doing—are they experiencing a turnaround, shifting market share, a new round of funding, or a shift in product? Most of this information can be found in a matter of minutes by looking at your prospect's social media accounts, LinkedIn posts, blogs or news articles they've shared, and their company's website.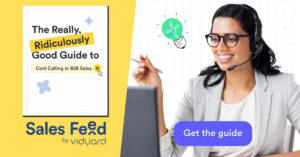 Cold Calling Guide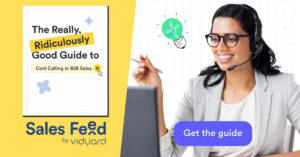 Cold feet about cold calling? This guide will help you connect with more prospects and feel confident.
Get the Guide
Uncover the Problem and How You Can Help Solve It
Besides getting some context for who you're about to call, this will help you accomplish two things: First, uncover a problem or challenge your prospect may have, and second, see if and how your company could help solve it. Did they recently have some attrition and may need HR software? Do they have an outdated website and may need help with lead conversion? Does their industry face supply chain issues, and the team may need a platform to automate their processes?
To speed things up, try finding a group of similar prospects you've made the same observation about (i.e., a list of 100 CHROs in North America who are all facing high attrition). This attention will allow you to make many calls without having to go back and research each prospect before you tap their number into your dialer.
Once you've unearthed their pain points, you can connect them to your company's solution. Establishing these strong connections is the key to getting prospects curious in your cold call. They need to understand what's in it for them right away—otherwise, you're gonna lose them. The research phase helps you decipher their challenges and tailor your conversation starters (more on that later) before you even pick up the phone.
2. Smile, Dial, and Start Your Cold Call With a Great Opening Line
Smile as you dial. It may seem unnecessary for phone calls—no one can see your pearly whites—but it's crucial to nail your delivery. You want to sound calm, confident, and positive. Smiling when you start your call helps you avoid sounding flustered or nervous. And don't worry, with practice, cold calling gets less scary and feels more genuine.
So, you've picked up the phone, smiled as it rang, and your prospect has picked up. Now's your time to shine—your opening line is the most important part of your cold call. The first mistake sales reps make is choosing cold call openers that are too open-ended. Don't start by asking the prospect how they're doing, for instance. They are usually more interested in who you are and why you're calling than anything else. On the other hand, getting too narrow too quickly—like asking too many yes or no questions—opens you up for rejection early on. Aim to land somewhere in the middle with your opening lines.
Using your opener, ensure your prospect understands three things: who you are, why you're calling, and why you're calling them in particular.
Try These Types of Cold Call Openers to Warm Up Your Prospect
Three main types of cold call opening lines can help you achieve these goals, and we'll cover them below, plus examples from experts in sales.
Ease Tension with Permission-Based Cold Call Openers
This type of opening line reduces pressure and asks for buy-in right at the start, so prospects are less likely to hang up later. The downside is that you start your call with an opportunity for an objection.
Include Open-Ended Questions in Your Openers
These openers go straight to the reason for the call and ask a question. They're great for avoiding yes/no questions—which can shut down a conversation right at the start of your call. But be careful not to make the common mistake of rushing. You can easily talk too much and overwhelm the prospect—who can sometimes, unfortunately, hang up on reps mid-opener.
"Hey, it's _____, calling from Acme. I was checking out your brand and noticed that your website sells basketball shoes. I'm a hooper myself. Just wondering, what have you done to increase conversions on your website?" —Blake Hudson, SDR Manager at Tapcart
"Hey, it's _______, calling from Acme. I saw on your LinkedIn you're involved in _______. We have a solution that makes it way easier and faster. How are you going about that right now?" —Gabrielle Blackwell, Business Development Manager at Airtable
"Hi, I'm calling from ____. I know you weren't expecting my call. I just want to talk to you about these two things that are really affecting the market right now. This __(trend/observation)__ and __(trend observation)__. Which one of these is affecting you right now?" —Aaron Evans, Co-Founder & Head of Training and Enablement at Flow State
Give Wild Card Cold Call Openers a Try
There's no denying your prospects are inundated with calls, but sometimes trying something unexpected works very well to stand out.
"Hey, Letitia! This is a call cold… I mean a cold call. I'm really butchering this. Should I just hang up?" —Junior Lartey, Senior

Account Executive

at Pickle
"Hello, Manreet, this is ____ from _____; this is a cold call. Do you wanna roll the dice with me?" —Kyle Coleman, SVP, Marketing at Clari
"Hey, Alex, this is _____ from_____. We've never spoken before, so this call is colder than (relevant pun)." So if I'm calling SDRs, I might say, "This call is colder than an SDR's sweat when they're told 'less smiles, more dials.'" —Jon Selig, Comedy Writer for Sales Teams
Learn from the Pros
Learn how to catch prospects' attention and book more meetings.
2. Start the Conversation by Making an Observation, Posing a Challenge, and Asking a Question
Now, this step might be part of your open-ended question (as part of your opening line) or right after your permission-based openers. Earlier, you uncovered a challenge that the prospect might need to solve. Now, it's time to give the prospect the reason for your call by unearthing that problem and asking questions—your sales conversation starter.
Spark their interest by including three elements in your conversation starters: observation, challenge, and curiosity.
Starting With an Observation
"I noticed your company _________"
Just hired…
Uses a competitor's software
Went through leadership changes
Recently had turnover
Tying Your Observation to a Challenge
"A lot of CFOs that I speak with encounter __(prospect's potential problem)__"
"Lots of people like you are having challenges with __(prospect's potential problem)__"
Getting Curious and Ask Questions
"Can you tell me how well is that going?"
"How long have you been doing it that way?"
"How are you handling your second-largest budget line rising right now?"
"Could you walk me through how you do _____?"
"What are you doing to prevent __(prospect's potential problem)__?"
"How well is your current solution working for you?"
You could also make an assumption or offer a menu of possible problems they could be facing. Try saying something like, "This led me to assume you might be looking for new ways to make the most of integrations," or "A lot of companies like yours are facing several challenges. They come to us to reduce bounce rates, bots on their website, and inefficient use of data systems. I don't suppose any of those apply to you?"
All together, these few sentences should elicit trust by establishing that you understand their context and how you might address their problems. This step will also highlight potential challenges and help you understand whether your company can provide a solution. The key is to get them talking, dig into their specific challenges and ask yourself—are the challenges they're facing ones your company can solve?
You'll begin to notice that you're naturally making observations, raising challenges, and posing questions throughout your conversations as you become more and more comfortable with cold calling.
Learn from the Pros
We've sought far and wide for the best cold call opening lines
3. Handle Sales Objections With Finesse
The key to handling sales objections is listening, understanding, and making the prospect feel heard. Always start by acknowledging their objection and validating their feelings. A simple "That's totally fair, I understand what you mean" can go a long way.
Next, get curious. Ask them questions like: "What makes you say that?" "Is this something you've tried to solve in the past?" "What did you try?" Never argue or try to convince a prospect their objections are wrong. Do more digging with open-ended questions to understand the core reason behind objections.
While handling objections, you may discover they don't need what you're selling. In this case, thank them for their time and say goodbye. They're not a qualified lead, and booking a meeting with them won't end in a sale.
However, if they're just brushing you off with objections like "I'm busy," "Send me an email," or the infamous "I'll call you back," try saying something like, "Would it be better for us to take 20 seconds right now to see if this is relevant? If it's not, I'll leave you to it and skip any follow-up." This buys you up to 60 seconds to see if they're still worth pursuing.
Six Common Sales Objections and How Real Sales Professionals Handle Them
Below, you'll find some of the most common sales objections reps face, plus some responses to try that will help you overcome them.
1."Not Interested"
"Can I ask you a quick question?"
(Acknowledge objection) "You mentioned that you're not interested. Is it safe to assume you've heard of __(our company)__ before?"
(If the answer is no)
"Well, I have a quick question for you. I was doing research on your company, and I was curious about __(observation) __. Lots of companies I've been talking to are facing __(challenge)___."
(Get curious) "Are you involved in how content is being delivered to U.S. markets?"
—Gabrielle Blackwell, Business Development Manager at Airtable
2. "We Have Something Already"
(Acknowledge and validate) "That's awesome, Jillian. I'm excited to hear that you like what you're using."
(Get curious) "Just curious, what do you have?" —Josh Roth, VP of Commercial Sales at Lob
"Great to hear you're happy with your current solution. What's working well for you with your current solution?" —Michael Hanson, CEO at Growth Genie
"That sounds like you're already ahead of the curve compared to the folks I usually speak to. What is it about that product that's helping you accomplish your project?" —Gabrielle Blackwell, Business Development Manager at Airtable
"You have something in place? Tell me about that." —Dale Dupree, CSO at The Sales Rebellion
3. "I'm Going into a Meeting. Can You Give Me a Call Back Later?"
"If you're busy, would it be better to schedule a time for a quick 5, 10 minutes? More than happy to call you back at a better time." —Gabrielle Blackwell, Business Development Manager at Airtable
"Sorry to catch you while you're busy. What time works best for you?" —Josh Roth, VP of Commercial Sales at Lob
"I get that you're busy. Do you mind if I take 20 seconds to tell you why I'm calling? You can decide if it makes sense to book a time next week to talk for a further 10 minutes." —Charlotte Lloyd, Global Director of Partnerships at Investment Monitor
4. "Is This a Sales Call?"
"Great question. My goal is not to sell right now. I'm just trying to figure out if there's any value our solution can provide to you. When it comes to delivering content to market, what are you involved in?" —Gabrielle Blackwell, Business Development Manager at Airtable
5. "Where Did You Get My Number?"
"I actually use a contact database, and as I was doing some research on ___(challenge)__. I found that you were involved in __(observation)__, I figured you were the best person to reach out to. Do you have a quick second to chat?" —Josh Roth, VP of Commercial Sales at Lob
"That's a great question. I got your number by going on LinkedIn, then your website, and spoke to one of your assistant directors, who gave me your phone number." —Charlotte Lloyd, Global Director of Partnerships at Investment Monitor
6. "Send Me an Email"
"Absolutely, just a quick question, so I'm tailoring the email to what's most relevant to you…" —Gabrielle Blackwell, Business Development Manager at Airtable
"Can you first tell me what you'd like to see in that email?" —Charlotte Lloyd, Global Director of Partnerships at Investment Monitor
"We've got a case study on how we helped another midsized SaaS company or a playbook template to help you onboard new SDRs quickly. Which of those two resources is most relevant to you?"—Michael Hanson, CEO at Growth Genie
If you're still getting objections, try adjusting your tactics. It might be that your opener isn't resonating with prospects—listen to your tone, break down the elements, tweak, and improve it.
Learn from the Pros
Looking for even more ways to handle sales objections? We've got 33 of the most common and the right and wrong ways to handle them.
5. Go In for the Meeting Request
If your prospect shares their current challenges and they align with what you do (and you've handled their objections), it might be time to request a real in-depth conversation. Transition into booking a meeting by asking something like: "It sounds like you may be facing the challenges we help our customers solve. Would you be open to another conversation to see if this could work for you too?"
Remember, the ultimate goal of a cold call is to book the meeting. There's no need to convince them to buy your product on this call—that's for your meeting. If they say yes to a meeting, get their contact information, send a calendar invitation, and ensure they receive it while you're on the call. You don't want to cross the finish line and realize their email was misspelled and missed your chance.
Once they've confirmed the meeting invitation, thank them for their time and end the call. Congratulations, you just booked a cold call prospect. Cue the confetti!
Bonus Cold Calling Tip: Never Pitch, Under Any Circumstances
As difficult as it may be, avoid pitching your product or solution in a cold call. Cold calls are for uncovering problems. If there aren't any relevant problems for your company to solve, there's no opportunity. So, if you spend precious time discussing product features or discussing your company, you're likely to bore them.
If your prospect asks questions about your company or they want to get into the weeds, you may be tempted to start in on your sales pitch. Resist this. Instead, frame your conversation around the problems you solve and ask them how you might be able to serve them. For example, "We help companies solve X, Y, Z. Which ones of those apply to you right now?" This call is about finding their challenges and seeing if they align with your solution. If they're excited, take the opportunity to book a meeting with them.
It's Time to Warm Up
Cold calling is a very vulnerable exercise. You're opening yourself up to rejection whenever you pick up the phone. But that's why it's such a crucial function (and so valuable to your sales career). So few sales professionals will become cold calling savants; their fear of its inherent awkwardness will hold them back. The best way to get great at cold calling is to get in your 10,000 hours of practice.
Don't be afraid to experiment with wildcards and try out different opening lines and conversation starters. Make sure your prospect understands who you are and what you can do for them. After that, it's all about getting curious and seeing where your company fits.
If cold calling is an art and a science, then every salesperson is just playing around, experimenting, and seeing what sticks. Honestly, that sounds like it could be fun.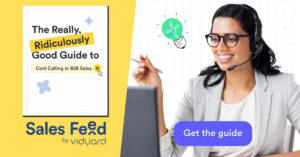 Cold Calling Guide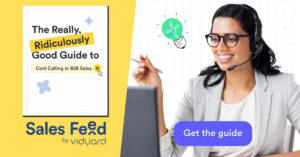 Cold feet about cold calling? This guide will help you connect with more prospects and feel confident.
Get the Guide