June 8, 2020
Vidyard's Personalized Holiday Video Wins Globally-Recognized Telly Award: Best B2B Video Campaign of the Year
Winning video campaign delights the audience with creative storytelling and hyper-personalization that brings each viewer into the story
KITCHENER,Ontario – June 8, 2020 – Vidyard, the video platform for businesses, has been awarded a globally-recognized Telly Award in the category of Best Business-to-Business (B2B) Branded Content Video Campaign of the Year for its 2019 personalized holiday video.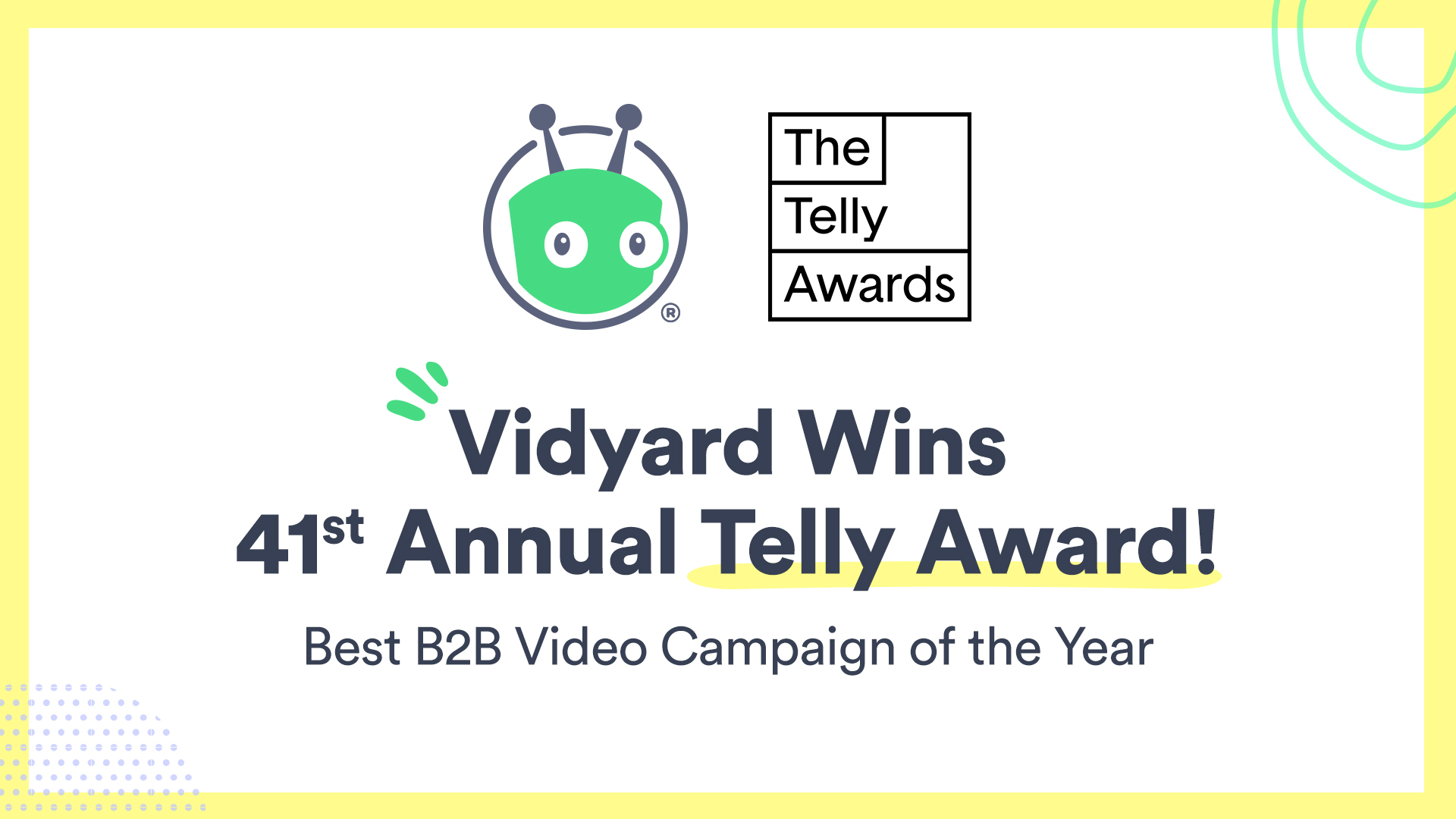 Vidyard's Award-Winning Personalized Video Campaign
Vidyard's marketing campaign goals were simple: surprise, delight, and share their appreciation for their customers and followers during the holiday season with a memorable video that recipients would actually want to share.
To achieve this, Vidyard partnered with leading video content agency, Media One Creative, to develop a lighthearted concept incorporating recognizable characters from How the Grinch Stole Christmas, Elf, Christmas Vacation, and Die Hard (yes, to put the argument to rest, it is a holiday movie). Vidyard and Media One Creative also incorporated video personalization technology to personalize the video for each individual viewer, bringing them right into the story in truly memorable ways.
In addition to bringing joy to their own community, Vidyard built the campaign landing page to enable viewers to 're-gift' the video to others with the same level of personalization. To make sharing easy, Vidyard directs individual viewers to a landing page where they could, in turn, personalize and share the video with their own customers, prospects, friends, and family.
"What made this video campaign so successful was how it stood out from your typical B2B messaging and other traditional holiday greetings," says Tyler Lessard, VP of Marketing at Vidyard. "By focusing on the 'surprise and delight' factor for our viewers, we were able to build our brand not only with members of our own community, but with those they turned around and shared it with as well. It's all about using the power of video to tell engaging, emotional, and even entertaining stories that connect with people in entirely new ways."
Telly Award Winners Tell Great Stories
"Vidyard is pushing the boundaries for video and television innovation and creativity at a time when the industry is both rapidly changing and heavily impacted by the current crisis," said Sabrina Dridje, Managing Director of the Telly Awards. "Our theme for this season, Telly Award Winners Tell Great Stories is a true reflection of the diversity of stories the community is skillfully able to tell. Now, more than ever, do we need to celebrate them and those that bring global stories to our attention. This award is a tribute to the talent and vision of these creators."
Founded in 1979, The Telly Awards honours global excellence in video and television across all screens. Telly Winners have told great stories from across the world, each year, attracting over 12,000 global entries from top video content producers including the BBC, Condé Nast, Netflix, Refinery29, Ogilvy & Mather, and others. All entries are judged by over 200+ working industry leaders that span video platforms, television, streaming networks, production companies, and more.
More Information
About Vidyard
Vidyard is the video platform for business that helps organizations drive more revenue through the use of online video. Going beyond video hosting and management, Vidyard helps businesses drive greater engagement in their video content, track the viewing activities of each individual viewer, and turn those views into action. Global leaders such as Honeywell, LinkedIn, Citibank and Sharp rely on Vidyard to power their video content strategies and turn viewers into customers.
Media Contact:
Sandy Pell, Head of Corporate Communications at Vidyard
About The Telly Awards
The Telly Awards is the premier award honoring video and television across all screens. Established in 1979, The Telly Awards receives over 12,000 entries from all 50 states and 5 continents. Entrants are judged by The Telly Awards Judging Council—an industry body of over 200 leading experts including advertising agencies, production companies, and major television networks, reflective of the multiscreen industry The Telly Awards celebrates. Partners of The Telly Awards include Catalyst, LAPPG, NAB, Stash, Storyhunter, NYWIFT, Production Hub, IFP, Social Media Week and VidCon.
Find The Telly Awards Online:
Website:

www.TellyAwards.com

Facebook:

/TellyAwards

Twitter:

@TellyAwards

Instagram:

@TellyAwards

YouTube:

/TellyAwards