March 3, 2015
The Nitty Gritty on Mapping Video Content to your Buyers' Journey [Free Template!]
We already know that our prospects are completing much of the buying process on their own. In fact, we've all been beaten over the head with the statistic that more than 65% of the buying process is completed independently of sales. And in reality…that stat has now grown to 90%.
Needless to say, we better all be addressing this fact. But not just with more content, with targeted content that specifically aims to help buyers through the funnel. And that was precisely the topic of last week's webinar (watch it in its entirety here!) with Linda West, Group Manager of Demand Gen at Act-On.
A lot of content to attract a lot of prospects only works for so long, and more often than not, tends to attract a lot of top-of-funnel leads with no support to bring them through the funnel.
What you need is content that intentionally encourages prospects to enter the next stage of their purchase process.
Put Your Videos to Work Create, host, manage, and share your videos.
Sign Up Free
Map the Buyers' Process
It goes without saying that in order to map your video content to the buying process, you have to know what that process is first. You're probably thinking: "Uh yeah, we all learned this in Intro to Marketing while doodling in our notebooks and chatting on MSN". And hey – first a props for the impressive multi-tasking skills there, but second: you learned the generic process. It probably looked something like this:

But what I want to know is: what does the path to purchase look like for YOUR buyers? How are they conducting their research? What questions are they asking along the way? And how does it differ for each of your personas? These are things you need to know.
Discover YOUR Buyers' Journey
How do you unlock the inner workings of your prospects' path to greatness (a.k.a. purchase)?
With research.
It's so easy to hypothesize or even draw conclusions from limited information. But let's just say that one or two conversations with customers doesn't justify a conclusion about your whole market segment. An illustrative example would be helpful here, so take a look at the one below.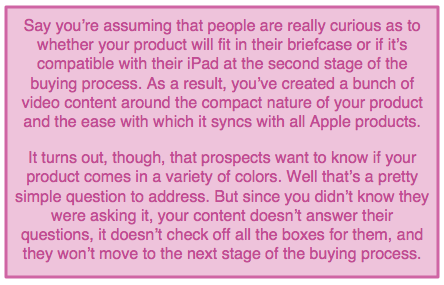 Start by reaching out to your sales team who spends all day speaking to prospects, or talk to your customers directly, maybe you could even conduct some more formal market research. Do whatever you can to get real answers about the real buying process from real prospects.
Create New Videos Strategically
When you're ready to start mapping your video content to this real journey you'll want to do so methodically. Take the time to lay out all steps in detail, with each persona differentiated. This way, you'll be able to plan projects and divvy up production time appropriately across all stages of the purchase process and you'll know that you've answered all the right questions at the right times.
Try laying it out using our Video Content Mapping Template.
Know Where Your Content Gaps Lie
To optimize your content production, make sure you have a good idea of the content that already exists along the purchase path. This will help you to identify the gaps so you can start filling them in.
Joe goes over the details of what to review in your video content audit in the webinar, but the highlights are these four things:
persona
buying stage
questions answered
video type
Use your video content audit as a basis to identify opportunities for new content production. If there's a gap in a persona's buying journey, fill it! How do you expect them to answer 90% of their questions and make it to that sales call if you're not helping them along the way?
See how Act-On has put this theory into practice and dive deeper into the crucial components of mapping your video content to the buyers' journey in the recorded version of this webinar.
Put Your Videos to Work Create, host, manage, and share your videos.
Sign Up Free