February 18, 2021
·
15 min read
The Top 5 B2B Video Predictions for 2021
We've rounded up our predictions for the top 5 video trends of 2021. Embracing a digital-first strategy for marketing, sales, and employee engagement is a must for any business this year.
Welcome to the digital-first business world, where video trends will rule the day. It's no secret that we've been on this trajectory for the past two decades, but wow, did 2020 ever accelerate things!
It's now clear that embracing a digital-first strategy for marketing, sales, and employee engagement is a must for any business. And while in-person meetings and events are expected to return to some degree in the latter half of 2021, the most successful businesses will embrace a strategy where physical supports digital instead of the other way around. And even those who have already been 'digital first' will evolve their strategies to better align with the new expectations of remote buyers and employees.
This will be the most important theme for 2021, and video will emerge as one of the most critical elements of these new go-to-market and employee engagement strategies.
Contents
6.1.3 Embrace Analytics
Why Will Video Trends Rule the 2021 Digital-First World?
Why will 2021 be a massive year for video, you ask? Not because we all want to be on more Zoom calls (we don't). Not because social media is being dominated by video content (it is!). But because the expectations and preferences of our customers and employees have changed forever. And video is the new platform to connect, educate, and create trusted relationships at a time when it matters more than ever.
In a digital-first world, we will see the following major recurring themes for 2021.
People expect online self-service experiences to discover, learn, and connect. Immediacy and discoverability of information are critical, but so is offering it in modern formats to show-and-tell and to create a level of transparency that audiences now crave.
People are seeking out authentic, helpful, and trustworthy content that's not only timely and relevant but also feels 'real' and personal. People connect with people, and organizations will need to investigate new ways to make this a focus in the year ahead.
Engagement is no longer a buzzword, it's a battleground. In a digital-first world, we're all one click away from another message, a better piece of content, or an irresistible TikTok. Marketing, sales, and even employee engagement is no longer a battle for eyeballs; it's a battle for true attention and engagement.
In this world, video is no longer just a nice-to-have, or a tool simply used for live calls and social media posts. Video—in various forms—becomes a primary way to deliver key messages, share impactful stories, build authentic relationships, and win the battle for engagement. And 2021 is the year things get reel…I mean, real.
Top Five B2B Video Trends for 2021
Get the latest video trends report.
Get the Report
Video Trend 1: Video in Sales Explodes
It was only a few short years ago when some innovative outbound sales reps toyed with the concept of using video as an outreach tool. In 2019, those early adopters ushered in the emergence of repeatable best practices for prospecting with video. In 2020, we saw the use of one-to-one video creation increase by 471% and expand throughout the entire sales process—including post-sales and support—as remote selling became the norm.
Many organizations are staying virtual for the long run (or perhaps indefinitely). And even for those sellers heading back to the office, things have changed forever. That's why 2021 is the year that video goes from 'test' to 'invest' across sales teams if they want to look for new ways to stand out and continue building relationships at a distance.
"B2B sellers will become experts at creating and engaging with video. As buyer preferences collide with pandemic-related realities, 40% of B2B reps told us in a recent survey that they plan to modify their tactics to adapt to remote selling activities. Traditionally limited to email, phone calls, and screen–sharing interactions, sellers will look for more dynamic ways to earn buyers' attention."
Forrester blogs– Predictions 2021: Grounded Sellers Fly In The Face Of Old Norms, October 2020
How to Take Advantage of Video Trend #1
1. Up Your Prospecting Game with Proven Video Templates
Many reps are already using video for prospecting. But beyond the basics of holding up a whiteboard with a prospect's name, we're starting to see the rise of reps using creative new video templates as a repeatable means to differentiate themselves and scale effectively.
For those just starting with video, the idea of recording a ton of videos to send via email and social media can be daunting. But once you have your templates down to capture your message and fill in your cadence, you're golden.
Need some ideas? Try the LinkedIn Profile Hover, the classic Website Hover, the This is How I Can Help You video, and other common styles from our video inspiration library to deliver messages that are both hyper-personalized and hyper-scalable.
2. Get the Rest of the Sales Team on Board
Video is so effective at helping sellers accelerate deals because it can be used at multiple points throughout the sales process. Video can demonstrate different features and capabilities; it can also recap meetings and walk through sales proposals. It's one of the most flexible tools in your arsenal. The time is now to upskill your team if you haven't already.
3. Reduce Your Dependency on the Live Meeting
Look for efficiencies in your process. All of the activities that used to require live meetings or written content can now be done asynchronously. By recording videos that can then be revisited on demand whenever needed, you can share content and messaging with every stakeholder in an organization on their own schedule. Talk about giving the gift of time back.
Innovators Leading the Charge With Video Trends
#Paid is Shortening Deal Cycles
Since injecting video into their sales culture, the team at #paid has seen a 5x increase in response rates to outbound messages and a 2.5x increase in the number sales opportunities they generate. They also credit video for helping to build better relationships and close deals faster.
Here's an example of how video can break the ice with a new prospect.
AJ Amiel from #paid makes a handcrafted connection with video
Thomas Buchanan at Modus 'Walks the Digital Halls' with Video
By using video throughout the sales cycle, Thomas has increased close rates by 4x, with more than 500 unique viewers across his target accounts!
He made a fundamental shift in his sales process by replacing face-to-face meetings (including video calls) and ad-hoc emails with short personalized videos. He uses them for everything from reaching out to new prospects, to demonstrating key features, to delivering a very genuine 'thank you'. Thomas also monitors who views those videos (and at what frequency) to prioritize who he should call first.
Watch Thomas' recent presentation from our Fast Forward virtual event, The $700k Sales Video (and 8 Others I Use Every Day to Source and Close Large Deals). He shares all the secrets to his success, including why simple videos like the ones below are so easy to make, yet so impactful:
Thomas Buchanan at Modus - Prospecting and Following Up
Flight Centre Travel Group Modernizes its Sales Process
As a traditional sales organization, the Flight Centre Travel Group (FCTG) team heavily depended on cold-calling and pen-and-notebook processes. That was, until the team discovered the power of video to transform the way they prospect and sell.
As a result, FCTG has dramatically cut its sales cycles, won $42 million in new business, improved sales team performance, and built brand differentiation by using video to communicate with prospects and customers in a uniquely warm and personal way.
Here are a couple of examples from Account Manager Luke Verge. He uses video as a way to personally connect with his customers and show them the person behind the outreach:
Flight Centre - Account Executive Outreach Examples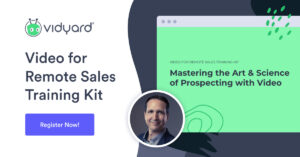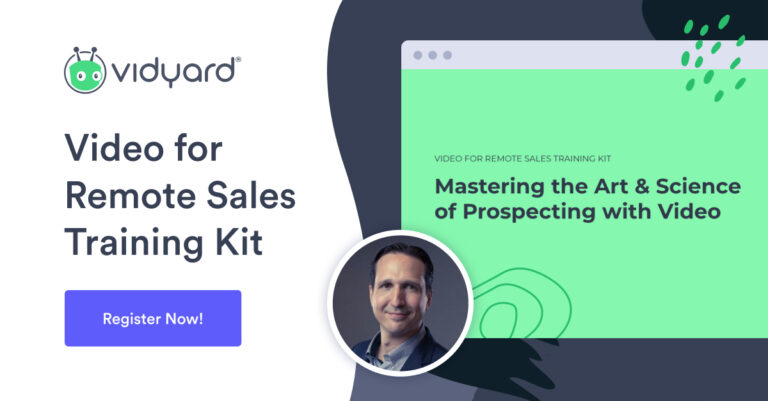 Help Your Remote Sales Team Shine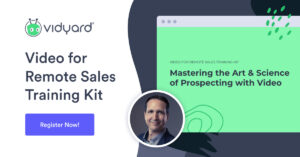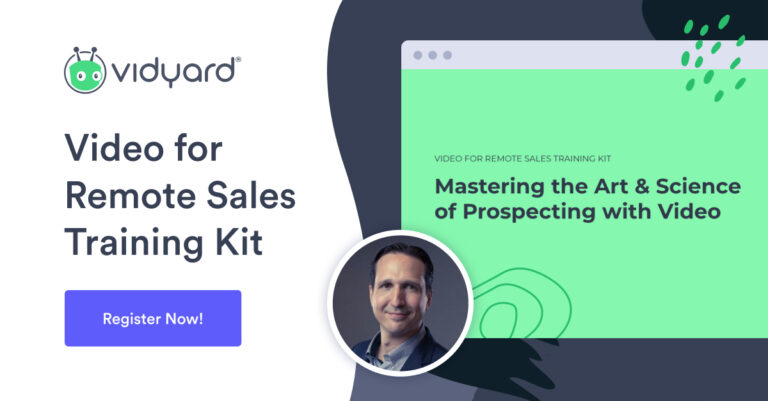 An all-in-one video selling resource to support your strategic planning, SKO, and ongoing enablement.
Get the Kit
Video Trend 2: User-Generated Asynchronous Videos Become the Norm
The rise of video in sales is, in many ways, the 'canary in the coal mine' for the use of video more broadly in the business world. Years ago, sellers started embracing video conferencing tools to connect with remote customers. Today, they've gone business-wide for both external and internal communication.
Now that everyone's gotten comfortable with using webcams and basic video tools, a similar trend will follow for the use of user-generated 'record-and-share' asynchronous (on-demand) videos within the business world. In 2020, 60% of all videos created were user-generated (representing an increase of 128% over 2019 benchmarks), and we don't see any sign of this slowing down.
Sales reps and account managers have adapted to the digital-first world by making virtual client calls the new industry norm. No longer are we looking to the marketing team to provide all the content; users of all kinds are creating their own.
The use of user-generated asynchronous video will grow rapidly in 2021 as more people adopt both free and premium tools to change the way they share information in a digital-first world.
How to Take Advantage of Video Trend #2
1. Get Comfortable Being on Camera
It's important that people across the business, in any role, start to get comfortable being on camera. It can be daunting for someone to go from in-person meetings to on camera ones, even if the technology is so easily accessible these days. Being willing and able to record webcam and screen share videos on top of being on Zoom calls is now an expectation in a professional setting.
Even if you're just heading into a virtual meeting or looking to network at a virtual event, turning on that camera can make a big difference.
2. Use Asynchronous Video as Part of Your Communication Culture
Asynchronous video emerged in 2020 as a new way to connect with coworkers and prospects. By embracing asynchronous video, you can save yourself, colleagues, and customers valuable time, all while sharing information and explaining ideas in a more clear and impactful way.
Everyone's feeling the "Zoom fatigue" from the back-to-back virtual meetings and conferences. With asynchronous video, instead of scheduling a video call, you can use a screen recorder to pre-record your thoughts so the recipients can watch it on their schedule. Like magic, that meeting disappears from your calendar!
It's an amazing time-saving hack for both those big presentations and those way-too-long emails. Try using a tool like Vidyard to record a short webcam or screen share video to show, not tell.
3. Create More Content With What You Have
As more and more people come to your website, they expect to interact with you through your content. Customers want to get to know you, your product, and your brand. The beauty of that is that you can utilize what you already have: Your employees!
Employees are champions of their own product, and they already know the ins and outs of what it can offer a customer. Utilize their expertise and experience in the industry to create on-demand video content for your customers.
Consider using employees to create videos that help answer some of the most common questions that your company gets about its products. Or feature an employee each week on your social media channels to let your audience get to know the people behind the brand.
Marketing materials don't necessarily have to be created in a studio or with a huge budget. With a tripod, a ring light, and a good-quality phone camera (and a willing employee to be the subject), you can start creating helpful videos that your customers can enjoy anytime, anywhere!
Innovators Leading the Charge With Video Trends
Jumio Staying in Touch through Video
The shift to remote work has created new communication challenges across the board. Luckily, video helps bridge the gap when in-person meetings aren't an option. From keeping a global workforce connected to connecting with prospects and communicating with customers, video is helping identity verification company Jumio stay in touch in a more dynamic, personal, and engaging way.
Traction on Demand Stays Connected with Asynchronous Video
Executives and team members at Traction on Demand started using custom-recorded asynchronous videos to allow their team members to access company information anytime, anywhere.
Rather than hosting weekly live team updates and time-consuming one-on-one meetings, Traction on Demand recognized that the way they approached work needed to adapt along with the digital-first world we now live in. By embracing asynchronous video, they're able to stay connected with remote staff and help everyone be more productive while also staying informed.
Video Trend 3: Marketers Embrace On-Demand 'Show-and-Tell' Content
No, people don't have shorter attention spans these days. What they have is a lack of tolerance for online content that isn't helpful, engaging, or a valuable use of their time. They also have new expectations for the ways in which information is delivered. In addition to text and images, people now expect to learn via rich media formats like audio blogs, podcasts, and of course, video!
For marketers, these new formats are a blessing in disguise, as they offer distinct ways to create more personal and emotional connections with prospects than static content ever has. And in a digital-first 2021, this is absolutely critical: If you don't have that level of impact up front, your sales team may never get a shot at creating that human connection.
How to Take Advantage of Video Trend #3
1. Don't Let the Fear of Video Production Hold You Back
Video is a core part of content marketing and inbound marketing programs. This has resulted in exponential growth in the number of videos being created to answer key questions, address important topics, and share expert advice.
Not every video needs to be expensive or highly produced. You can get creative in the way you produce your content, whether it's for the sales or the marketing team. The focus needs to always be on the quality of the content over the production value. This is what will resonate with your audience.
2. Give Social Media Audiences What They Want—More Video
The use of video content on social media will continue to rise while the formats and styles used will continue to expand. Everything from short-form videos on Instagram and TikTok to longer-form educational videos on Facebook and LinkedIn are growing in popularity.
Short videos on social media can be a slam dunk for engagement. Bring in real industry experts or your own employees to answer questions, explain key topics, or chat with customers. By honing in on real and relatable content, viewers can cut through the noise and quickly understand the message in your video.
3. Dig Deeper into Messaging
In 2020, video was the number one form of media used in content strategies, overtaking blogs and infographics. It's a proven source of connection to your audience, who want clear and authentic channels through which to hear your message and subsequently engage.
Savvy businesses already use video on their website to clearly explain how their product or service helps customers solve a problem. But explainer videos shouldn't be the first and last stop on your video journey. Dive deeper into video and brainstorm exactly which types of videos customers in your niche want to see.
One great example that audiences love are testimonials, where you can showcase stories of real, passionate customers as they explain how and why your product helped them.
Consider creating series-based content to consistently educate your audience, featuring your own employees. Show off your company culture, connect names to faces (especially useful for sales staff), and engage your viewers in a meaningful way.
Innovators Leading the Charge With Video Trends
7Geese Creates a Powerful Q&A Campaign
The "small but mighty" marketing team at 7Geese, now a Paycor company, makes the most of their efforts by strategically focusing on a video backbone that enhances brand awareness, customer nurturing, and web conversions. By utilizing their unique company skillset through "Ask the Expert Q&A" videos, this prolific team shows that you don't need a big budget to make a big impact with video.
7Geese Ask the Expert Q&A Example
Ali Schwanke, CEO of SimpleStrat, Leads the Way with Video
Ali Schwanke is the CEO and Founder of Simple Strat, a boutique agency that simplifies content marketing for B2B tech companies worldwide. She's an expert in pairing B2B content marketing with video: She uses video as an active part of her content marketing strategy in order to increase customer acquisition AND speed up the rate of new sales.
Simple Strat's episodic video series, HubSpot Hacks, is a perfect example of creating content that's interesting, relevant and subscribe-worthy, all while doing it in a way that is approachable, low-cost, and hyper-authentic.
Financial Force Uses Video on Their Website to Drive Pipeline
Financial Force created a focused marketing plan around their video content to leverage it in a way that drives new leads and helps them qualify prospects faster. They've created gated (and ungated) videos on their website, including product demo and product tour experiences, which influenced 32% of their overall pipeline in 2020. This is a massive achievement and really shows the power of video to not only attract, but to also convert target audiences. Check out this incredible video-based tour experience to see how they do it!
Video Trend 4: Virtual Events and Live Video Experiences Go Mainstream
Virtual events and live streaming content have become powerful ways to engage audiences in a shared experience. In the absence of live in-person events, many businesses have started to figure this out.
But even when live in-person events do return, the use of virtual events and live streaming will continue to grow in 2021. Why? Because they're effective and cost-efficient, but also much easier to pull off than most marketers previously thought.
While there are many interesting platforms out there for running large-scale global events and innovative online experiences, those gaining the most traction are the ones that make it easy and inexpensive for any marketing team to run an online event or live stream. Many new tools have emerged as virtual event and live streaming 'tools for masses,' such as Zoom Webinar, HeySummit, Hopin, BigMarker, Attendify, StreamYard, and many more.
Now that
57% of marketers
use live video within their strategies, it's no surprise that virtual and live streamed events are taking off so well.
How to Take Advantage of Video Trend #4
1. Host a Virtual Event That Delivers Real Value
Want to network, create connections, and deliver value to your prospects and customers? Host a virtual event or live stream a speaker series.
Show the industry and your potential customers that you're a forward-thinking business that wants to move the industry ahead in a creative and inclusive way. Hosting a virtual event means that people from all over the world can attend or be showcased at your event, and that attendees with accessibility requirements can participate as well.
Of course, virtual events have grown due to the pandemic, but 53% of virtual event consumers said they plan to attend both virtual and in-person events in the future —even when it's safe to gather in-person again. This means that virtual events are here to stay. Why not use it to your advantage and create a lasting impression on your industry?
2. Use Social Media to Live Stream Events
Social media channels now have a large place in marketing strategies across the board. The ability to live stream through Facebook, Instagram, LinkedIn, and YouTube has changed the need for in-person marketing activations.
In 2020, over a third (34%) of marketers used Facebook's live streaming options, creating in-the-moment videos that allow viewers to react in real-time. Instagram was the second most popular option, with 13% creating live videos on the platform. Meanwhile, LinkedIn has emerged as a popular channel for live streaming to B2B audiences.
In 2021, this trend will only grow, with the continuation of remote work and the movement into a digital-first world.
3. Leverage Recorded Sessions as On-Demand Content
The beauty of hosting webinars, live streams, and virtual speaker sessions is that you can record your screen while they're happening. These recorded events are gifts that keep on giving, since you can use the recordings as on-demand content after the actual live event is over.
Take advantage of the recorded session as-is for re-promotion to your audience and within your content marketing strategy. Try some simple post-production edits to optimize even further, which could make a big difference to your engagement. Simply trimming housekeeping items at the beginning and Q&A from the end are two simple ways. If you can get that on-demand session under 20 minutes, it could net you over 40% more audience retention. Also, consider using smaller clips to reuse on social media and in your email marketing. Recorded sessions offer you a wealth of content to deliver to your audience in whichever way you want.
Innovators Leading the Charge With Video Trends
Axonify Created a Virtual Event to Wow
AxoniCom LIVE was a creative spectacle that reimagined what's possible in a virtual event. This event kept audiences engaged and entertained by mixing highly produced, multi-camera sets with found footage, live-to-air interviews, community-building chats, and downloadable assets. Best of all, it used turnkey virtual event tools and Vidyard to deliver the event, as well as host all the on-demand content for ongoing promotion and engagement.
Vidyard's 'Fast Forward' Event Goes Virtual
Vidyard's Fast Forward speaker series helps attendees learn how to build their brand, fuel their funnel, and maintain personal connections using video.
Taking Fast Forward online has expanded its scope and reusability. The most recent Fast Forward session logged over 3,000 attendees, and replays can be viewed on-demand for future learning. HeySummit is used to manage the overall event logistics, while Zoom Webinar delivers the live content—a very simple and cost-effective solution that makes holding Fast Forward sessions a breeze.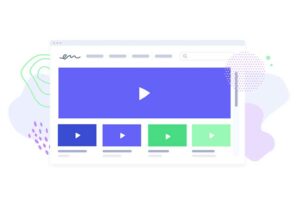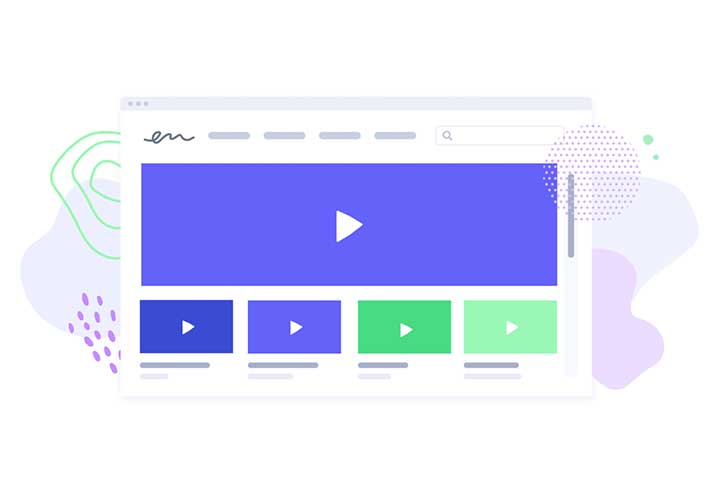 Use Vidyard to Host On-Demand Webinars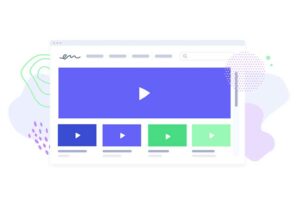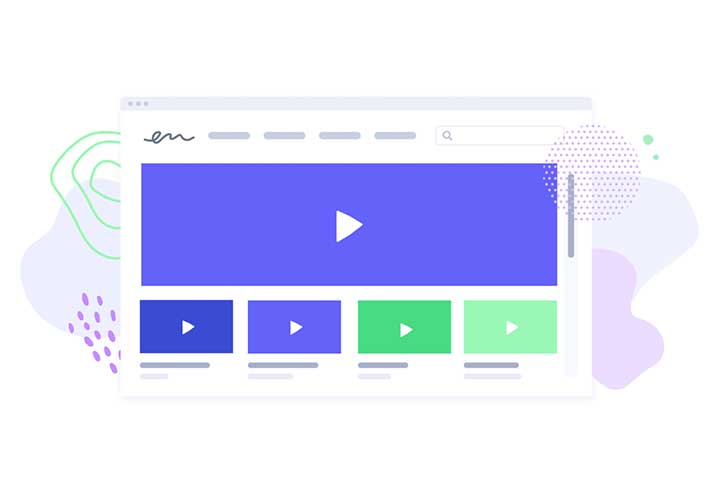 Host, manage and share your on-demand webinars and virtual event content.
Sign Up Free
Video Trend 5: Video Tech Goes from Tactical to Strategic
Video is becoming an imperative part of businesses' strategies, and the experience surrounding video content matters more than ever. It's no longer just about basic Zoom calls or uploads to YouTube.
Video is now a cross-functional tool that's part of company-wide strategies and efforts. Sales reps are using video from prospecting to proposals. Marketers are creating more videos than ever before, while viewing numbers are hitting new highs. Employees are creating user-generated video content and ad-hoc video-based internal communications. Because of the pandemic and the shift to remote-work, virtual events and conferences are no longer unique—they've become the norm.
Leveraging video within your business may now include:
Produced video content for online marketing
Personalized video emails and screen recordings by your sales teams
User-generated video content for communication and collaboration
Virtual events for prospects, customers, and even your own employees
Live streaming on social media and for internal company meetings
Internal communications and employee onboarding
In other words, video is becoming a core part of how our teams communicate both externally and internally. If you don't hop on board now, it's going to pass you by.
In 2020, many companies took the necessary steps to understand their organizational requirements for video going forward. They re-evaluated their approach to video management and video enablement technology.
In 2021, many businesses will centralize, standardize, and consolidate video technologies to ensure they can expand their use of video in a way that is efficient, reliable, scalable, and more strategic. This will encompass everything from live video conferencing technology to video production, personalized video messaging, user-generated content, live streaming, and internal communications.
How to Take Advantage of Video Trend #5
1. Consolidate Disparate Systems
Since all departments within your organization can (and should) be using video, it's time to consider how to manage all that content. The benefits of leveraging an online video platform that integrates with your other systems (i.e. marketing automation, CRM, sales engagement tools such as Salesloft and Outreach, CMS platforms like Adobe Experience Manager, LMS systems, etc.) are staggering.
Evaluate what your different teams across the organization need from an online video platform in order to create and manage content effectively. Consider what consolidating all your systems into one integration could do for your workflow, output, and analytics.
2. Use Video in Company-Wide Strategies—Not Just Marketing
We've covered the massive increase in the number of sales reps using video, but when we look at how the entire org can leverage it, the opportunities are endless.
Using video for internal corporate communications can help create a more meaningful dialogue with your employees. Especially now that many of us are working from home and many businesses have moved to digital-first policies, it's more important than ever to keep your employees engaged and in contact with one another.
We're seeing many HR teams starting to use video for recruitment to offer a better and more engaging candidate experience. Video resumes are also on the rise since video can help candidates demonstrate their enthusiasm for the role and showcase their character.
3. Embrace Analytics
Yes, it's important to create engaging content, but what's the point if you can't track the results?
Video analytics are crucial. They help you track not only who's watching, but how long they're watching, where they're watching from, the specific ROI your videos deliver, and so much more.
Nearly 90% of sales professionals report the increasing importance of accessing video viewing data to qualify leads, engage prospects, or influence deals. Be mindful of your needs to track analytics related to both external and internal video content, both right now and in the future.
Innovators Leading the Charge With Video Trends
TBI Uses Video to Educate and Train
When the pandemic hit, TBI's plans to embrace video went into overdrive. They were able to maintain sponsorship revenue for canceled live events, generate new leads with a remotely produced brand explainer video, and create recorded education and training opportunities for partners all over the country.
Create an Event Promo Video with WFH Employees
Ceridian Becomes a Video-Enabled Business
Ceridian has embarked on a company-wide cultural transformation to embrace video. Doing so has earned them multiple awards for innovation, company culture, and leadership, along with praise from a worldwide customer base.
By becoming a video-enabled business, Ceridian has magnified its pipeline, helped sales reps clinch critical accounts and deals, and improved the efficiency of the company's quota-carrying solutions consultants.
Get Trendy and Start Creating
We hope these trends and tips have been eye-opening! It's more important than ever to take advantage of video as part of an organization-wide digital-first strategy that preserves humanity and transparency.
Jumping on the ever-evolving train of digital trends can be daunting, but by setting yourself up with a clear strategy and choosing the right tools to implement it, you'll go far.
Ready to get started? Check out the on-demand Fast Forward Sessions for instant replays to discover even more about top video trends for 2021 and how to take advantage of them.