March 9, 2017
Vidyard Expands Ecosystem, Adds SalesLoft to Increase Sales Effectiveness With Personalized Video Emails
Vidyard for SalesLoft helps modern sales organizations increase their email response rates by up to 8X through the use of highly engaging, customized, and personalized video emails.
KITCHENER, Ontario – March 9, 2017 – Vidyard, the leading video platform for business, today announces the latest addition to their growing integration community: SalesLoft, the platform for modern day sales engagement. With the Vidyard for SalesLoft integration, sales reps can easily record, share and track highly engaging, personalized videos from within the SalesLoft platform. This makes incorporating video a simple and effective addition to any modern selling strategy, helping to humanize the selling process and build better relationships with buyers. Vidyard's integration community includes Salesforce.com, Eloqua, Marketo, HubSpot, Act-On, Adobe, Kapost, Hootsuite, ExactTarget and more.
Today's prospects receive hundreds of emails a day, which makes it especially difficult for sales leaders to stand out, get noticed, and book meetings. By adding a highly-engaging, personalized video to sales emails, sales leaders can boost response rates by up to 8X.
The Vidyard for SalesLoft integration helps sales reps track what each prospect watched, down to the second, so that they can reach out at the right time with the perfect message. It will be especially helpful for inside sales, field sales, and solution consultants:
Inside Sales: Humanize and truly personalize prospecting emails by recording a webcam video of yourself or capturing a screen recording of your prospect's website or LinkedIn profile in the background.
Field Sales: After your initial meeting, send curated follow-up materials like testimonial videos, demos, or campaign videos, along with a personalized introduction. No longer will deals be missed because sales reps didn't have access to the right content at the right time.
Solutions Consultants: Build and send custom product demos using screen recordings or on-demand product videos.
"In 2017, the most successful sales teams understand that personalization and response rates are intrinsically linked," says Kyle Porter, CEO of SalesLoft. "Video offers sales teams a new way to personalize sales communications in an authentic and natural way. Vidyard for SalesLoft allows sales teams to quickly record custom video messages as part of a sales cadence – all in the same time it takes to leave a voicemail."
"It's undeniable how effective video can be when it comes to building strong relationships, especially when you don't have access to meet a buyer in person. Today, our sales team uses video to get connected with potential buyers on a more personal level during the sales cycle," says Tonni Bennett, VP of sales at Terminus. "By incorporating video into their daily communications, our sales team has seen an increase in appointments scheduled, and responses have been higher to post-demo summaries and walk-throughs of sales contracts. With video, communication is short, sweet, and most important of all – human."
"At a time when businesses and brands are looking to connect with customers with authenticity, video allows sales teams to rehumanize selling by quickly communicating complex ideas using simple video messages," says Michael Litt, CEO and co-founder of Vidyard. "Videos are easy for buyers to digest, and simple for sales reps to create. No one has to worry about spelling, grammar, or typos, they just speak into their webcams and share their thoughts. This humanizes the information, brings it to life, and differentiates you from the competition."
Vidyard for SalesLoft continues to extend the power of video across the entire business, from sales, to marketing, to customer service and beyond. In January, Vidyard launched GoVideo for Teams, a business-class video-recording tool that makes it easy for organizations to embrace the power of video for personalized communications. This comes after the company was also named a leader in Forrester's 2016 Online Video Platforms For Sales And Marketing Wave Report.
Vidyard's robust set of open APIs and extensions allow developers like SalesLoft countless ways to build the potential of video into products and applications – all underpinned by unmatched analytics on video content and viewers.
More Information:
About Vidyard
Vidyard is the video platform for business that helps organizations drive more revenue through the use of online video. Going beyond video hosting and management, Vidyard helps businesses drive greater engagement in their video content, track the viewing activities of each individual viewer, and turn those views into action. Global leaders such as Microsoft, McKesson, Lenovo, LinkedIn, Cision, Citibank, MongoDB and Sharp rely on Vidyard to power their video content strategies and turn viewers into customers.
Media Contact:
Sandy Pell,
Sr. Manager, Corporate Communications
Vidyard
press@vidyard.com
Screenshots:
With Vidyard for SalesLoft, sales reps can add an engaging video thumbnail image to their sales emails and email templates.
Record a personalized, custom video message inside SalesLoft – as fast as leaving a voicemail.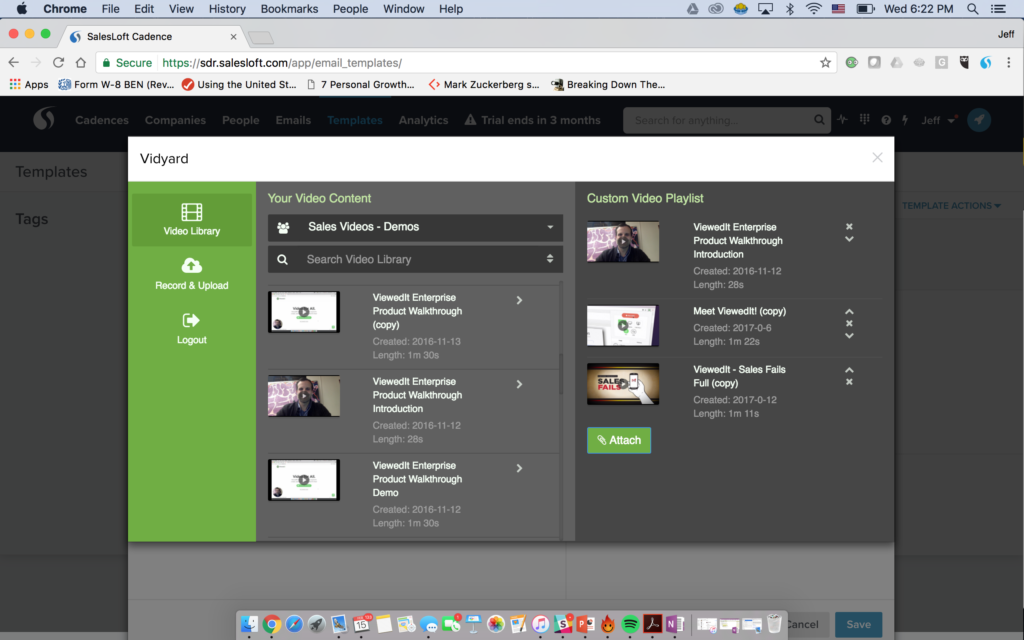 Compile videos from marketing and sales into a custom video playlist, curated for prospects.