October 18, 2023
·
9 min read
Unleash the Power of AI: 4 Ways to Supercharge Your Outbound Sales Efforts
Learn how to transform your outbound sales with AI. From improved rep ramp time to quality improvements to productivity gains. Get four actionable ways to start using AI in outbound sales—today.
Leveraging AI in sales is no longer a futuristic concept—it's a necessity.
Today's estimates suggest that only about a quarter of reps use it to their advantage. Still, based on insights from a Skaled Consulting webinar featuring Jake Dunlap, we've got some compelling reasons why you should care and practical ways to harness AI for automated outbound sales starting now.
Read on to learn how AI is transforming sales and can improve outbound prospecting, plus four ways to use AI to augment your outbound efforts.
Outbound Sales, Automated.
Spend less time hunting leads and more time hitting

quota

with Vidyard Prospector.
Learn More
Contents
4.2.1 Prompt 1:
4.2.2 Prompt 2:
4.2.3 Prompt 3:
4.2.4 Prompt 4:
4.2.5 Prompt 5:
4.2.6 Prompt 6:
4.2.7 Prompt 7:
6.0.8 Prompt 1:
6.0.9 Prompt 2:
6.0.10 Prompt 3:
6.0.11 Prompt 4:
6.0.12 Prompt 5:
6.0.13 Prompt 6:
6.0.14 Prompt 7:
7.0.15 Prompt 1:
7.0.16 Prompt 2:
How Can AI Improve Outbound Sales?
AI can carry your outbound sales to new heights. It's transforming sales automation—helping you generate more leads, use generative AI to create truly personalized sales emails, build stronger relationships, and close deals faster.
It'll make you more efficient while maintaining a personalized experience for your potential customers in three main ways—rep ramp, improved quality, and productivity boosts.
How to Use AI for Outbound Sales
Rather watch than read? Check out Jake Dunlap's entire session from Vidyard's Fast Forward Virtual Summit.
Rep Onboarding and Ramp
With AI tools at our disposal, things like onboarding new sales reps will ramp up significantly faster—like 3x more quickly. From training to sales discovery and research, reps will be ready to sell in no time.
Improved Quality of Outbound
Jake highlights in his Fast Forward session that outbound sales activities have fallen off a cliff regarding quality. Everything seems impersonal and isn't connecting. Leveraging AI tools (in the right way) for automated sales activities will let reps do more and do more without quality suffering.
Productivity Gains
And lastly, using AI for outbound sales will make you more productive across all facets of your job. From automating prospecting to generative cold emails and follow-ups, you have more time to do what you do best: sell.
4 Ways Sellers Can Use AI for Outbound
1. Use AI for Personalization and Prep
Personalization has become essential for successful sales outreach, and here's where AI steps in to shake things up. AI enables teams to personalize their interactions with unprecedented efficiency and impact.
Research and List Building
Imagine getting up to speed on a specific persona, whether it's industrial manufacturing companies or project managers in various-sized organizations. AI helps you identify your ideal prospects and their critical pain points and adapt your messaging based on economic conditions and job titles.
B2B automated prospecting tools can act as your virtual sales assistants. With an AI-powered solution like Vidyard Prospector, you can enter your territory, and who you want to target, and machine learning will do the heavy lifting and build you a target list that fits that profile.
If you're looking to use AI tools like ChatGPT, you can use it as a starting point to research talking points and trends that will help you further personalize your outreach. Give the prompt below a try to see it in action.
Research by persona by trying the following prompt in ChatGPT:
What do Product Marketing Managers care about the most?
See what comes back, and then ask in the same thread…
What about Product Marketing Managers that work for regional credit unions, and how are they different from their peers who work at large regulated banks?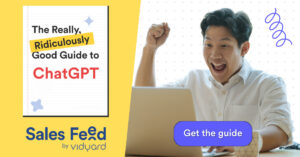 ChatGPT for Sales Guide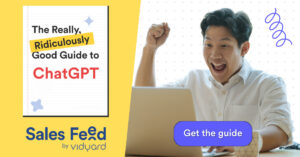 Get started with ChatGPT! This guide has everything you need to know.
Get the Guide
Personalize for Your Prospect
If your teams aren't customizing outreach efforts, it's no wonder your results are falling short.
Mentioning a prospect's name or company is a start, but AI-driven tools enable a better understanding. They help you quickly grasp persona nuances, industry dynamics, and individual pain points. You can showcase how your products or services provide tailored solutions by crafting relevant messages addressing their needs.
AI tools like ChatGPT enable you to leverage video transcripts, and PDF searches provide valuable insights to craft personalized messages. The goal is not to overwhelm you with more requests or increase quantity but to enhance the quality of your communication. AI allows you to extract information, understand needs, and create impactful, resonating messages.
Become an industry expert 3x faster and try these proven AI prompts from Skaled.
Prompt 1:
I am new to a sales development role at (domain) and am tasked with booking meetings with (job title) primarily and these (job titles) as well. I am working in (X industry), and here are 5 sample domain samples (insert). Based on this, what are 5 potential priorities for someone in this role?
Prompt 2:
What is the deeper impact to the business in that space due to that issue?
(Repeat this for all of the priorities)
Prompt 3:
Knowing the product I sell and those deeper issues with point 1, how could I customize two sentences to how my product solves that problem?
Prompt 4:
Great. Who are the top 4 competitors to my company, here are a few sites to review as well (insert competitors sites).
(Refine the answers to the right fit)
Prompt 5:
Based on the impact that we have for point one, how might the competitors listed here might differentiate against us?
(Ask the same for points 2-5)
Prompt 6:
Based on what you know of the buyers, our potential impact for point one, and our competitors' potential impact for point one, how would you write a 7-sentence email for us to stand out?
(Repeat for points 2-5, and you can also ask to combine points for one email as well)
Prompt 7:
Based on all of this, which email set might be most differentiated and specific to this buyer?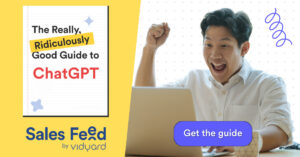 ChatGPT for Sales Guide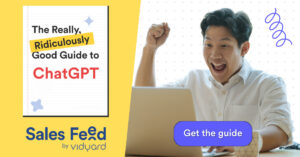 Get started with ChatGPT! This guide has everything you need to know.
Get the Guide
2. Speed Up the Email Writing Process with AI Tools
Lead generation and research are time-consuming tasks that often bog down sales representatives. Estimates from Salesforce say over 20% of a rep's time is spent on these tasks. AI can streamline the content creation process and alleviate that burden, freeing up reps' precious time to do more.
AI-powered B2B prospecting tools can assist sales reps in generating high-quality cold emails and follow-ups. These tools leverage natural language processing and machine learning algorithms to analyze existing content, identify patterns, and generate personalized messages.
With AI, reps can spend less time on manual content creation and more time engaging with prospects and building relationships. By automating repetitive tasks, sales professionals can focus on what they do best: selling.
Stop starting from scratch and use AI to:
Create thread templates: Create a library of prewritten email templates and other content for various sales scenarios and buyer personas. Categorize them by sales email subject lines, persona A and B, cold emails, warm emails, common sales objections, etc.
Skip the first email draft: Get AI to write your initial version of a sales email. Tools like ChatGPT can generate a complete email draft based on your prompts or specifications. An automated prospecting tool like Vidyard Prospector will auto-generate your emails based on the territory and target audience information you input.
Perform grammar and style checks: Have tools like ChatGPT or Grammarly proofread and refine. It can improve overall quality, professionalism, and tone. All you have to do is ask.
One major caveat here is that although it's getting close, AI does not strictly equal outbound sales automation. Don't just copy and paste what you get as an output. It's a spot to get you started, not the be-all and end-all for copywriting.
Outbound Sales, Automated.
Spend less time hunting leads and more time hitting quota with Vidyard Prospector.
Learn More
3. How to Use AI for Sales Role Play
Sales role-playing is a valuable training technique that helps reps enhance their skills and handle various scenarios effectively. With the help of AI, sales role-play is about to get a lot better.
Reps can use AI chatbots that mimic real prospects or customers by simulating different scenarios and conversations. This allows them to practice their sales techniques, refine their messaging, and receive instant feedback. AI chatbots can analyze conversations and provide insights for better improvements.
With AI-enabled role-playing, sales teams can continuously sharpen their abilities and stay prepared to handle any situation that comes their way. Jake from Skaled believes it should be part of every sales onboarding process to ramp up reps faster than ever before—we're talking about reps having high-quality conversations in weeks and not months.
Every thread you start should almost be a new stream of consciousness. Create different threads for different sales role-play scenarios. Then just keep training it to get better and more refined.
Take your sales role-play to the next level with these AI prompts from Skaled.
Prompt 1:
I am selling a product that you can find at [domain], and we have four main value propositions [Insert four value props]. What do [Job title] care about most in the [sub-industry] assuming that the economy is not great or may go down?
Prompt 2:
What do they NOT care about in these environments?
Prompt 3:
Based on these two questions, what are the top two value propositions that will cause people to buy because they generate the highest ROI?
Prompt 4:
What are four questions I can ask that [job title] to get them to see that we might be able to solve their top priorities that may make them realize they need the solution?
Prompt 5:
How would I adjust this pitch for the [job title] to get budget approval from a CFO who cares about costs most?
Prompt 6:
What will their biggest objections probably be that I should add in the proposal to make them comfortable?
Prompt 7:
Based on all of this, what would be the top 10 slides to include in a deck to pitch my services to address both use cases highlighting the top priorities and needs of the VP of Sales and also addressing the concerns of the VP of Sales?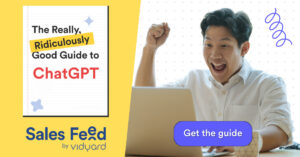 ChatGPT for Sales Guide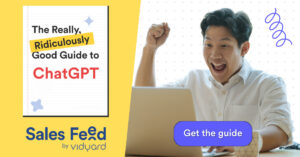 Get started with ChatGPT! This guide has everything you need to know.
Get the Guide
4. Level-Up Your LinkedIn Game with AI
Social selling on LinkedIn is part of the sales gig if you want to build your profile and reputation within your industry. However, if you're overwhelmed by engaging on LinkedIn or unsure what to say, let AI do the heavy lifting for you.
The best way to use AI for LinkedIn is to summarize existing content, create new posts and content, and engage with your audience with more compelling responses than, "Great post!"
You can get creative with tone and approach and feed that into your prompts to help ensure the output isn't too formal or robotic. And remember, use AI as a first stab at the content, don't mindlessly copy and paste.
Try creating some LinkedIn posts based on these prompts from Skaled.
Prompt 1:
Summarize three key points from this article: [paste article content].
Prompt 2:
Now write a LinkedIn post for each of these points. The posts should be educational and not promotional. Don't include a call to action (which means don't include a link, do not include the post to read more, learn more, discover more, etc).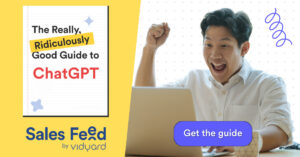 ChatGPT for Sales Guide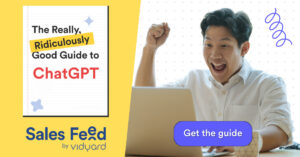 Get started with ChatGPT! This guide has everything you need to know.
Get the Guide
Take Control of Your Own AI Journey
AI allows you to optimize your sales process in multiple ways, and the four sales strategies we've discussed highlight the many benefits and use cases of AI in outbound sales prospecting.
But, at the end of the day, it's up to you to own your own AI journey and put these things into practice. Reps must start thinking about leveraging AI day-to-day to be more productive and successful in their outreach efforts. AI is going to change the way that we work, and the people and teams that leverage these tools are going to be the teams that win. If you want to learn more about how AI be used in sales, read Vidyard's Ultimate Guide to AI in Sales.
Outbound Sales, Automated.
Spend less time hunting leads and more time hitting quota with Vidyard Prospector.
Learn More
This post was originally published on July 13, 2023. It was updated on October 18, 2023.