November 3, 2023
·
14 min read
A New Era for Video Creation: The Best AI Video Editing Tools in 2023
From video script generation to post-production. We've rounded up the best AI video tools (both free and paid) to help you enhance your video creation with ease and quality.
Creating video content is easier than ever, thanks to the revolutionary capabilities of Artificial Intelligence (AI). Whether you're a social media creator, content marketer, or sales pro, these 15 AI video editing tools are designed to simplify video creation. They save you time and effort while enhancing the quality of your videos.
In this roundup, we'll explore the world of AI video tools. We'll discuss their benefits, potential drawbacks, and various use cases. Start using them today!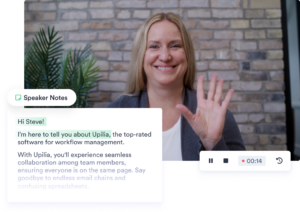 Vidyard

AI Sales Script Generator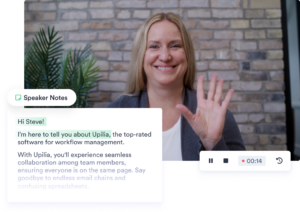 Let AI be your assistant and create sales scripts for you.
Try it Now
Contents
4.1.1 ChatGPT
4.2.1 Biteable
4.2.2 Pictory
4.2.3 Synthesia
4.2.4 Runway
4.3.1 Topaz Labs
4.3.2 OpusClip
4.3.3 CapCut
4.3.4 VEED.io
4.3.5 Descript
4.3.6 Gling
4.3.7 Capsule
4.3.8 Adobe Premiere Pro
How Can AI Help You Create Videos?
AI video tools leverage advanced algorithms to automate or assist in the video production process. AI accelerates tasks like script writing, video generation, and editing, enabling you to create more content in less time. It also helps you produce high-quality content.
Tools like generative fill, audio enhancement, and video upscaling enhance the look and sound of your videos beyond traditional tools. Plus, many of these tools are affordable or even free and easy to use. Benefit from them whether you're a professional or amateur video creator.
AI Video Editing Tools Aren't Perfect
Like most things generated by AI, the output isn't always perfect. You should look at how these tools can augment your role as a creator and make you more productive. They aren't a replacement, and there are a few things to watch out for:
Lack of personal touch: Depending solely on AI video tools may

lead

to a lack of creativity and personal touch. So, make sure you are editing and personalizing the output where necessary.
Wonky results: AI video generation tools, in particular, can turn out some pretty weird stuff. To maximize the potential of AI video tools, spend time refining your prompts. You want a confident product that you can put out into the world.
Learning Curves: Like any new software, most AI video tools require time to master, which can be a hurdle for beginners. That being said, others are totally intuitive. We'll call those out in the list below.
How To Use AI Throughout the Video Production Process
AI video tools can be used throughout the video creation process, from conception to post-production. Here are the seven main ways AI is being used to generate and edit video.
Concepting: Brainstorming and building out the concept of your video can take a lot of time, especially if you're doing it alone. AI tools like ChatGPT can help speed up the creative process and bring ideas to the table that you may not think of otherwise.
Script Writing: AI can generate video scripts based on your descriptive input, so you'll never be at a loss for words again.
AI Video Generation: Bring your ideas to life with AI by inputting descriptive prompts to create whole videos at scale or clips that otherwise would have cost you a Hollywood budget.
Voiceover and Audio Cleanup: Automatically generate voiceovers using an AI avatar, clone your voice, or clean up audio for professional sound quality.
Background Removal: Easily remove or replace backgrounds as if you used a greenscreen.
Auto Editing: Let AI handle basic video editing tasks like cutting and splicing clips and removing pauses and filler words.
Caption Creation: Generate transcriptions or subtitles for your videos faster than ever before—and they're great for accessibility. (Be sure to check for accuracy!)
15 of the Best AI Video Creation Tools (Free and Paid)
Let's dive into some of the best AI video tools for every use case!
AI Script Generators
1. ChatGPT
Whether you're looking to brainstorm ideas for your new promo video or want a detailed script for your demo video, ChatGPT can help you out. Using natural language, input a detailed description of what you hope to achieve, and ChatGPT will generate something for you in seconds.
For example, ask it to give you five ideas for an explainer-style video, copy and paste an existing script outline or even a blog article, and ask it to generate a polished script.
The best practice is to iterate with the tool, asking it to refine and change the results until you achieve your desired outcome.
Price: Free to use the 3.5GPT model, $ 20 USD/month for the "smarter" latest version.
2. Vidyard AI Script Generator
Easily create AI-generated video scripts in seconds by describing your desired message in natural language. As always, the more detailed the prompt, the better the output. Unlike ChatGPT, this tool is specifically designed for sales videos, so if you are a seller, this tool is optimized to create compelling sales pitches and then use a tool like Vidyard Video Messages to record your script and send your video.
If you're not in sales and would still like to try out this free tool, just make sure to enter a prompt that requests a different type of script format (i.e., dialogue between two speakers or a Shakespearean sonnet). The more details you provide about video length, theme, and tone, the better the result will be. Combine the script generator with Vidyard's teleprompter within the free screen recorder for seamless video production.
Price: Free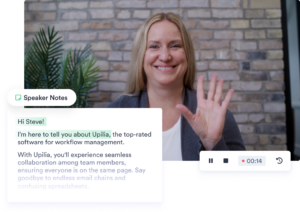 Vidyard AI Sales Script Generator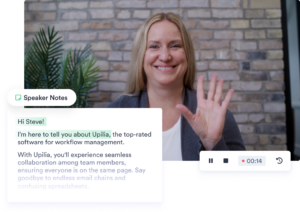 Let AI be your assistant and create sales scripts for you.
Try it Now
AI Video Generators
3. Biteable
Biteable is an AI video assistant and in-browser editing suite that helps you create simple, templated videos from script to edit with just one prompt. You choose the video type (explainer, promo, how-to etc.), the format (landscape, vertical, or square), and the visual style, from a variety of options and of course enter a descriptive prompt, like "a 30-second video celebrating Stephanie's 4th work anniversary at Vidyard."
Within seconds, you'll have a slideshow-style video complete with an AI-generated script, stock video, images, and royalty-free background music. You can customize and swap out all the elements and upload your brand colors and logo.
Or skip that last step by providing your company name and Biteable will grab all that brand stuff for you by scraping your website.
While the final product may not win any awards for cinematography, it's incredibly useful for creating quick social videos or promoting internal milestones like work anniversaries or product updates.
Another bonus is a collaboration feature so you can share projects and templates with your team.
Price: Try it for free, subscribe at $29/month or $99/year.
4. Pictory
Pictory is an AI video generator that will turn your prewritten script or article into a slideshow-style video by breaking it up into scenes and adding in relevant stock images, graphics, gifs, royalty-free music, and text. It also offers AI voiceover to paid accounts.
Pictory's standout feature is the ability to convert articles and blog posts into videos using just the URL. While this feature currently requires meticulous editing and tweaking (perhaps making it quicker to write the script from scratch), the potential of this technology is undeniable given how much time and effort it could save on content repurposing.
Price: Starts at $19/month after a free trial period.
5. Synthesia
Are you ready to enter the uncanny valley? Synthesia offers over 140 AI avatars that will read scripts in over 120 languages. The tool allows you to generate your script via prompt or input your own. Then choose a video template and an avatar. Once your video is generated, you can edit it like a slideshow, collaborate with a team, and publish it directly from the platform.
While the avatars won't fool anyone into thinking you've hired actors, we'll be watching this tool to see how the technology improves.
Price: Free limited-time trial or $22-$67/month
6. Runway
Runway is a robust AI-powered video generation tool that offers unique features for content creators. "Gen1" lets you transform your existing video footage into various styles, such as claymation or cinematic, based on your prompt. "Gen2" generates video from text or images, allowing you to bring your ideas to life.
If you're looking for inspiration, Runway provides a library of AI-generated video clips that can be customized to match your desired style. The tool also includes a background remover (or AI greenscreen) that isolates people and objects within your video and changes the background.
Like any AI tool, experimenting with prompts is necessary to achieve the best results. Currently, the green screen tool proves to be the most finessed and practical feature for day-to-day editing needs, while the generative video might be more for experimentation and b-roll at this phase of development.
Price: Free trial with a limited number of credits or purchase from $12-$76 per editor per month.
See it in Action
Here's what Runway produced based on the prompt: "A cinematic shot of a calm cool day in the forest, and a red tent is set up under the trees:"
AI Video Editing Tools
7. Topaz Labs
If you've ever looked at your recorded footage and realized it was too grainy or low resolution, this product could be your hero. Topaz Labs provides photo and video quality enhancement that can help make your 720p footage stand up next to 4K.
The product is designed for professional video editors, but it's also useful to upscale grainy Zoom recordings and stabilize videos captured on smartphones. The results are impressive.
Price: $249 to own it forever.
See it in Action
8. OpusClip
Have a webinar or interview recording that you want to cut down into bite-sized social media clips? Opus Clip will save you a ton of time. You simply upload your footage (or provide a link to a video that's already hosted online) and instruct the AI video editor to identify clips based on specific keywords, select the desired format (vertical or horizontal), and the preferred clip duration.
In one go, Opus will generate 10-20 clips (depending on the length of the original video) and rank them from best to worst, along with the rationale behind each ranking (i.e., a catchy opening line or keyword relevance will help a clip rank higher).
It also automatically transcribes your videos and adds trendy-looking captions for an engaging visual experience.
Note that Opus won't crop or trim your clip to fit into a new aspect ratio, so make sure to format the original footage before uploading it to ensure your subject stays within the frame.
Price: Free trial with a limited number of minutes or upgrade to $19/month or yearly subscription.
See it in Action
Here's just one of the clips Opus generated from a podcast recording with sales expert Hannah Ajikawo:
9. CapCut
Free to use with a TikTok account, CapCut is an easy-to-use AI video editing suite for everyone. Whether you're just learning how to video edit or are a pro looking for a tool to speed up the process. It's the perfect tool for creating social videos as it offers a wide range of templates, graphics, sounds, and filters that are already popular on social media platforms like TikTok and YouTube.
Its AI capabilities include auto-captioning, text-to-speech, AI green screen (background remover), and even script-to-video functionality. Although the script-to-video feature may still need some improvements, it essentially transforms your script into a video with a narrator and stock images and videos (or your own provided content).
Price: Free with a TikTok account.
Learn from the Pros
Watch
Sales Feed's Tech Talk
CapCut Review and Tutorial, and get started today.
10. VEED.io
VEED is an in-browser video editing tool with built-in AI video features, including script generation, auto-transcribe, text-to-speech, and audio cleanup. Like CapCut, it includes an extensive library of graphics, animated gifs and stickers, sound effects, and royalty-free music.
One of the standout features of VEED.io is its large library of templated videos designed for various social platforms.
VEED also offers AI avatars to read your script, but as of now, the technology is still in development. The avatars won't fool anyone into thinking they're real humans, but they can certainly add a more dynamic presentation to your voiceover.
Price: Free to try with limitations, or $16-$79/user/month
11. Descript
Descript is a powerful AI video editor packed with features like auto-transcription, text-to-speech, eye contact correction, and AI green screen (background remover).
One of the standout highlights of Descript is it allows you to edit via the transcript, saving you the hassle of manually seeking out specific sections and sound bites. Moreover, it efficiently eliminates silences and filler words like "ums" and "ahs."
Two stand-out features of Descript are the AI eye contact corrector and AI voice cloning. The eye contact corrector is exactly what it sounds like, making it look like your subject's gaze is directed toward the camera, even if it wasn't during the original recording.
The AI voice cloning feature allows you to create an AI version of your voice by analyzing a brief recording. This feature is particularly helpful if you want to change a specific word or sentence without the hassle of re-recording. While video matching of the voice clone is not available yet, b-roll can help fill in the gaps.
Price: Free with limitations or starting at $12/user/month.
12. Gling
Gling is a desktop-based AI video editing tool that includes auto-transcription, transcript-based editing, and pause and fill word removal. The tool doesn't have an eye contact corrector or overdub. However, it saves you time by auto-selecting your best take. Additionally, you can export your video file as a Premiere Pro, Final Cut, or DaVinci Resolve project with Gling, allowing you to edit wherever you prefer.
Price: Free trial or $10-$15/month
13. Capsule
Capsule is a browser-based AI video editing tool that offers features like auto-transcribe, transcript-based editing, and pause removal. Its differentiators include the ability to add AI-generated b-roll images and a branding kit to provide multiple team members with easy access to consistent branded elements.
While the interface is not as intuitive as the more established tools, its intriguing "coming soon" list (including the ability to highlight the best quotes and AI voiceover and audio) means we'll be watching the evolution of this tool.
Price: Free with limitations, or talk to sales for enterprise pricing.
14. Adobe Premiere Pro
You may already be familiar with this professional-grade, full-suite video editing tool, but you may not realize that it already encompasses many of the AI tools listed above. Premiere Pro features auto transcribe, transcript-based editing, pause, and filler remover, and some more that deserve some further exploration.
Scene edit detection analyzes lengthy video footage, detects where the cuts should be, and makes those cuts for you.
As previously mentioned, Premiere Pro includes pause and filler word removal but unlike other products, it includes a toggle to give you more control over the amount of space between the cuts (which can hugely affect the tone of your project).
One of its most useful features is the enhance speech tool that cleans up your audio recordings that makes poor-quality audio sound like it was recorded in a studio. It works with a click of a button and you can toggle this effect as well if you want to add a little bit of background noise back in for ambience. (You can use this tool for free within Adobe Podcast.)
There are many other features to explore, including auto-motion tracking. And like the rest of the Adobe suite, Premiere Pro provides a high level of control over your edit. This sets it apart from many other tools on the market.
Price: Adobe Premiere Pro is $27.99/month
15. Adobe Photoshop Generative Fill
Similar to the other AI video generation tools mentioned above, Photoshop creates new scenes and images based on your descriptions. Photoshop can take your existing video footage and extrapolate it. It creates backgrounds or adds items within your shot. These may not have been there before, giving you a unique result.
Note that this tool works with still images. You'll have to use a static shot and layer it into your video. Adobe calls it a mask, also known as a greenscreen tool or background remover. This feature is game-changing for budget-conscious video professionals. Now, even tiny studios can turn into expansive landscapes with Adobe AI.
See it in Action
Check out the first scene of our Halloween video Sell. See if you can tell that the background items in the "dungeon" scene weren't really in the room.
You're Now Ready To Harness the Power of AI To Enhance Your Video Creation Process
From ideation to export, the tools in this list merely scratch the surface of how Artificial Intelligence is revolutionizing video creation. Creators, marketers, and sellers of all skill levels can experiment with AI video tools. They can create mind-blowing videos faster and at a higher quality than ever before.
As the technology improves, we're excited to see what the future brings.