August 4, 2021
·
13 min read
The Ultimate Social Media Video Guide
Social media video is a powerful way to engage your followers. But it's different on every single platform. Here's what you need to know to do it right.
If you think of all the things you can post to social media—text, emojis, GIFs, pictures—video is by far the biggest ticket item. It's eye-catching, exciting, and packed with emotion. Sure, a cheeky critic can pack a big story into a little tweet, but social media video always says so much more.
Social media videos offer glimpses into other worlds and let audiences feel a personal connection to the person doing the posting. That can humanize a big brand, make a product launch personal, and make a sales team fun and approachable. If you use it correctly, that is.
Social media marketing isn't just a dumping ground for your existing video content. Every social platform has different limitations—technical and cultural—that make audiences hungry for very different topics and formats.
As much as it might seem like a pain to create entirely different videos for every channel, that's what you ought to do for the best results. If your bandwidth is limited, it's best to pick a few channels that you want to do really well on rather than spread yourself thin trying to create videos for them all.
Contents
2.1 YouTube Video
2.2 Facebook Video
2.3 LinkedIn Video
2.4 Twitter Video
2.5 Instagram Video
2.6 Pinterest Video
2.7 TikTok Video
2.8 Snapchat Video
The Benefits of Social Media Video
If your brand wants to stay relevant and engage your audience, then you need to be using social media video in your marketing strategy.
Audiences and potential customers all have access to mobile devices with social media apps and they want to be entertained.
Here are some important social media video statistics you should care about when considering your next marketing campaign and whether to invest in video:
Half of Gen Z and Millennials "don't know how they'd get through life without video" (HubSpot, 2020)
Social media is the most popular distribution channel for

B2B

video. (Vidyard, 2021)
95% of video marketers said they felt they'd increased understanding of their product or service using video. (Wyzowl, 2020)
How Social Media Video Differs Based on the Network
Each social media site has its quirks and treats video differently. Most prefer widescreen format (stories based content on apps like Snapchat are the exception) and a screen resolution of roughly 1920×1080 pixels, but the similarities end there.
YouTube Video
YouTube is the world's second largest social network, the second largest search engine, and the only place where videos are the primary form of communication.
If you're looking to dip your toes into social media video, this is among the most forgiving sites. Videos here are the point, and you can sometimes get away with reposting videos you already have. It's a fitting home for your company's hype reels and trailers as well as long-form webinars and event broadcasts.
When you plan video content for YouTube, prepare for it to be discovered by users trying to solve a particular problem. YouTube users often find videos by searching Google or searching YouTube's social media video app. They also often search terms like "How to," "Best way to," or "Product review," and look for clearly titled videos with relevant thumbnails.
Pro Tip: Add a featured video on your YouTube Brand Channel to explain what the channel is about and spend time organizing videos into playlists so viewers watch more than one.
YouTube Video Specs: The recommended video size is 1920×1080 pixels. YouTube's player is widescreen format (16:9) but very forgiving, and supports most ratios.
YouTube Video Ideas:
Post Videos to Your Brand Channel: Upload how-to videos, product explainers, demos, and webinars.
Stream Live Video: Use YouTube Live for launch announcements, live interviews, and behind-the-scenes looks.
Run YouTube Video Ads: Run in-stream ads, discovery ads, bumper ads, and outstream ads.
Facebook Video
Facebook is currently the largest social media video site.
In terms of earning a massive reach, Facebook video marketing works a bit differently. Unlike YouTube, which shows everything to everybody, Facebook shows your videos to followers and friends of followers.
Facebook users are generally more interested in entertainment or inspiration than they are in solving problems. Videos that do well here are ones with broad emotional appeal like customer stories, surprising facts, or jaw-dropping imagery.
Another big difference: 85% of people watching videos on Facebook do so with the sound off. (Many are on mobile, on their commute, or in the office without headphones). Ensure your Facebook videos work just as well on silent, by adding captions that explain what's happening. You can and should use voice overs, sound effects, and music, but make sure that your video makes just as much sense without them.
Facebook Live stream has also taken off, with one in five videos on the platform now broadcast through Live. The tool allows you to stream content live to your followers, who can engage and comment on the stream. Afterwards the broadcast is archived on your account. Using tools like Facebook Live can increase your chances of catching your audience's attention, as users are now 4x more likely to watch live streams than recorded videos.
Another way to stay relevant on your audience's feed is to upload your video files directly to Facebook rather than post a link that directs people to view on YouTube or other video hosting site. The reason: Facebook wants to keep people on Facebook and prefers not to link to other social networks, especially competitors. It gives preference to natively uploaded videos that get more engagements and shares than any other content type on Facebook, including Facebook Live video.
Facebook Video Specs: The recommended video size is 1280 x 720 pixels, but there are lots of video formats on Facebook with different parameters:
Facebook 360 videos: 4096×2048 px and a 2:1 aspect ratio
In-stream video ads: 1280×720 pixels
Facebook Messenger video ads: 1280×720 px
Carousel video ads: 1080×1080 pixels
Collection video ads: 1200×628 px
Slideshow video ads: 1280×720 px
Facebook Video Ideas:
Upload Videos to Your Brand's Facebook Page: Post inspirational videos, emotionally evocative videos, event recordings, employee spotlights, and commercials.
Add Videos to Your Brand's Page Cover: Make the first thing viewers see a video montage.
Post to Facebook Stories: Offer short updates of, say, a roadshow or event.
Stream Facebook Live Videos: Announce new hires, interviews, and product launches.
Run Facebook Video Ads: Run in-stream ads, carousel ads, slideshow video ads.
LinkedIn Video
LinkedIn can now safely be called a video-friendly social network. A LinkedIn video post is 20x more likely to be re-shared versus a text-based post.
As the world's premier professional social network, videos that do well here are typically career-related and are shamelessly product, company, or feature-centric, and that's applauded.
On LinkedIn, you'll see lots of videos about successful funding rounds, hot takes on the state of an industry, praise for mentors, off-the-cuff interviews, and live broadcasts from conferences.
LinkedIn videos are somewhat temporal on your personal page. Meaning, they disappear quickly. Unlike YouTube, they don't have a place where they all live and you can't make playlists, so old videos get buried in your feed unless you repost them or promote them as an ad.
LinkedIn recently added hashtags that people can follow, and on which your video can "trend," or be shown to people who follow the hashtag. Trending videos are mostly a function of using the hashtag and then earning lots of comments (likes, reactions, and shares matter much less).
A recent new feature for LinkedIn is that you can now send a direct video message to another user. If you use a tool like the Vidyard Chrome extension, it's easy to record and send a video right within the LinkedIn direct message composer. You can also share videos from your Vidyard library on your personal LinkedIn feed, in a direct message, or to a company page.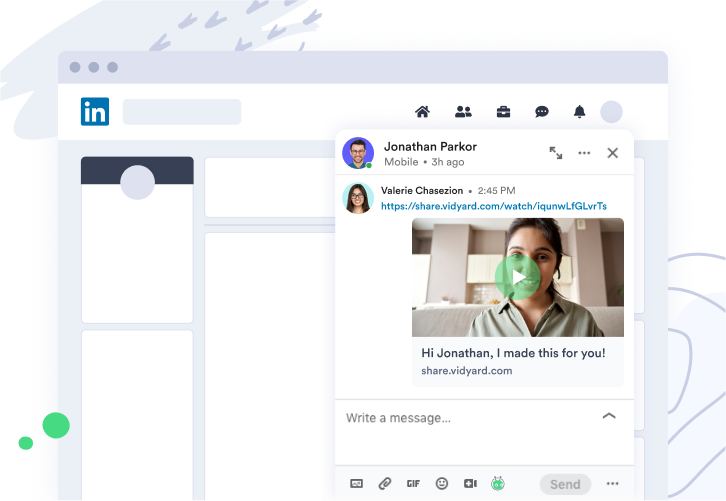 LinkedIn Video Specs: The recommended video size ranges from 1920×1080 to 4096×2304 pixels, but likely, the camera on whatever device you're recording with will do.
LinkedIn Videos Ideas:
Upload to the LinkedIn Feed: Post videos to teach, share, rally, or praise others. Post-interview and Q&A videos.
Stream a Live Video: Launch live interviews and Q&As.
Twitter Video
Twitter is the debate forum of social media sites where everyone's connected, for better or worse, and things go viral quickly. If LinkedIn videos seem transient, Twitter's are even more so. Things move fast and the videos that do well tend to have lower social media video production value and be higher in in-the-moment authenticity and off-the-cuff candor.
Twitter features a truly unfathomable number of niche interest groups and finding them is a matter of finding the hashtags they use to band together. Things trend in real-time and live streams work great because immediacy is in Twitter's DNA. It's part of what people find addictive about the platform.
You'll see a wide variety of videos on twitter, but the great preponderance of them are someone talking to the camera or filming something with their smartphone. Not surprisingly, most videos on Twitter are very, very short. Yours should be too—attention spans here are microscopic.
Twitter Video Specs: The recommended video size is 1920×1200 pixels and vertical videos are 1200×1920 pixels. Don't fret too much: Likely any device you're tweeting from has a built-in camera that can accommodate that size and ratio.
Twitter Video Ideas:
Tweet Videos: Post news, hot takes, GIFs, and interviews.
Stream Live Video: Post live behind-the-scenes looks at things like events (real or virtual), your office, or your work.
Run Twitter Video Ads: Run promoted tweets, promoted accounts, promoted trends, and outstream ads to ad properties in Twitter's advertising network.
Instagram Video
Instagram is a visual-first platform that (heavily) prioritizes images and videos over text. Any videos you post here will typically compete with highly curated photography, design, and art, so the pressure to film something surprising or visually arresting is higher than on other sites.
Snapchat may have invented the ephemeral video story, but Instagram made it famous. Nearly 400 million people use Instagram Stories to post a series of photos or videos in a slideshow format which disappears after 24 hours.
Instagram provides lots of tools for annotating Stories content with text, emojis,GIFs, and interactive stickers. Like animated text in PowerPoint, it's easy to over-do these.
The discovery process on Instagram is driven by hashtags. Unlike other sites, you aren't limited or penalized for using too many hashtags. You can add up to 50 of them, but do it at the bottom of the post where they won't interrupt the rest of the content.
Instagram Video Specs: The recommended video size is 1080×1080 pixels. (Instagram images and videos are square by default, though you can share horizontal or vertical content).
Vertical video: 1080×1350 px
In-feed video ads: 600×500 px
Carousel video ads: 1080×1080 px
Stories video ads: 1080×1920 px
Instagram Video Ideas:
Post Videos to Your Twitter Feed: Post videos of beautiful product designs, behind-the-scenes stories, interviews, and Q&As.
Share Videos into Your Stories: Post day-in-the-life videos and behind-the-scenes stories.
Run Video Ads: Post short commercials for your product
Pinterest Video
Like YouTube, Pinterest is primarily a discovery platform. Photos are the focus and users are generally pretty goal-oriented. They're looking for recipes, gift inspiration, design inspiration, or products to buy.
In Pinterest's words, "The best videos are those that are actionable and show the viewer how to do or try something new."
Users interact with Pinterest either by searching or by scrolling down through an infinite feed where videos auto-play by default. The motion of an auto-play video can really set your post apart.
Pinterest Video Specs: Pinterest supports a range of aspect ratios and sizes, including 16:9, 1:1, 9:16, 4:5, and 2:3.
Pinterest Video Ideas:
Post Feed Videos: Share tutorials, how-to videos, promotions, deals, downloads, and animated infographics.
Promote Pinterest Video Ads: Run either standard width (one box in Pinterest's mason grid) or full-width promoted videos that appear in users' feeds.
TikTok Video
In many ways, TikTok is quite unlike other social platforms.
The standard video length is up to three minutes. And the company has recently started rolling out the ability for videos to be up to 10 minutes. Vertical video is all-but-mandatory (rather like stories-based content on other platforms, but without other feed or aspect ratio options). Sound is essential to most videos on the platform (unlike many networks where silent video playback reigns supreme).
The app boasts a loyal and active user base. It has 800 million monthly active users (according to a leaked deck from the company), 30 million of which are in the U.S. The average global user spends 13.3 hours per month watching videos on TikTok. There are more than 35 TikTok influencers who have tens of millions of followers.
What about brands? So far, TikTok has proven popular with consumer brands, counting the likes of Nike, The Washington Post, Skittles, the NBA, Fenty Beauty, the San Diego Zoo, and Pepsi among its ranks. But some B2B companies have started testing the waters too and exploring using TikTok for Business.
TikTok Video Specs: Because TikTok video is exclusively vertical, the recommended size is 1080×1920 pixels in a 9:16 aspect ratio.
TikTok Video Ideas:
Share Short Videos: Record lip-sync or dances, micro sketches, memes, or challenges and share to your TikTok account.
Run TikTok Ads: Pay for a sponsored video, pre-roll "brand takeover," or in-feed video ads to increase your brand's reach.
Snapchat Video
Snapchat leapt to fame with its disappearing video messages which competitors like Facebook and Instagram quickly copied, though Snapchat remains popular. The company claims that more than a third of its audience can't be found on Facebook or Instagram.
Marketers seeking to sell to these individuals can find Snapchat a good if somewhat finicky fit.
Snapchat's videos Snaps are ephemeral: They disappear by design. But not all of them. The company has a discovery feature called Snapchat Story Ads where users essentially agree to watch a short ad in return for the right to watch a longer piece of content. News sites like BuzzFeed and Daily Mail use these to tease larger stories.
Snapchat is a rare outlier in that it prefers vertical videos to horizontal ones. Keep that camera (probably, your smartphone) pointed upright.
Snapchat is truly a different beast from other social sites, from the somewhat intuitive interface to the streetwear-brutalism design aesthetic that's so popular there. (Think leopard prints, neon colors, and misaligned text). B2B marketers be warned: It's not for the faint of heart. Only 11% of video marketers say they've used Snapchat as a video channel, and – out of those – less than half report success.
Snapchat Video Specs: The recommended video size is 1080×1920 pixels (vertical).
10-second video ads: 1080×1920 pixels
Long-form video ads: 1080×1920 pixels
Sponsored geofilters: 1080×1920 pixels
Snapchat Video Ideas:
Post a Snap: Promote deals, giveaways, and contests. Share behind-the-scenes looks at your company.
Run Snapchat Ads: Snapchat offers a surprising variety of ad formats. There are classic paid Story Ads, but there are also sponsored geofilters (where users can virtually stamp their photos with a design you create), sponsored filters (where users can apply a virtual reality "filter" to their photo or video), or even full-length commercials.
5 Social Media Video Best Practices
Some video best practices apply across all social channels. For example:
1. Create value for the viewer: Aim to entertain, inspire, or educate. If your video doesn't do one of these three things, rethink it.
2. Start with an attention-grabber: Animated GIF thumbnails or autoplay videos make a big difference in earning clicks. Use every feature available to make thumbnails intriguing.
3. Frontload the value: Get your value proposition (or at least your company name) out in the first five to 10 seconds of your video. After that, there's a significant dropoff in viewership. One of the worst things you can do in a social media video is waiting until the very end to reveal what it's about.
4. Make it mobile-friendly: Allow subtitles, add captions, and make any text within the video itself large enough to be viewed on mobile. Default to filming for widescreen (16:9) unless it's for a vertical-first format like Instagram Stories.
5. Add a call to action (CTA): Tell viewers exactly what you want them to do after viewing your video with a call to action, and do it before the video ends.
Beyond all the above advice, the best way to get good at social media video is to start making it. Pick the few channels and your social media marketing strategy program's top goals for those channels and see what reactions you get. If you land on something people like, you've unlocked a new source of views, visits, leads, and revenue to help power your video marketing program.
This post was originally published on March 8, 2021. It was updated on August 4, 2021.