May 28, 2020
·
13 min read
The Ultimate Guide to Facebook Video Marketing
What marketing videos work best on Facebook? Should you upload or post a link? How do Facebook Stories work for business? Find answers to all that and more.
In fall of 2014, Facebook leadership took a good long look at YouTube and Snapchat and Instagram and pivoted—partly—to video. "In five years, most of Facebook will be video," Mark Zuckerberg announced. Today, that promise is nearly reality.
Half a billion people watch video on Facebook every day. Facebook is one of the most popular destinations for video on the internet, second only to YouTube. It has launched video features like Facebook Stories, Facebook Live, and Facebook Live 360—and placed buttons to access them easily throughout its many apps.
Just because billions of people are present and watching video doesn't necessarily mean you can reach them all—or that your audience is present. But if anyone can find out whether they're there and watching, it's Facebook. The company invented the social graph technology that most social media sites now use to identify precisely the people who are interested in your videos wherever they are, and encourage them to press play.
Consumer or B2B, enterprise or SMB, there's a Facebook video marketing strategy for every type of business.
Contents
What Are the Benefits of Facebook Video?
Facebook's algorithm loves video. And because it loves video, it promotes video posts further than non-video posts. That's a big advantage given that business' native reach on Facebook has been declining for years.
The platform has tried to reinvigorate plateauing user growth by showing people more content from friends and family and fewer from businesses, but video posts are the shining exception.
Facebook boasts 7 billion video engagements per quarter, reports Newswhip. Videos earn an alleged 1.5x more engagement than photos and 6.4x more engagement than just a link. Buffer puts the video engagement advantage at 135%.
The consensus is that videos earn more eyeballs.
What Types of Facebook Video Can I Share?
Using video on Facebook presents video marketers with a dilemma.
On the one hand, uploading your videos directly to Facebook from your desktop or smartphone confers added benefits. Natively uploaded or recorded videos will auto-play in viewers' feeds and may earn greater reach thanks to a bias in Facebook's algorithm. But the analytics are quite poor and don't integrate with your other marketing tools.
On the other hand, if you post a link to a video, can get real analytics that are actually useful for marketing. For instance, with a Vidyard link, you can track leads that watched, how much they watched, and score them accordingly.
As the aphorism goes, if you can't measure it, you can't manage it. The tradeoff of being able to capture leads and move them through a buyer journey often outweighs a little extra reach. In the end, this depends on your goals.
There are six types of video you can share on Facebook:
Linked Facebook Video
Native Facebook Video
Facebook Stories Video
Facebook Live Video
Facebook Video Ads
Facebook Cover Videos
Read on for a deep dive into each different type.
Linked Facebook Videos
Linking is the original way to share video on Facebook, the method people used before they had the option to upload a file natively.
It's still one of the quickest and easiest ways to share video on Facebook. Linked video means that viewers must click to watch a video hosted elsewhere. You can share links to Vidyard, YouTube, and other videos on Facebook. (Though you also have the option to push Vidyard videos natively to Facebook.)
Native Facebook Videos (a.k.a. In-Feed Videos)
Four out of five videos on Facebook are what's known as native video, or videos posted as an update to your feed or your brand's page. According to Newswhip, 98% of the top-performing videos in 2018 were native.
The best native Facebook videos are those that educate and inspire. The top 10 most viewed business pages that use video are all media companies, many of them in the news, food, or fashion industries. For example, Impressive Things, Best Recipe Box, The Magical Slow Cooker, PBS News Hour, and CollegeHumor.
Learn From the Pros
Software startup Brandfolder shares customer stories on their Facebook page.
Facebook Video Specs
Recommended videos are 720 pixels wide with a resolution of 3 Mbps and 30 fps. If that sounds complicated, it isn't: That's the standard size of a webcam or smartphone, and Facebook is fairly forgiving. But if your videos do fall short, they can end up appearing blurry or pixelated.
Facebook videos can be as short as a few seconds or as long as 240 minutes. The top-performing videos are an average of 132 seconds long, according to Newswhip.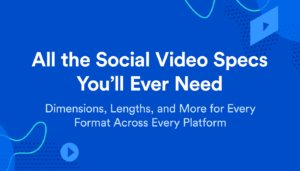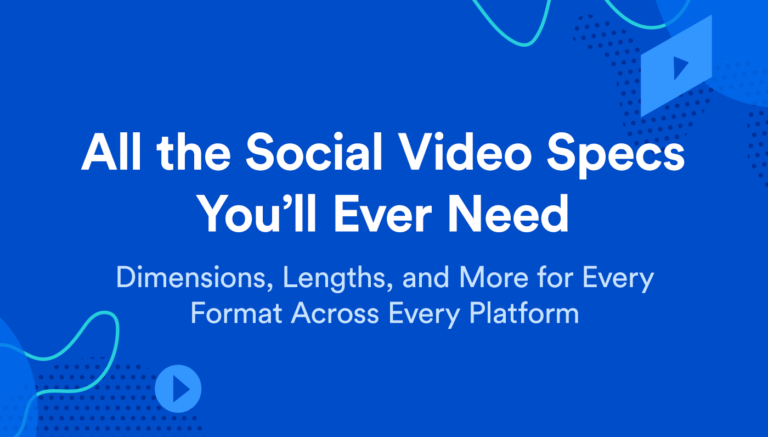 Get the Social Media Video Specs Guide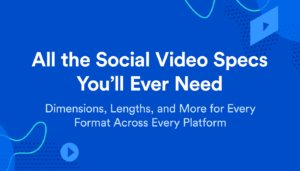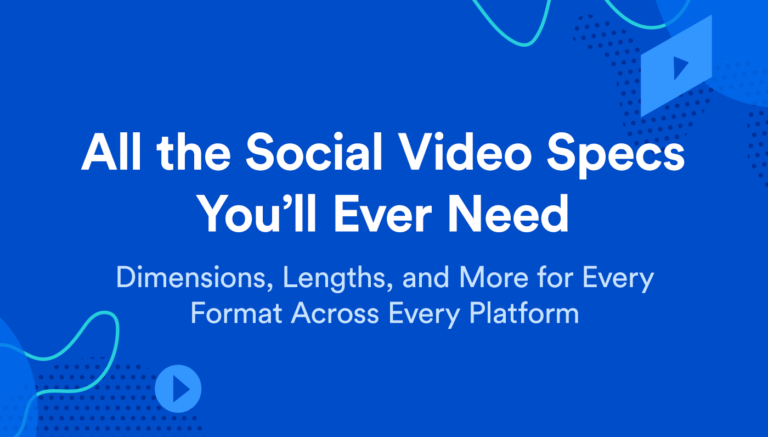 Every different social platform has its own requirements for videos. Every single one is in this guide.
Get the Specs
Best Practices for Native Facebook Videos
Use Actual Video: Facebook's help center recommends posting actual videos, not videos that are really just montages of photos. Montages receive less promotion.
Be Abundantly Clear: Users move through their feed quickly. The clearer the title and the thumbnail are about what the video promises, the more likely it is to be clicked and the more likely viewers are to continue watching. Similarly, add accurate video tags so your videos are shown to the right people.
Post Long Videos: Most videos are under two minutes, but it's a myth that longer videos don't work well, says Facebook. If it's interesting to your audience, it's interesting to Facebook's algorithm. Some media sites post entire shows.
Post Frequently: Top-performing Facebook marketers post videos frequently. This gives them more opportunities to learn, but it also trains their audience to expect it.
Post Original Content: Facebook's algorithm will punish the ranking of videos it deems "unoriginal or repurposed content from other sources." Facebook also punishes posts that include "bait," which is when you ask viewers to take actions that game the system like asking users to "Share now."
Prepare for Mobile:96% of users primarily access Facebook on mobile where they're often in public and don't have headphones and so don't have the sound on. (The sound is off on Facebook videos by default.)
Use captions in addition to sound: If you enable captions on a Facebook video (an option in the settings), Facebook will transcribe them automatically, though you should double check the accuracy. If sound is necessary, add a "Turn on Sound" sticker to your video to remind viewers.
Assume the screen is small: Mobile users are scrolling fast on a small screen. Use close-in shots with easily legible text, bright colors, and human faces to catch attention.
Hook your audience in the first three seconds: This one's directly from Facebook's business page: Use recognizable branding and front-load your message into the first few seconds.
How to Share a Video on Facebook (Natively)
From the Facebook desktop site, click the What's on your mind? dialog box which opens a popup
Click the menu icon
Click Photo/Video
You'll be prompted to upload a video
Follow the steps to add information about your video
Learn From the Pros
ABM software platform Demandbase posts interviews with experts like Matt Heinz on their Facebook page.
Metrics that Matter for Facebook Video
The great downside to Facebook's video metrics is that they only track viewers in aggregate. You can see the total views, total engagement, and total view time, but you can't see who those viewers were, what industries they're in, or connect any of it back to your marketing or sales funnel. For better analytics (and integrations to your marketing systems), consider a video platform like Vidyard.
Facebook native video allows you to track:
Total reach
Average engagement
Post clicks
Likes, comments, and shares
Audience retention
Video views
30-second views
Put Your Videos to Work
Create, host, manage, and share your videos.
Sign Up Free
Facebook Stories Videos
Facebook's big pivot to video was partly inspired by the meteoric success of Snapchat, an app that features disappearing video stories. Instagram (owned by Facebook) quickly copied the feature, and now Facebook has incorporated it into the overall platform as Facebook Stories.
A Facebook story is a series of up to 12 "stories," or pieces of content strung together in a montage that auto-plays when viewers open it. Each story can be either a photo or a video up to 15-seconds long. (Somewhat confusingly, the whole collection of stories is also known as a story.)
Unlike Native videos, which remain on your Brand Page timeline in perpetuity, Facebook Stories disappear after 24 hours. And, unlike other video types where users can like, comment, and share, Stories are intended to be more personal—people can only respond through Facebook Messenger. (Messenger is a separate app on mobile, but on the desktop, it's embedded as the default messaging feature.)
There are two types of video you can share in Stories: Normal video, which you record with your smartphone camera, or Boomerangs, which are short videos that play backward then forward in a loop.
Learn From the Pros
As part of their Can You Make It? campaign, Red Bull ran Facebook Stories ads. The campaign challenged students from more than 60 countries to travel across Europe to Amsterdam in seven days using only cans of Red Bull as currency.
Best Practices for Facebook Stories Video
While you can upload existing videos to your stories, stories are captured from Facebook's mobile app and the expectation from viewers is that you aren't repurposing content too heavily. It's supposed to be a snapshot of something that happened recently.
Use Facebook Stories to feature employees and culture, show an unpolished look inside the business, feature products, and feature news. Here, unpolished is part of the aesthetic: The goal is to show what's real.
How to Upload Facebook Stories for Business
You record Facebook Stories from Facebook's mobile app. Once recorded, they're broadcast to your followers' feeds. Once you've published a story, a blue ring will appear around your profile icon, indicating that you have a new story. After 24 hours, the story disappears.
Because Instagram Stories and Facebook stories are the same thing, you can link your Instagram Business profile to your Facebook Brand Page so that when you create a story for one, it automatically posts to the other.
How to Share Video via Facebook Stories
Go to your brand page on the Facebook mobile app
Tap Create a Story
To film a new video, tap the video icon
To upload an existing video, tap the photos icon in the lower right
To add text, tap the Aa icon in the upper right. You can drag and rotate the text with your fingers (optional)
To add effects, animations, and stickers, tap the wand icon (optional)
To save your story, tap Save
To publish, tap the Your story icon
Select whether you'd like to share your Story in the Facebook news feed in addition to your Page's story
Metrics That Matter on Facebook Stories
Facebook Stories metrics are even more limited than native video metrics, and aren't enabled by default. To turn them on, go to Facebook's desktop site. Click "Settings," then "Stories," then "Insights," and finally "Turn on." Once enabled, you'll be able to view the following metrics, which stay visible for 14 days:
Unique story views
Exits: The number of users who exited the story
Forward taps: The number of users who skipped to the next story within your story
Backward taps: The number of users who revisited a story within your story
Skip swipes: The number of users who skipped the entire story
Facebook Live Video
Like the name implies, Facebook Live video launches a live streaming video feed and alerts your followers and friends that it's running.
Live videos are exciting and increasingly popular—they account for one fifth of all videos published on the platform—but they have a time and a place. They are fundamentally a disruption. Why would someone drop what they're doing to watch live? Typically, because there's some promise of exclusivity or privileged information, like an announcement.
Use live videos to launch products, give tutorials, interview partners and customers, and create conversations.
Best Practices for Facebook Live Video
At the time of writing, a Facebook Live video icon is one of the most powerful calls to action on the platform. Rather than hope viewers scroll past your video in the Facebook feed, followers get an in-app alert as well as a push notification.
So long as your live stream continues, followers will continue to get notified, so it's best to keep live streams going and make them interactive. Viewers can comment and hosts can answer questions, run polls, and set up quizzes.
Unlike on YouTube, where live videos disappear unless intentionally saved, Facebook saves your live videos, which you can repurpose.
Download and edit them to add an introduction, cut out slow parts, turn on captions (Facebook will add these automatically, though remember to proofread them), and repost the new version as a native video. You can also repurpose soundbites or repurpose the audio portion as a podcast.
While viewers prize live videos for their authenticity, it doesn't hurt to adhere to classic production value tips like facing natural light, using a microphone, and wearing solid colors.
How to Do a Live Video on Facebook
When you go live, followers and friends will automatically get an in-app notification that you're live as well as a push notification (unless they've disabled them). As more people log into Facebook, they'll be alerted. As long as the live video is going, people will continue to be notified.
Promote your live video ahead of time both on Facebook and through other channels to ensure an audience.
Learn From the Pros
The Midwest Digital Marketing Conference has a Facebook live video series where they chat with notable marketers.
How to Record a Facebook Live Video
From your desktop Facebook feed, click the What's on your mind? button to open the posting dialog box
Click Go Live
Enable your microphone and camera
Describe your live event
Add a title
Click Go Live
Metrics That Matter for Facebook Live Video
Facebook Live metrics are somewhat more robust than those for native videos or stories. After your live video is complete, you'll be able to view:
Peak live viewers: The total number of concurrent viewers.
Total minutes viewed
Total unique viewers
Total views
Total 10-second views
Average percentage completion
Facebook Video Ads
Facebook's Ad Manager allows you to run video ads just as you would any other ad. There are three Facebook video ads formats to choose from:
Carousel: Classic video ads which appear in a carousel (a side-to-side slider) within users' Facebook feeds. Users can click to watch a video or scroll to the next one.
Sponsored Posts: Pay to distribute one of your existing video posts which will appear in users' feeds with the designation "Promoted."
Sponsored Stories: Pay to distribute one of your existing Stories which will appear in users' feeds with the designation "Promoted."
Pro Tip: Avoid paying for sponsored posts. They're designed to be easy, but don't allow you to target your ads with the same precision as normal video ads unless you've already created and saved an audience.
Learn From the Pros
Website building tool Squarespace ran a series of surreal, attention-grabbing ads with Keanu Reeves as a talking head.
Facebook Video Ads Specs
Widescreen format: 16:9 or 9:16
Maximum 4GB
Maximum length 240 minutes
Resolution: Highest possible
Videos over 4:5 will be masked to 4:5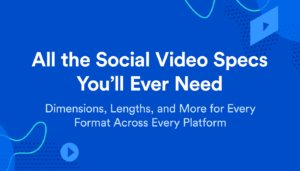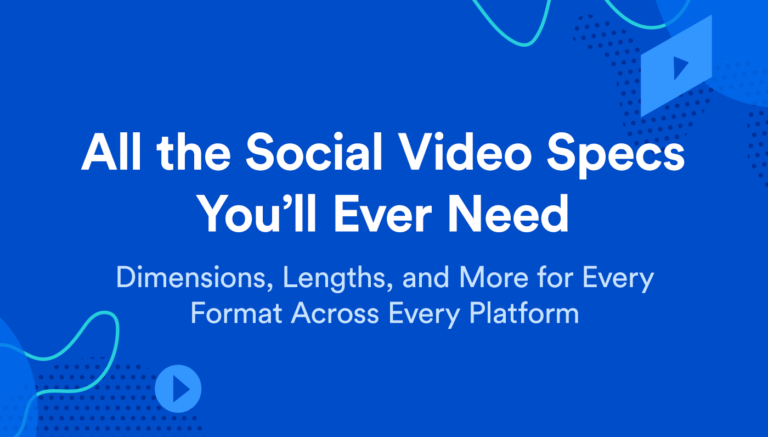 Get the Social Media Video Specs Guide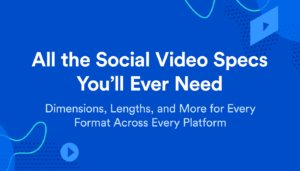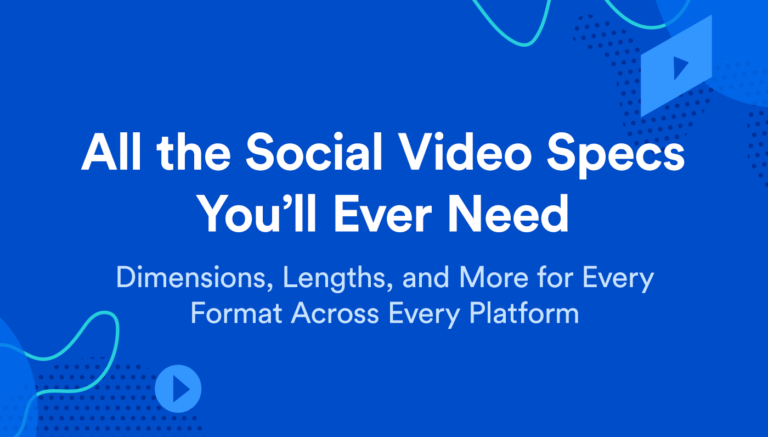 Every different social platform has its own requirements for videos. Every single one is in this guide.
Get the Specs
Best Practices for Facebook Video Ads
When it comes to sponsored video posts and sponsored Stories, only put your ad dollars behind posts that were successful on their own.
If people generally didn't engage with the post the first time, they're unlikely to do it for a second. If they generally did engage, however, it means it's an interesting piece of content, which is what Facebook wants. If lots of people interact, Facebook may grant the ad a higher 1-10 relevance score which can make it cheaper to run.
Carousel Ads are a great place to feature striking images. Those could be of products, people, or locations. Front-load the message with an ultra-clickable thumbnail and clear branding within the first three seconds.
Pick a goal and set up tracking: Facebook's algorithm runs ads differently depending on the goal you set within Facebook Ad Manager—typically, reach, engagement, or conversion. To optimize conversions, you can set up Facebook's tracking pixel to track downstream events like purchases.
Minimize the text in your thumbnails: Keep your video thumbnails mostly text-free. Facebook's Ad Manager automatically scans images to see if they contain text. If the image is over 20% text by volume, that ad will earn a lower 1-10 quality score and be shown less widely.
How to Create a Facebook Video Ad
Go to Facebook Ads Manager
Click + Create
Choose an objective
Choose targeting
Select the format Carousel or Video
Upload your video (or images for slideshow)
Customize the video
When done, click Publish
Visit Facebook for more detailed instructions.
Learn From the Pros
Mattress company Purple posts curiosity-inducing video ads where it drops eggs on mattresses to see if they'll break.
Metrics That Matter for Facebook Video Ads
Facebook Ad Manager contains robust ad analytics suited to a variety of goals including reach, engagement, and conversions. You can measure your Facebook Ads based on:
2-second continuous video views
Cost per 2-second video view
3-second video views
Cost per 3-second video view
Total ThruPlays
Cost per ThruPlay
Total Reach
Total amount spent
Video plays
Video watches at 25%, 50%, 75%, 95%, and 100%
Video average watch time
Facebook Cover Videos
You can turn the cover of your Brand Page into a video that plays silently on a loop. Facebook cover videos are novel, fun, and can help capture visitors attention—and convince them to stick around to investigate.
Facebook Cover Video Specs
Cover videos are short: Just 20 to 90 seconds. The file limit is 1.75GB, but given the 90-second limit, you're unlikely to hit that. The minimum size is 820 x 462 pixels.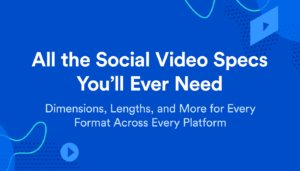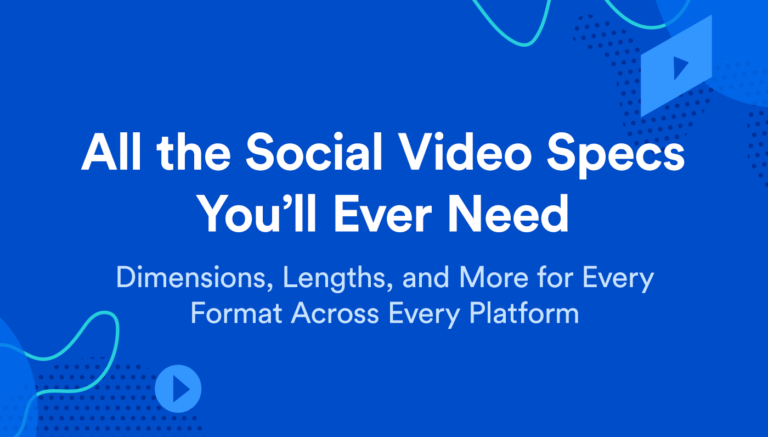 Get the Social Media Video Specs Guide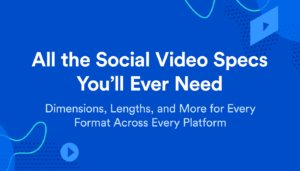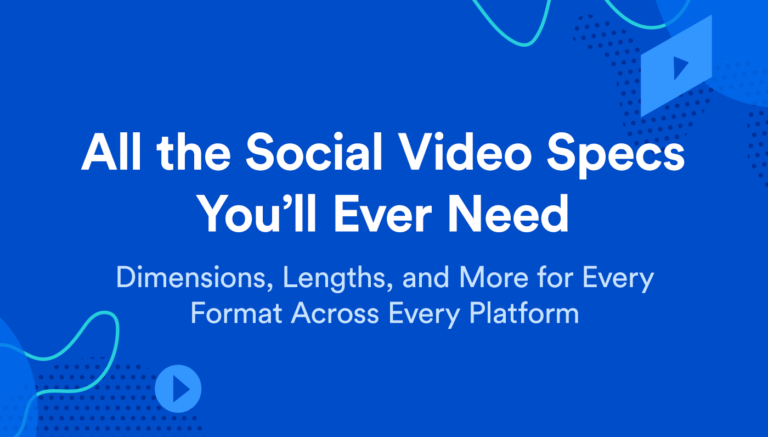 Every different social platform has its own requirements for videos. Every single one is in this guide.
Get the Specs
Best Practices for Facebook Cover Videos
Don't let your video distract from the purpose of your page, which is to get viewers to take an action like post, learn about the business, or watch your videos. Minimize the motion in the video and stabilize it if there's a lot of shaking. Ambient and subtle videos are best.
Adjust the video for a smooth loop. Start and end the video on a natural loop, as it'll loop endlessly. Don't let it have a jarring transition.
Keep text away from the edges. The cover page will crop your video slightly, as well as zoom in on the center. If there's text near the edges, it may get cut off.
Learn From the Pros
National Geographic features landscape and wildlife footage in its Facebook cover video.
How to Add a Cover Video on Facebook
From your Facebook page, click Change Cover
Click Upload photo
Upload your video (alternatively, you can click Select from videos to select from a video you've already uploaded to Facebook
Click Change Cover again and click reposition. Reposition the video
Click Save
Getting Started with Facebook Video
Facebook is the number two destination for video on the web and likely, there's a Facebook video marketing strategy that works for your brand.
Experiment with native videos, Facebook Stories, Facebook Live, video ads, and a Carousel video, and see what people react to—and if you have a video platform, see how they engage, convert, and buy.
Put Your Videos to Work
Create, host, manage, and share your videos.
Sign Up Free