May 13, 2020
·
12 min read
YouTube for Business: How to Use Video Marketing Effectively
Unlock a new stream of viewers with a YouTube channel. Learn how to set yours up, what types of videos to use, how to attract subscribers, and best practices for every step along the way.
Setting up a YouTube Channel for business is as easy as creating an account, but using it to attract subscribers, gather leads, or drive downloads? That takes work, strategy, and a sense of the right formats and video lengths. But given YouTube's size and potential reach, it can be worth it.
Like ancient Rome, all roads eventually lead to YouTube. It's the gateway for 11.4% of the internet's video traffic and boasts 2 billion users. It's the world's second-largest social network and the only one where video is the primary mode of communication.
Marketing on YouTube revolves around the channel, which is like a mini-website for your business. It's the place you get to curate the videos, images, and descriptions visitors see. If they discover your videos elsewhere and like them, this is where they'll wind up.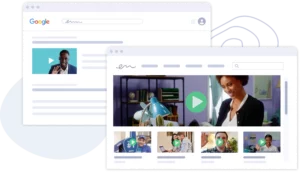 Video Hosting

Made Simple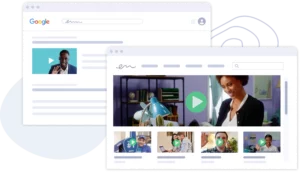 Vidyard Hosting makes it easy to leverage the power of video across your business.
Learn More
Contents
3.1.2.1 Brand your channel
3.1.2.2 Market your videos
3.1.2.5 Make videos to meet your goals
3.1.2.6 Commit to a cadence
3.2 YouTube Live
3.2.4 YouTube Live Metrics
3.3.3 YouTube Ad Metrics
Here's the key: To be effective, your channel needs a purpose. Are you trying to accumulate subscribers? Drive traffic back to videos on your site? Generate leads for direct sales or follow-up?
As marketing author Ryan Holiday writes, "Nothing has sunk more creators than this: Our inherently human tendency to pursue a strategy aimed at accomplishing one goal while simultaneously expecting to achieve other goals entirely unrelated."
It pays to pick one thing and do it well on YouTube.
What Are the Benefits of YouTube Video?
YouTube's ubiquity in consumer life can lead many B2B marketers to wonder: Is YouTube the right home for my videos?
The answer is, with exception, yes—as part of a dual strategy. You should have a business video hosting platform to keep everything organized but use YouTube to promote your video content.
YouTube excels at earning eyeballs thanks to what's known as the long-tail effect. Big social networks use powerful algorithms to cater to niche interests just as well as mainstream ones.
YouTube is as good a home for the hit kids song "Baby Shark" (it's so catchy we won't link to it) as it is for how-to videos on setting up your company's HR software. Whatever your niche, YouTube has users who are interested.
Take the AI-powered search technology LucidWorks, for example. It has a highly successful niche YouTube channel where hosts explain arcane topics like "NLP vs. NLU" and "Clustering vs. Classification"—some of which have been viewed 2,600 times.
Some stats for thought:
In short, if social media video matters to your company, you should think about having a presence on YouTube.
How Do I Create a YouTube Channel for Business? 5 Top Tips
Ready to create a YouTube channel for your business but aren't sure where to begin? These five steps will help you get set up and ready to go.
Decide its primary purpose: Leads? Subscribers? Downloads? Traffic to your full-length videos? Pick one primary goal.
Give your company its own Brand Channel: User channels and Brand Channels are different but often confused. If someone on your team sets up the business's YouTube as a user channel under their personal email, it's theirs if they ever leave.
Brand it like you would your website: Consistency matters. You can't go wrong giving your channel the same header image as your website.
Actively manage it: Hide, add, and edit videos to create an engaging experience. Use tags on your channel and on your videos. It'll help you stay organized but also help YouTube recommend them to others.
Promote your work: Post your YouTube videos on other social networks or link them to your email campaigns to get the

flywheel

going.
If it sounds like work, it can be. But YouTube for business can also pay off in big and exciting ways—especially for B2B marketers.
Learn From the Pros
Genesys makes call center software human and relatable on their YouTube channel.
What Types of Videos Can I Put on YouTube?
There are three categories of video you can upload to YouTube: In-channel videos, live streams, and ads. Each serves a different purpose.
1. YouTube In-Channel Videos
YouTube in-channel videos are simply the videos you upload to your channel. They're the workhorse of YouTube—the atomic pieces of content that help you get found, attract an audience, and show up in Google searches.
You can organize them into playlists to give your Brand Channel some structure and to encourage people to watch the entire series.
Learn From the Pros
Search giant Google's technology channel on YouTube tells people's personal stories.
Specs, Size, and Orientation
YouTube videos should be roughly 1280×720 pixels. That's large enough to be viewed on a common desktop or smartphone with enjoyable quality. The largest videos you can upload are 3840×2160 pixels, and the smallest 426×240 pixels.
The YouTube player aspect ratio is 16:9, known as widescreen. You can upload videos in other aspect ratios, like the rather old-school-looking 4:3 (used on older TVs) or new school-looking vertical video (taken with a smartphone). If your video doesn't fit the YouTube player, YouTube will make it fit. It'll add black bars to the sides so there's no white space, a process known as pillarboxing.
The default maximum length for YouTube videos is 15 minutes but that's easy to change in your settings. Click "Increase Limit," and you can get up to 12 hours or a 128 GB limit—though you may have to verify your YouTube account for business.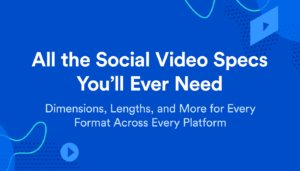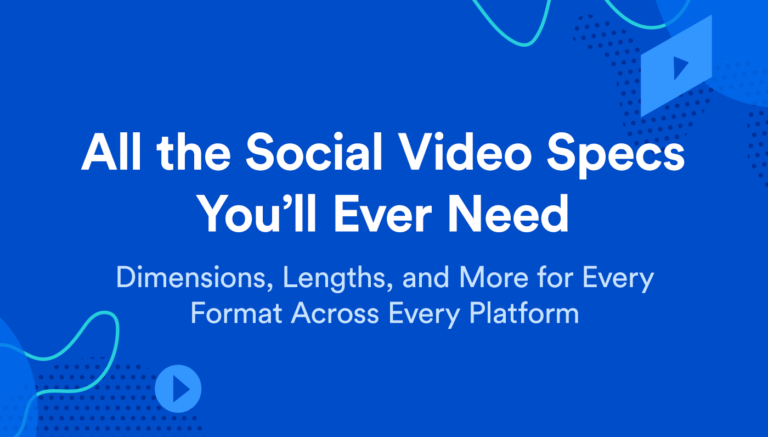 Get the Social Media Video Specs Guide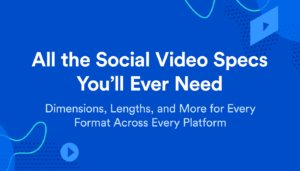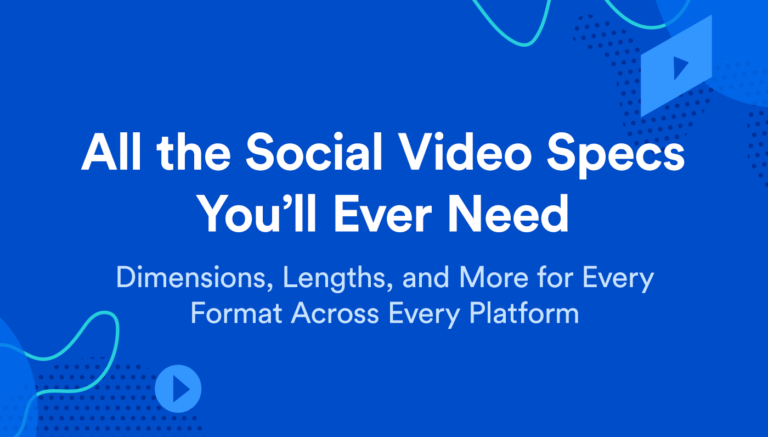 Every different social platform has its own requirements for videos. Every single one is in this guide.
Get the Specs
6 Best Practices for In-Channel YouTube Videos
1. Brand your channel
Channels with grainy header images or inconsistent thumbnail images may give visitors the impression that the channel is defunct. Use every available customizable space to tease the value of what you offer and inspire them to click and discover.
Add a featured video, a channel description, your logo, and links. If you begin to earn a lot of traffic and views, request to start a partner-verified account, which can give your videos an even wider reach.
2. Market your videos
Think of every thumbnail and every title as an ad. Though the advertising legend David Ogilvy never lived to see YouTube, his advice for writing ads applies here: "80% of readers only read the title. It follows you should spend 80% of your effort there."
With your thumbnails, think of images that'll stoke people's curiosity. In the 1960s, Ogilvy famously decided, last minute, to add a $1.50 eyepatch to a shirt model to make them more interesting. Consumers found the model so intriguing that sales skyrocketed and the ad ran uninterrupted for 40 years. Similar "tricks" will get you far.
3. Spend time fussing over your channel
Add tags to your channel, add tags to your videos, and check all the boxes YouTube offers. Integrate Google Analytics to track your channel's performance and pay attention to which videos get the most views, shares, and comments.
4. Create content based on YouTube keywords
Type keywords into the YouTube search bar and use the recommended results as inspiration. Those are topics people are actively searching. Similarly, look at the videos YouTube suggests when your video ends for ideas, and use Google Trends to see what topics are hot.
5. Make videos to meet your goals
If your goal is subscriptions, end videos with a call to action to subscribe. If it's downloads, use YouTube Cards to recommend content and link them back to your site. Everything you do should tie back to your channel's primary purpose.
6. Commit to a cadence
Commit to a publishing schedule right from the outset. Set modest goals you know you'll achieve, like two new videos per month, and ramp up once you're sure it's sustainable. This creates trust and predictability with subscribers and helps you build a big enough body of content for people to want to revisit. You'll also learn a lot as you go.
Can't I Just Upload My Existing Videos to YouTube?
Yes, but don't expect blockbuster results unless those videos just happen to already include hooks, have exciting thumbnails, and be in widescreen format. If you want to reuse videos, cut a long video into a trailer and post the trailer on YouTube to drive viewers back to the full thing.
How to Share YouTube Videos
Sharing your YouTube videos is as simple as clicking the share button, copying the link, or sharing directly to a social network. Click the share button to embed a YouTube video and then "Embed." Copy the code into the site or landing page you want the video to live on.
To Share a YouTube Video:
Open the video
Below the player, click the Share button
If you want to share from a particular point in the video, click Start at and enter a value
Copy the link or click to share on a social media network or directly via email
To Embed a YouTube Video:
Open the video
Below the player, click the Share button
Click Embed
Click Copy
Paste the code wherever you'd like to embed your video
The upside of embedding YouTube videos is that it's easy. The downside is the analytics are quite limited and YouTube doesn't integrate with marketing automation systems like Marketo or Hubspot. That means you can't score leads or track individual viewer behavior. (You also can't use GIF thumbnails.) To do all that, you need a video hosting platform like Vidyard.
YouTube Video Metrics and Measuring Your YouTube Channel
Views and likes are plenty nice but are only vanity metrics if used alone. You'll want to watch metrics that indicate direct progress toward your top line goal, as well as a basket of sub-metrics that lead to it.
For instance, if your goal for the first year is to gain Brand Channel subscribers, pay attention to your subscribes and unsubscribes and what events drive them, like the launch of a new tutorial video. If your goal is traffic to your site, you can view YouTube's traffic in Google Analytics, and if it's downloads, measure those with your marketing system.
Unlike other social media sites, YouTube's comments are something of an unmoderated wasteland. Positive comments from relevant prospects are nice and genuine complaints from real customers or prospects are useful. But don't try to make sense of the rest.
2. YouTube Live
YouTube launched its live-streaming feature, YouTube Live, in 2008, but it's gathered critical momentum in the last few years.
Think with Google says the rise of live viewing is the start of a big cultural shift: Viewers want to watch global, cultural, or personally relevant moments in real-time. Of the 100 most popular YouTube live streams, 60 happened in the last two years.
"You don't have to build a rocket to get in on the action" either, Google explains. Companies can use livestreams to deliver news, product updates, or exclusive behind-the-scenes peeks.
Learn From the Pros
In 2018, tech company HubSpot streamed their conference INBOUND on YouTube Live.
Specs, Size, and Orientation
YouTube Live is no different than YouTube in terms of tech requirements: A 1280 x 720 pixel webcam will do just fine. If you're using YouTube Live 360, a service that allows people to watch the video from their virtual reality headset, the resolution must be at least 1440 pixels.
YouTube Live isn't native to all YouTube accounts. You can only request the right to do it once your channel has 1,000 subscribers, and once you request, you'll have to verify your account by adding a phone number and entering a code.
Similar to YouTube videos, you can insert YouTube Cards to promote other videos, showcase playlists, run polls, and offer links, though YouTube must approve the links.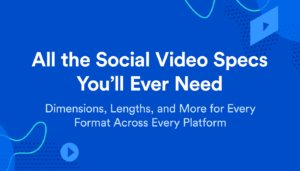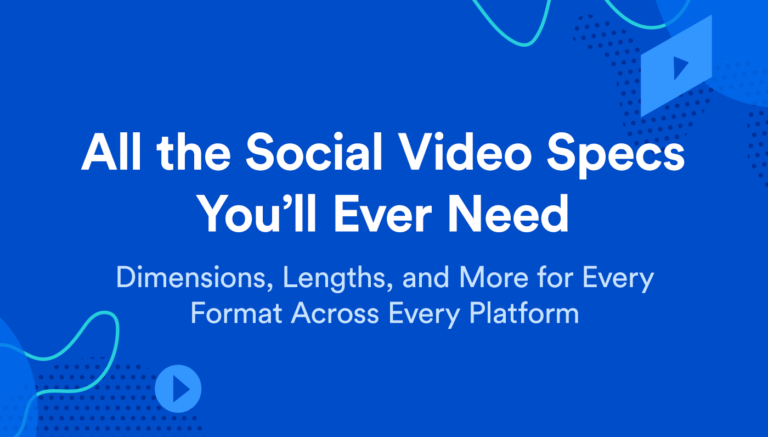 Get the Social Media Video Specs Guide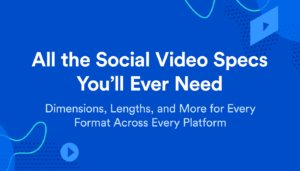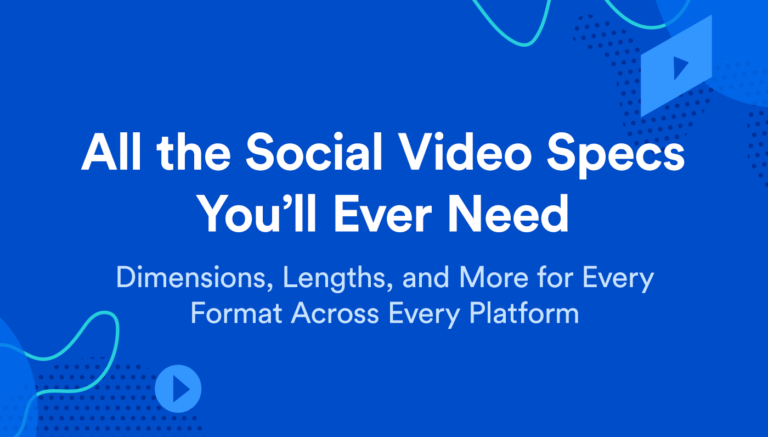 Every different social platform has its own requirements for videos. Every single one is in this guide.
Get the Specs
Best Practices for YouTube Live
Promote, promote, promote. When you begin a live stream, your channel's subscribers will get an alert in the app and via push notification (unless they've disabled it). But not everyone's going to be available in the moment. Announce and promote your live stream just as you would any event to ensure it attracts an audience.
Choose the right time: Live stream when your audience is generally available. For business audiences, that's during the work day. For consumer audiences, on weekdays at lunch, in the evening, or on weekends.
Enable DVR.Enable DVR so subscribers who miss the live stream can watch after the fact. You can also cut out the best clips from your live stream and repurpose them for other videos.
Offer something uncommon: It takes effort for viewers to watch a live stream that may interrupt their day. What does yours offer that's unique? What makes it different from a recorded video? In most instances, the answer to this is that it offers an exclusive, behind-the-scenes view that they wouldn't otherwise see, like what's happening backstage at a concert or conference. Live is great for big announcements, product launches, interviews, and product demonstrations. (Just remember to practice ahead of time!)
Learn From the Pros
LinkedIn live-streamed a conversation with marketers, set it to DVR, and then added a pre-recorded intro.
How to Live Stream on YouTube
To film a live stream on YouTube Live, you have to download YouTube's encoding software on the device you plan to use and set up your channel for live streaming. If you plan to live stream from multiple devices in the future, download that software on each one.
To Launch a YouTube Live Stream:
Open your encoder software
Click Go Live, which will take you to your YouTube Live control room
At the top, select Stream
Add a clear title and description
Select a category and set the live stream to public
Click Go live on the right-hand side
After it's over, you can view stats on how many people watched
To Live Stream Events on YouTube:
From the YouTube live stream dashboard
Select the Events tab
Follow the instructions
Learn From the Pros
SalesLoft live-streamed its conference, Rainmaker, on YouTube.
YouTube Live Metrics
You'll view your live streaming metrics from the same YouTube analytics tab where you view data for all your videos. Sort them by Live, On-Demand, or Live and On-Demand.
Look at the total number of people who viewed, the total number who viewed at the same time (known as "Peak Concurrents"), and total view time.
3. YouTube Video Ads
Like many social networks, YouTube is ad-supported. Creators can monetize their videos by turning on ads from YouTube Studio, which constitutes a network of video properties that you can run your ads on. Because Google owns YouTube, it's part of the Google Ads network, and you can manage those ads from that dashboard.
Specs, Size, and Orientation
There are four types of YouTube Ads for business:
YouTube TrueView In-Stream Ads play before, during, or after videos. After five seconds, viewers can skip the ad.
YouTube Discovery Ads show up when viewers search YouTube—they appear at the top of the feed and are marked "Ad." They also appear at the top of viewers' recommended playlist, to the right of YouTube's player.
YouTube Bumper Ads are quick, six-second (or less) ads that users can't skip. They appear before, during, or after a video.
YouTube Outstream Ads are mobile-only video ads that show up on partner websites and within apps. Unlike the other types of ads where you pay per click, these are charged on CPM ("cost per mille" or paying per 1,000 views).
You can also remarket or retarget on YouTube. That is, you can run the above ad types to individuals who have subscribed to your channel, watched a video, or depending on how you have your data integrated into Google Ads, who have purchased a product.
YouTube Ads pricing varies based on how in-demand the topic or keywords are; cost-per-click ads can be as little as $0.10 or $0.30 USD per action and as high as several dollars.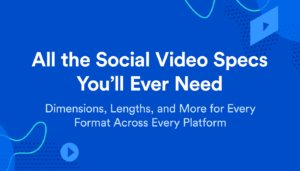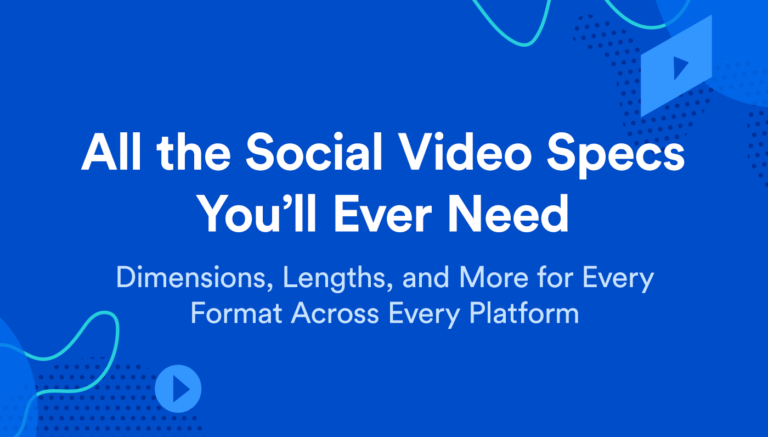 Get the Social Media Video Specs Guide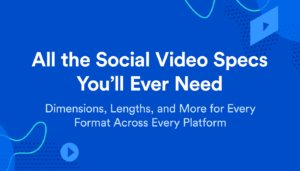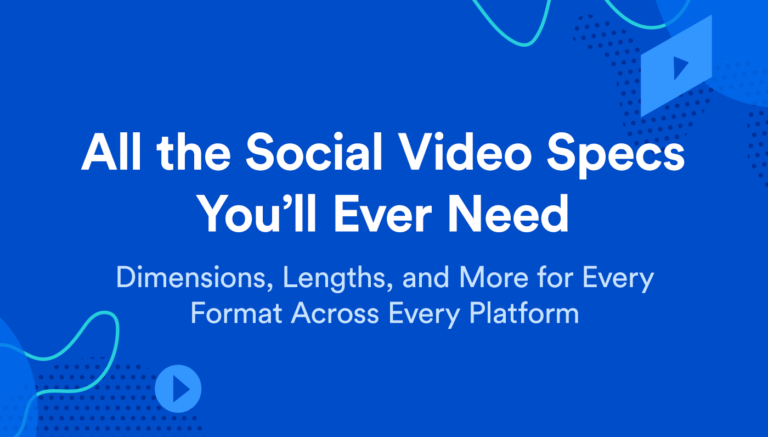 Every different social platform has its own requirements for videos. Every single one is in this guide.
Get the Specs
Best Practices for YouTube Ads
Be brief. YouTube ads are interruptive: They appear before, during, or after the content viewers actually came to watch. Keep your ads short and front-load your key message in the first five seconds, in case someone skips.
Be inspiring, informative, or entertaining. That's why people are on YouTube, and they may not mind your video ad if it's even more entertaining than the thing they clicked to watch.
Be novel. Newness sells. Whenever possible, trumpet something newsworthy to justify why you're interrupting people's video. For example, a new product, a new release, a new event, or a new method.
A/B test. It's hard to know what will resonate with audiences. Where you can make several variants of an ad based on a hypothesis such as "audiences like short content" and test them.
Learn From the Pros
Writing tool Grammarly makes inspiring YouTube TrueView ads.
YouTube Ad Metrics
There are really two ways to think about measuring YouTube video ads: Conversions or exposure. Most B2B brands will gravitate toward the former, in which case, they can monitor:
Cost per view (CPV): The average price you pay when a viewer watches 30 seconds of your video.
Clicks
Clickthrough rate (CTR)
View rate
Watch time
Average watch time
For some big media brands, the goal is exposure, in which case watch time and average watch time are the most important metrics. For instance, ABC ran a 43-minute long video ad—an entire episode of its new show. The goal was to give viewers a taste and make them want to see more.
Learn From the Pros
Airbnb makes heartwarming YouTube bumper ads.
How Do I Get Started with YouTube for Business?
YouTube can be a big revenue or lead-gen opportunity—if you go into it knowing what you want to accomplish. A well-curated, purpose-driven channel can educate prospects and customers about what you offer. It can also give you better discoverability and greater reach on videos that would otherwise just live on your site. Paired with a video platform built for business, YouTube can be a great home for your marketing videos.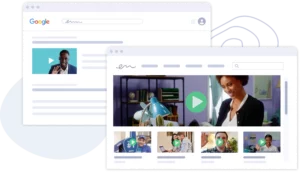 Video Hosting Made Simple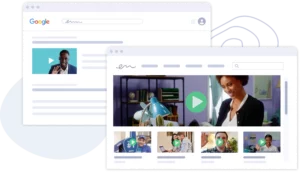 Vidyard Hosting makes it easy to leverage the power of video across your business.
Learn More