March 14, 2023
·
8 min read
How to Run Perfect Live Software Demos
Effective live software demos take preparation and thoughtfulness. Follow these four steps to host perfect sales demos every time.
You wouldn't buy a car without first taking it for a test drive. You wouldn't purchase a home without first taking a tour. When planning on spending a significant chunk of change, you want to make sure you've taken the time to consider which of your options will best suit your needs.
For companies buying software, it's the same thing. They aren't going to go through a big ticket purchase without a software demo to see what a solution is capable of.
Software is a big-ticket item, and the potential costs include more than just the subscription fee. There are the costs of getting the team up to speed on the new tool and connecting it with existing systems. Plus, there are potential business costs if it doesn't end up working out. So buyers are right to want to do their due diligence.
That's what makes sales demos so critical. The demo offers a chance for prospects to kick the proverbial tires and see whether your product will really solve the problems they're facing. It's up to you as the sales rep to show, not tell, exactly why they should buy.
Successful software demos don't just happen—they take care and thoughtfulness. In this post, we'll share what you need to know to host a successful software demo and four actionable tips on how to nail yours every time.
Contents
How a Solutions Engineer Supports the Software Demo
Sales demos aren't a one-person show. In fact, I highly recommend bringing support. And the ideal supporter is often a solutions engineer (sometimes called a solutions consultant). This is a crucial member of any successful sales organization. They have the technical expertise and can be on hand to answer questions about product specs that might come up.
This is particularly critical in technical sales because of, well, the technicalities. Prospects will likely have a broad idea of what your product does, but they'll want to ensure that it fits into their existing tech stack. In addition, the tool will solve their specific problems (and not create new ones).
It can also be useful to have a second person on the call because it allows you to focus fully on giving the best demo you can. Your sales engineer can then watch your audience's reactions, monitor questions in the chat, and jump in to support your ideas. It may also help balance the numbers a little, so if you're giving a demo to a large group, you don't have to feel alone as the sole representative of your company.
Scaling the Technical Sales Team with On-Demand Sales Demos
That said, teams often have a limited number of solutions engineers, so spending their time wisely is critical. Ensuring that opportunities are fully qualified before you get a solutions engineer on a live call is key. Senior Enterprise Solutions Consultant Thomas Edwards solved this problem at his company by having sales reps record tailored sales demos to send to their prospects after the sales discovery call. Only after the prospect had watched this 15-20 minute asynchronously would they schedule a time for a live demo with a solutions engineer.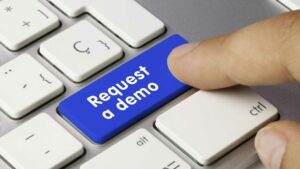 Scale Your Technical Sales Team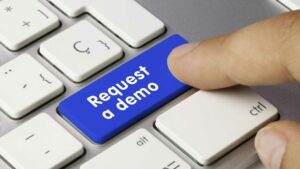 Save time and record and send on-demand demos.
Get it Free
Four Essential Steps to a Successful Live Software Demo
Here's the four-step process we recommend following in order to nail your demo every time.
1. Before the Call: Do Your Prep Work
It's surprising how much you can forget in just a few days. That's why it's so critical to review the work you've already done with the prospect: Check your notes, watch the recording of the discovery call, and review the recap emails you've already sent to the client after past meetings.
Once you've reviewed what you already have, put together a recap slide that summarizes what you've already discussed. It should include what you've learned so far, the problems the prospect is trying to solve, their decision criteria, and any outstanding questions.
You can show this at the beginning of the demo, both to help refresh their memory and as an opportunity to re-align on their goals before jumping into the demo. Taking the time to recap shows that you've been paying attention and that you're going to use their time well by focusing on what matters most to them.
2. Before the Call: Customize and Practice Your Software Demo
In all likelihood, there will be new attendees on the call that you haven't met before. As they get added to the invite, be sure to reach out to each one individually so you can collect their questions. Add any new information to the recap slide and make note to cover their questions in your agenda. (It's also good to scope out their LinkedIn profiles, so you know a bit about each attendee. That way, if they join the call long before the others, you have something to talk about other than the weather).
Then, it's time to customize your demo to your prospect. You want to make it apparent how the tool will impact their business in particular. That means providing industry-specific figures, referencing relevant case studies, and using the language they would use—for instance, talking about "patients" if you're speaking to a healthcare provider or "clients" if you're speaking to a law firm.
Finally, it's time to practice, practice, practice. Memorize your mouse movements ahead of time so you can spend the demo fully focused on telling a clear story to your prospects (and not worrying about where you'll need to click next). With the right preparation, you'll ace the real thing.
3. During the Software Demo: Maintain Engagement
Right before the demo, make sure to prepare your (virtual) environment. Close irrelevant browser tabs and turn off notifications. Nothing distracts a prospect like trying to peek at other tabs you have open or read your incoming Slack messages.
Once everyone arrives, lead the meeting by introducing yourself and setting the agenda. This agenda should confirm a few key items: The timing, who's involved, and what they care about. Let anyone who's new introduce themselves and briefly recap your journey together so far. Here's when you should share your recap slide and ask your prospects for any additional information or corrections.
Next, ask if it's okay for you to proceed to demo some ways that your product can help address the problems you've just discussed in your recap. This question acts as an important upfront contract. It tells your prospect that you're going to spend their time focused on the things that matter most to them. This helps them remain engaged in the conversation.
Then as you move into the demo, ensure you're telling a clear story. It's easy to get swept up in features and functionalities, but what will resonate most with your customer is emotion: the pain they're currently feeling and how the product has the potential to alleviate that pain. Every time you share a feature, it should be tied to a clear outcome.
While giving the demo, constantly check back in to gauge your prospects' reactions. Ask questions like, "What did you think of that?" and "Is this what you're looking for, or were you hoping for something different?" Finally, as the meeting draws to a close, confirm your next steps.
4. After the Call: Keep the Conversation Going
Congratulations, you've completed your software demo! But your work isn't over yet. You'll want to follow up with each of the attendees individually. This will open up multiple email threads so you can have several different conversations with the team at once. It will also help each stakeholder to stay engaged individually. (It's much easier to ignore an email with eight other recipients than one sent just to you).
Learn from the Pros
Learn how to run software demos that will close more sales in this episode of Sales Stuff Explained.
Take Your Follow-Up Further with a Video Message
If crafting that many emails feels daunting, don't worry—you don't have to write them all. Save time and make your recap more engaging by sending a video message instead. You can use a tool like Vidyard to take a selfie video or record yourself talking over a screen with your key takeaways typed out. You can then embed this video in your email and write a very short intro and signoff. It could be something simple like, "Hi [client's name], I recorded this quick video to recap our conversation from yesterday. Looking forward to connecting again soon!"
Here's a simple template you can follow for your demo recap video:
Thank them for attending the demo:(Hey Lucy, great to see you yesterday! Thanks for taking the time to join us.)
Summarize any new information that came to light during the demo:(Just to refresh your memory, we talked about how you could tackle [x problem] at your company using [y feature]. I'm really excited about the opportunity you have to achieve [z outcome].)
Add any information you didn't cover in the demo:(One more thing I wanted to add that we didn't get a chance to cover yesterday…)
Reiterate the next step:(I know you and the team are going to take some time to discuss internally before we schedule our next conversation, but just let me know if you have any questions in the meantime).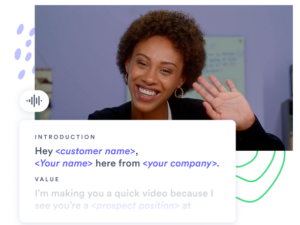 Deal Acceleration Templates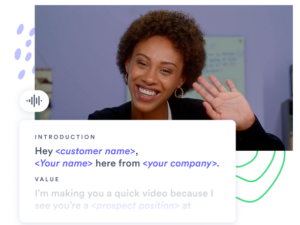 Move deals forward and close faster with video messages.
Try Templates
If possible, use a tool that notifies you when your video has been watched. You'll see which stakeholders are engaging and who might benefit from some follow-up. Then, you can just wait and see how your demo attendees react.
Make Your Live Sales Demo Look Effortless
Software is like any other big-ticket purchase—prospects need to take their time to try it out before buying. That's where the sales demo comes in. It's an opportunity for the buying committee to explore how the software can solve their problems before they make a purchase decision. That's why, as a salesperson, it's so critical to get it right.
Ensuring a successful sales demo means doing the right prep work ahead of time, keeping up high levels of engagement during the call, and following up in a way that will lead to a continued conversation between you and all the different stakeholders. It also helps to have support—having a solutions engineer on hand to provide backup can help you present more effectively.
Do all that, and you'll give your prospect a great sales demo experience—and not break a sweat.
Free Cheat Sheet
Grab the Sales Feed sales demo cheat sheet.
Get it Now!