September 24, 2019
·
8 min read
The Best Video Hosting for Business: Compare Your Options
Does your video feature ads from your competitors? Or cost more if lots of people watch? Not all video hosting sites are equal—learn which is best for you.
So you've created a business video. Now what? Well, it's no good sitting on your desktop. You need to get it out to the world, and that's where you run into problems. You can't send the full file in an email or text—it's too big. You can't upload it directly to your website—that'd devour bandwidth and slow the site down. So what do you do? You do what any smart person would: You upload it to a video hosting solution.
Hosting sites exist because videos today are big. Yes, they're exceedingly popular, but I also mean that they're relatively large files. Videos as a whole will soon account for 82% of all internet traffic and the average business's video library is swelling. Companies with under 200 employees created 510 new videos in 2018.
Businesses use those videos for everything from selling and marketing to supporting customers and internal communications. If your organization is like most, you probably need to get video content off your desktop, keep it secure, and make it available to lots of people all at once, in lots of countries all around the world. To do that, you need a video hosting service.
Contents
5.1YouTube
5.2Vimeo
5.3Vidyard
5.4DailyMotion
5.5Facebook
What is Video Hosting?
Video hosting sounds intimidating, but it's simply a website that lets you upload, store, and share your videos. Good ones make life easy: They let you upload in tons of different formats and make videos available anywhere around the world on a bunch of different devices. The best video hosting software goes even further: It integrates into your existing applications to make the business run better.
Why Do You Need Video Hosting?
A good video hosting service saves you from tons of annoying tasks people used to have to do manually. Hosting sites automatically encode the video, make it available anywhere around the world, compress it (if needed), and provide a video player that you can embed on your site. All of this frees you up to make more videos, and to get more out of them.
Most video hosting services:
Offer an easy way to upload videos
Make videos available anywhere, across devices
Provide an embeddable video player with user controls
Offer sharing features
But while uploading and downloading videos is standard, the size of those videos and the number you can upload varies from service to service. Below are things you should consider when deciding which video hosting service is the best for you.
How to Know Which Video Hosting Tool is Right for You
The difference between any old hosting site and the best online video hosting platform depends on what you use it for. Generally, companies have different needs than consumers, and a lot of consumer platforms aren't secure enough and don't integrate with enough systems to be useful to companies. But it also depends on the use case. You might get by just fine with a free hosting service like YouTube for a marketing campaign video but need something more secure for a homepage video.
Often, the best video hosting service is the one that handles all your use cases so you can manage all your videos in one place and don't have to switch back and forth.
Ask yourself: What's your goal with video? Are you generating leads and pipeline? Providing internal employee training? Supporting customers? All of the above? Consider:
How many videos do you have?
How many will you have in the next year?
Will they primarily be used internally or externally?
What other software will your videos need to work with?
What video formats will you use?
Where are your videos being viewed?
Do your videos need to be accessible?
How much support will you need?
Will you need to track them?
What's your budget?
If your videos are primarily for internal usage, security will be important. You don't want a classified executive briefing wandering onto YouTube. If accessibility is important, you'll want a player with keyboard controls, multi-language support, and captioning.
If you're in sales or marketing, your primary concern will probably be around integrations. Does it work with your customer relationship management (CRM) or marketing automation platform (MAP)? Can you track who watched what when?
There are also technical considerations:
Is it fast?
How easy is it to use?
What's the uptime and reliability?
Are there storage or bandwidth limitations?
What formats does it support? (Interactive video, 360 video, 4K video)
Is there extra functionality? (In-video pop-ups, forms, quizzes, interactivity)
In general, you shouldn't have to pay extra for using more bandwidth. These days, hosting is a commodity. If a video hosting platform charges you for bandwidth or per-video, you may want to look elsewhere.
Video Hosting for Business: Which Platform is Right for You?
As anyone who's ever been bombarded with remarketing ads for Nike shoes on Facebook knows, free tools usually come with a catch. The biggest consumer hosting platforms are "free" because they make money by inserting ads into your videos. If you're using those videos for employee training, ads can be an annoyance. But if they're for prospects and the hosting site serves up ads for your competitor, it can present a serious brand risk.
All the free video hosting options below provide hosting, sharing, and a video player. Where they differ is whether they insert ads and how many videos you can upload and share.
Free Video Hosting Options
YouTube
Upside: Discoverability
Best for: Inbound marketing
YouTube is the largest social network and the second-largest search engine in the world, right behind Google. Upload a video to YouTube and YouTube's algorithm will recommend your video to people likely to enjoy it. However, and this is the big downside, YouTube features lots of ads which can appear before, during, and after videos. If you embed a YouTube video on your homepage, it may include ads for your competitors. YouTube includes some basic analytics, but they don't reveal much more than how many people watched.
Vimeo
Upside: Indie cachet
Best for: Running ads
Vimeo's social network is a lot smaller than YouTube's, but it has the cachet of being more professional. It's the place indie creatives and documentarians host their videos, and people can follow their favorite creators. Vimeo offers lots of features for publishing, monetizing, analyzing, and collaborating with co-creators, but it also has lots of limitations. You can only upload 25GB of video for free per year, after which, you'll need to pay.
Vidyard
Upside: Ad-free, unlimited uploads
Best for: Marketing, sales, support, internal communications
There's always an exception to the rule, and Vidyard's free offering is it. You can upload an unlimited number of videos which are automatically optimized for sharing on both mobile and desktop, and there are no ads. It connects with Vidyard's chrome extension, so you can capture videos on most devices, and you can embed up to five videos on your website, blog, or landing pages. Vidyard Free automatically includes a Vidyard logo in the corner of your video which you can remove if you decide to upgrade.
DailyMotion
Upside: Reach viewers in Europe
Best for: An alternative to YouTube and Vimeo
DailyMotion is a French company and the next-biggest alternative to YouTube and Vimeo. It's known for high-quality content and partnerships with prestigious media organizations like BBC News, Vice, and Bloomberg. Like the others, DailyMotion runs ads after your videos. It limits you to 2GB or a maximum of 60 minutes per video. DailyMotion's analytics are also fairly limited, even if you have a paid account.
Facebook
Upside: Reach
Best for: Social shareability
Similar to YouTube, Facebook circulates your videos to your audience and gives you extra reach. You can embed Facebook videos on your site just as you would any other hosting platform. If you're into posting exceedingly long videos, Facebook is the site for you. Videos can be up to four hours long.
Video Hosting for Business Options
If you need to avoid ads, get more insights, uncap your upload limits, and generally have more flexibility in hosting and sharing, a paid video platform is probably a better option for you.
Business-grade video hosting software can range from relatively cheap—a few hundred dollars per year—to quite expensive—tens or hundreds of thousands of dollars per year. It all depends on your company size, your needs, and what suits you in terms of scalability, reliability, support, and integrations with systems like marketing automation or support software.
Some features—such as the option to brand your video player, cross-device compatibility, and sharing—are standard across all vendors. Other things, like how they price or how many videos you can upload vary. A lot.
Vidyard Video Hosting
Pricing: Paid team plans start at $150 per month for unlimited videos (plans for individuals start at $19 per month)
Upside: Sales and marketing ready, easy to use, top rated support
Downside: No built-in monetization options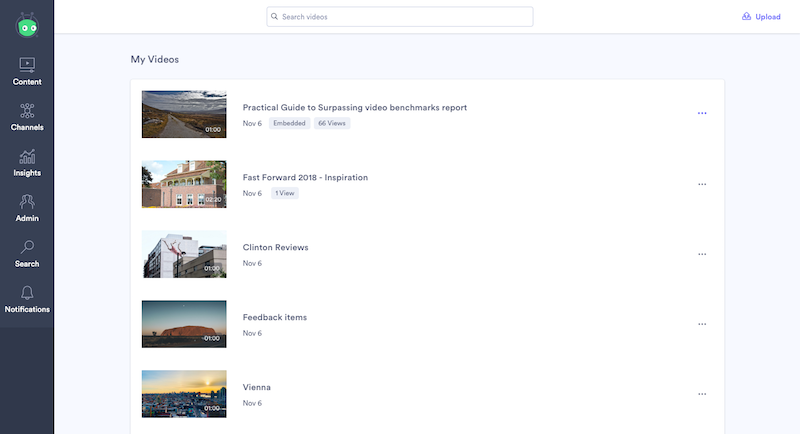 The biggest difference between Vidyard and other options is that it's sales and marketing ready. Vidyard has deep integrations with Salesforce, Marketo, HubSpot, and other major marketing and email software, provides advanced analytics to understand how viewers consume videos, and allows for powerful personalization. With Vidyard, you can dynamically insert the viewer's name or company logo into the video.
It's also the only hosting platform that offers tools specifically for salespeople, including the Vidyard chrome extension, which is free to try.
Vidyard is wonderfully customizable. Users can change almost everything about the video player, down to the CNAME, and can insert interactive forms, animations, links, and buttons within the video. Vidyard features enterprise-grade infrastructure, with 99% guaranteed uptime and partnerships with 55 global content distribution networks (CDN) on six continents. For viewers, that means very little buffering or lag.
Relevant integrations: Salesforce, Marketo, HubSpot, Eloqua, Pardot, YouTube, Hootsuite, Outreach, SalesLoft, Adobe, ExactTarget, Zendesk, Kapost, Drift, and more.
Brightcove Video Hosting
Pricing: Starts at $199 per month for 50 videos, 2 users, and 100,000 plays
Upside: Great for generating ad revenue or connecting an eCommerce system
Downside: Lacks A/B testing, not sales ready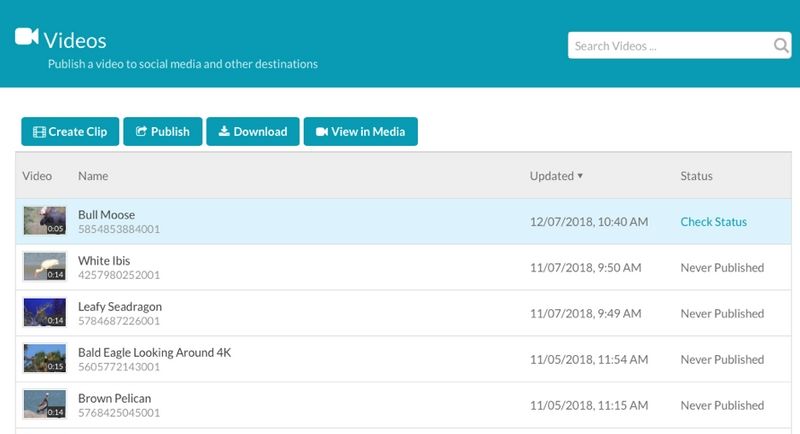 Brightcove bills itself as "the online learning and video hosting platform" and is popular with consumer brands. It shines in areas like mobile optimization, live streaming, and branded video players and landing pages, and has a few features you won't find outside of Vimeo and YouTube, like running ads within your videos (what Brightcove calls "monetization") or allowing in-video consumer purchases.
Where Brightcove falls short is it's not designed for sales and marketing teams to work together, and, according to users, lacks publication and version control features. If you publish a video multiple different places and then update it, it's difficult to ensure that they're all updated. And if you create a lot of videos, it's difficult to keep them organized across teams.
Relevant integrations: Marketo, Eloqua, HubSpot, Sitecore, SharePoint, and many ad tech partners
Compare Brightcove to Vidyard.
Wistia Video Hosting
Pricing: Starts at $99 per month for 10 videos
Upside: Decent video platform if integrations aren't important
Downside: Exceed your bandwidth and it gets expensive, not sales ready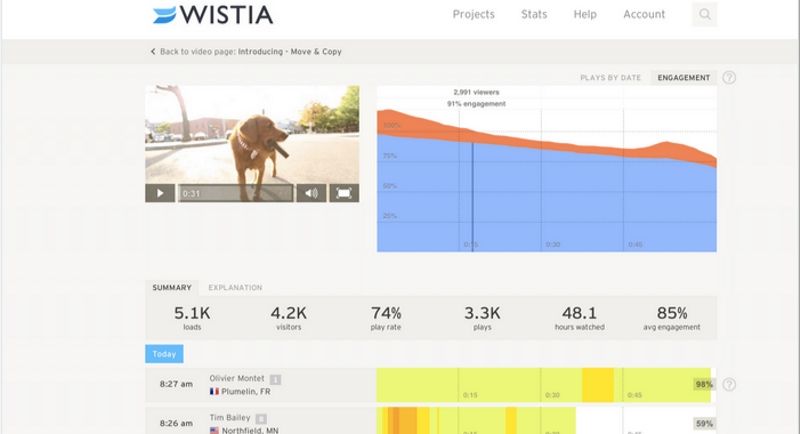 Wistia is a good all-around video hosting platform for small and medium businesses. It features most of what you need: The ability to brand the video player, integrations to common sales and marketing system, and analytics that include heat maps, engagement graphs, and A/B testing. You can also insert annotations, buttons, and forms (which Wistia calls "turnstiles") into videos to capture leads.
The most problematic thing with Wistia is the pricing, according to users. Wistia charges a base subscription with a pay-per-bandwidth model that has the potential to skyrocket if a video campaign really takes off. Lots of Wistia users cite this as a limiting factor, along with its rather limited integration capabilities.
Relevant integrations: Salesforce, Marketo, HubSpot, Pardot, Act-On, Campaign Monitor, Zendesk, Intercom, and Constant Contact
Honorable Mentions
uStudio: A service for hosting podcasts that also hosts videos. Good if your business relies on podcasting, though storage and organization are limited.
TwentyThree: An entry-level video hosting for small businesses. Not a bad way to go if integrations aren't critical.
Ooyala: A video hosting site for publishing and running ads in your videos. Good for big-time advertisers who want to get into video.
Kaltura: A video hosting solution for large consumer enterprises. Excels at advertising or internal communications use cases.
Consensus: Offers interactive, pre-recorded sales demos. Great for sales engineers.
Brainshark: A suite of sales tools with hosting options for sales videos. Doesn't integrate seamlessly with marketing systems.