10 Creative Ways Marketo Uses Video to Drive Pipeline
1. Increase Website Conversions
At first, video was just a hunch. We suspected it'd help us attract attention, so we A/B tested how visitors converted when they saw our regular home page versus a four-minute demo. The demo increased conversions by a number that seems unbelievable: 1,103%.
The question is: Why? I have some guesses.
Time-starved buyers now expect explainer videos to help them cut to the chase. They arrive on a site with questions such as, "What does this company do? Is this for me? How can they help?" and want the answer quick. Explainer videos save them from browsing and reduce cognitive effort.
2. Accelerate Leads Through the Marketing Funnel
We deploy video at every stage of the marketing funnel—from webinars on down to product deep-dives. It's important that we understand which videos our prospects are engaging with, so we can effectively cater next-steps. Before Vidyard, we couldn't do that. Now, we can.
Vidyard integrates directly into Marketo, which means we have access to valuable view data right in our marketing automation platform. When a website visitor arrives on our Vidyard-powered video hub, which is full of diverse demo content, they have the opportunity to watch whatever's most relevant to them. Vidyard immediately sends detailed view data into Marketo, which we use to sort leads and accounts based on the video content they're consuming.
For example, if our prospect watches 70% of our homepage video and fits one of our ideal customer personas (ICPs), we automatically drop them into an appropriate nurture stream. If they watch 20% and leave, we email the video to them. If they watch none of it, we retarget them with ads and try one more time.
3. Increase Sales Conversions
Talking about videos' impact on sales could be a complete guide on its own. (Note from Vidyard: It is.)
What I will say here is that, armed with Vidyard, our sales team is more creative than ever with prospecting and the best part is that email opens and responses have spiked.
When more sales qualified leads (SQLs) convert, more of our marketing team's hard work goes to good use and, ultimately, everyone wins!
4. Turn Webinars into Data Factories
What percentage of people who watch your webinars watch them live? For us, it's 20 to 30%. That means the majority of our viewers watch webinars on demand.
So here's the question: What are you doing with that other 70 to 80%?
We used to host our on-demand webinars in a place that only gave us view data. When we switched to Vidyard, we started tracking individuals, including what parts of the webinar they watched, skipped, or rewatched, and pumped it all into Marketo where we now use it to profile them and inform all of our marketing.
5. Profile Visitors Based on the Testimonials They View
Similar to webinars, we host our library of customer testimonials on Vidyard and now get all sorts of interesting user data. Because we know which testimonials feature companies from a particular industry, with a certain use-case, or of a certain size, visitors profile themselves.
Our sales team can see exactly what they found most interesting, and reps can tailor their outreach and demos so they almost appear psychic.
6. Improve the In-Product Journey with Videos
We also use videos within Marketo itself.
These in-product explainers offer quick tutorials of features such as how to insert dynamic email content.
With the data on which parts of these videos each customer watches, our product team can highlight points of friction where customers run into trouble and use that information to simplify the customer journey.
7. Drive Customer Adoption Through Marketo University
Marketo University, our self-directed learning platform, is full of videos. Now that we use Vidyard, we're able to collect the data on which customers view which ones. This way, our customer success team builds a more accurate profile of their interests and needs.
Plus, we've noticed that this is a great way to generate new leads for our sales teams through a form behind the play button for those contacts not currently known to our systems.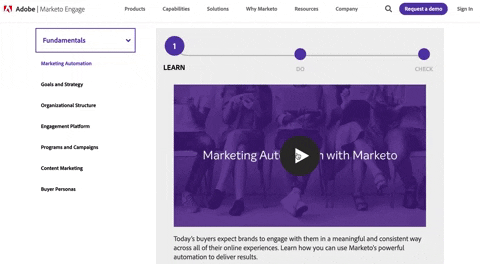 8. Engage Accounts Through Video Newsletters
We send a monthly customer newsletter featuring a video from our Chief Customer Officer to engage our audience beyond traditional email copy.
In the video, Matt Zilli shares company-wide updates, user tips, and news about what's coming. This allows our audience to digest the newsletter in a more engaging way that is resonating with recipients.
9. Drive Action Using Personalized Video at Scale
If you, like me, have been involved in multiple Marketo Summits, you know what it's like to receive a personalized video invitation. This has proven to be a valuable campaign tactic to increase event registrations and ultimately grow the Marketo community.
Here's an example of the video we did in 2018:
The personalized video email generated a 36% increase in open rate and a 144% bump in click-through rate compared to the other emails the team sent to promote the event.
Members of my team have since been approached by people wondering how on earth we did it. One of these happened almost three months after the fact, which speaks to what an impression our invite made!
10. Share Marketo Champions' Tips and Tricks
Marketo boasts one of the most active user communities in tech—the Marketo Marketing Nation.
In our online user community, we feature videos of our Champions, or power users, who share advice about how to get the most out of the platform. This gives those Champions career-boosting visibility, but it also helps customers learn from one another, increasing retention.