February 24, 2023
·
13 min read
The Top Video Marketing and Sales Stats that Matter
We've compiled the top video statistics that matter to businesses, from video for sales calls and virtual conferences to video marketing trends for social media.
We know it can be hard to justify spending resources on a new content type without the data, especially for data-driven businesses. So if you—or your boss—are looking to understand the power of video and want the stats to back it up, then look no further. We've compiled the top video marketing statistics that matter to businesses to help you make the best decision for your marketing needs.
Or if you're a sales leader or rep looking for more intel or insight on how video can grab your prospect's attention, accelerate deal cycles, and close more business—we've got you covered too.
Contents
The Sales Stats You Need to Know
Trends and stats in sales can be difficult to stay on top of. Things like the use of video messages for sales have exploded in recent years. Knowing how you stack up against industry benchmarks, you can make smarter tech investments and strategic decisions for your sales org. Look at the virtual selling and video statistics below (plus their linked sources) to level up and have these handy stats and facts in your back pocket.
Sales Prospecting Stats and Facts
The majority of sales pros agree that

video email

outperforms text-based email. (Vidyard, 2023)
Over half of BDRs and SDRs cite connecting or booking meetings as the top challenge in their roles (Vidyard, 2023)
People are 13% more likely to remember details from video emails over text emails. (B2B DecisionLabs, 2021)
Videos for outbound prospecting, pre or post-meeting follow-ups, and follow-ups to an initial outreach are the top three video messaging use cases for BDRs and SDRs (Vidyard, 2023)
76% of sales professionals report the importance of accessing video view data in order to qualify leads, engage prospects, or influence deals. (Vidyard, 2022)
Video email can reduce inbox fatigue and help recipients retain more of the message when compared to text-based email. (B2B DecisionLabs, 2021)
Using video for sales outreach has increased response rates for more than 60% of sales reps. (Vidyard, 2023)
62% of viewers watch a business-related video all the way through if it's less than 60 seconds (Vidyard, 2022)
Sales pros report buyers are 50% more responsive to messages sent via sales engagement platforms or other sales technologies when at least one video is included as part of the sales cadence. (Vidyard, 2023)
Prospecting conversations, websites, and marketing emails are the top three distribution channels for sales videos (Vidyard, 2022)
46% of people remember details from a text email, but 59% of people remember details from a video within an email. (B2B DecisionLabs, 2021)
Hybrid video (a recording of yourself and your screen) garners the highest response rate over selfie-style or traditional screen recording videos. (Vidyard, 2023)
Many financial services professionals feel like they have gotten to know clients or customers (66%), vendors and partners (50%), and leadership (42%) better by interacting through video more often. (Vidyard, 2022)
Globally, 61% of buyers say they can get as much value from meeting suppliers over video conference as they can from in-person visits. (McKinsey, 2022)
64% of meetings booked resulted from prospects who received a short video first, followed by a short infographic. (B2B DecisionLabs, 2022)
76% of

outbound sales

professionals follow a structured sales cadence and report that their sales cadence with new prospects consists of between six and 20 touch points or messages. (Vidyard, 2023)
Stats Around Deal Acceleration
Customer Success and Support Stats
Nearly 70% of customer success reps have adopted video messaging to use in their sales process. (Vidyard, 2023)
74% of customer success pros are satisfied with the results they get from video messaging. (Vidyard, 2023)
65% of customer success pros use video for product or solution demos. (Vidyard, 2023)
Virtual Selling Stats and Sales Trends
Video Marketing Stats You Can't Ignore
Marketing teams and content builders around the world have already been embracing the shift to digital channels in this last decade, but the COVID-19 pandemic has really forced businesses to rethink their traditional marketing campaigns to online platforms using video.
Social media, websites, and YouTube are the most popular places to distribute video content. Looking at our roundup of 2022 video marketing statistics, a picture is painted of an industry moving digital and the data to back your business's case to embrace video marketing too.
Video Marketing Strategy
Video Publishing and Production Statistics
Video Length Statistics
Average Video Length Distribution
Stats Around Video Engagement
Average Engagement for Different Lengths of Video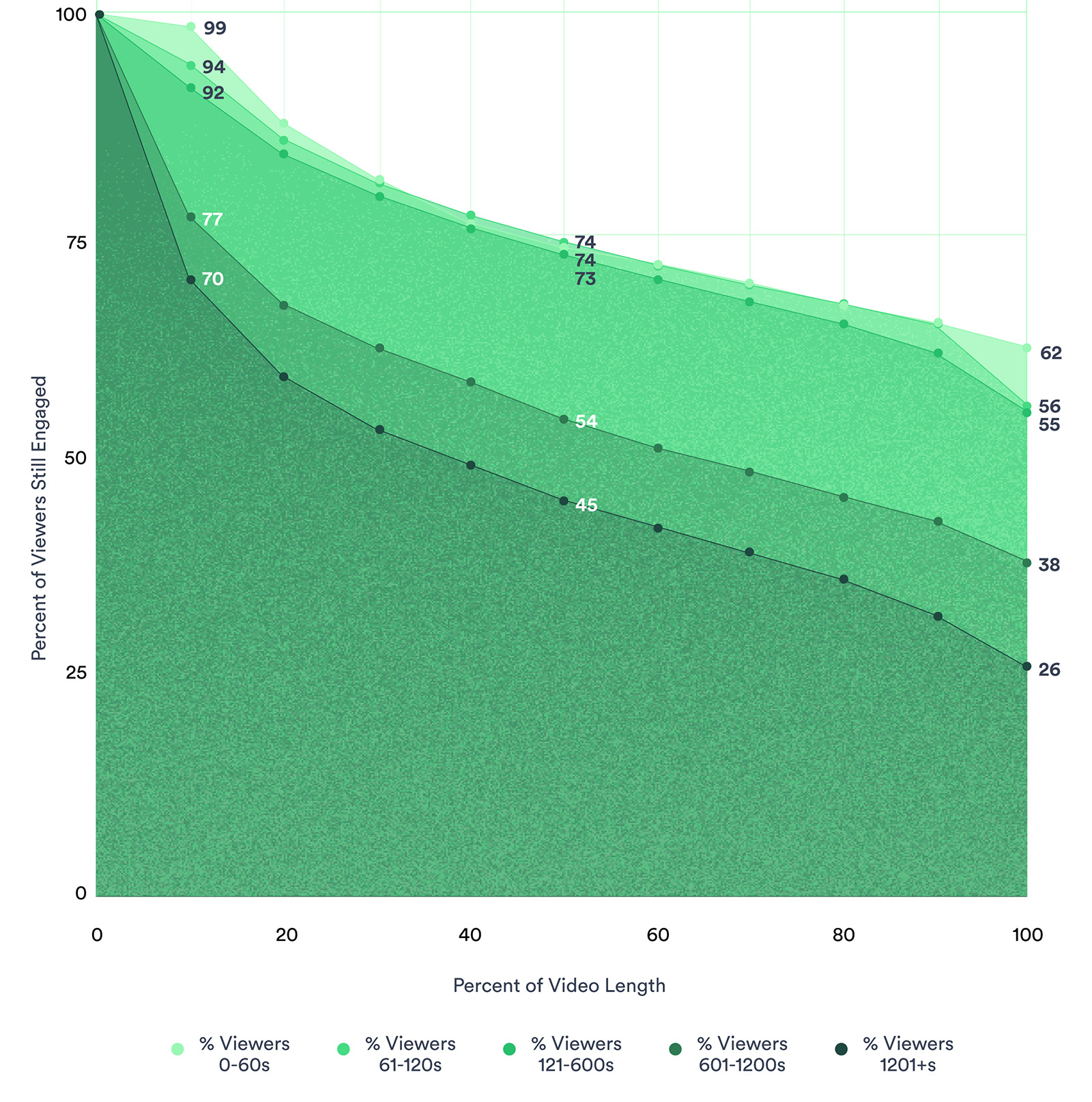 Video Analytics Statistics
Video Effectiveness Measures in Use
Online Video Statistics
Mobile Video Statistics
Roughly 71% of Gen Z teens use mobile devices to watch videos, while 51% use mobile for social media surfing. (HubSpot, 2020)
People are 1.5 times more likely to turn to mobile phones to watch a video. (Facebook, 2020)
People are 1.5x more likely to watch video daily on a smartphone than on a computer. (Facebook, 2020)
Video Email Statistics
Video SEO Statistics
Video Content Marketing Statistics
Virtual Conference and Webinar Statistics
Social Media Video Statistics
Facebook Video Statistics
Instagram Video Statistics
LinkedIn Video Statistics
Twitter Video Statistics
Snapchat Video Statistics
Snapchat had a big jump in perceived effectiveness increasing from 1% to 13% – a mind-bending increase of 1200%. (Hootsuite, 2022)
In a 2019 study, 50% of social media users watched videos on Snapchat. (Sprout Social, 2020)
Snapchat recommends that you keep it within 3 to 5 seconds with the call to action in the first 3 seconds. (Sprout Social, 2020)
YouTube Statistics
TikTok Video Statistics
This post was originally published on December 17, 2020. It was updated on February 24, 2023.