March 20, 2020
·
6 min read
What You Need to Know About Secure Video Sharing
Not every video is destined for a wide release. We explain why your business might need secure video sharing, ways to secure video content, and more.
Viral video, that's what it's all about…right?
Nope. For most businesses, the most important thing is to make sure your video reaches your target audience.
But when your video contains sensitive or even confidential information, what then? How do you make sure only the right people see your content?
While there are plenty of reasons you might want to engage in secure video sharing, internal communications is one of the most common.
If you're already using video for internal communications (or thinking of starting) to share updates and engage your team, or you happen to work in financial services, then video security is undoubtedly on your mind.
This is true for more and more organizations today, as many companies have either gone fully remote or taken a hybrid approach to work as a result of the global pandemic.
Your team may be remote, but that doesn't mean they have to feel that way. Password-protected video sharing—and other secure video sharing options like IP whitelisting or single sign-on (SSO)—can help keep your team connected, with leadership and one another.
Contents
Why Do You Need Secure Video Sharing?
Not every video is destined for wide release and they don't all belong on social channels. But why should you think about secure video sharing in particular?
Internal communications is one of the biggest use cases for secure video, for good reason. A solid secure enterprise video platform makes it easier for businesses to communicate and collaborate (especially with a primarily remote workforce) effectively. The best tools make it easier for employees to connect and engage.
Maintaining effective lines of communication with your team is a critical part of any successful business. It becomes increasingly challenging when your team is adjusting to a remote work environment, as is the case during the current global health crisis.
When you can't turn around and tap someone on the shoulder or get them to stop by your desk so you can show them how to do something, it becomes more and more important to find ways to make sure those conversations and those connections can still happen.
But it's not only communications between coworkers that needs to keep happening. Your leadership also needs an effective way to deliver secure and timely updates to the team—especially in a situation where things are changing quickly and people need clear and accurate information to make decisions.
Traditional text-based communication can leave a lot of room for interpretation. Video, on the other hand, lets leaders include important verbal and nonverbal cues in their comms to make sure people understand the information they're consuming. This is especially critical when information is sensitive, as many messages during this time may be. Additionally, secure video sharing can actually be more secure than traditional text-based communications which are easily copied.
The information you share with employees, or that colleagues share with one another, is often confidential and not for public consumption.
Picture a strategic update from your executive team or even an AMA with your leader. Now think of project updates, campaign planning, design or code reviews, and other things your employees need to share with one another.
They're all things you don't want in your competitors' hands.
Secure video sharing solutions help you ensure that your messages are seen by the right people—and only those people.
Questions to Consider About Secure Video Sharing
If you're thinking that your organization may need to set up secure video sharing for internal comms purposes, then you should ask yourself the following questions:
Who am I communicating with?
What type of information do I need to share?
What's the objective of sharing this information?
Who needs to be able to share information?
How long does that information need to be available for?
Is compliance a factor in sharing this message?
Who needs to approve the message?
What is my budget?
How will people access the information?
What are the risks of someone outside of my intended audience seeing my message?
Secure video sharing may be a good fit for your needs if you require a good deal of control over your message's delivery. Bonus: It's also great if you want to engage employees as well as inform them.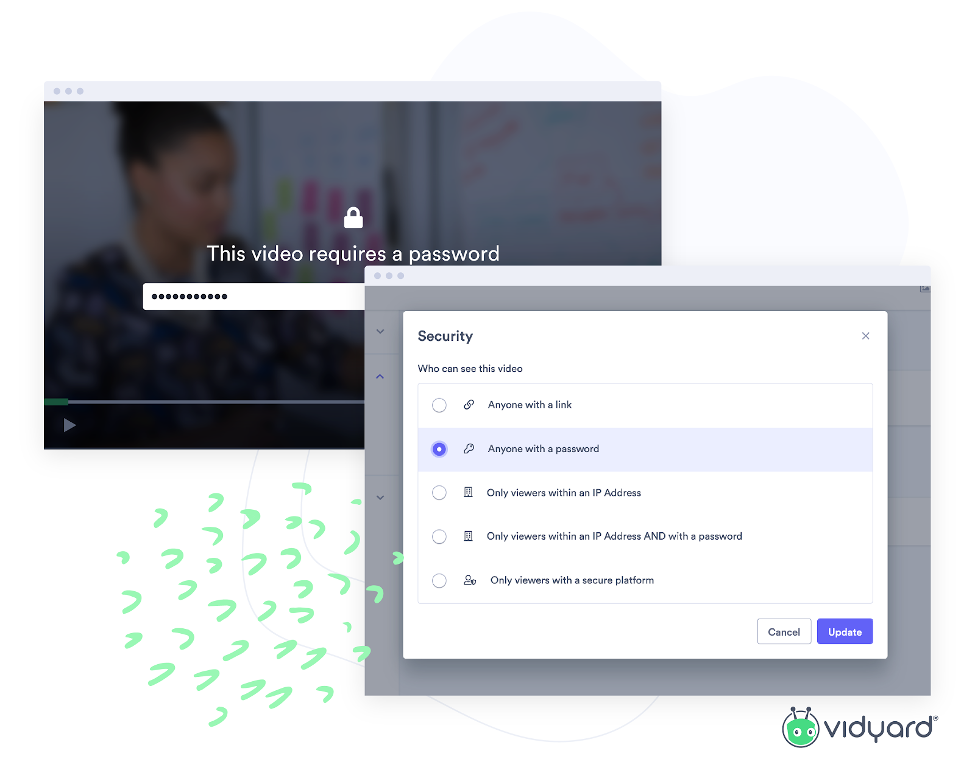 Password Protected Video Sharing and Other Ways to Secure a Video
Different organizations have different needs, which is why there isn't just one way to protect your videos.
Some of the most common ways to share videos online privately:
Anyone with the link can view
Anyone with the password can view
Only people on a specified IP (your company's IP) can view
Only people on a specified IP and with the password can view
Viewers must use single sign-on to log into a company account in order to view
You may be wondering, is a tool like Vidyard safe? Using Vidyard as an online video platform offers the above options to protect and secure your video content.
Where to Use Secure Video
In every internal communications situation, you'll want to think about the best method of communication and choose your medium accordingly.
In most cases, face-to-face or in-person is considered the best option as it allows the listener to pick up on both verbal and nonverbal cues. Following that is oral (think phone calls), which only offer verbal cues. And finally, there's text, which lacks both important verbal and nonverbal cues.
Video is a newer addition to the hierarchy and a valid one to consider as it offers many of the same benefits as in-person communication along with some benefits all its own, such as the ability for the viewer to revisit and rewatch as needed.
Depending on what you're sharing, nonverbal clues may be important for your team's understanding of the message. This is especially true if your employees are suddenly remote and not used to not having in-person communication as an option.
So think about your message, choose your format, and go from there. You can (and should) use secure video in the same places you normally share other updates and comms with your employees.
You can share secure internal communications videos in:
Blasts to the company-wide email distribution list

Updates on internal instant messaging channels like Microsoft Teams, Google Hangouts, or Slack (Bonus:

Vidyard's Slack integration

means you can create and share videos without leaving your Slack window)

Posts on intranets, internal wikis, or other internal comms channels
Links from training hubs or onboarding portals
What Videos Do I Need to Protect?
While you can protect pretty much any internal video, there are certain ones you'll want to ensure are always protected. These include video messages containing confidential information or cases in which compliance is a consideration.
Types of internal communications videos you may want to consider protecting:
Onboarding Videos
Training Videos
Updates and Video Announcements
Walkthrough Videos
Asynchronous Video Updates
Troubleshooting Videos
Livestreams or Recordings of Company-Wide Meetings
Videos of Special Events
How a Private Video Sharing Platform Can Help
Vidyard for Internal Communications makes it easy for everyone who needs to stay connected to do so—using video. Vidyard lets leaders and employees both share and consume information.
Executives, leaders, and HR teams can deliver important updates and employees can collaborate, even when they can't be in the same place.
Easily create new video messages using your webcam to deliver updates and announcements, or quickly record screen share videos for project kickoffs, design reviews, and more.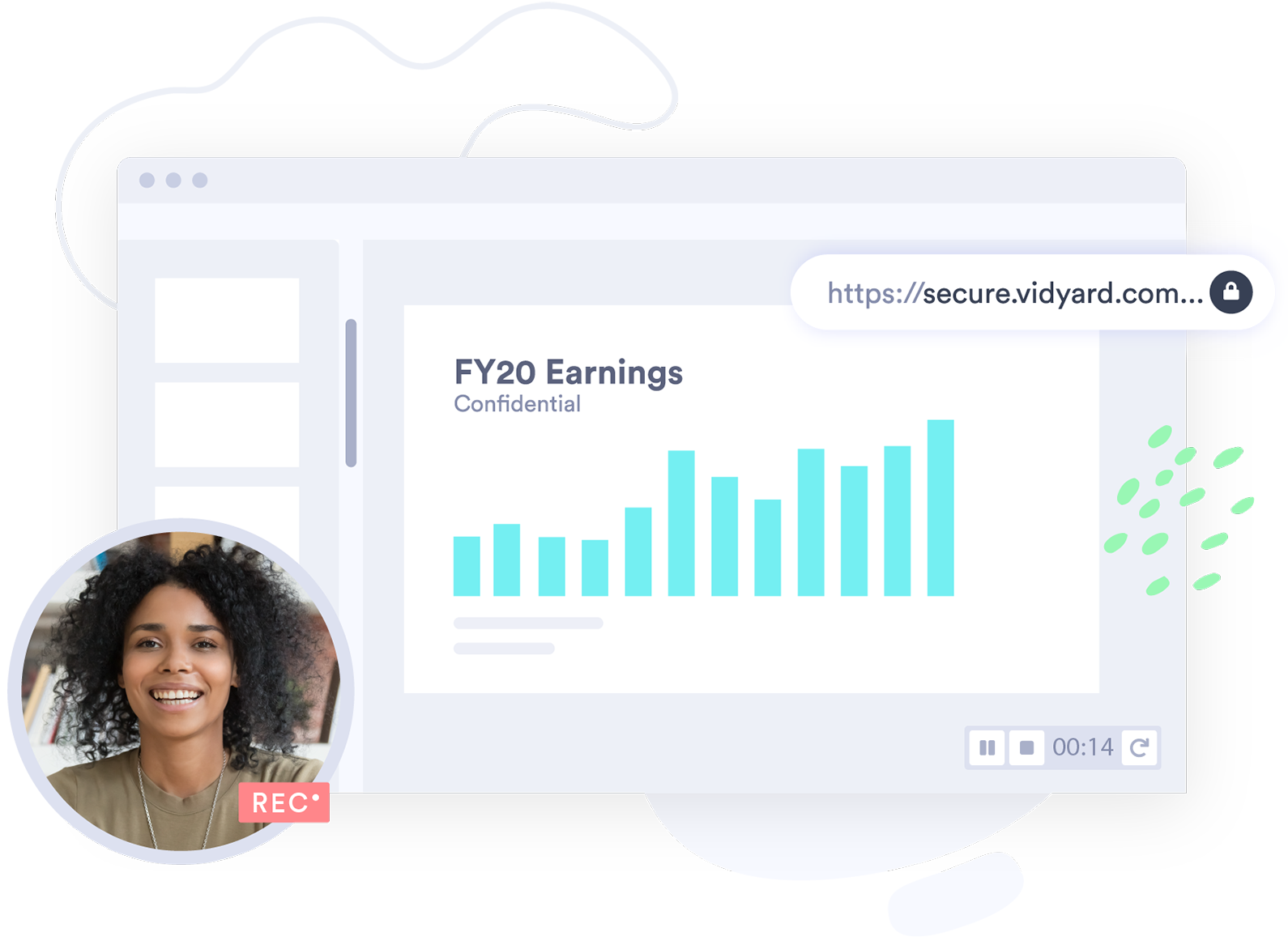 What Can You Do with Vidyard for Internal Comms?
Upload Existing Videos: Already have training videos, FAQs, or other resources? You can upload them to Vidyard to manage and share with your team.
Create New Videos: Easily create new video messages using your webcam to deliver important updates and announcements, or quickly record screen share videos for project kickoffs, design reviews, and more—all in just a few clicks.
Get Notified When Someone Views: When employees create and share videos with their colleagues, they'll get notifications letting them know when someone has watched, making it easy to follow up with stakeholders or answer questions.
Control Access: Keep your videos secure by controlling who has access with reliable security controls. Choose from password-protected video sharing, IP whitelisting, SSO, and more.
Learn more about Vidyard for Corporate Communications.