July 14, 2023
·
8 min read
Secure Video Sharing for Financial Services
Secure video is a must for any financial services organization. Learn how to communicate and build trust with your clients in a compliant and secure way.
Financial services is an industry built on trust. Clients rely on you to keep their money safe, give them sage advice, and make decisions with their best interest in mind. To build on that trust, embracing video as part of your virtual selling strategy is a wonderful way to connect with your clients face-to-face in our new digital world. But using video in the financial services industry requires certain checks and balances, like making sure that you're using an enterprise video platform that provides secure video sharing.
Security and legal compliance add another layer of complexity to virtual selling in the financial services industry. Luckily, some enterprise video platforms have implemented measures to ensure that when you create, share, and host video, you're doing so within your company's guidelines and legal requirements.
Financial services has been one of the biggest adopters of video creation and continues to be a strong leader in user-generated videos. Last year, it produced 83% more video content. To ensure you can take advantage of video like so many other advisors and wholesalers, we've rounded up everything you need to know about secure video sharing for financial services.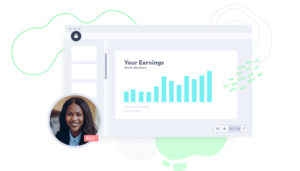 Secure Video for Financial Services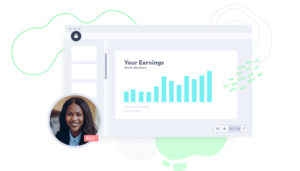 Easily create, share and host videos from a secure and compliant enterprise video platform.
Learn More
Contents
Why Is It Important to Use Secure Video?
With the information-sensitive nature of financial services businesses, security and compliance are non-negotiable when protecting private client interactions. If video isn't secure, there are multiple negative impacts, like:
Penalties
Loss of brand equity
Disruption to the business
Businesses within the financial services industry are held to a higher standard regarding information security and privacy. There are regulatory consequences with hefty penalties for a breach in your system or a video that was meant to be private being made public.
When evaluating what enterprise video platform is best for your business, both your legal team and IT department need to be part of the procurement process so that all the requirements are laid out clearly in the scope of your search.
Look for a platform that has a dedicated security team and has laid out its compliance procedures. For example, at Vidyard, we know how important security is to our customers, so we created a Security Pledge to ensure direct and transparent communication with our customers.
Suppose your organization is still on the fence about integrating video into your virtual or hybrid selling strategy. In that case, we hope that by sharing why secure video is essential and attainable, we will help you start your video creation and sharing journey!
Video in Business Benchmark Report
Know where you stand, so you can stand out. Get the insights you need to craft a video strategy that works.
Get the Report
Creating Compliant and Secure Video
Ensuring video compliance continues to be a priority and challenge for compliance departments because of increased regulations and mandates covering data, disclosures, and privacy.
To create compliant and secure videos, you and your organization must understand the rules. First, evaluate which laws apply to your business, then form a plan with your compliance team to confirm you'll be using those regulations across all video selling content.
Best Practices for Acquiring Compliant and Secure Video
Engage compliance, legal, and privacy teams early in the process to set foundational objectives.
Before even starting the search for a video platform, have a discovery session with your compliance, legal, and privacy teams to make sure everyone has a chance to submit requirements. Understand compliance requirements and pain points and evaluate vendors against those requirements. It will be much easier to acquire and start using an enterprise video platform if you have all your ducks in a row first.
Submit scripts and transcripts for review against compliance needs.
Once your organization is ready to use video, make a clear organizational chart for the video creation workflow. Keep it collaborative by making the compliance team a partner in the process. Compliance teams can operate as a business enabler, supporting the business units by adopting impactful video solutions. Have employees submit their scripts and transcripts for review before sending out and sharing any videos to avoid any compliance issues ahead of time.
Archive videos with compliance standards for potential audit purposes.
Chances are, your organization already has a few marketing videos out there. Do a full audit of all existing videos and check them against all your compliance standards. Then, archive them in folders that are clearly labeled based on industry regulations. You now have a concise database to add any future videos for your organizational and potential audit purposes.
How AI Tools Help to Address Video Compliance Concerns
Some great tools are out there to help your organization address video compliance concerns.
Theta Lake is an artificial intelligence (AI) compliance suite that helps firms manage regulations' costs and complexity. Theta Lake's system analyzes the videos created by your company to flag and address all compliance issues before sharing them. They review marketing videos, personalized sales videos, and video conferences through:
AI and deep learning that automatically screens audio and visual content for corporate compliance, conduct, and regulatory risks
A streamlined workflow for compliance teams to review and supervise video communication
Compliant long-term archiving for all aspects of video communication and
Enterprise reporting for auditors
See it in Action
See how the Vidyard Compliance Integration with Theta Lake works in this quick 3-minute video.
Marketing Videos and Compliance
For marketing teams creating brand awareness videos, compliance needs can be dealt with well before any issues arise. When the marketing team plans for a video, they should submit a script for compliance review before production and then resubmit once the video is filmed to verify that the script matches the output.
This process is a lower lift for the compliance team, as videos produced by the corporate marketing team are usually designed for one-to-many distribution (e.g., landing page, website, marketing emails, social media, etc.).
Sales Videos and Compliance
The script may not exist for user-generated sales videos before an advisor or wholesaler creates and shares a video for outreach. Organizations should roll out training regarding video compliance to all team members before anyone starts pressing that record button. Make sure everyone knows what they can and cannot do before creating a video; it will save everyone's work in the long run.
Ideally, advisors should always submit a video into a compliance workflow. Vidyard sends advisor's video to Theta Lake for compliance approval before it can be sent out.
Secure Video Sharing
Video sharing is a more secure way to communicate with clients and customers than traditional text-based communication. Unlike text-based communication, video is more difficult to copy and share beyond the intended audience. Protecting video becomes easy with the right features.
When sharing videos with your financial services clients, you should consider:
Enabling password protection
Setting video access to "Anyone with the link can view" or specified IP addresses
When sharing with teams internally, you can also set up a single sign-on to require logging into a company account to access.
Advances made in artificial intelligence for sales and machine learning enable compliance teams to be more efficient and effective. These improvements make it easier to meet retention and supervision regulations of digital content.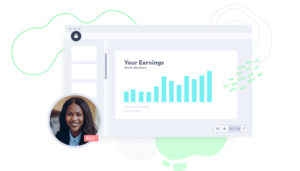 Secure Video for Financial Services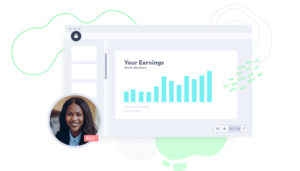 Easily create, share and host videos from a secure and compliant enterprise video platform.
Learn More
Password Protected Video Sharing
Different financial services organizations have different needs, which is why there isn't just one way to protect your videos.
There are multiple ways you can protect your videos while sharing them. Consider the following:
Only those with a link can view the video
Only those with a password can view the video
Only those on a specified IP (your company's IP) can view the video
Only those on a specified IP and with the password can view the video
Only those that have been authorized through a single sign-on can view the video
See it in Action
Here's how you can add password protection for secure video sharing.
Secure Video Sharing Is Here to Stay
With the move to hybrid and remote work, the need for secure video is becoming increasingly important for financial services companies. And consider baking it into any sales and marketing strategy moving forward with a robust video hosting platform. We also know that clients, especially those of younger generations, want digital access to their financial services. As your organization changes how you communicate with your clients, remember to keep the power of video at the top of your mind.
This post was originally published on October 8, 2021. It was updated on July 14, 2023.
Video in Business Benchmark Report
Know where you stand, so you can stand out. Get the insights you need to craft a video strategy that works.
Get the Report