January 17, 2023
·
13 min read
How to Create Winning Sales Proposals + 5 Tips for Smooth Negotiations
Your deal is barreling towards close, but missteps at this stage of the game can lead to a stalled (or even worse) dead deal. Let this guide help you negotiate and create winning sales proposals.
Your sales proposal and the negotiation process are critical for getting a deal over the line—yet they're often treated like an afterthought. Many sales reps and leaders think they don't need to send a proposal or learn how to negotiate if they've done their job right. Ah, if only it were so simple.
In reality, no deal is watertight. Ultimately, the final decision will be made when you're not in the room—likely with one or two people you've never even heard of. That's why both your proposal and your negotiation process need to be done right. And that's where things like video can give you that extra boost.
Recent research by Proposify shows that adding a video to your proposal can increase close rates by up to 41 percent and close deals 26 percent faster. Whether you're in the midst of a formal request for proposals (RFP) response process, a regular sales cycle, or negotiations, incorporating video can help you make an impression and seal the deal.
In this guide, we'll teach you how to write a winning sales proposal and navigate stress-free negotiations. We'll also provide practical tips from sales experts and share our foolproof sales video proposal template. Let's dive in.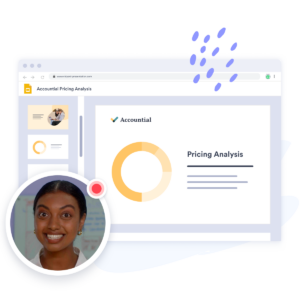 Increase Win Rates with a Video Proposal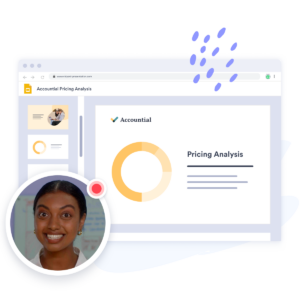 Using Vidyard for proposals helps accelerate deals and makes the buying experience better for your prospects.
Get it Free
Contents
What Is a Sales Proposal?
Your sales proposal is a document that provides a summary of your pitch to your prospect. While sales proposals typically include a cost breakdown, it's not enough to just list line items and prices. Instead, you want to use your proposal to connect the value that you're providing to the problems that your prospect specifically wants to solve.
A well-crafted proposal allows you to continue to sell when you're not in the room by reiterating your most important value propositions. It gives your champion a script they can take to their leadership to help them explain why your solution will solve the problems they're facing—essentially giving them a cheat sheet to persuade their execs to sign off on the deal.
How to Write a Winning Sales Proposal: 3 Tactics to Try
That might all sound great—but do you put together a proposal that'll cinch the deal? Let's dig into the nitty-gritty of writing a successful sales proposal.
Learn from the Pros
Get the inside scoop on sales proposal writing from the pros in this episode of Full Funnel.
1. Keep Your Sales Proposal "PG" (Problems + Goals Oriented)
The biggest mistake you can make in your sales proposal is making it all about you. It's an easy trap to fall into—you want to sell your prospect on all the advantages of your product or solution and persuade them to buy. But the most persuasive proposals don't simply list your features, they show that you understand your prospects' needs.
That means you need to start from your prospect's perspective. What are the problems they're trying to solve? What are their long-term goals? Only then can you start introducing your product as it specifically relates to what they're trying to accomplish.
The cardinal rule of proposal writing? Don't show your product unless you're mapping it to the problems your prospect has and the goals they're trying to achieve.
Take the example of a hypothetical customer who's struggling with low web traffic and wants to increase conversions by 20 percent this quarter. To write an effective proposal for this buyer, you'd need to first address their current problem (low web traffic) and goal (increase conversions by 20 percent over the next three months) and demonstrate how your product would help resolve their challenges and achieve the outcome they want.
"I love this framework because it's all about telling a story," says Tyler Lessard, VP of Marketing and Chief Video Strategist at Vidyard. "As that proposal gets shared around, anyone else who hasn't been closely involved gets the additional context for why those line items are there, and it makes it a lot more difficult for them to argue or try to put in a final push for a lower price."
2. Make Your Written Sales Proposal Irresistible by Using Video
"Video is a great way to make your proposal more interesting, dynamic, and helpful to your prospect," says Tyler. The proof is in the conversions: Proposify's research shows that using video in your proposals can help you close more deals, increase engagement in proposals, and close deals faster.
But what is a video proposal? They can take two forms—videos embedded throughout your proposal document or a video walkthrough of your proposal, which adds context. The goal is to create or include a video that adds value for your prospect, keeps them engaged, and addresses questions, complex ideas, or objections.
According to Proposify's State of Proposals Report:
Adding a video to your proposal can increase close rates by up to 41%
Video drives 56% higher proposal engagement
Including videos in proposals can help close deals 26% faster
How to Use Video for Sales Proposals
There are three main ways you can use video for sales proposals, including embedding video content within the proposal, adding a video walkthrough to go through the proposal itself, and recording and sharing an introduction video to share with key stakeholders regarding the proposal. You can use one or all of these methods to give your sales proposals that extra boost.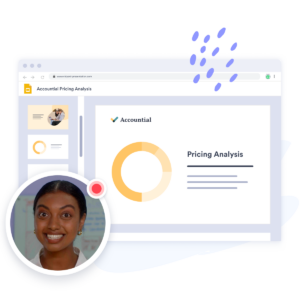 Increase Win Rates with a Video Proposal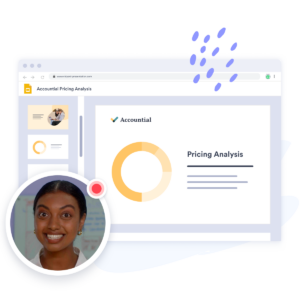 Using Vidyard for proposals helps accelerate deals and makes the buying experience better for your prospects.
Get it Free
Embed Video Content into the Proposal Itself
This is great for explaining complicated ideas or driving home key points. Instead of trying to explain how a particular feature works, it's often much easier to share a video walking through it. Look to your existing explainers, product demos, and feature walkthrough videos for content you can repurpose to explain complex ideas—or record your own using a tool like Vidyard. If you have existing customer story videos that relate to the points made in your proposal, you can also embed those to help illustrate the great results other companies have had by working with you.
Record a Video Walkthrough to Share alongside Your Proposal Document
Even if you can't be in the room pitching your solution, a video recording of you walking through the proposal is the next best thing. The important thing is not to rehash what you've already said in the proposal. If you're going to do a video walkthrough of your proposal, it should add more value than sending them the document as an email attachment. Use it as an opportunity to respond to the objections or the questions they'll probably come back to you with. This signals to your prospect that you're educated about their challenges and that you're taking care of them.
You can keep your proposal walkthrough video for smaller deals under a minute. Larger or complicated deals might require more explanation, but keeping your walkthrough succinct is still a good idea. If necessary, break it down into several short videos to keep it digestible.
Learn from the Pros
Sales expert Todd Caponi happened to use video for proposals almost by accident when he struggled to book a live walkthrough with his prospect. This happy accident is now a go-to tactic for all sales proposals he sends. And as a result, win rates are over 90% when he sends a video proposal as part of the late-stage deal process. Check out his winning template below.
Include a Video Proposal Introduction with Your Sales Proposal
Your video introduction video doesn't need to be lengthy or complicated. Remember, you don't want to rehash everything you already said in your proposal—highlight your key points and anticipate any questions or objections your prospect might have.
Steal This Sales Video Proposal Introduction Template
This proposal introduction video example from the Sales Feed team gives an overview of what's covered in the proposal so that all stakeholders can watch the video and have proper context. Give this template a try and see if it can help close your deals faster.
3. Frame Your Proposal Around the Story of Their Market and Company
To really tell an effective proposal story, think about framing your customer's challenges in the context of larger market forces. Deliver your proposal with a story built within it about larger trends impacting companies' decision-making. This is where you can bring up their problems and goals and insert your product as the solution to those things. For big strategic accounts, it's also a great idea to turn that story into a presentation deck.
Your proposal is also an opportunity to recap your customer's journey with you so far—like reminding them of the rapport you've built up to this point. You can highlight important checkpoints you've already passed, such as confirming requirements with their IT team or meeting with legal.
Even better, highlight instances of their team already succeeding with your solution. Maybe they've had the opportunity to try it out through a free trial or freemium version—see if you can show those wins. "Don't be shy to bring those people to the forefront and share their story as part of yours," says Tyler. "You can even reach out to those people and ask them to record a quick video sharing their experience, the benefits they saw, and how excited they are to move forward with you long-term."
Being able to quote your prospect's own team members in the proposal or embed a video of them testifying to their success can remind them of how far you've already come—and how close you are to fulfilling their goals. They just need to take that one tiny step further to cross the finish line.
It's Time to Negotiate and Seal the Deal
So, you've sent your proposal along with a video walkthrough. Maybe you've met with the customer to discuss their questions and address their objections. If you're at this stage, it's time to negotiate the deal and cross the finish line. For many salespeople, this part of the process is the most stressful. But it doesn't have to be. Let's break down the sales negotiation process and how you should handle it.
Learn from the Pros
Learn the negotiating tips you need to close more deals in this episode of Sales Stuff Explained.
What are Sales Negotiations?
Sales negotiations are a delicate art. "Negotiation" refers to the conversations a seller has with their buyer to arrive at a deal. Usually, these conversations include prospects asking you to make changes to your offer. Changes up for negotiation could be payment terms, additional services, product modifications, or most often, pricing.
Your customer may want to negotiate:
Payment terms—timing, preferred payment type
Additional services—warranties, perks
Product modifications—custom features, branded portals
Pricing—discounts, lower cost-per-user
5 Negotiation Tips to Get Your Deal Signed
Negotiations are tough, follow these five tips to ease the process and work towards getting that deal across the line.
1. Avoid Stressful Negotiations Later by Talking About Pricing Earlier
Head off tense negotiations by talking about pricing much earlier in your conversations. Belal Batrawy—Founder at DeathtoFluff—uses this tactic to surprise customers with honesty. "I'm teeing myself up to avoid an unnecessarily tense negotiation. Throughout the first few calls, I spell out pricing for them—the base level, the industry range, and why we're giving them the best value for that range. And it completely disarms them," Belal explains, "I've effectively invited them into negotiations without them realizing."
This strategy creates a feeling of honest reciprocity—customers are more willing to share their budget expectations and initial reactions much earlier. Later, when it comes time to give them a formal proposal, Belal uses those first conversations to inform how he'll address questions or overcome objections.
By setting the expectations early on what pricing to expect (and collecting honest feedback) your customer is less likely to encounter sticker shock when it comes time to solidify numbers, making sliding into negotiations effortlessly smooth.
2. Track Proposal Opens and Follow Up with Video
Don't hit send on your proposal and walk away before setting the stage for negotiations. Use software to track whether they opened your proposal email, how many times they watch your video, and how long they watched. By using a tool like Vidyard, you'll get notified when folks have seen your proposal video(s)—giving you clues to who is seeing and engaging with your proposal. This can help you fine-tune your follow-up.
If your proposal video is getting a lot of views, but you haven't heard back from your prospect, why not send a follow-up video to check in? Kara Smith Brown, Founder & Chief Revenue Officer at LeadCoverage, says on the art of the follow-up, "The minute your customer opens that email or watches that video, you should pick up the phone or send a video. They're clearly interested. Make sure they know you're just as interested as they are."
For busy execs and decision-makers, watching a short video can be much easier than reading a long email or PDF, which can help spur them on to take needed action on a deal. The rule of thumb is to avoid letting seven business days pass before you follow up with your prospect after your proposal.
3. Understand Objections by Asking Probing Questions
Sometimes negotiations are a proxy for something else. David Priemer, the Founder & Chief Sales Scientist at Cerebral Selling, calls this the "objection iceberg." The initial objection that kicks off negotiations might seem vague but hides the root cause. "For instance, a customer could receive your proposal and respond that they like your product, but it's too expensive," David says, "That could mean a lot of things—the price per user is out of their budget, they don't understand how the payment structure could work for them, or they're simply not interested and want to be polite."
The best way to understand and address that root cause is to ask your customer probing questions. Do they need implementation support? Do they need a different payment cadence? What features do they need or could do without? Are they struggling to get buy-in from their team?
Before you leap into trying to solve the problem, take a step back and understand the nature of the objection. Then you can offer the right solutions or concessions to seal the deal.
4. Never Give Without Getting Something in Return
When you give concessions freely on pricing or terms, you set the precedent that you don't believe in your pricing model. Instead, when you concede something, such as a discount or a change in payment terms, it's wise to trade it for something that's beneficial for you.
Write down things you're willing to give and receive in exchange. For example, you could be willing to offer a cash discount, exclusivity, free licenses, and changes to payment terms. In return, you could ask for a testimonial, referral, longer contract term commitment, higher purchase volume, exclusivity, or a specific date they sign by.
5. Offer Concessions Deliberately
When it comes to granting concessions, remember one invaluable lesson—people don't appreciate what they get too easily. If you want to increase your customers' level of satisfaction during negotiations, one of the easiest things you can do is give thoughtfully considered concessions.
For instance, offer dollar discounts rather than focusing on a percentage discount. If your product costs $125 a month, give a $5 or $10 discount. It will still be a generous incentive that appears but the actual concession will be much less than if you give a 5% or 10% discount.
After you've followed up, addressed their final objections, and negotiated the right concessions, all that's left is to sign on the dotted line and roll out the red carpet for you. You closed the deal! *cue confetti*
Skyrocket Your Sales Proposals and Negotiations
Don't underestimate the power of thoughtfully curated proposals and deliberate negotiations. The good news is asynchronous video messages can also be an incredibly effective tool during the proposal and negotiation process. Video allows you to keep selling—using your own words and voice—to people you've never met and in conversations you haven't been invited to.
And it doesn't stop there. Video can be used to support your entire sales process, from outreach to closing. Anywhere you're currently sending an email or written message, ask yourself, 'Would this be more effective as a video?' If the success of video sales proposals and negotiations is any indication, your engagement is sure to skyrocket.