June 13, 2023
·
8 min read
How to Choose the Right Style of Video Every Time
From live action to live streaming, there are a lot of different styles of videos out there. Learn about the top video styles, as well as how to choose the right one to fit your goals.
If you're creating video content, it's pretty likely you've put a lot of thought into which types of videos to make. But are you paying attention to which styles of videos you're choosing?
Using the right (or wrong) style of video can have a major impact on the performance of your content. There are lots of styles to choose from, from live-action to live-streaming (with a ton of possibilities in between). Choosing the right one means thinking about your specific goals for the video, as well as your brand's priorities and tone.
So which style do you choose for your next video? Keep reading to learn about the most prevalent styles of videos, with tips for making the most of each one.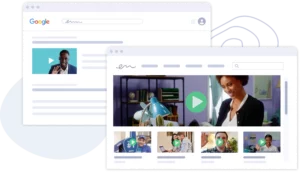 Video Hosting

Made Simple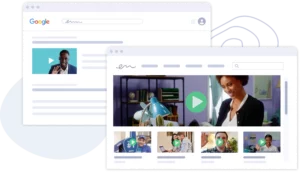 Vidyard Hosting makes it easy to leverage the power of video across your business.
Learn More
Contents
1.2 Vlog Videos
1.3 Interview Videos
Live-Action Video Styles
When you think of "video," you probably think of a live-action video. Live action encompasses any video that's composed of real-world footage, typically including real, live people.
It's one of the most common video styles due partly to its sheer accessibility. Live-action videos can range in production quality from smartphone clips up to professionally-produced films. They can be scripted (like a talking head video) or unscripted (like an interview).
A lot of different types of video can be made using the live-action style.
Talking Head Videos
Talking head videos are pretty much what they sound like: A person talking to the camera—either looking directly at it or gazing slightly to the side (known as an interview-style talking head).
Because the focus is on a single person, talking heads are great for establishing expertise on a topic and are popular for thought leadership videos.
While talking head videos are good for creating a connection with your viewers, the lack of visual stimuli means they're not always engaging enough to hold the audience's attention for long. Try mixing things up by using more than one camera and cutting between different perspectives (such as a tight shot and a wide shot), including B-roll, shooting in front of a compelling backdrop, or adding in graphics.
Learn From the Pros
In Vidyard's 80% FAQ video, the team added visual interest to the talking head style by mixing in text and visuals to emphasize the points the team is trying to make in the video.
Vlog Videos
If talking head videos are produced as a series, then they can be classified as a vlog (video-based blog in which individual videos replace blog posts).
Many companies use vlogs to answer FAQs, share updates, and introduce new products. The subject matter available for vlogging can be as wide and varied as it is with blogging.
When creating a company vlog or shooting talking head videos, be sure to think about who will be the face on screen. You might choose one person, or select a small team that trades off individual episodes.
Moz does this with their Whiteboard Friday videos. They're hosted by members of the Moz team, as well as special guests.
Learn From the Pros
In our Chalk Talks video series, we usually put Tyler Lessard, VP of Marketing, in front of the camera (like he is in this example). We've also featured other employees who are subject matter experts on the topic at hand.
Interview Videos
Interview-style videos are a great way to boost your video collection and attract an audience who cares about your industry and what you have to offer.
They can be made with one fixed camera, or can be shot on multiple cameras and edited together for a more dynamic feel. You can feature both participants in the frame, or opt for one person on-camera, talking head-style, while they're being interviewed by an off-camera interviewer.
The interviews can focus on advice, trends, company culture, and more. Get creative: Try filming an ask me anything (AMA) session with your CEO, a fireside chat with a partner company, or a Q&A with an influencer in your industry.
Learn From the Pros
In this Vidyard Behind the Scenes video, Olivia interviews Derek Hayden, Certified Risk and Benefits Architect at Shelbyville Insurance Services about how his team is leveraging video to drive more sales.
Animated Video Styles
Often used for explainer videos and brand stories, animation can be an incredibly engaging video style.
Animated videos can be as entertaining as your favorite Saturday morning cartoons, or they can illustrate a concept in a practical, consumable way. There are a bunch of different video animation styles, including:
2D animation videos
3D animation videos
Motion graphic videos
Animated typography videos
Stop-motion animation videos (including cutout animation and claymation)
Whiteboard animation videos
When it comes to different styles, 2D is typically the most classic-looking animation style, while 3D lends a more Pixar-type feel to characters.
Motion graphics are popular for explainer videos as they illustrate a concept in a clear (and often minimalist) style. Animated typography works nicely for quotes and other videos where the text is the most important element.
Stop-motion involves using real objects and capturing movement one frame at a time. You can achieve this style with a variety of materials. Some of the most popular are clay or plasticine (as used in claymation) and paper (as in cut-out animation). This approach tends to lend a whimsical feel to whatever is being animated.
Whiteboard animation is an easy and accessible animation form. There are a number of low-cost tools designed to let anyone (even the less artistic among us) create a video that looks like it was doodled on a whiteboard.
Text Overlay Video
While your video may be able to grab viewers' eyes, there's no guarantee you'll get their ears, too. 75% of people watch mobile videos on mute. This means that you might have to adapt your styles of video to deliver the full experience without the need for sound.
Text overlay video is a great solution for this. It's a style of video that pairs imagery with overlaid text, often using a pan or zoom effect to create a feeling of dynamic movement.
Text overlay videos usually have low-impact sound, like straightforward background music. If they're watched with the sound off, it won't fundamentally change the viewing experience. But if the viewer does choose to turn the sound on, they'll find that the sound enhances the story.
This style of video is great for how-to videos, or for telling simple stories. Text overlay videos were popularized by social media-focused publishers like BuzzFeed. Their Tasty page makes frequent use of the format for sharing recipes, where ingredients and simple instructions appear as text overlaid on clips of the recipe being prepared.
Learn From the Pros
Social media management platform Hootsuite shares text overlay videos regularly on social media.
Often based on information found in the company's larger content pieces, the videos provide quick tips in text paired with relevant video.
Live Video Styles (aka Live Streaming Video)
As the name suggests, live streaming video is broadcast as it happens so that viewers can watch in real-time. Though it's available on a number of social media platforms, Facebook has been a big driver of the format.
Considered a distinct content type by the network, live video gets more interaction than regular Facebook video. Plus, notifications prompt users to watch live streams from pages they follow while they're happening.
On LinkedIn, broadcasters get 7x more reactions and 24x more comments on live streams than on regular videos.
Live video is also available on Instagram, YouTube, and a number of live-focused and niche platforms (such as Twitch, which is popular with gamers).
A variety of video types can be broadcast this way, from live interviews to real-time announcements to as-it-happens tutorials.
Learn From the Pros
Benefit Cosmetics made creative use of the live format with its Tipsy Tricks series. Each week, two hosts drank wine, shared a makeup tip, chatted about products, and fielded questions from viewers.
The broadcasts, like the Learn How You Can Achieve Flawless Lash Looks example below, have received thousands of views.
360-Degree Video Style
360-degree video is an immersive style of video that records a view in every direction at the same time. It's made by using an omnidirectional camera or a collection of cameras. A 360-degree video shows different parts of the scene depending on which direction the viewer pans their screen.
This format is a good choice for brands looking to put an interactive spin on their content. It works best when there is an immersive scene that includes points of interest in all directions.
Brands have used it effectively to provide a unique perspective on an activity. It's also an effective way to showcase a space or place and to give viewers the experience of "being there."
Learn From the Pros
Antiperspirant makers Degree put viewers on the court with Stephen Curry in a 360-degree video that showcased the athlete's signature move from a rarely seen perspective.
Virtual Reality Video Style (aka VR Video)
Virtual reality (VR) videos share similarities with 360 videos, but this style of video goes the extra mile.
VR videos are viewed through VR headsets and can require extra peripherals like joysticks, gloves, or even suits.
Instead of recording in monoscopic vision (where the same image is sent to both eyes), it's recorded in stereoscopic vision (where a slightly different image is sent to each eye.) This makes them more resource-intensive to create…but make for one of the most immersive video experiences you can get.
Learn From the Pros
Home improvement brand Lowe's offered a virtual reality experience for customers. They were able to learn how to tackle a DIY project by engaging in a VR tutorial.
Available in select U.S. stores, the "Holoroom How To" resulted in 36% better recall from customers than watching a standard how-to video.
Choose-Your-Own-Adventure Video Style
Choose-your-own-adventure video is an interactive style of video that lets the viewer change the direction of the story they're watching.
When the viewer comes to a decision point, they click the option they want to choose. You can achieve this effect with your videos by adding in-video CTAs. Take your full video, chop it up into individual sections, and group them together into a playlist. Then, when your viewer chooses a path, that video CTA click sends them to the relevant video.
In 2017, Netflix started offering interactive streaming TV content. It began with children's content—including shows like Puss in Boots: Trapped in an Epic Tale—and evolved from there. The most notable example so far has been the original movie Bandersnatch, part of the Black Mirror series.
Learn From the Pros
Vidyard's holiday video made creative use of the choose-your-own-adventure video format. This viewer sees a different ending to the video based on their choice.
Screen Share Videos
Screen share videos are (you guessed it) recordings of a person's computer or mobile screen. This video style is well-suited for situations where you want to show someone something. It's particularly popular for demo videos and how-to or tutorial videos.
There are a lot of ways you can create a screen share video. They can be highly produced or scrappy recordings made using free tools. Some allow for audio narration to be recorded alongside the video footage.
Vidyard's screen recording Chrome extension also allows the person recording the clip to add a bubble to the bottom left corner that shows the view from their webcam (typically of their face) to add a personal element to the recording.
Free Screen Recording
Easily record and share your screen.
Get It Free
One-to-One Webcam Videos
One-to-one video—sometimes known as a personalized video or a selfie video—is video created and sent by one person directly to another.
Unlike the one-to-many broadcast approach used with most marketing video content, one-to-one videos are not content created for a large group. Instead, they're intended for an audience of one.
One-to-one videos are typically recorded using a video messaging tool like Vidyard. These tools sometimes include features that make it easy for the video creator to share their recording right after they've made it, and even get a notification when the recipient watches it.
Record Your Webcam
Easily record and share webcam videos.
Get It Free
The personal nature of this style of video makes it a great fit for marketing activities such as public relations and comms. For instance, PR professionals can use one-to-one video to:
Pitch stories to publications by creating individual videos for each publication they're reaching out to
Respond to reporter requests
Pitch someone from the organization (such as the CEO) as a speaker for a conference or event
Learn From the Pros
PR professional Sandy Pell adopted the one-to-one video approach in her pitching.
Her public relations video pitches—including story and speaker pitches—have received nearly 50% higher engagement than text-based ones.
So Which Style of Video Should You Choose?
Which style of video should you choose? It's a personal question with a personal answer.
The type of project you're working on, the sort of audience you're reaching out to, or your intended goal for the video will help you decide which style of video will fit best.
Trying to communicate information to your audience? Try the live-action video style or the animated video style, depending which better suits the tone of your brand.
Creating videos for social media? Try the text overlay video style to ensure that you get your message across, even if the viewer is listening without sound. Or, if you're feeling creative, try the 360-degree video style to create content that really grabs their attention as they scroll past.
Answering customer questions? Try the screen share video style to walk them through the information, whether it's a tutorial or a product demo.
Collaborating with clients or colleagues? Try the one-to-one webcam video style to make quick yet impactful videos that leave an impression.
Be sure to test out different style options for your videos. See what best suits your brand and its tone and discover what your audience responds to.
Keep in mind that you can combine some video styles to create a unique look and feel.
Learn From the Pros
HarperCollins Publishing made creative use of a combination of animation and live action in a video promoting the Collins English Dictionary.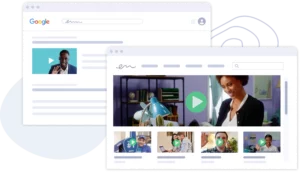 Video Hosting Made Simple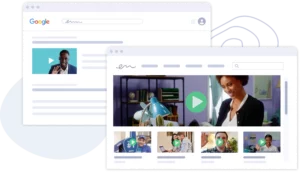 Vidyard Hosting makes it easy to leverage the power of video across your business.
Learn More
This post was originally published on December 3, 2018. It was updated on June 13, 2023.