July 15, 2023
·
11 min read
Personalized Video: Everything You Need To Know
Personalized video is a video that's customized to an individual viewer and can help form trusting relationships. Learn how to make them for your buyers.
Everyone likes to feel special. That's why recording and sending a personalized video message is the perfect way to catch your viewers' attention and engage them.
You can use personalized videos to increase email conversions, book sales meetings, boost landing page sign-ups, increase event attendance, improve customer satisfaction, and more.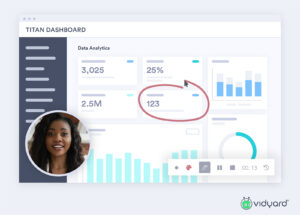 Record and Share Personalized Video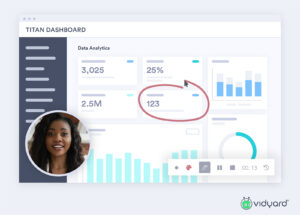 Send personal video messages to stand out and humanize your outreach.
Sign Up Free
Contents
What is Personalized Video?
A personalized video (or personal video) is a video that is created and customized for a specific individual viewer. Personalized videos can be recorded and sent to individual recipients to book a meeting, offer a micro demo, walk through a proposal, provide customer support, or can even be used for team communication and collaboration.
And when we say "personalized," we don't just mean adding someone's name to the video's title. It means speaking directly to a specific person one-to-one with a message tailored just for them. Using tactics such as an eye-catching video thumbnail with their name written on a whiteboard, incorporating a prop that will grab their attention, or even creating a screenshot video that hovers over their LinkedIn profile or company website personalizes the experience that much more.
There are countless creative ways to approach personalized video, and there's tons of proof of why personalized video can help you cut through the noise and shine.
See it in Action
Alana totally nailed it in this quick and short personalized video for outreach. Notice how she uses a whiteboard to catch the attention of her prospect in the video thumbnail.
The Benefits of Personalized Videos
We live in a world where thousands of marketing messages are bombarded daily. For marketers and salespeople, that means it's tougher than ever to stand out, keep audiences engaged, and build memorable relationships. But by treating each prospect and customer as an individual, personalized video can help you connect.
Benefits of personalized videos include:
Breaking through the noise

Higher email open rates

Higher click-through rates

Generating more prospect engagement

Building relationships that drive deals forward
Why does personalization work so well? As the motivational guru, Dale Carnegie said, "A person's name is to him or her the sweetest and most important sound in any language."
People crave personalized experiences. And marketers are giving them what they want: Overall, business video creation increased nearly 30% last year.
While personalized elements tap into people's desire to be acknowledged, doing it through video intrigues them. Seeing a video email piques a recipient's attention to open and click.
As an added bonus, video in an email can reduce inbox fatigue and help recipients retain more of the message when compared to text-based email. Our brains are programmed to store visual memories, and studies show that people are 13% more likely to remember details from video emails over text emails.
But it's not just a novelty. Most sellers who use custom-recorded videos agree that video emails produce more opens, clicks, and responses than text emails. Combined, a personalized video in an email is a fascinating outreach combination.
Getting and keeping your audience's attention serves a larger purpose—building a relationship. By personalizing videos, you build one-on-one connections that can make viewers feel more positively about you and your product or service.
Free Screen Recording
Easily record and share your screen.
Get It Free
How to Make a Personal Video
Creating a personalized video is easier than you think. There are many types of sales videos out there, but a personalized video is one of the highest-performing. Using video for sales outreach has increased response rates for the majority of sellers.
Follow these steps to create a compelling, personalized video for a prospect.
Get Your Gear Set-Up
Leveraging an online video platform like Vidyard enables you to record, send, and host your videos all from one place. Now it's time to get ready for production.
Once you've got the software, set up your webcam or mobile phone and check your microphone and audio settings. Lighting is also an essential piece of the puzzle. These days, ring lights are a popular and easy option, but if you don't have one, just make sure your overhead lights are on, and you can see your face clearly in the viewfinder.
Do Your Research and Plan What You Want to Say
Before you press record, do a little research on who you're sending a video to. Look at their company website or LinkedIn profile page. You can also leverage generative AI tools like ChatGPT to help in the research and discovery phase. Just make sure you're validating the information that comes back, contacting the right person for your outreach, and identifying some details you can use in your pitch.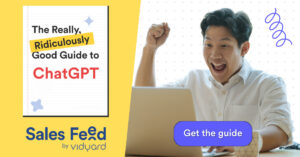 ChatGPT for Sales Guide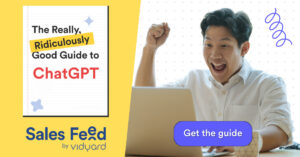 Get started with ChatGPT! This guide has everything you need to know.
Get the Guide
For example, if you see your prospect is a big fan of hiking, then try to weave that into conversation…or grab your best hiking jacket to wear in the video. Or, if your prospect mentions they're an avid reader on their profile page, film your video in front of your bookcase to show a mutual hobby.
See it in Action
In this example, Sam Kean pumps some iron in a personalized video for a prospect at a company that sells weights.
Types of Personalized Videos
Many online video platforms will give you various options for filming styles. Vidyard has three options to choose from: Selfie-style, screen share, or hybrid (both selfie-style and screen share).
A selfie-style video is an easy format to record. All you need to do is set your webcam up facing you, ensure your lighting is good, check that your microphone and audio work, and hit record.
A screen share video is when you record what's on your computer screen and audio from your microphone. It's a great way to show and tell. Screen share videos are often used for asynchronous video presentations, demo videos, and explainer videos. Even the financial services industry uses screen share videos for contract reviews, legal document reviews, annual roundups, and proposals.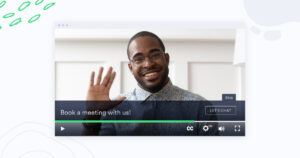 Free Asynchronous Video Tool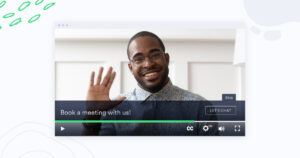 Record and send asynchronous sales videos for free.
Sign Up Free
Why choose one style of video when you can have the best of both worlds? A hybrid video combines a screen share video and a webcam video. Vidyard does this by putting a bubble on the screen that shows the webcam feed of your face.
This style of video performs very well. Over half of sales pros who leverage the hybrid video format report that it delivers the highest response rate.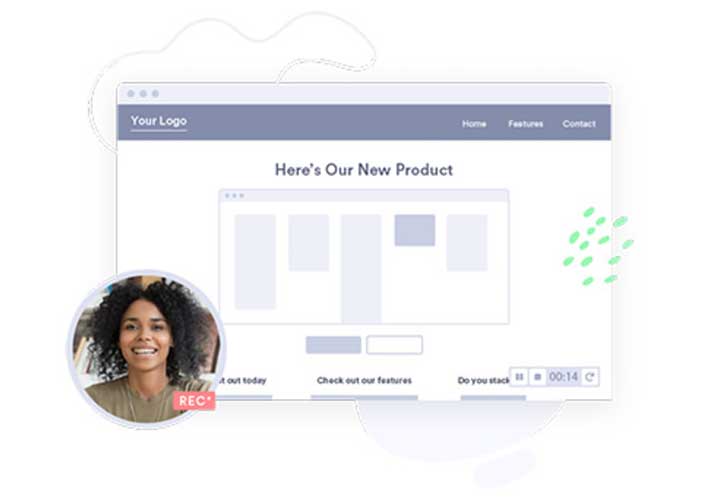 Below are the three types of personalized videos that you can record in either the selfie style, screen share, or hybrid format.
Hyper-Personalized Video
A hyper-personalized video is a traditional one-to-one video where you are speaking directly to your prospect or recipient. It can be used for various use cases, like sales prospecting and outreach, internal asynchronous communications, technical support, and customer service.
See it in Action
This example of a hyper-personalized video focuses on using the recipient's LinkedIn profile as the background of the screen share/hybrid video. This helps grab the recipient's attention in the video thumbnail and gives the speaker things to reference.
Account-Based Personalized Video
An account-based personalized video is personalized for an account, like a team or organization, rather than an individual. This form of video is scalable while still giving the recipient that white glove treatment.
See it in Action
Here is an example of an account-based personalized video tailored to onboard the entire Fiddler team as a new Vidyard customer. It's personalized for the team at Fiddler but can be shared across the whole team, making it highly scalable.
Non-Personalized Video
A non-personalized video is just how it sounds–not personal. But despite the lack of naming an individual or team in the video, that doesn't mean you can't still add a personal touch. Create a playlist of generic content, then record a quick selfie-style personal video to put in the playlist's first slot. The viewer will see that personalized video first, making the entire playlist feel like it was made just for them.
Where to Use Personalized Videos
There are no rules about when and where to use personalized video–only possibilities. You can improve your performance at practically every funnel stage, from sales and marketing to customer success.
Plenty of opportunities exist to incorporate personalized videos into your existing marketing and sales programs.
Personalized Video Email
Personalized video is a great way to give your email marketing a boost. Increase email conversions by sending personalized videos for event invites and product or company updates.
Using sales video emails is also proven to increase open rates and response rates. It helps catch attention and build trust with prospects by putting a face to your name. Reps report positive impacts on close rates who leverage video as part of their deal cycle.
LinkedIn Direct Video Message
Personalized video and LinkedIn go together like peanut butter and jelly. LinkedIn is a social networking platform for business professionals that has seen tremendous growth, especially in the last few years, with many organizations transitioning to remote workforces.
Many sales reps use LinkedIn to network, research prospects, and make connections. Using video in your outreach on LinkedIn is a no-brainer, and now it's even easier because you can send direct video messages with the Vidyard Chrome extension.
It lets you easily record and send a video within the LinkedIn direct message composer. You can also share videos from your Vidyard library on your personal LinkedIn feed, in a direct message, or to a company page.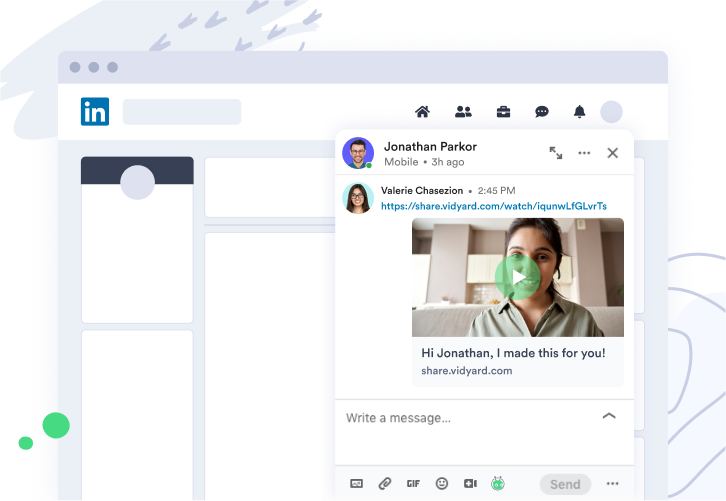 Account-Based Marketing Strategies
Running an account-based marketing (ABM) program? Arm your sales teams to crack their top accounts with personalized video through several different channels. Building an ABM strategy with video provides multiple opportunities for touchpoints because it is so versatile.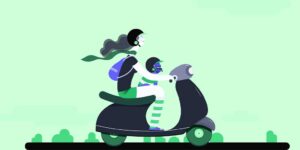 Get the Video in ABM Roadmap Infographic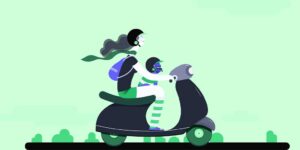 Start using video in your ABM strategy with this handy roadmap.
Download Now
You can target key accounts at scale by creating an account-based personalized intro video to put at the top of a curated playlist of videos you've already made.
See it in Action
To land a meeting with a key account, the team at Failure Island shot and produced this creative account-based personalized video.
If you don't have the same polished production skills as the Failure Island team, that's okay. A simple selfie-style video with some appropriate props and a tailored message can be just as effective.
Personalized Customer Support
Make your onboarding as inviting as the sales process with a personalized video welcome for all customers. You can also set a reminder in your calendar to create personalized video contract renewal reminders, product release announcements for top-tier accounts, and even holiday and celebration videos.
See it in Action
Put a face to your name by welcoming new customers with a personal video message from their account manager, support rep, CSM, or execs.
When customers need troubleshooting or product help, customer service reps can create screen share videos to illustrate how to navigate an issue or fix a problem.
See it in Action
This technical customer support example video shows how users can do something within the platform quickly and easily with video. In most cases, it can be done in less than 45 seconds.
Using Personalized Video to Create Connections
At the end of the day, we all need connection, and video is the gift that keeps on giving. It creates unlimited opportunities to establish bonds and keep us connected with those around us, especially in this time of digital transformation.
Whether you're using it for sales, marketing, customer support, or internal communications, personalized video is the tool to help you grab attention, create connections, and build trust.
This post was originally published on February 5, 2020. It was updated on July 15, 2023.