June 12, 2020
·
14 min read
The Ultimate Instagram Video for Business Guide
Video is incredibly popular on Instagram—and you can harness that power for your business. Learn how to use in-feed video, Stories, Live, IGTV, and ads.
When Instagram entered the scene in 2010, it gave us a common aesthetic language. Suddenly, we were all citizen photographers and videographers, documenting every aspect of our lives from our coffee to our camping trips.
Today, with a global community of 1 billion users, Instagram is one of the world's most dominant social platforms for video.
There are plenty of ways to share, from snappy, ephemeral stories to hour-long IGTV videos. No surprise, it's got marketers talking.
Contents
3.1.1 Instagram Stories Length
3.1.3 Instagram Stories Sound
4.1.1 Instagram Live Length
4.1.3 Instagram Live Sound
5. IGTV Video
5.1.2 IGTV Length
5.1.3 IGTV Orientation
5.1.4 IGTV Sound
5.1.5 IGTV Video Ideas
5.3 IGTV Insights
6.1.2 Instagram Stories Ads
6.1.3 Instagram Video Ad Ideas
Benefits of Instagram Video
It's not just users who love Instagram. Business is booming on the platform: 71% of U.S. businesses are on Instagram and, for B2C companies who can take advantage of Instagram's Shopping feature to sell directly to consumers, that number is even higher. Case in point: 98% of fashion brands are on the app.
While B2C brands might stand to gain the most from Instagram, B2Bs shouldn't write it off—at the end of the day, B2B buyers are still people, and there are hundreds of millions of them on the platform.
Whether you're a small business or a global enterprise, there's something for everyone if you find the right niche.
In-Feed Instagram Video
Remember when heavily-filtered, square video was cool? Video has been a core part of the Instagram experience almost from the beginning. Since 2013, users have been able to upload videos right to their feeds.
While these days a square frame is no longer obligatory—and people tend to go easy on Valencia—the classic in-feed video remains an Instagram staple.
If you're not posting videos in your feed, you're missing out on a huge opportunity. Video posts on Instagram receive 38% more engagement than photo posts and twice as many comments, according to research by Mention and HubSpot.
In-feed videos are great for short, shareable, awareness-driving content. Since Instagram highlights "videos you might like," they're ideal for helping you grow your audience.
Quick Tips for In-Feed Video on Instagram
In-Feed Instagram Video Length
Instagram allows users to post videos between three and 60 seconds long in their feeds. The sweet spot within those limits depends on the type of video you're posting—animated messages can be less than 10 seconds long, while teaser videos might be closer to a minute.
In-Feed Instagram Video Orientation
Instagram lets you upload video in landscape, portrait, or classic square. Pick the format that will best frame your content—a simple animation might look best square while a selfie video might feel more natural in a vertical format.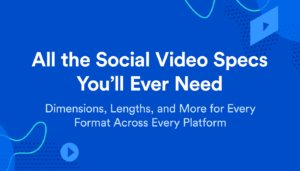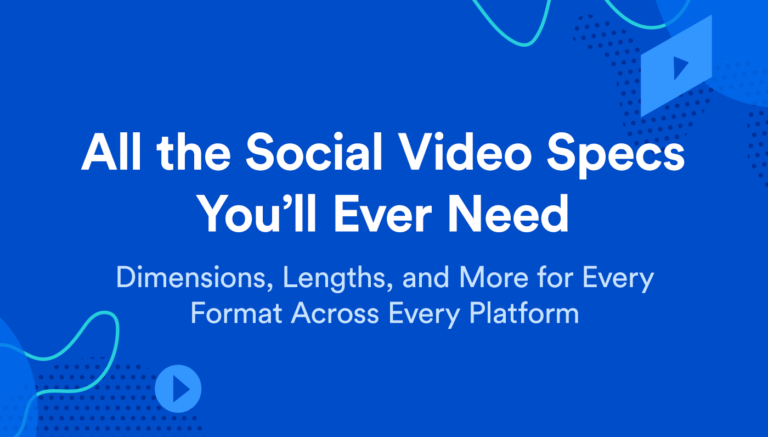 Get the Social Media Video Specs Guide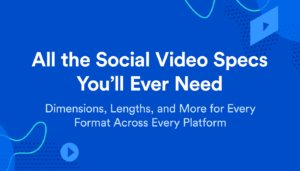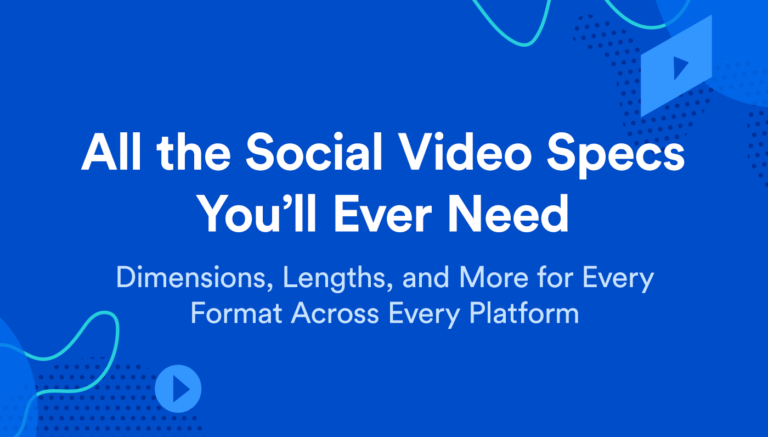 Every different social platform has its own requirements for videos. Every single one is in this guide.
Get the Specs
In-Feed Instagram Video Sound
Sound-off is Instagram's default—videos will only play with sound if the phone's ringer is already turned on—so it makes sense to include captions for viewers watching without headphones.
You can also use a combination of footage and animated text to create soundless videos for viewers on the go.
In-Feed Instagram Video Ideas
The Animated Clip: Use a micro-length animated video to illustrate a message or simply jazz up a static image.
The Teaser: Take a clip from a longer piece of content, such as an interview, explainer, or webinar.
The Mini Case Study: Create a micro-length example of a customer profile, no more than 60 seconds long.
Learn From the Pros
Online education platform Masterclass uses short clips from their video course content to entice their audience into buying a pass.
View this post on Instagram
How to Share a Video on Instagram
Tap the + button at the bottom center of your screen.
To upload an already-recorded video, select Library (iPhone) or Gallery (Android). To record a new one, press and hold the circular record button until you're done recording.
Add a filter, if desired, or go au natural with #nofilter. To adjust the saturation of your filter once selected, tap it a second time to move the slider from zero to 100%.
Write your caption, add hashtags, and tag your location.
Hit Share to post your masterpiece!
In-Feed Instagram Video Insights
In order to access Instagram Insights, you need to first have a business profile. If you don't have one already, it's easy to set up. Go to your Settings > Account > Switch to Professional Account and select "Business."
Once you have a business profile, click the three line "hamburger" menu button to navigate to your Insights.
Learn From the Pros
Shopify's one-minute long mini-customer profile videos showcase how different small businesses are using their platform.
View this post on Instagram
Instagram offers Insights in three categories:
Content: Performance of posts, Stories, and paid promotion by "reach" (the number of individual people who have seen your post) and impressions (the number of times people have seen your post, counting multiple views by the same account)
Activity: Profile clicks, website clicks, and discovery insights (how many people find your content and how they get there)
Audience: Audience demographics and follower growth over time
It's useful to keep an eye on your reach and audience data over time to understand if your audience is growing, but don't get too fixated on that number. Instead, keep a careful eye on your activity—are people taking action after viewing your content? That's where your conversions are.
It's far better to have a small but engaged audience than a large, indifferent one.
Instagram Stories Videos
In 2016, Instagram jumped on the ephemeral content trend with Stories—a bite-sized photo and video format that disappears after 24 hours.
Stories offer users the chance to break from the curated aesthetic of their feeds by sharing casual, off-the-cuff content. And users love the feature: More than 500 million people use Stories every day.
Stories videos are micro-length—maximum 15 seconds long—and play in a slideshow format, one after the other. Instagram provides editing tools that allow users to jazz up their Stories with stickers, text, GIFs, polls, and more.
Stories' heavy usage and interactive features make them ideal for engaging with your audience. And ever since Instagram redesigned their Explore grid to include Stories, they can help you grow your viewership too.
Learn From the Pros
Lifestyle brand Apartment Therapy does great Q&As with designers where they talk about their style and tips for interior decorating.
Quick Tips for Stories Video
Instagram Stories Length
Instagram limits Stories video to 15 seconds. To create longer narratives, simply record multiple 15-second videos back-to-back.
If you have a longer existing video you want to use, you can edit it into 15-second segments or use an app like Continual to do it for you. But it's best to keep your stories short and sweet—save longer-form content for Instagram Live and IGTV.
Instagram Stories Orientation
When it comes to Instagram Stories, vertical video is essential. It's how most people use their phones and—given Stories' short length—they won't want to flip just for a 15-second clip.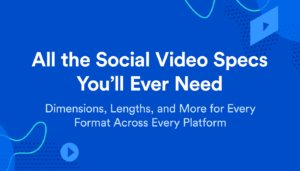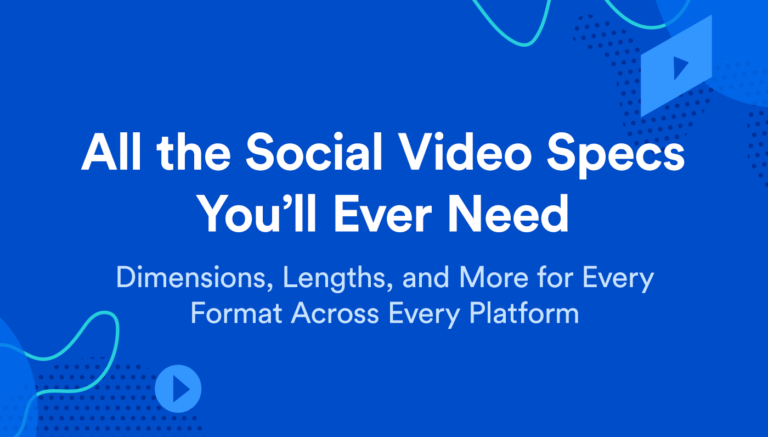 Get the Social Media Video Specs Guide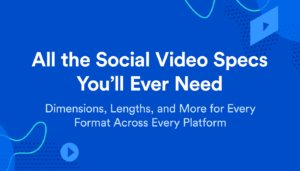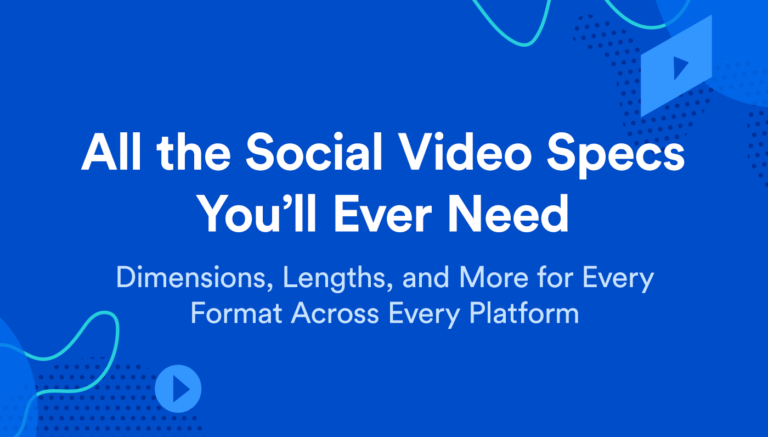 Every different social platform has its own requirements for videos. Every single one is in this guide.
Get the Specs
Instagram Stories Sound
Most users scroll with the sound off, so use an app like Clipomatic to generate captions for your video or use the text feature to write your own. If sound is critically important, you can include a "sound on" sticker to tell your audience to turn up the volume.
Instagram Stories Video Ideas
The Q&A: Use Instagram's built-in "ask a question" feature to host an interactive Q&A with your audience. As the questions roll in, you can record and post video responses.
The Educational Highlight: Educate your audience about an aspect of your business and save it in a highlight so they can access it anytime.
The Account Takeover: Hand over your account to an employee, partner, or influencer for the day to inject a fresh perspective.
How to Share a Story on Instagram
Tap the camera button at the top left of your screen or swipe to the right to navigate to your Stories.
To upload an already-recorded video, swipe up to access your Library (iPhone) or Gallery (Android). To record a new video, press and hold the circular record button until you're done recording. If you record for more than 15 seconds, Instagram will break your story into multiple clips.
Swipe to add filters or tap the buttons at the top of the screen to add text, doodles, stickers, or other interactive elements.
Post your story and watch the emoji reactions roll in.
How to Create a Stories Highlight
Want to keep your story for longer than 24 hours? Save it as a highlight.
On your profile, tap Story highlights (it's below your username and bio). An archive of your past Stories should appear.
Select up to 100 photos or videos you'd like to add to a single highlight. When you're ready, tap Next.
Tap Edit Cover to choose a cover image for your highlight. Tap Done when you're happy with how it looks.
Enter a name for your highlight and tap Add (iPhone) or Done (Android). You can edit or add more to your highlight at any point—just press and hold it and the option to Edit Highlight should appear.
Repeat as many times as you like for as many highlights as you want to create.
Learn From the Pros
Lush uses their stories to explain their sustainable packaging to their audience.
Instagram Stories Insights
Instagram Stories provides a number of insights you can use to track audience engagement and growth of your viewership over time.
Stories Impression Metrics
Stories Sent: The total number of stories you've created.
Story Impressions: The total number of views on your stories.
Average Reach Per Story: The number of individual viewers who have seen your story.
Stories Interaction Metrics
Replies: The number of times people have responded to your story.
Taps Forward: The number of times people have tapped your story to move on to the next one.
Taps Back: The number of times people have tapped backwards to revisit your story, once they'd already viewed it.
Exits: The number of times people have left Stories and returned to the home feed.
Of these metrics, the most important to pay attention to is Average reach per story—if this metric is trending upwards, that means your audience is growing over time.
Your interaction metrics are also helpful for understanding how users engage with your story content and how you can fine-tune it. For instance, if a lot of people are tapping to revisit content, that may be a sign of interest in what you've posted.
Instagram Live Video
After the launch of Stories in 2016, Instagram followed with a feature for creating live Stories. Instagram live allows users to stream in the moment, allowing your viewers to react and comment in real time.
Instagram Live is great for facilitating a conversation with your audience or for capturing events and announcements as they happen. Since Instagram notifies your followers when you go live, they're also great for attracting more viewers and increasing engagement.
Once you're finished broadcasting, your live session will remain live on your Stories for 24 hours.
Quick Tips for Instagram Live Video
Instagram Live Length
Instagram Live videos are limited to an hour in length (Instagram will give you a warning when you get close to your time limit). For events and other situations where you might want to go over the one hour limit, you can begin another live broadcast right away, which will send the notification that you've begun a live stream again, giving you the chance to re-engage your audience.
Instagram Live Orientation
As with Stories, it's best to keep your Instagram Live recording vertical, so as not to confuse your viewers' perspective. If you go live with a friend, your streams will appear split screen, with one on top of the other.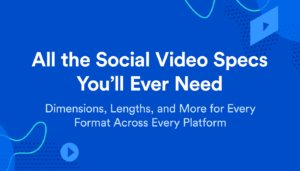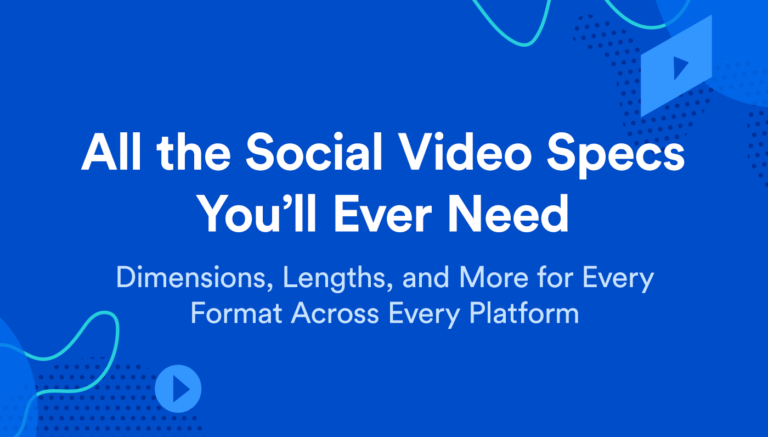 Get the Social Media Video Specs Guide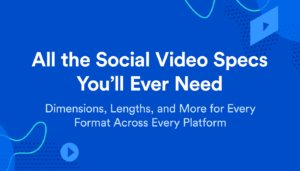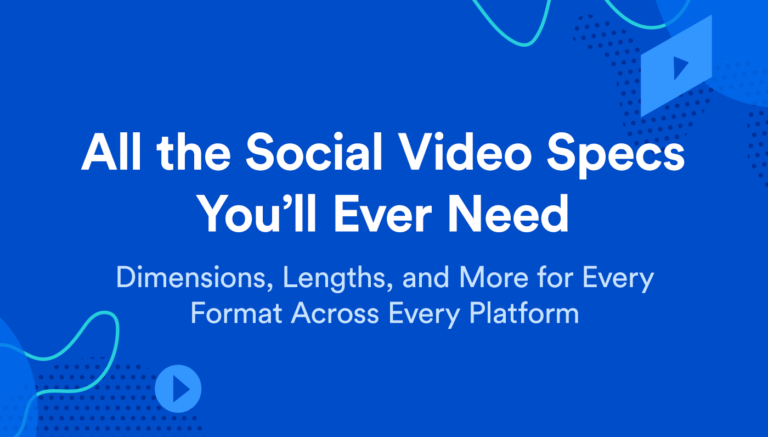 Every different social platform has its own requirements for videos. Every single one is in this guide.
Get the Specs
Instagram Live Sound
Unlike other forms of video on Instagram, there's not a good way to generate captions for a live stream (yet), so—unless you're live streaming a mime performance—sound is essential.
Instagram Live Video Ideas
The Event Stream: Give viewers a front row seat at a fireplace chat, presentation, or panel discussion.
The Live Q&A: Go live with a selfie video and have viewers submit questions in real time. Or conduct an interview live (you can use the "go live with a friend" feature if you and your interviewee are not in the same location) and have the audience contribute questions to the discussion.
The Big Announcement: Got a big release coming up? Have exciting news? our CEO can make the announcement in real time.
How to Start Live Video on Instagram
Promote your live broadcast ahead of time so viewers know when to tune in.
Tap the camera button at the top left of your screen or swipe to the right to navigate to your Stories.
At the bottom of your screen tap Live, then tap the circular record button to begin. Instagram will show a three-second countdown, after which, you're live.
When you're finished, tap End in the upper right corner to end your broadcast. Instagram will show your total number of viewers on the end screen.
Share your broadcast to your Stories or download the recording to your device by tapping the downward arrow button.
Recap the highlights of your broadcast for those who missed it by saving it as a Stories highlight, reposting clips as an in-feed video, or posting the entire recording to IGTV.
Instagram Live Insights
Due to the in-the-moment nature of live video, you won't be able to view any metrics about your broadcast in Instagram Insights.
However, when you end your broadcast, Instagram will display how many viewers tuned in—record this number or take a screenshot so you can track your audience's engagement with your live content over time.
IGTV Video
IGTV is Instagram's standalone app for hosting long-form video. It's also accessible through the Instagram app—there's an IGTV button at the upper right of the feed, next to messages.
IGTV makes it easy for viewers to discover new content. In addition to showing users videos from creators they already follow, Instagram also curates populars videos based on users' interests. Instagram also highlights IGTV videos on the Explore page and show previews in peoples' feeds, making it an ideal channel for reaching new viewers.
Learn From the Pros
This IGTV video from Starbucks features none other than Bill Nye, the Science Guy, (Bill! Bill! Bill!) explaining the science behind nitro cold brew.
Quick Tips for IGTV
IGTV Dimensions and Specs
While IGTV was initially launched as portrait mode-only, as of May 2019, the format also supports landscape video. The aspect ratio for IGTV is 9:16 for vertical video or 16:9 for horizontal video. You should also make sure your video files are in mp4 format and have a resolution of at least 720 pixels before uploading.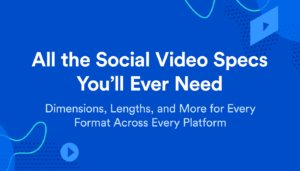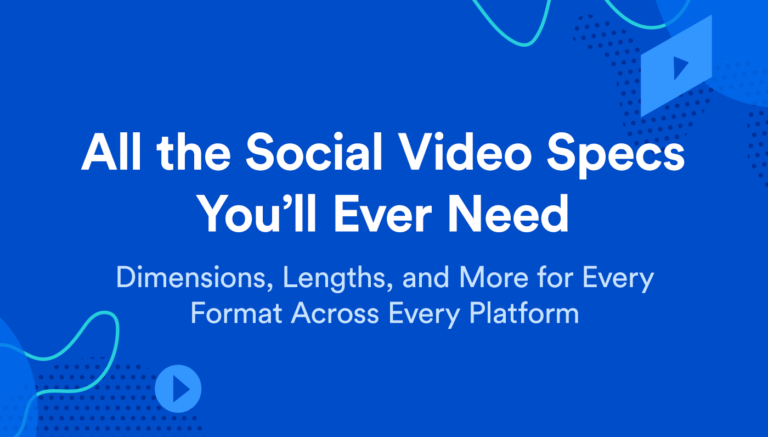 Get the Social Media Video Specs Guide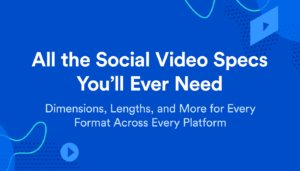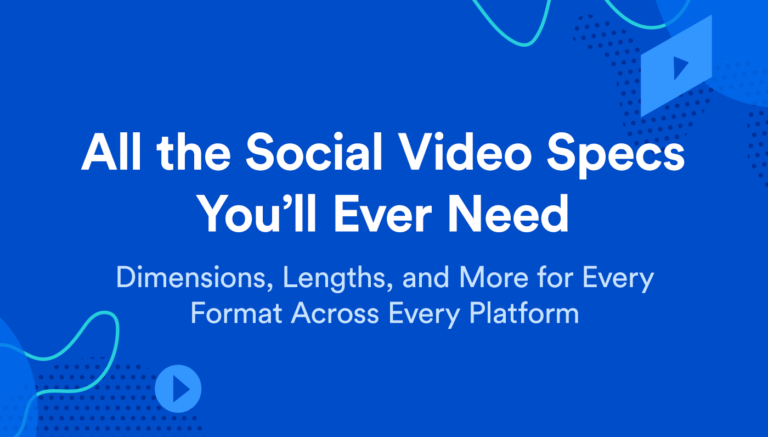 Every different social platform has its own requirements for videos. Every single one is in this guide.
Get the Specs
IGTV Length
IGTV videos have a minimum length of one minute and a maximum of one hour (if you're uploading from the web). If you're uploading from a mobile device, IGTV will only allow you to upload 15 minutes' worth of content. The ideal length of an IGTV video depends on the type of video content—how-to videos can be a few minutes, while long-form interviews can be up to an hour-long.
IGTV Orientation
IGTV was built for vertical video. Even though the platform now allows for horizontal content as well, vertical video does look more natural. If you're simply reposting video from other sources to your IGTV to expand your reach, it's likely not worth the effort to edit it into a vertical format. But if you happen to be shooting video for the explicit purpose of posting on IGTV, it's a great opportunity to play with visual space in new ways.
Learn From the Pros
HubSpot uses IGTV videos to tackle important questions for marketers, like how to define your audience and what Facebook metrics are worth paying attention to.
View this post on Instagram
IGTV Sound
Since IGTV videos are pulled directly into peoples' feeds, it's a good idea to add captions for those scrolling with sound off—just like in-feed videos. Pro Tip: Use Vidyard's captioning tool to easily create your own.
IGTV Video Ideas
The How-To Video: IGTV is ideal for videos teaching your customers how to master a new skill.
The Educational Video: Take a common question or hot topic in your field and condense it into a three to five-minute video to educate your audience. Better yet, make it a series!
The Long-Form Interview: Choose an interesting person—an employee, a customer, an influencer (the possibilities are endless!)—and record an in-depth interview video with them.
Learn From the Pros
Vidyard shares expertise and gives viewers a chance to get to know the team with an employee interview video series on IGTV.
View this post on Instagram
How to Upload to IGTV
Open the IGTV app or tap TV icon at the upper right corner of your screen. Keep in mind that if you're uploading from a mobile device, your video can only be 15 minutes long. If it's longer, upload from desktop instead.
To select a video, tap +. Once selected, tap Next.
Select a cover image for your video, add a video title, and write a description.
If desired, add your video to an existing series or create a new one (be sure to give it a catchy title).
Post your masterpiece!
IGTV Insights
To view your metrics, tap your video to open it. From there, you can tap the three horizontal dots (iPhone) or three vertical dots (Android) and navigate to View Insights. As with regular video posts, Instagram tallies your likes, comments, and view counts—but they also include an average percentage of video watched and an audience retention graph.
While the former three metrics will help you understand your audience engagement, the latter two will tell you how long you held your audience's attention, allowing you to optimize your video creation going forward.
Learn From the Pros
Toronto-based convertible dress brand Henkaa uses IGTV to teach followers how to create different styles—all with a single dress.
View this post on Instagram
Instagram Video Ads
Instagram offers two kinds of paid video promotion as a way for businesses to increase conversions and grow their follower base: In-feed video ads and Stories ads. Brands use them to increase their following, drive post engagement, or prompt viewers to take a specific action (like visiting their website).
Learn From the Pros
This short video ad from Home Hardware uses humor to promote a wood stain product.
Quick Tips for Instagram Video Ads
In-Feed Instagram Video Ads
Length: Up to 60 seconds long
Orientation: Landscape or square format
Sound: If sound is an important part of the ad, use captions or animated text to capture the message for viewers scrolling with sound off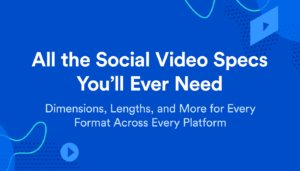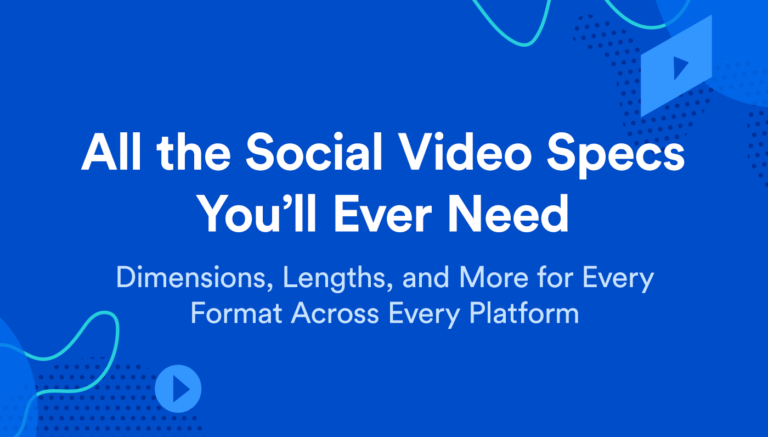 Get the Social Media Video Specs Guide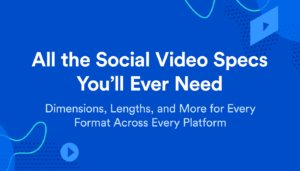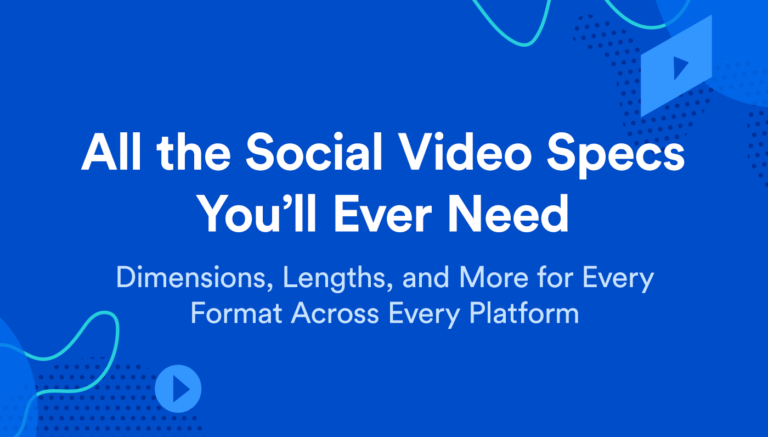 Every different social platform has its own requirements for videos. Every single one is in this guide.
Get the Specs
Instagram Stories Ads
Length: 15 seconds, but you can put up to three 15-second stories back-to-back to form one cohesive ad
Orientation: Vertical format
Sound: Use animated text to capture your brand name and important
Instagram Video Ad Ideas
The Show, Don't Tell: Capture your product in action.
The Succinct Story: Tell a micro-story to make your brand memorable in 15 seconds or less.
How to Create an Instagram Video Ad
In order to run ads, you not only have to have a business profile on Instagram, you also need to have a business Facebook page. Once you've got that setup, you can start creating Instagram video ads.
Decide the purpose of your advertisement and what action you want your audience to take. Think about budget and how much you're willing to spend on conversions.
Open Facebook's Ads Manager and click create. You can also promote a video you've already posted to Instagram.
Set your ad objective, target audience, and ad format. Instagram can automatically create an audience of people similar to your existing followers for improved targeting.
Using your budget, determine how long you want your ads to run for.
Once your ad is all set up, hit publish. Instagram will notify you when it's approved.
Learn From the Pros
This quick ad from Honda highlights the CR-V's hands-free power tailgate using an animated T-Rex who struggles to open the trunk with its short arms.
Instagram Video Ad Insights
The metrics you see depend somewhat on the ad objective you set during the ad creation process. For instance, if your goal was to drive engagement on a post, Facebook ads will show your post engagement results.
In addition to using these kinds of results to understand how well you achieved your goal, you should pay careful attention to "Amount Spent" and "Cost per Result" to understand how your budget is allocated and the cost per conversion.
Instagram offers a world of opportunity for brands to connect with their audience using video.