July 21, 2020
·
8 min read
How to Use Twitter Video
Twitter video engages audiences and drives action. Find out what different ways you can use video on Twitter and how to do each one well.
In the competitive world of social media marketing, it can be hard to ensure your brand's efforts stand out from the crowd on an established platform like Twitter. One of the best ways to have your voice heard and to engage your target audience is to leverage one of the fastest growing social tools: Twitter video.
According to statistics gathered by Wordstream, 82% of Twitter users watch video content on the platform. People watch 2 billion videos on Twitter every day, according to research from Hootsuite.
Video content stands out on Twitter amongst a sea of text-based posts. And using Twitter video for your business helps tap into user behaviors already established across the web. In fact, according to Wordstream's research, one-third of all online activity is now spent watching video.
Online audiences have an appetite for more video content across social networks, which gives your brand an opportunity to capture new audiences with the right Twitter video marketing strategy.
Contents
What Are the Benefits of Using Video on Twitter?
There are many reasons why your brand should embrace Twitter video. Video is a particularly social medium, and it's well suited to both informing and entertaining audiences. It offers a great opportunity for your brand to connect with its audience on a more personal level.
These Twitter video statistics prove why it's important to use video content on the platform.
It's More Engaging
Brands that adopt Twitter video—and use it well—are rewarded by users with higher engagement rates.
According to research commissioned by Twitter, Tweets containing videos earn:
2.5x more replies
2.8x more retweets
1.9x more likes
By getting more engagement, your Tweets can reach more Twitter users and attract new audiences to your brand's account.
Share Videos to Twitter Using Vidyard
Easily create, manage, and share videos directly to Twitter using Vidyard (and have them play inline).
Sign Up Free
It Drives Users to Take Action
Twitter video often inspires users to take action based on what they've viewed. A recent report found that 79% of people would rather learn about a product through video rather than text. And even more importantly, 84% of users have purchased a product based on a brand's video. When done the right way, Twitter videos can turn browsers into buyers.
It's What Users Expect
Twitter users have started to expect to find engaging video content when they sign in to the platform. Video has become the third most common reason people visit Twitter. And 37% of users would like to see more video content from brands they follow. So why not give the people what they want, and reap the benefits?
How to Use Twitter Videos for Your Business
Now that you know how powerful branded video can be on Twitter, it's time to explore the different Twitter video formats available to your business. It's a good idea to test out a few different approaches and track what works best with your audience.
Twitter Linked Videos
Linked videos are a quick and easy choice for integrating video into your Twitter marketing efforts. All you need to do is include a link to a video that's hosted elsewhere within the content of your Tweet. If you choose to share links to videos housed on YouTube, Vimeo, or Vidyard users will be able to preview and play the video within their Twitter feed. (Fun Fact: Vidyard videos also retain any associated calls-to-action.)
Allowing your audience to watch video without having to click through to a link can help with engagement.
Note: Linked videos won't autoplay in people's Twitter feeds.
Learn From the Pros
This Tweet shows what it looks like when you share a Vidyard video to Twitter. The preview includes the video thumbnail, title, and description. While the embedded version will open a new window, in the Twitter feed, this type of video plays inline.
Video is the best way to get your message across and create a personal connection with your audience. Vidyard allows you to easily share your videos to all the most popular platforms with just a few clicks.

Get started for free today!https://t.co/ZV2U5yl1pC?

— Vidyard (@vidyard) July 21, 2020
How to Share Vidyard Video Links to Twitter
Open your Vidyard video library
Click the Share button next to a video in your library
Choose the Twitter icon
A separate browser window will open with options from Twitter to format and share a Tweet (Note: If you haven't already authenticated, Twitter may prompt you to sign in)
Write your Tweet (or start a thread) and format as desired
When you're happy with your post, click Tweet to share it to Twitter
Learn more about how Vidyard and Twitter work together on the Vidyard Knowledge Base.
Share Videos to Twitter Using Vidyard
Easily create, manage, and share videos directly to Twitter using Vidyard (and have them play inline).
Sign Up Free
Twitter Native Video (a.k.a. In-Feed Video)
Native video refers to content that you record and upload directly to Twitter, rather than hosting it elsewhere. Here's all you need to know about using native video on Twitter for your business.
Specs for Twitter Native Video
For your Twitter videos to look their best on any device, follow these guidelines:
Minimum Resolution: 32 x 32 pixels
Maximum Resolution: 1900 x 1200 (and 1200 x 1900) pixels
Aspect Ratios: 1:2.39 to 2.39:1 range (that's an inclusive range)
Maximum Frame Rate: 40 fps
Maximum Bitrate: 25 Mbps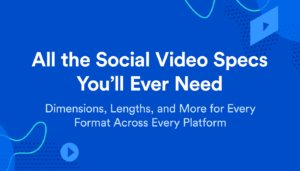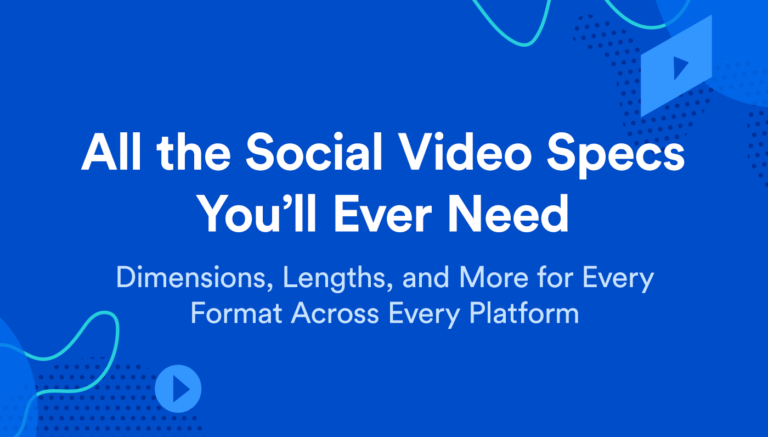 Get the Social Media Video Specs Guide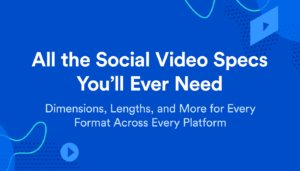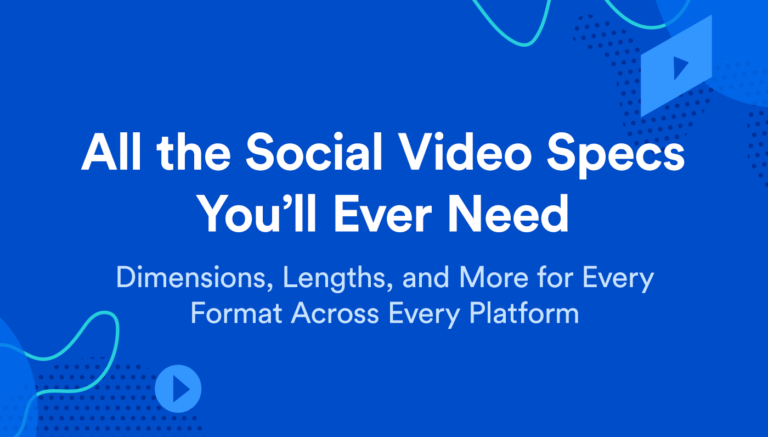 Every different social platform has its own requirements for videos. Every single one is in this guide.
Get the Specs
Twitter Video Best Practices
Want your Twitter video to stand out on a crowded timeline? Follow these tips and best practices to create videos that are memorable and shareable.
Tell a Story: The best way to get people invested is to tell a story with your video. It doesn't need to be complicated—all it takes is setting up a problem at the beginning of your video that you solve by the end. On a platform like Twitter, the story you tell should be straightforward and easy to follow.
Include People: It's a fact—people like watching other people. We're drawn to other human faces. So, if you can, use video that features people, whether they're employees, interview subjects, or actors.
Hook Your Viewers: Make sure there's some action in your video that will hook viewers from the start. You don't need a blockbuster budget to get people intrigued—consider interesting shots and setups, close-ups, and graphics to complement what's happening on screen.
Add Captions: Your videos should still be accessible to people who watch with the sound off, especially since 93% of Twitter video is viewed on mobile devices. Use captions to help with narration and consider how graphics can help too.
How to Share Native Video on Twitter
Sharing a native video you've recorded to Twitter is simple. Follow these steps and you'll be a pro in no time:
Sign in to your Twitter account and click on the Tweet button
Click the media button in the lower left corner of the Tweet box
Choose the video you'd like to upload from your device and click Open
Type a message to accompany the video and click Tweet
Learn From the Pros
Hey Orca's Twitter video does a good job of driving interest to their webinars. The video features experts who will lead the webinar and offers some insights about what content to expect.
Hey Marketers! 👋

Don't miss out on our next webinar TOMORROW at 2pm EST with @MattNavarra as we highlight all the trends in social media in 2019 and what to look out for in 2020! You won't want to miss this!

Save your seat here: https://t.co/xucJi3iMuppic.twitter.com/3vab62MoFC

— HeyOrca! – Social Media Calendar For Agencies 🚀 (@HeyOrca) December 4, 2019
Twitter Native Video Metrics
Now that you've taken the time to create compelling video content and share it on your Twitter account, you'll want to know how your videos perform. Here are some key metrics to track:
Video Views: So you know how many people watch your content.
Impressions: To understand how many people saw your video Tweet in their feed.
Minutes Viewed: To get a better understanding of how engaged your audience is with your video.
Total Engagements: How many people watched your video, retweeted or liked your Tweet, or clicked a link.
Learn From the Pros
General Electric uses their own employees to offer viewers a backstage look at their complex work. Their videos are educational and engaging, and the perfect short format for Twitter.
While the CF6 engine is a large and powerful jet engine in its own right, the new GE9X is a total monster by comparison. And despite having a fan diameter of 134 inches, the GE9X engine is the most fuel-efficient jet engine in its class that we have ever created.

— General Electric (@generalelectric) December 6, 2019
Twitter Live Video (a.k.a. Periscope)
You can stream live video content to your Twitter feed using Periscope. You don't even need to download the Periscope app to take advantage of this feature: You can simply use your Twitter account to log in. Most live streams are done using a smartphone, but you can also use a computer.
Specs for Twitter Live Video
Resolution: 1280 x 720 pixels
Frame Rate: 30 fps
Video Bitrate: 2500 kbps (recommended), 4000 kbps (max), H.264
Audio Bitrate: 128 kbps AAC-LC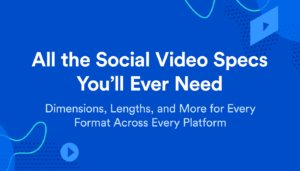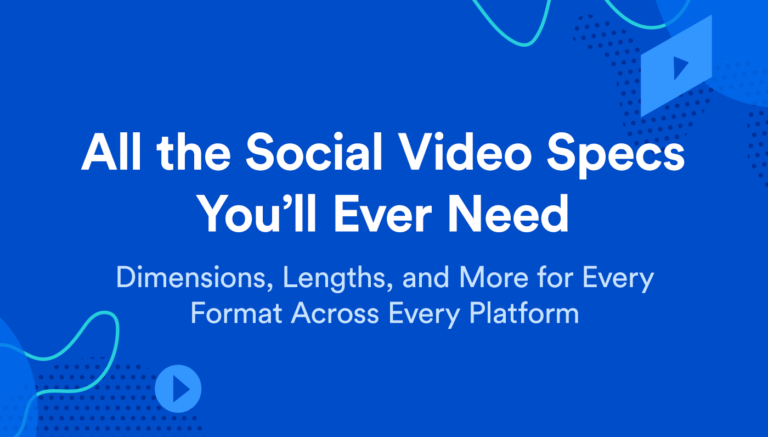 Get the Social Media Video Specs Guide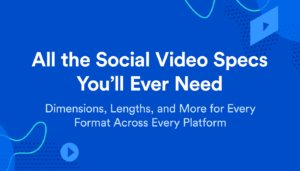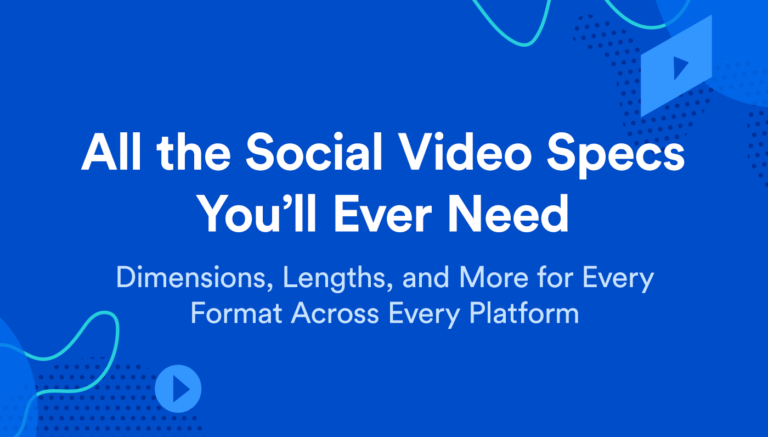 Every different social platform has its own requirements for videos. Every single one is in this guide.
Get the Specs
Twitter Live Video Best Practices
Keep Your Content Compelling: For people to be invested in your video, there should be a compelling hook that keeps them watching your live content.
Consider Your Lighting, Framing, and Sound: Just because you're shooting live doesn't mean you should forget the basics. Think about the framing of your shot before getting started. The aesthetics of your video can help keep audiences invested.
Engage with Your Viewers: Live video has the benefit of being an interactive medium, so feel free to take full advantage. Ask for viewer feedback, do live Q&As, and get creative with it.
How to Share Live Video on Twitter
Open Twitter on your mobile device
From your Twitter app home feed, swipe left.
Select Live Mode from the selector at the bottom of the screen.
Fill in the text that will accompany the video in your Tweet
Press Go Live
Your live video will appear in the timelines of your followers and on your profile
Twitter Live Video Metrics
Twitter measures some insightful viewership metrics for your live Periscope videos. You'll get data about:
Live viewers
Replay viewers
Total time spent watching the broadcast
Number of "hearts" a video gets
Twitter Video Ads
Twitter video ads are just what they sound like: They're advertisements that use video to drive awareness and action for your brand on Twitter. There are several different video ad units to choose from.
Promoted Video: Upload a video to your timeline and put money behind it to ensure it's seen by more people.
First View: Guarantees you'll get prime real estate at the top of the timeline for a 24-hour period.
In-Stream Video Ads: Your video ad plays before, during, or after other high-traffic videos, including live streams.
Specs for Twitter Video Ads
Here are the specifications your Twitter video ads should follow:
Resolution: 1280 x 1024 pixels
Frame Rate: 40 fps
Bitrate: 25 Mbps
File Size: up to 15 MB
Aspect Ratio: 1:3 to 3:1
Video Length: 0.5 to 140 seconds
Video Format: MP4 and MOV file formats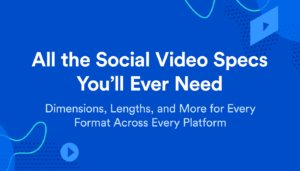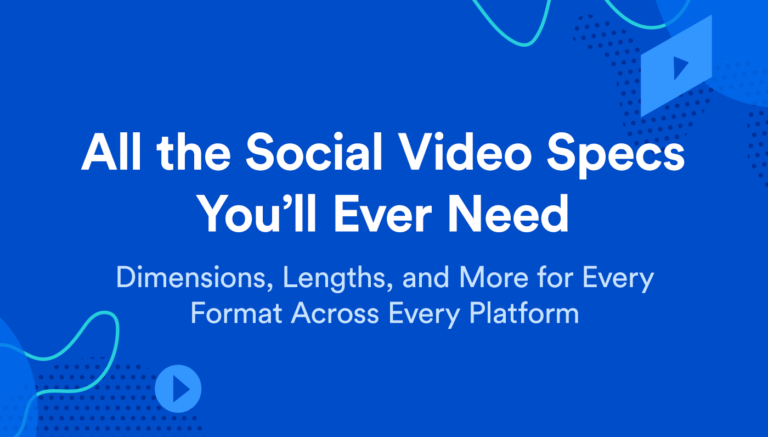 Get the Social Media Video Specs Guide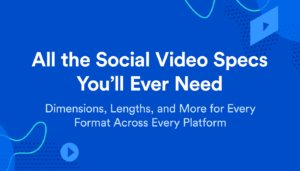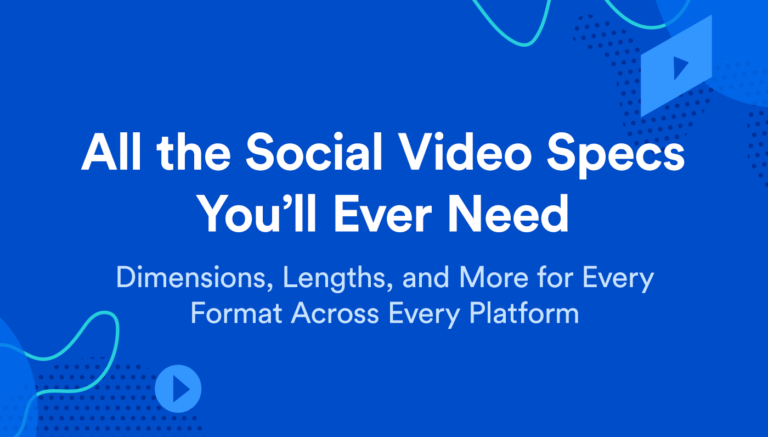 Every different social platform has its own requirements for videos. Every single one is in this guide.
Get the Specs
Twitter Video Ads Best Practices
Here are some tips to make sure your Twitter video ads jump out from people's timelines and stick with them.
Perfect Your Message: A short video ad doesn't give you much time to get a memorable message across, so make sure your video is focused and delivers a strong, easy-to-digest message.
Include Your Logo: It's a good idea to include your logo within the first few seconds of an ad, so you'll get brand recognition right away, even if people don't watch the full video.
Focus on Visuals: Most people view ads with the sound off, so make sure your ad is visually appealing and delivers your message without relying on audio.
Target Your Audience: With Twitter ads, you can create specific targeting for your audience, so you make sure your ad is reaching the people who it's most likely to appeal to.
Learn From the Pros
This short video ad from Trustly features the brand's logo in the upper left-hand corner throughout—ensuring that even those who only watch for a few seconds still see it.
Online banking payments are becoming increasingly popular because of their ease-of-use and security. Boost your online business with Trustly. pic.twitter.com/KZ2X0sxxH7

— Trustly (@Trustly) March 24, 2020
How to Share Twitter Video Ads
The best way to share video ads to Twitter will depend on the ad format you choose and your marketing goals. Twitter for Business has a complete rundown for you. Here's how to upload your videos so they're available in your ad account:
Log in to your Twitter ads account
Click the Creatives tab then the Media tab from the menu at the top of the page
Click the Upload Media button in the top right corner of the page
Select the video file you'd like to upload from your computer
Your video will begin to upload to your ad account (Note: It will take a while to upload and process the file)
Learn From the Pros
This video ad from Tieks offers simple but effective visuals to pair with a compelling offer. The video stands on its own without audio or text, but perfectly complements the message of the Tweet.
This month, we're giving $5 for a Like and $10 for a RT to help women around the 🌍. Let's reach the next $10m! https://t.co/crBLNN5scDpic.twitter.com/khMQ5p1uGM

— Tieks (@tieks) August 11, 2017
Twitter Video Ads Metrics
It's important to measure the results of your video ad campaigns to ensure you're getting your money's worth. Here are some of the key metrics to pay attention to:
Impressions: How many people your ad reached
Spend: How much of your ad budget you've spent
Video Views: How many people watched a portion of your ad
Cost per View: How much it costs you for each view of your video
Video Starts: How many people started to watch your video
Video Completions: How many people watched the entirety of your video ad
Share Videos to Twitter Using Vidyard
Easily create, manage, and share videos directly to Twitter using Vidyard (and have them play inline).
Sign Up Free