October 2, 2023
·
7 min read
How to Build a Powerful Sales Pipeline with Video
A strong sales pipeline lets you plan and forecast more accurately. Learn how to build a robust sales pipeline in 4 steps.
Does your sales pipeline feel more like a drinking straw?
Running a business is full of unknowns, surprises, and challenges, especially when it comes to predicting future revenue. That's why it's important to have a reliable indicator of how much new business is coming your way.
That comes in the form of the sales pipeline: A visual representation of how many prospects you have and where each of them are in the sales cycle.
Your sales pipeline offers an estimate of how much business your salespeople expect to close in a specific week, month, or year. This estimate, in turn, helps with revenue forecasting, planning for growth, and preparing for whatever's around the corner.
Sounds obvious, right? Of course, you'd like to have all this information as early and as accurately as possible. But how exactly do you go about building (and maintaining) a sales pipeline in the first place?
Follow these four steps to build a sales pipeline from scratch.
Connect, Convert, and Close More Deals
Easily record and share video messages.
Sign Up Free
Contents
2.1.1 Stage 1: Engagement
2.1.2 Stage 2: Meeting
2.1.3 Stage 3: Education
2.1.4 Stage 4: Proposal
2.1.5 Stage 5: Close
What are the Benefits of a Sales Pipeline?
Establishing a strong sales pipeline is a great way to gain visibility into the successes and failures of your sales efforts. By tracking your opportunities' progress through the sales pipeline stages, you can gauge the average length of your sales process and identify ways to make it run more smoothly. You can also more accurately predict future revenue and spot resource or skill shortfalls.
Once you've established your sales pipeline stages, filling that pipeline up is crucial. The more sales opportunities cross your threshold, the more chances you have to convert them into customers—and the more chances you get to generate revenue.
A HubSpot study found that 72% of companies with fewer than 50 new opportunities in their sales pipeline each month miss their revenue goals. But as the number of opportunities increases, so does the likelihood of hitting your targets. Only 15% of companies with 51 to 100 monthly opportunities fall short of projections; for companies with 101 to 200 opportunities, that number is just 4%.
Ready to dive into establishing your own sales pipeline? Read on.
How to Build a Sales Pipeline from Scratch
So how do you build a sales pipeline that works? Here are four steps for building a pipeline that brings the deals rushing in:
Learn more about each step below.
Step 1: Design Your Sales Cycle
A sales cycle is the buyer journey you create, from awareness and education to negotiation and sale.
According to a study from Vantage Point Performance, the greatest indicator of year-over-year revenue growth is a well-defined sales cycle. The study found a 15% difference in revenue growth between companies with a formal/defined sales process versus those without one.
You probably already have a solid sales cycle, but we'll outline the five essential stages below so you can compare them to your own.
Stage 1: Engagement
Sales reps connect with a buyer who shows interest by connecting via prospecting emails (or videos!) or having them come in as inbound leads. Sales then qualifies that lead by connecting the buyer with useful content, warming them up, and getting them ready to talk seriously about what your product can do for them.
Stage 2: Meeting
Your reps schedule and run a brief discovery meeting with the buyer. They'll discuss the buyer's pain points, show how your product can solve those issues, and maybe take the buyer through a quick live or pre-recorded demo to show them how it works.
Stage 3: Education
Teach the buyer more about your product's features using educational videos, in-depth content, or case studies. The goal is to make the buyer feel informed about the product and personally engaged with the sales rep. (Video selling is a great way to do both. You can explain complex topics in just a minute or two on camera; plus, seeing a sales rep on video makes buyers feel like they're engaged in a real conversation, not impersonal email back-and-forths.)
Stage 4: Proposal
It's time to nail down the scope of your solution, lay out the exact terms of the deal, and write up a contract for the buyer to sign. Video is a great tool here to introduce or walk buyers through the sales proposal. Quick videos can clarify the scope and answer buyers' questions, all in a format that can be easily shared with other stakeholders.
Stage 5: Close
Deal signed! Now to fulfill the product they bought. This is also where you'll pass your shiny new customer off for post-purchase activities like product onboarding.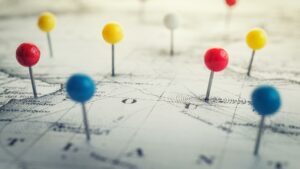 How to Use Video in Your Sales Process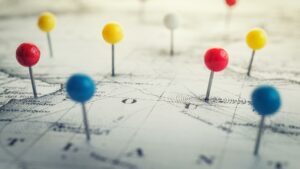 Learn how video boosts your results at every stage of your sales process.
Read the Guide
Step 2: Identify Your Ideal Customers and Target Accounts
Sit down with your sales team and identify the list of potential companies your business could sell to. Characteristics of your ideal target customers will render the total number of customers your business is able to sell to based on your sales strategy. This list is organic—you should update it as often as possible.
The Pareto Principle notes that the top 20% of your customers are responsible for 80% of your revenue, so it's important to tier your accounts in order to devote the right amount of energy on the front end to identify which prospects will be both efficient and revenue-generating.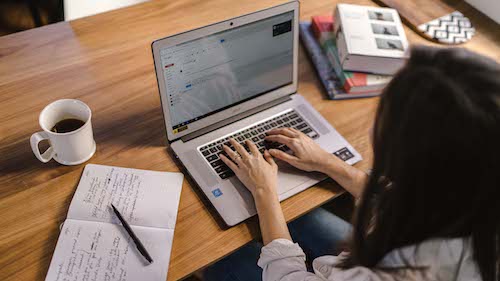 Step 3: Find Internal Contacts at Those Target Accounts
Salespeople don't talk to companies—they talk to humans. The best salespeople are the ones who build authentic relationships. That's why locating specific internal contacts or gatekeepers within a company is important. Get their names, do your research, and find out who or what you have in common. Be genuinely curious about their businesses and help them create value.
Don't overlook video's power to build human relationships while prospecting. A 30-second intro video is all you need to build an authentic connection from the very first touch. The buyer gets to experience you being "there," putting you ahead of all the other salespeople that they only know through email sign-offs and LinkedIn profiles.
If you're looking for ways to accelerate steps 2 and 3, consider an automated prospecting tool like Vidyard Prospector to help uncover and reach out to those ideal contacts at those target accounts. With the help of AI, Vidyard Prospector can find you leads and build an automated email sequence for you simply by setting your territory and ICP.
Outbound Sales

, Automated.
Spend less time hunting leads and more time hitting

quota

with Vidyard Prospector.
Learn More
Step 4: Move Qualified Leads Through the Sales Cycle
Divide and conquer! Work as a team to reach out to your prospects and walk them through the process and the journey you've created.
Collaborate with your marketing team to create videos, webpages, blogs, demos, and other lead-generating resources that help prospects understand the value of your solution. And mix up your tactics as you go in order to find various messages that resonate and things that work.
Sales training and development are always helpful, even for sales veterans…sometimes, especially for sales veterans.
Here's a peek at Salesforce's six-step lead management process: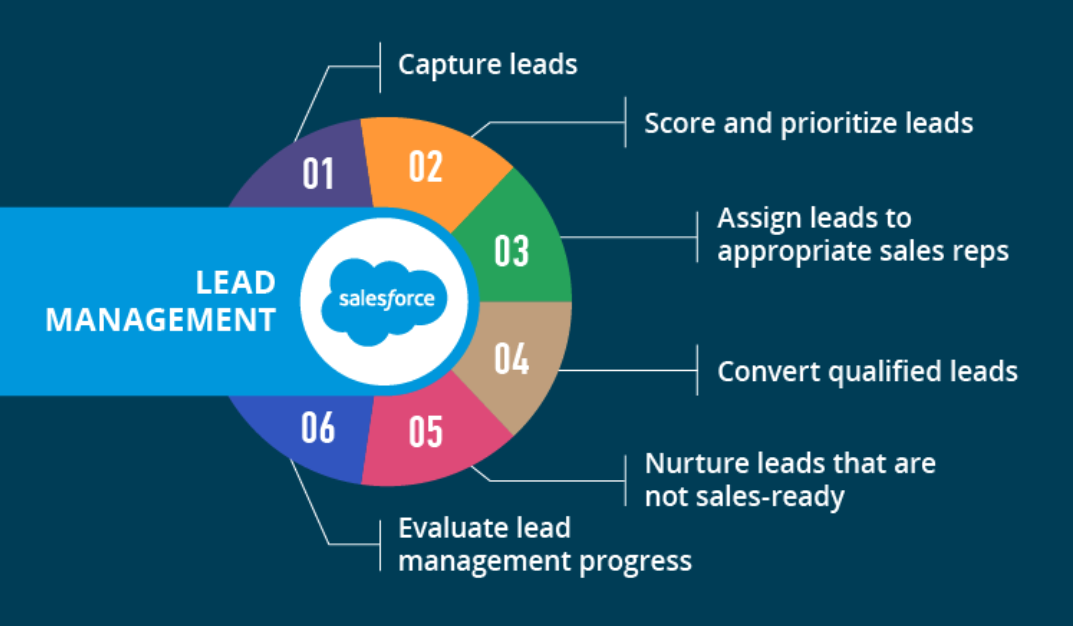 Why Sales Pipeline Management is Important
Just because you've built your sales pipeline doesn't mean your work is done. You need to keep monitoring your pipeline and optimizing it for maximum performance. This is called sales pipeline management.
A healthy pipeline is a happy pipeline (and a happy C-suite). Here are a few best practices for managing your own sales pipeline.
What Does a Good Sales Pipeline Look Like?
In short, your sales pipeline should look like a funnel. The top, where leads enter, should be wide. The bottom, where deals close, should be narrow.
However, you might find that your pipeline doesn't quite fit this shape.
Too wide in the middle: Deals are stalling mid-funnel. This has knock-on effects for your entire sales pipeline. If your team is spending too much time and effort trying to push those stuck deals along, they aren't spending enough time gathering new opportunities or closing the deals that are moving.
Too wide at the bottom: You need to spend more hands-on effort to guide those almost-done deals across the finish line.
Too wide at the top: Your

lead generation

is too bloated, meaning that too many leads are coming into the funnel. Your reps might not have enough time to chase every lead. Alternatively, those leads may not be sufficiently qualified enough to make it through the middle and bottom stages.
Learn from the Pros
In this episode of Tales From The Field, Account Manager Connor Bush tells the tale of how he used the power of pipeline to recover after being dropped by his biggest client. His strategy: Always have 3x the pipeline he needs.
5 Important Sales Pipeline Metrics to Track
"Which sales metrics should I track?" is a huge question. (Learn more about all the sales metrics you should be tracking.)
But regarding pipeline, here are five key metrics worth keeping tabs on. They're all directly relevant to measuring the health of your sales pipeline, giving you info about how well it is (or isn't) performing.
Total number of qualified leads: How many new leads are entering your pipeline.

When you apply other formulas to this metric (like the sales pipeline value calculation in the next section), you can use your total number of qualified leads as a basis for forecasting revenue in the near future.

MQL to SQL conversion rate: How many marketing qualified leads convert into sales qualified leads.

Low MQL to SQL conversion rate? Put your head together with your marketing team to see how to better qualify your leads.

Average deal cycle length: How long it takes for a lead to pass all the way through your sales cycle to become a closed deal.

Knowing your average deal cycle length lets you spot when deals are moving slower than they should be. You can take action to get them moving or elect to let them go in favor of fresher, faster-moving opportunities.

Close rate: How many prospects are ultimately converting into deals.

Close rate too low? Explore ways to increase conversions. Close rate looking high? That's good—but it's also a sign that this is a good time to start bringing in more leads.

Average deal size: The average value of each deal you close.

When you know your average deal size, you can spot large deals (i.e., ones worth prioritizing) and small deals (i.e., ones worth dropping if they prove too troublesome).
How to Calculate Your Sales Pipeline
When you're tracking the sales pipeline metrics in the previous section, you can start using those metrics to calculate your pipeline's performance. Here are two formulas worth keeping on top of.
How to Calculate Sales Pipeline Value
Your sales pipeline value isn't complicated. It's just an expression of the value of the opportunities in your pipeline.
Here's how to calculate it:
(Number of deals in your sales pipeline) x (Your average deal size)
If you can accurately calculate your sales pipeline value, you can confidently set revenue goals for this month, this quarter, or this year.
How to Calculate Sales Pipeline Velocity
Sales pipeline expresses how quickly leads move through your pipeline. If you know your pipeline velocity, you can spot which opportunities are taking too long to close, and might be distending the shape of your funnel.
Here's how to calculate it:
(Number of deals in your pipeline) x (Your average win rate) x (Your average deal size) / (The average length of your sales cycle, in days)
Use a CRM to Make Your Sales Pipeline More Efficient
Tracking and calculating sales pipeline metrics manually can be a pain in the neck. That's where your customer relationship management (CRM) tool (like Salesforce) comes in.
A CRM gives you a real-time view of your sales pipeline and lets you filter by team, rep, or territory for customized insights into your business. Pipeline management features can also help you spot and troubleshoot problem areas in your sales process.
Salesforce Essentials, created specifically to help small businesses start with CRM, offers customizable tools for creating dashboards, reports, and alerts to help manage your pipeline. Here's what it looks like in action:
A "Good Sales Pipeline" is a Process
As you go, remember that selling is a process that should change and evolve continually for the best results. It can be as simple or as complex as you make it, but there are no sure bets, no failsafe techniques, no guarantees.
So be sure to take time each month to iron out what's been working and what hasn't. Where does your pipeline get clogged? Do you need to change up your tactics or teams? What feedback have you heard from customers about the process? Stay fluid and flexible to maximize your team, pipeline, and revenue.
Interested in learning more about creating a powerful sales pipeline? Try this free interactive Salesforce Trailhead module for hands-on training on how you and your team can work together to build a strong sales pipeline.
Learn from the Pros
Watch Salesforce's top tips for managing your sales pipeline.
This post was originally published on June 11, 2019. It was updated on Oct 2, 2023.