November 28, 2022
·
10 min read
Video for Sales: When Is the Best Time to Use Video in Your Sales Process?
Great news: Video isn't just for prospecting (though it's very effective there). You can use it throughout the sales cycle to capture attention, keep deals moving forward, and close new business.
The simple answer to the question of when you should use video in your sales process is: Anywhere you would like higher conversions, more responses, faster deals, and more customer retention and satisfaction.
Video for sales gets much well-deserved attention for its early-stage, attention-grabbing power, but the video connection grows more valuable through the sales cycle.
We'll explain why you should consider adding video throughout your sales process, plus how it can help improve your communication at every stage—especially the later ones.
Connect, Convert, and Close More Deals
Easily record and share video messages.
Sign Up Free
Contents
Video for Every Sales Cycle Stage: When to Use It and Why?
Your buyers are inundated with outbound sales prospecting emails. Buying cycles are increasingly complex, with more stakeholders involved in purchasing decisions. Retaining and up-sell existing customers is also becoming more challenging as the fight for budget dollars continues.
Using video across every stage of the customer lifecycle can help you stand out as a rep and organization and improve your customers' buying experience. From standing out in the inbox to delighting customers—below, we'll go deeper into when and how you can use video to win more.
Prospecting and Introductions: How to Create Videos That Capture Attention
Video prospecting is the most well-known use case for video among sales pros. And that's because it works. At the beginning of the sales process, when you're trying to make introductions or book meetings with new prospects—leveraging video messaging as part of your overall cadence is a surefire way to make more connections.
1. Use Video to Virtually Stand Out in a Prospect's Inbox
Video outreach is unusual and exciting and excels at breaking through to earn the attention of busy would-be buyers. A sales video email with a compelling subject line is more likely to be opened, and the ability to easily set an eye-catching thumbnail lets you highlight your personality and get creative about earning responses.
Like with any outreach tactic, test out what works and doesn't for you. If you don't get a reply, you can always resend the same video with a different subject line.
A virtual selling tool like the Vidyard Chrome extension makes it easy to record and send a video right within your preferred email client, sales engagement platform, or even via a LinkedIn direct message. You can also share videos from your Vidyard library on your personal LinkedIn feed, in a direct message, or to a company page.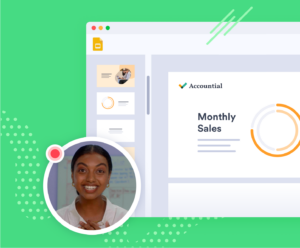 The Best Video Prospecting Tool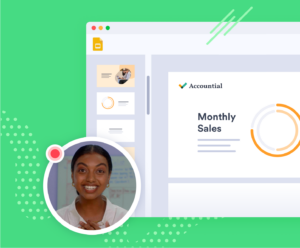 Get more responses and book more meetings with video prospecting.
Sign Up Free
2. Breathe New Life into Your Value Proposition with Video
Use a screen share video to show how your product or service is a good fit on your very first touch. Instead of waiting for the prospects' response, you put it all out there.
And, unlike a cold call, which disrupts their day, they can consume it on their own time. Use screen captures to walk through the prospect's LinkedIn profile, their organization's website, or your own sales deck.
See it in Action
In this example, Daniel creates a screen share video to walk through a prospect's LinkedIn profile. A simple screen share video is an amazing way to send a personalized message that actually gets results.
3. Use Video Analytics to Perfectly Time Your Follow-Up
With a video analytics tool designed for sales, you'll know when a prospect watches your video. And whereas email tracking only notifies you that the prospect opened your email, video view analytics shows how much of the content the viewer watched and what parts they skipped.
Reps that call prospects when they're halfway through a video and already looking at the sales reps' face have dramatically higher connect rates. And when you know which parts of the video interested viewers, you know what value proposition to lead with.
There's a big opportunity for using video as part of outbound digital sales strategies to stand out and create a more personal connection from day one. It's a powerful way to answer frequently asked questions in a more engaging and memorable way. But there's also a big opportunity to use one-to-one video for incremental relationship-building by infusing your follow-ups, call recaps, product demos, and proposals with your voice and personality. Video can play an important role throughout the entire sales process.

Marcus Sheridan

IMPACT

Owner
4. Use Video to Crack More Accounts in Account-Based Selling
If you're leveraging account-based marketing or account-based selling at your organization, create persona and account-based videos that sales reps can mix, match, and send (try asking your marketing team for help). This can save your sales teams significant time with your Tier II and Tier III accounts, which may share lots of similarities and use cases.
For all of your top accounts, you can send personalized one-to-one videos highlighting your deep knowledge of the account and giving the outreach a high-touch flair.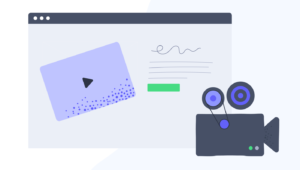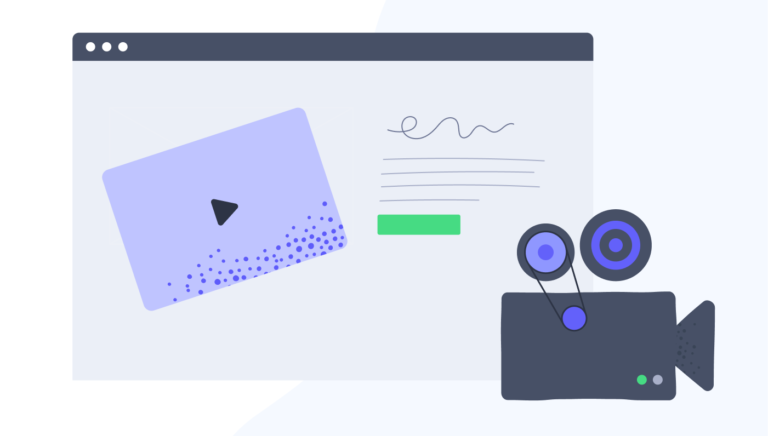 Master Video for Sales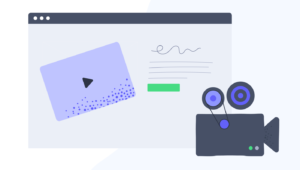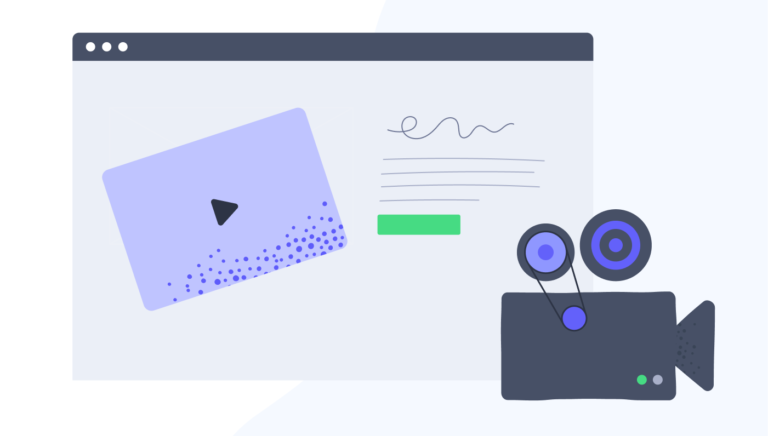 Learn the fundamentals behind effective

video selling

in our free 20-minute Video Selling Master Class.
Take the Class
Converting and Closing: Accelerate Deals with Video Messages
A sometimes lesser-known but equally (if not more) impactful way to use video for sales is to move deals forward to close. Once that warm prospect has gone through those initial discovery meetings, they're usually handed off to an account manager or executive. They should now be ready to explore what you have to offer. So, it's time to use video throughout the rest of the sales cycle to get them across the dotted line.
1. Send Video Reminders to Reduce No-Show Rates
It's not uncommon for sales reps to suffer meeting no-shows these days. But you can help minimize those no-show rates by sending video reminders where you reiterate why the prospect was initially interested and what they stand to gain.
"Because you aren't sending a faceless 'Are we still on for today?' email, recipients feel guilty and accountable," says Dan Wardle, VP of Revenue at Vidyard. "They're going to either show up or reschedule."
See it in Action
In this pre-meeting video reminder example, the rep confirms when they are set to meet and reiterates what will be covered in the meeting. Give this template a try for yourself and see the impact it can have on your meeting no-shows.
2. Record Video Introductions to Reinforce Account Handoffs
Every company experiences some leakage during the handoff from the sales development rep (SDR) to the account executive (AE) or from AE to the customer success manager (CSM).
Some prospects lose interest or get confused about why they're talking to someone new. Use a video to warm prospects up for the handoff and let them know they're in good hands.
For a highly personal approach, try shooting a joint video with the SDR and AE sitting side-by-side, explaining the change and what it means.
3. Be Unforgettable and Solidify Your Message with Follow-Up Videos
Rather than send a text-based email with a bulleted list of takeaways, send a personal sales video email to follow up after a meeting or call.
Prospects will retain the information better because it's laden with emotion and adds a personal touch.
If the meeting was in-person, record a follow-up video from somewhere they'll recognize. Such as the lobby of their building on your way out.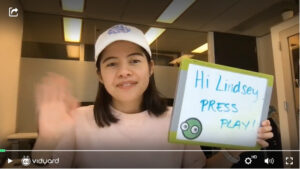 Free Follow-Up Video Templates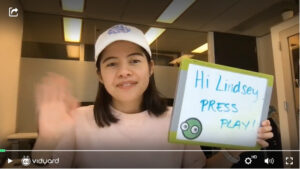 Yay, you booked the meeting! Now keep deals moving and cut no-show rates with follow-up videos.
Try Templates
4. Reduce the Back and Forth by Answering Common Questions via Video
Answer your prospect's one-off questions completely and on the first reply using video and save the back and forth. It allows you to explain things more clearly and reinforces the relationship.
Think of every video reply as another opportunity to familiarize prospects further with your voice and face.
5. Skip the Live Meeting and Record and Send a Mini-Demo Instead
In many ways, video mini-demos have traditional video conference demos beat. They respect the prospect's time by letting them watch (and replay) at their leisure while not demanding a big-time investment.
Too often, salespeople push prospects through the gauntlet of scheduling another meeting when all they needed was an answer to a simple question. Sending a short video is almost always easier than booking 30 minutes on a busy prospect's calendar.
Where appropriate, unstick your deal with mini-demos that highlight specific features, show your face, and move the conversation forward.
With mini-demos, less really is more. Some of the best ones are simply slideshow screen recordings of product screenshots paired with audio commentary.
If you keep it succinct, you can answer the prospect's question while raising new, even more valuable ones and perhaps convince them that maybe they need to see a full demo after all.
See it in Action
In this mini-demo example, the rep answers a previously asked question on how to do something within the product. He can show the feature and address the question in under three minutes, versus trying to get on a live call or go back and forth via email messages.
Give this template a try for yourself
and save you and your prospect a live meeting.
6. Increase Win Rates with Proposal Walkthrough Videos
Here's a story every salesperson knows: A prospect receives pricing and then goes dark. It's a universal experience, but it doesn't have to be.
If you can't get your prospect on a call to discuss pricing, send a video walkthrough proposal instead. Walk them through what's included in the sales proposal, explain any accompanying legal agreements, and reiterate why they're getting great value.
Done right, you'll eliminate the potential for sticker shock and increase the odds of a quick response. And sales experts like Todd Caponi agree if you get to this stage of the deal cycle and include a video proposal walkthrough, your win rates will skyrocket.
7. Use Video Libraries for Sales Enablement and Team Training
Is your team winning deals with video sales? Don't keep those videos secret. Sales enablement leads can build and share them so sales reps can learn from one another and innovate.
Teams can create video libraries (known as hubs) for different verticals, use cases, or sales stages. The whole team will learn from the best, and new reps can ramp up faster.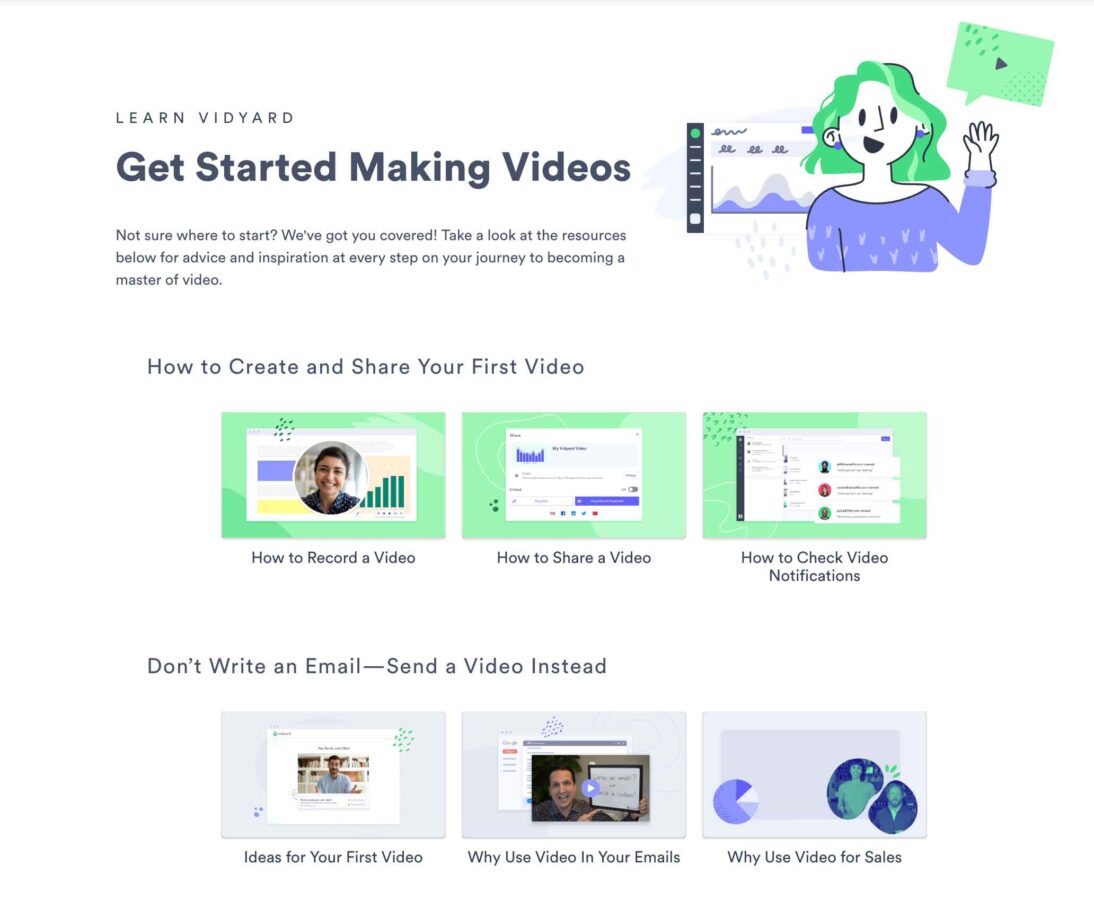 Post-Sale Success: Strategically Use Video to Retain and Up-Sell Customers
Once your prospect has signed and is a customer, the opportunity is to continue to support, delight, retain, and up-sell for future opportunities. If you're a customer support or customer success rep, leveraging video messaging can help you attain all these key metrics related to customer engagement faster and easier than with text-based comms alone.
1. Improve Retention Rates with Warm Handoffs Using Video Introductions
Increase customers' onboarding success and retention rates by introducing them to their customer success manager via video.
A video from their new point of contact, perhaps sitting with the sales rep they already know, transfers goodwill from one team on to the next and reassures new customers.
2. Using Video Screen Shares Helps Resolve Customer Issues Faster
Explain customer support issues in less time using video. Screen shares are a particularly useful type of sales video because they allow customer support managers to walk the viewer through the product.
Teams can also build a library of videos that answer frequently asked questions so support managers can send them with a custom introduction to save time.
See it in Action
This HubSpot sales rep sends this non-personalized video to quickly walk users through a frequently asked workflow. In just a few minutes, the customer can troubleshoot on their time, saving the rep from getting on a live call and walking through the process.
3. Send Video Messages to Increase Customer Satisfaction and Build Relationships
Help customers feel deeply connected to their success manager by reinforcing the relationship with video.
For all the same reasons video helps salespeople, it helps customer success managers as well. It communicates their voice and personality, makes the support more enjoyable, and earns them more leeway with customers who understand that they're dealing with another person and helps manage expectations for all parties involved.
4. Uncover More Up-Sell Opportunities with Personalized Videos and Video Libraries
Using personalized video messaging, reps can continue building customer relationships and uncover opportunities to up-sell. Sending a quick walkthrough of a new feature or product improvement, showcasing a winning stat you notice the customer has experienced, or other newsworthy excuses to reach out can all foundationally build the case to stay with your solution or company, plus purchase additional add-ons.
Using Video to 2x MRR
Pipedrive is using personalized video messaging to engage with all its accounts. The team has seen a 2x increase in monthly recurring revenue. Plus, reps using video have a 25% higher close rate and a 62% higher engagement rate.
In addition to personalized video, a video library where customers can learn how to use the product (plus discover new products or features) can also generate more sales opportunities.
Libraries work like a company YouTube for your business. Using a video library lets you recommend other relevant videos, so customers can learn about new features, products, and use cases. Plus, it can generate more sales opportunities.
5. A Video Message Can Help Re-Engage Customers Who've Gone Dark
Increase the chance of renewing customers by supporting them with video.
If customer success managers send friendly video responses, it increases customer satisfaction, answers their questions faster, and makes them more likely to be successful and renew.
If the customer goes dark, the CSM has a better chance of bringing them back with webcam videos that tug at their heartstrings and make them feel accountable.
See it in Action
A Customer Success Manager at Corporate Traveler recorded a video message to support a re-engagement campaign. The rep can showcase her personality and her company's value in a simple, personable video. All the while increasing her chances of re-engagement with customers.
This post was originally published on January 23, 2019. It was updated on November 28, 2022.