October 3, 2018
·
8 min read
How to Use a Video Library in Every Part of Your Business
A video library is an owned video channel to help you manage all of all video content. Video libraries allow users to manage privacy and permissions, easily update videos, and group like content.
There comes in a time in every marketer's career when they involuntarily shriek, "Save us from cat videos!"
Okay, perhaps they don't use those exact words. But they do shake their fist at YouTube for sucking prospects down a time-wasting vortex.
It usually happens when sales leaders throw a fit over misplacing a testimonial that could have saved a deal, or when communications leaders spit out their coffee upon seeing a sensitive internal video circulating on Reddit.
These leaders have all reached an impasse in their video maturity journey. They've unleashed the power of video but have lost control over who sees each clip. People in this position have a stark choice: Either journey to a Tibetan monastery in search of a solution to suffering, or get a video library and get organized.
Put Your Videos to Work
Create, host, manage, and share your videos.
Sign Up Free
What is a Video Library?
A video library is an owned video channel that brands can use to manage all of their video content. Video libraries allow users to do things like manage privacy and permissions, easily update videos, and group like content together.
Leveraging a video platform to organize your video content is like having your company's own YouTube, only, secured, branded, and controlled. It gives you the power to put your videos in all the right places and quickly create channels for events, departments, or products.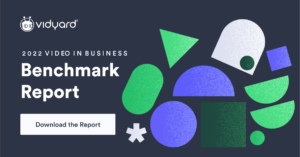 Video in Business Benchmark Report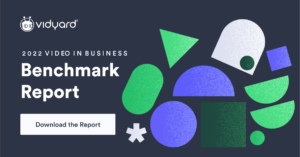 Know where you stand, so you can stand out. Get the insights you need to craft a video strategy that works.
Get the Report
What Are the Benefits of Using a Video Library for Business?
Whether you're a global brand in need of an enterprise video platform or a new startup searching for an easy way to manage video assets, the benefits of having a video library for your business are far-reaching—from making content easily accessible to your entire organization to ensuring that employees only share what you want them to.
Create a Central Hub for Video
With a video library, you can store and share all of your video content in one spot. Your video library can serve as a central source of truth for video in your organization. No matter where you post, embed or share your video, it's all coming from the centralized hosting offered by your video content management system.
Collaborate Seamlessly
Video content management systems allow for easy collaboration between you, the rest of your team, and your entire business. With everything in one place, it's easy for your team to find what they need when they need it.
The days of getting messages asking for the latest version of a video file are no more—everyone who needs it has access to the most up-to-date file.
Reduce Storage and Server Costs
Plus, having a video library eliminates the need to send files back and forth, ultimately allowing your business to save on storage and email server costs.
Control Video Access
Video management software also gives you the chance to determine who should be able to see or share content and when. Easily control access and permissions with advanced privacy settings.
Organize Video Content
Make it easier for teams—whether in marketing, sales, customer service, or internal communications—to find what they're looking for.
The average company that created more than 51 videos each year increased by 261% over the past two years. With that much video, you need an organizational system.
Whether you want to arrange video content by project, campaign, team, or something else, video libraries allow you to slice and dice content, organizing it into sections that make it simple for everyone to find what they're looking for.
Ensure Proper Coding and Formatting
Video libraries allow you to share content directly from the library to a variety of channels, including the ability to embed on your website, share on social media and more. This eliminates the need for you to code and format your videos manually before uploading them individually to each platform.
Rake in the Video SEO Benefits
Unlike uploading a video to YouTube (which gives YouTube all of the search value connected to your content), having a video library for your business means that you can embed videos directly into your site and reap the search engine optimization (SEO) rewards—think increased site traffic.
For full video SEO impact, ensure that you give your videos search-friendly titles, complete all metadata fields available in your video management system, and include relevant copy on the pages you embed them on.
Watch and Learn
In this Chalk Talk video, Vidyard VP of Marketing Tyler Lessard explains how video needs to be a core part of your overall SEO strategy.
Easily Make Changes
You've uploaded a video and shared it everywhere, but now you need to make a change. Without a video library, you'd be stuck manually removing and replacing the video everywhere it lives. With one, it's as simple as uploading a new file. The new file automatically replaces all of the old ones, no matter where they are on the web.
Get Insights into Video Performance
Video libraries offer in-depth analytics, allowing you to find out who's watching your videos, how much they're watching and where. Find out how your content is performing so you can do more of works and less of what doesn't.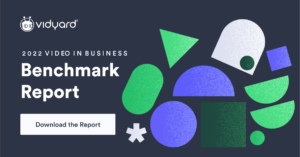 Video in Business Benchmark Report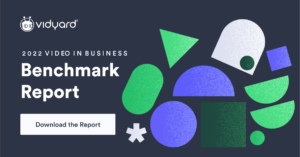 Know where you stand, so you can stand out. Get the insights you need to craft a video strategy that works.
Get the Report
Vidyard Video Hubs
Vidyard actually offers a video library feature that allows you to do all of the above (and more). It's called Video Hubs and they are:
Easy to set up: Drag and drop, no coding required
Great for search engine optimization (SEO): Accrue links and search value
Customizable: Brand pages as part of your site
Ripe for personalization: Increase engagement and click-through rates by personalizing your video.
Restricted: Control who views and shares
Full of juicy data: Use viewing data to score leads and accounts
There is no coding required. Vidyard users can drag and drop videos to create hubs that keep viewers swirling in their own cat-free vortex. Marketers can ensure prospects are only shown videos that lead them down the customer journey. Your support teams can ensure their walk-through videos aren't punctuated with recommendations to watch "Despacito." Again.
Unlike video hosting sites, Hubs are part of your website. You accrue all the SEO benefits when your videos are found in search, when people spend time viewing them, and when other sites link back to you. And best of all, you control who watches what. Internal communications teams can fearlessly upload sensitive videos and grant limited or expiring access.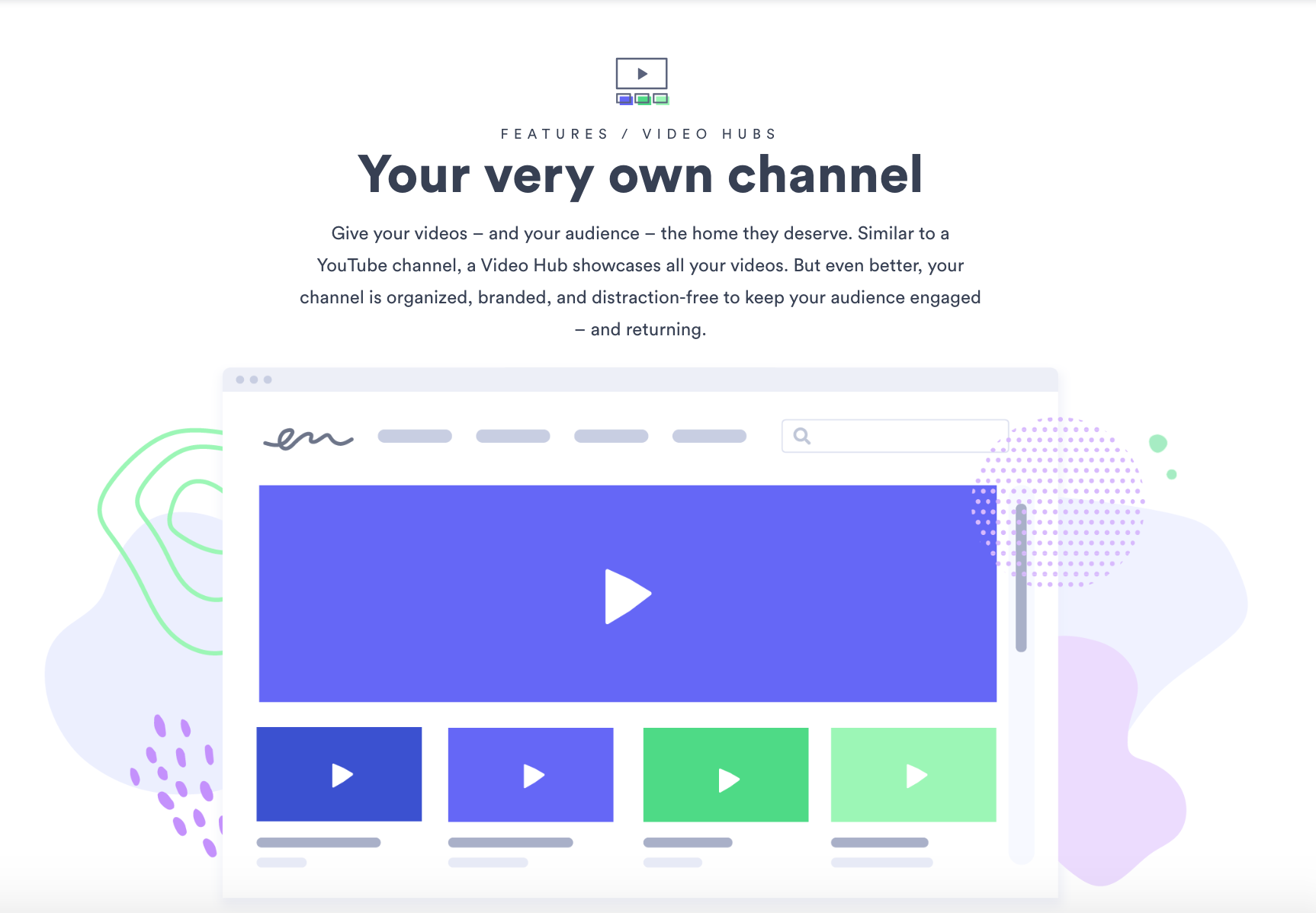 How to Use Video Libraries
Hubs are incredibly versatile. If you need some inspiration, check out some examples below:
Using Libraries for Video Marketing
Video libraries make the lives of your business' marketers easier than ever by letting them manage and organize all of their video content in one place. And there's more:
Event marketing: Companies like Marketo use a Video Hub to organize videos for events and summits.
Showcase a feature: Group videos together to demonstrate use cases and benefits, like Vidyard does with our Fast Forward on-demand content.
Publish videos faster: Marketing automation software company Act-on used Video Hubs to reduce the process of adding new videos down to three clicks.
Land account-based marketing (ABM) accounts: Personalize the videos each account can see so everything they discover seems relevant.
Target verticals: Show prospects videos of companies like them that solved their problem with your product.
Score leads: Set scoring rules based on viewers' interest in a particular feature or product.
Product marketing: Record videos to explain your products and keep customer-facing teams on-message.
Get Free Video Hosting
Host, manage, and share your video content.
Sign Up Free
Video for Sales Libraries
Video is becoming an increasingly popular tactic with sales teams. Whether it's for training or outbound prospecting, a video library can help your sales team be more efficient and close more deals. Additionally, a video library helps with:
Outbound sales

: Send customers links to testimonials in a video playlist that recommends other relevant testimonials.
Target verticals: Send targeted playlists of videos so prospects can browse and continue to find relevant content.

Sales coaching

: Create a training library for the team's funniest and most effective video pitches.
Empower sales and solution consultants: Gather all the best sales demos in one place to offer consultants inspiration and ideas.
Onboard new reps: Create a video onboarding sequence that explains everything from pitching to entering deals in your customer relationship management (CRM) system.
Connect, Convert, and Close More Deals
Easily record and share video messages.
Sign Up Free
Customer Service Video Libraries
How to's are one of the most popular kinds of video there is, so it only makes sense that there's plenty your customer service team can do with video. A video library makes it simple for teams to find the answers customers need, quickly and easily, They can also:
Help customers self-support: Offload support volume with a walkthrough video library that recommends other relevant self-help videos.
Find videos faster: Create hubs for each team, vertical, and use case that support managers can share publicly.
Save time: Create a hub of videos to answer customers' most frequently asked questions.
Train the team: Gather the team's best walk-throughs and support videos, plus compile customer reactions.
Improve service quality: Leaders can view analytics data to see who's watched what, and alert support managers automatically if customers appear to need help.
Improve Customer Satisfaction with Video
From support tickets to knowledge bases to customer onboarding, video helps make the resolution process faster
Sign Up Free
Internal Communications
The advanced permissions available in video libraries mean that internal communications teams can share content with employees without fear of anything being leaked. But that's not all:
Provide on-demand help: Create an employee resource video library for everything from personal benefits information to what to do in an emergency.
Lockdown sensitive videos: Restrict access at the video level based on the viewer's domain, role, or business unit.
Develop every department: Work with leaders from each department to create role-specific hubs for training videos.
Hire more effectively: Help applicants and potential new hires get to know the business and its leaders through a video series.
Update the company: Gather executive fireside chats and all-hands summit recordings in one place so nobody misses out.
Record and Share Videos with Your Team
Unlock productivity and cut down on meetings
Sign Up Free
Video libraries—like Vidyard Video Hubs—do a lot more than deliver teams from cat-videos. They keep prospects focused and moving along their journey, make sure sales and service teams always have the right clips, and lock down access so sensitive videos don't make the nightly news. Video libraries help leaders power their business with video—no Tibetan journey needed.
Put Your Videos to Work
Create, host, manage, and share your videos.
Sign Up Free