July 5, 2022
·
6 min read
The Future of Work: Productivity, Video, and Finding Efficiencies
To prepare for the future of work and find efficiencies, companies need to invest in video, training, and remote work to see their businesses truly succeed.
Two plus years in, we seem to have found some rhythm in this madness. Many of us have changed jobs, gained new skills, and adjusted to working from home. But there still seems to be chatter about what's to come and how technology will change the future of work.
As talk of recessions and budget constraints rise, companies are dialing down discretionary spending for travel and in-person events again—fearing choppy quarters ahead.
In this article, we'll explore the future of work, video, and productivity. How can you retain your best talent as the world continues to change? How will economic uncertainties impact how you find efficiencies, invest in employees, or manage your video technologies? To weather any storm on the horizon, video will continue to be key to increasing employee satisfaction, retention, and engagement—and in turn, keeping your business afloat.
Contents
2.1.1 It's Timely
2.1.2 It's Cost-Effective
2.1.3 It's Clear
2.1.4 It's Personal
2.1.5 It's Secure
What the Future of Work Looks Like
There's no question that pandemic-era restrictions forced innovation on the way we communicate and do business. In more recent months, easing restrictions and opening borders saw many companies head back to the office and return to pre-pandemic work travel. However, many employees aren't seeing eye-to-eye with their employers when it comes to returning to traditional face-to-face work.
The proof is in the percentages. While some employers believe that a return to the office is necessary for peak collaboration and productivity, indications from employees are just the opposite. In a Vidyard study of 500 financial services professionals, respondents were asked how they felt about remote work, a potential return to the office, and their productivity while working from home.
Trends in Remote Work
88% of financial services professionals who worked from home during the pandemic say they experienced more successes than when they were in the office.
82% think the overall productivity at their organization has increased with team members working from home during the pandemic.
45% say they can better limit the distractions around them while working remotely.
45% report they get more work done in a shorter amount of time while working from home.
96% would even give up a percentage of their salary to work from home permanently.
Employees Prefer Remote and Hybrid Work
And it's not just financial services professionals. Across industries, a McKinsey report found that 20-25% of the workforces in countries like China, France, Germany, India, Japan, Spain, the United Kingdom, and the United States are able to work from home between three and five days a week. This represents four to five times more remote work than before the pandemic.
Over and over again, survey after survey repeats the same truths we've come to understand: Most people who previously would have worked in an office would prefer to work remotely or with a hybrid model for the rest of their careers.
Chart via Buffer's 2022 State of Remote Work report
If you're an unabashed fan of the remote work movement, these stats only confirm your belief in the productive power of comfy clothes and snack breaks. But it cannot be denied there are certain tasks that are far better in a shared workspace. The McKinsey report found that some work that can be done remotely is actually best done in person. Meetings held for negotiations, critical business decisions, brainstorming sessions, or providing sensitive feedback may lose some of their effectiveness when done remotely.
Employees are also increasingly concerned about remote work as it affects career progression. We are divided on whether remote work stalls us from making connections, learning from peers, and celebrating each other's accomplishments.
Remote work and hybrid models have several advantages, but we can't ignore their potential downsides. Not every employee enjoys the isolation of remote work. The lack of access to teammates for feedback and onboarding, or the risk of stalling career progression.
Chart via Buffer's 2022 State of Remote Work report
You Can't Step into the Future of Work Without Video
Video is the crucial tool that connects us in a remote workplace. Video platforms specifically are how we generate marketing leads, close deals, and get important messages to our customers.
As a recession looms and businesses look in the coming months for cost savings by cutting travel budgets and in-person events (again), it's a perfect time to lean on video to maintain important connections. The future of work is inseparable from the future of video. In a productive, cost-effective, remote organization, there are numerous reasons to choose video.
Five Reasons Why Video Is Key to the Future of Work
1. It's Timely
Recorded, asynchronous video messages are timely without demanding immediate attention and a specific time-bound chunk of your colleagues' day. Rather than hunting for an opening in everyone's calendars (a task made all the harder when your team lives and works across multiple time zones), you can simply record a video when you have time and send it over.
Not only is video flexible, but it's also a huge time saver—especially if you use speed controls to watch at a faster playback (like 1.5x). It's almost always quicker to record a short video than to share the same information via text-based email.
2. It's Cost-Effective
Inflation is here to stay. Fuel, airfare and travel prices continue to rise even as downsized office leases have eased some budget constraints for remote companies in the past two years. If you ever thought video was a 'nice-to-have' tool, I'm here to tell you video is a 'need-to-have' for your business.
If you're facing budget cuts or looking for efficiencies on the horizon, video is the fastest, easiest, and most economical method of communication in business. Not having the budget to meet in person shouldn't halt your sales—not when virtual selling costs less, builds connection, and is easier than ever. Video is a no-brainer.
3. It's Clear
Video lets you quickly, easily, and efficiently deliver your message in your own words, without having to type it all out.
It also lets you provide important non-verbal communication cues (like body language and tone) that are absent from text-based communications. You can even share your screen to show visuals. Both help you ensure you're understood by providing the most context possible.
But video isn't just a good way for you to explain what you mean. It's also a great way to share your message and make it stick—Over 70% of sales pros report that video email performs better than text-based email.
4. It's Personal
Video is one of the few digital communications options that will let viewers see your face and hear your voice. This makes you and your message more human—when you deliver your message with personality, it helps foster connections with colleagues, prospects, and customers.
5. It's Secure
Enterprise video platforms designed for business typically offer video security options that make it easy for you to ensure your video is only seen by the right people. Choose from features like password protection, IP whitelisting, or single sign-on (SSO). This is especially important for teams using video for internal communications, as videos could contain sensitive or confidential information.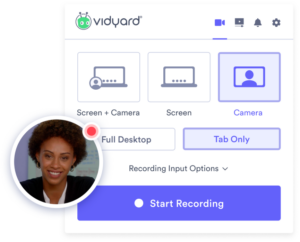 Record and Share Video Messages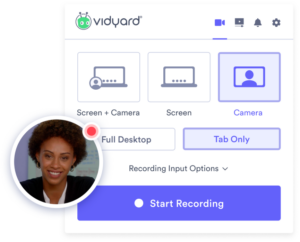 The best

video messaging

tool for business.
Add to Chrome
Embrace Video to Engage, Train, and Retain Employees
Video is undoubtedly a critical component of remote and hybrid work—a huge part of what we expect the future of work to look like. Eighty-seven percent of financial services professionals say their technology at work is in "the dark ages." And 40% report that most of their customers have transitioned to a remote work model. But, with IT stuck in the past, only 35% of financial services professionals are currently equipped with the tools they need to do video messaging successfully.
The future of work is underpinned by the future of video, so how do you take advantage of it?
To push your video technology further, consider implementing:
1. Video For Your Sales and Customer Experience Teams
Reducing your travel budgets again doesn't have to mirror the hurried approach you took in 2020. Reduce expenses but invest in video for your core sales, customer support, and leadership teams. Video is a scalable, personal approach to selling that leads to meeting sales targets from wherever you work—all while keeping you afloat in an uncertain economy. For your customer success teams, video is the key to maintaining customer relationships and intentionally growing accounts with customers.
2. An On-Demand Onboarding and Training Library
For many folks who've started new jobs during the pandemic, the typical day-long HR orientations in-office have been replaced by a dreaded five-hour Zoom training. Instead, forward-thinking HR departments can do a short kickoff call to get acquainted and energize new employees, but then direct employees to an on-demand library for the bulk of the training. This resource library can address frequently asked questions for new employees and review company policies. Additionally, they can get everyone up to speed with core pieces of the tech stack.
3. Training And Re-Skilling Programs For Your Employees
In a Vidyard Study, 1 in 2 respondents said incentives tied to the adoption of new business technologies, such as providing employees with decent training on new business technologies, would lead to more widespread adoption of new technologies within their organization.
Employers should play a larger role in retraining workers to adapt to new video technologies. Invest in professional development in your employees to keep them challenged and continually adding new value to their teams.
4. Video Throughout the Interview Process
HR teams and hiring managers can create short videos to showcase the culture and remedy the fact that remote candidates won't experience the company culture in person. Talent departments can invite leadership to record videos introducing the company's mission and vision. And hiring managers can even create personalized videos to entice candidates to accept offers.
5. A Strong Company Culture with Video Updates from Leaders
Since employees won't run into executives in the hallways while working remotely, many companies rely on video updates to make sure everyone is aware of wider company strategies. It's a light lift to create videos monthly or quarterly, but it can often be quite meaningful to employees.
You Know The Future. What Will You Do With It?
To weather any storm on the horizon, video will be the key. Most employees already see the benefits of remote work models on their career satisfaction and overall productivity. If done right, video can support employee retention and satisfaction. It's also a core, cost-saving tool that serves many functions—from sales to HR use cases. Key investments in video will help keep your employees engaged and your sales growing. Even as the future of work continues to rock with each wave of uncertainty. You'll be ready to sail on.
This post was originally published on June 19, 2020. It was updated on July 5, 2022.