November 6, 2018
How Top B2B Video Sellers Use Video to Book More Revenue

Sherlock Holmes. Frenchies. Cacti (or is it cactuses?). Sick rhymes. 94% response rates. And millions of dollars in new revenue. The 2018 Video in Business Awards had it all, and we're thrilled to share the stories of this year's Video Selling winners so we can all learn from their video awesomeness.
Video has emerged as a powerful tool for modern B2B sales teams. Unlike email, phone, and social media, video offers a highly creative way to cut through the noise and build more personal relationships with buyers. It's a great way to stand out, a better way to educate, and the next best thing to being there in person when it comes to connecting on an emotional level.
This year's edition of the Video in Business Awards recognizes 12 marketing and sales teams using video in creative ways to deliver some pretty incredible results. No budget? No problem! The results achieved by this year's winners were a result of big ideas, smart execution, and in some cases, a tremendous amount of courage to try something new and put yourself out there.
Five finalists were selected for each category, the winners and runners-up were selected by celebrity judges Jamie Shanks, Jill Rowley, Morgan J. Ingram, Marcus Sheridan, Trish Bertuzzi, and Max Altschuler. Without further ado, join us in congratulating—and getting inspiration from—the winners of the 2018 VIB Awards. The winners of the 2018 Video in Business Awards Sales categories. The video game is afoot.
Put Your Videos to Work
Create, host, manage, and share your videos.
Sign Up Free
The Video Selling Connector: Punch!
The Connector knows that it takes more than a catchy subject line to warm up a cold prospect. These team of sales development representatives (SDR) are using personalized 1-to-1 videos to stand out, book more meetings, and cush their quotas. They understand how to deliver a personalized message that will drive action, and aren't afraid to try something new to get the attention they deserve.
Winner: Punch!
Runners-Up: Forrester, LeadIQ
Honorable Mentions: KPA, Pipefy
Combining personalized videos with experiential account-based marketing (ABM) campaigns—like the Sherlock Holmes themed video and campaign below!—the sales development team at Punch! is clearly differentiating themselves from competitors and booking more meetings with key prospects.
Video also allows their team to track and score actual content engagement within target accounts, providing a better understanding as to which prospects are spending the most time engaging with their content and expressing the most buying intent. Each video also contains a strong call-to-action such as providing prospects with the ability to book a discovery call straight into a calendar which is displayed as part of an integration at the end of each video.
"We're experiencing a CTR of 31% across our campaigns when sending personalized video emails. Better yet, one in every 20 videos sent results in a discovery call. As a result of the human and unique approach, 50% of these discovery calls convert into opportunities. When you add it up, these video campaigns are more than 2x more effective than other tactics we've tried."
Punch! Isn't the only one using video to connect in a better way. LeadIQ's top performing sales development rep, Jeremy Leveille, recently recorded 24 custom songs and raps for targeted accounts resulting in 23 responses (that's a 96% response rate, folks) and 17 qualified opportunities. Ellie Twigger at Forrester is boosting attendance at events and booking more meetings for their account team with authentic one-to-one video messages.
The Video Selling Attractor: Listen360
The Attractor is fearless, fun, and extremely creative when it comes to standing out from the noise and attracting new prospects. This memorable sales team uses fun and creative videos to leave a lasting impression. No unsubscribes here, the Attractor is simply irresistible.
Winner: Listen360
Runners-Up: AlayaCare, Datadog
Honorable Mention: Bizible (a Marketo company), TimeTrade
Listen360 challenged their ordinary sales outreach process by getting their reps to interact more directly and personally with key target accounts. Targeting businesses with physical retail locations, they had their sales reps capture 'on-the-street' videos showcasing themselves interacting with their prospect's brand at one of their physical store locations.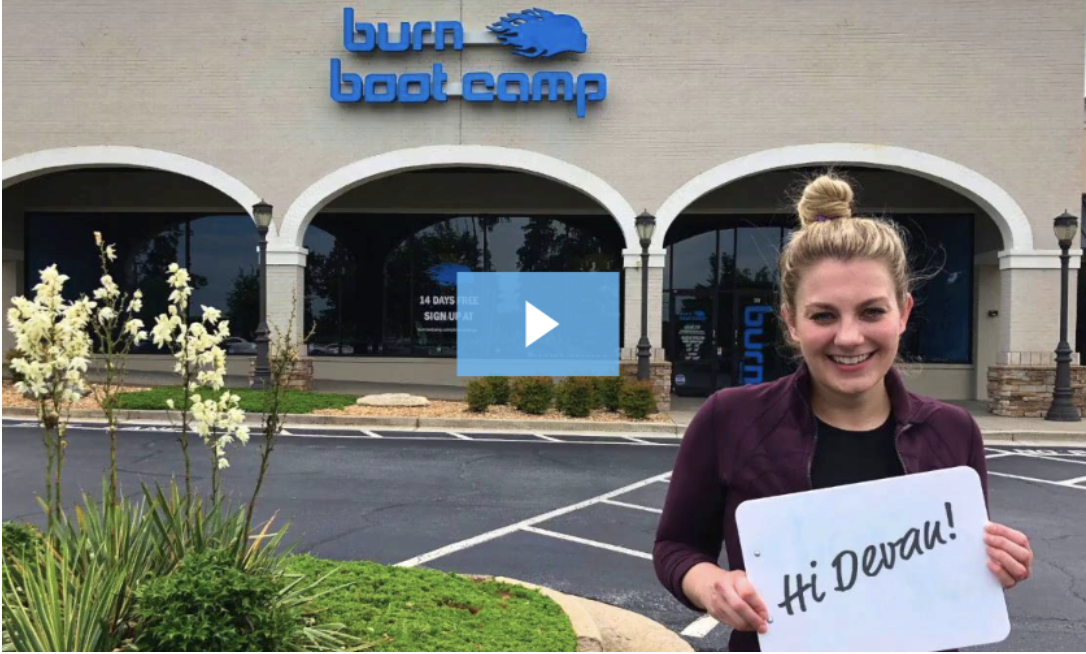 "The results of this campaign were incredible! First, they went viral within the accounts, with key contacts sharing with others in their organization. We also had 100% watch each video and half of them replied expressing interest. Those that re-engaged resulted in demos scheduled. What's incredible is that these were accounts we haven't been able to connect with in over 2 years."
Now THAT's how you attract attention as a sales rep. The runners-up also have their unique approaches to standing out and building an audience. AlayaCare isn't shy to record parody music videos for their key prospects to the tune of I Will Survive, while Datadog's Jon Levesque is using thought leadership video posts on LinkedIn to attract his fair share of attention.
The Video Selling Engager: Imagine Business Development
The Engager drinks coffee, rings bells and uses video to stay one step ahead of their competition. This epic Account Exec (or entire team) uses targeted videos to create more opportunities, accelerate deal cycles, and increase close rates. From 1-to-1 video messages to customized demos and sales proposals, they use the power of video to personalize their message, build trust, and close deals, all while boosting their sales efficiency.
Winner: Imagine Business Development
Runners-Up: Igloo Software, Modus
Honorable Mention: Bluleadz, New Breed
Imagine BD already had a strong playbook to guide their sales process, but they knew that by incorporating video throughout the sales cycle they could improve even further. They took a strategic approach to consider where the video could help improve sales efficiency or enhance the customer experience. This led to developing three categories of videos to add to their sales process:
Process/problem videos that focused on high-impact, early sales cycle issues that took significant sales time to explain manually (

see example here

)

Focused videos that zero in on specific concepts directly related to the prospect's business or to a specific solution we would be recommending (

see example here

)

Personalized videos to support our proposals and recommendations (think video proposals rather than just a deck or PDF)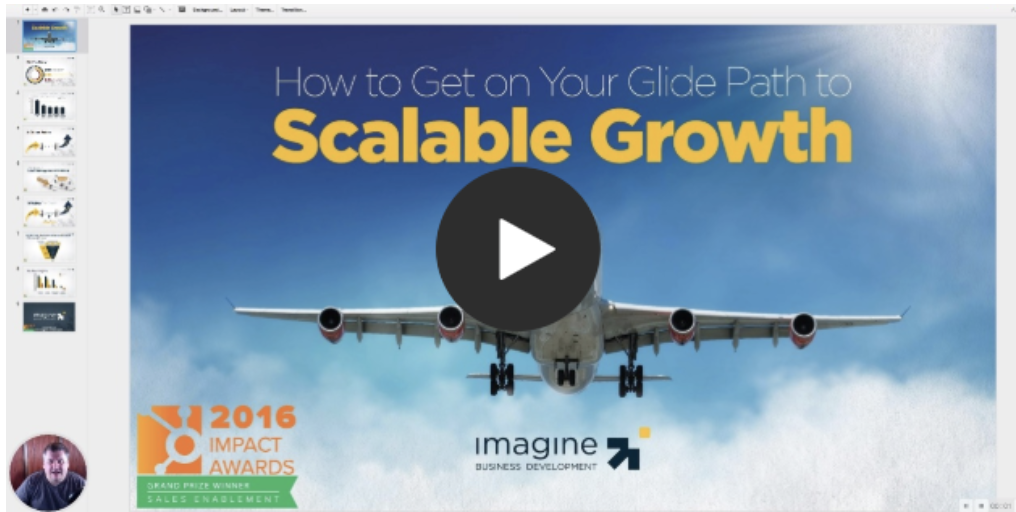 "The results have been massive. We've cut rep inefficiency time down by over 40 hours/month, we spend 90% less time on opportunities that got disqualified in first half of sales process, we've increased our win rate by more than 20%, and our 'first 90 days service issues' have decreased by more than two-thirds."
Runners-up Igloo Software and Modus are both using 1-to-1 personalized videos throughout the sales cycle to following up with prospects, create custom product demonstrations, answer common questions and build trust across buying groups. Thomas Buchanan from Modus notes:
"I landed my first 6 figure deal as an AE thanks to video and this deal had a record short sales cycle. I have never spoken to the busy executive who is funding the project but he knows me through my videos. We were able to engage all of the decision makers within 48 hours because of the use of personalized video messages".
The Video Selling Innovator: Rant & Rave
These sales teams impressed us with their creative approach to targeting key accounts and to ensure they got the attention they deserved. From interactive, personalized video campaigns to the creative use of props to get into, then out of, a prickly situation, the Innovators are ahead of the pack in how they think about the potential of video to generate new sales opportunities.
Winner: Rant & Rave
Runners-Up: Charity Dynamics, Storyboard Media
Honorable Mention: Alleyoop, Quarry Communications
Already seeing success with 1-to-1 personalized videos in their sales development team, Rant & Rave decided to step it up a notch by incorporating personalized videos into creative account-based selling campaigns targeting tier-one accounts.
But we're not just talking about waving with a whiteboard! Tieing into the themes of broader campaigns, their reps incorporated french bulldogs (none were harmed in the making of these videos), cactus puns, personalized demos, and other wow-worthy content into their outreach. Check out this paw-some example:
"Within 11 minutes of sending this video, we had a response saying they wanted to set up a meeting! A response that quick was unheard of in our company and set a new record, only to be broken by our next video campaign which produced a response in less than 2 minutes! We closed that deal within 25 days (yet another record) and each of these prospects are now happy clients of Rant & Rave."
The runners-up each took a strategic approach to account-based selling campaigns as well. Charity Dynamics recording custom videos for each key prospect along with a customized content hub to not only get their attention but to drive an immediate conversion.
Storyboard Media created an amazing series of tailored videos (worth a watch for some great inspiration) to increase their email engagement by more than 400% and blow away their pipeline targets.
The Video Selling Dream Team: IMPACT
The Dream Team is firing on all cylinders when it comes to using video throughout the sales cycle and across their sales team. From outbound prospecting and opportunity management to onboarding and support, this team is using a mix of personalized videos, custom recordings, off-the-shelf videos, and more to transform the customer experience from the first touch to the latest renewal.
Winner: IMPACT
Runners-Up: 1Huddle, Call One
Honorable Mention: Dynamic Signal, MediaValet
Simply put, the sales team at IMPACT is absolutely crushing it with video as a way to support every stage of the buyer's journey and to build trust within their community. How is the IMPACT sales team using video? Let's hear it from them directly:
Community Engagement:

Interacting with our online community, IMPACT Elite, through

weekly video updates

. These videos build familiarity and trust among our community of customers, prospects, and those simply interested in learning.

Inbound Lead Management:

As our market becomes more and more competitive we have to find creative ways to set ourselves up as top contenders earlier on. We see video as an opportunity to virtually introduce ourselves and build a strong first impression early on. Since incorporating personalized video when managing inbound leads, we've seen a 90% increase in the number of meetings booked as well as shorter sales cycle as we've established trust and stronger relationships much earlier on.

Meeting Follow-Ups and Recap Videos:

After meetings, our reps do a quick video recap on the conversation they had with the prospect, and answer any follow-up questions they might have. This helps keep the excitement going, and also gives the prospect a video they can share with internal stakeholders who might have not been able to attend the meeting.

The "80%" Videos to Answer Common FAQs:

Our sales team has created videos to answer the typical questions we receive from 80% of our prospects. We use these videos at the beginning of sales conversations to help introduce our team of experts, and to answer FAQs before prospects even get a chance to ask. This helps address questions early on and cut down on extra meetings that would slow down the sales process.

Here's an example

of one of our "80%" videos.

Introductory Videos:

Prior to a Client Success Manager having an exploratory call with a prospect we send them an intro video which gives the prospect background on the person they will be talking to and also provides a more human element to help begin building a relationship. It's also an opportunity for the CSM to set expectations for the call.

And more!

The IMPACT team also uses Statement of Work videos to clearly explain their sales proposals, post-sales videos to

welcome new clients on board

, event promotion videos to drive customers to local events, and more.
"Simply put, video has been a game changer in helping us increase our number of meetings booked, shorten deal cycles, increase overall customer engagement and close more deals, faster! It's impacting literally every stage of our customer lifecycle in a positive way."
Like the team at IMPACT, runners-up 1Huddle and Call One have found success using a variety of video types across their sales teams to increase response rates, book more meetings, and accelerate deal cycles.
The Video Mastery Award

This visionary organization is embracing video to transform every stage of the customer journey. From marketing and sales to success and support, they use a wide range of video content to humanize their brand, educate their buyers, accelerate sales cycles, and connect with customers in more personal ways.
Winner: Tech Data Corporation
Runners-Up: Ceridian, Zycus
Ceridian, Tech Data Corporation and Zycus are all seeing tremendous results from incorporating video into the fabric of their marketing, sales and customer success programs. More than just a supporting character, video is playing a starring role in how they represent their brand, communicate with audiences and build relationships with their customers.
All three teams are leveraging video extensively across their digital, demand gen, social media and marketing communications, and have embraced the Vidyard Chrome extensionto empower their sales teams with 1-to-1 personalized videos. Congratulations to these teams on taking a big step towards the future, and for making Business-to-Business look a lot more like Human-to-Human.
BONUS! Best Video to Support a VIB Awards Nomination: GPS Insight
So here's the thing. We asked all nominees to post a short video explaining why they should win a Video in Business Award. The finalists for this surprise category went above and beyond to create a video that was hard to ignore.
Congratulations to our winner GPS Insight for taking us back to the early days of film; to our runners-up Danby Appliances for their spot-on parody of Anchorman and Listen360 for CRUSHING their Fresh Prince of Bel-Air parody; and to our honorable mentions Leighton Interactive for serenading us with their songwriting and top-shelf ukulele skills and Suzi Lindner for reminding us all that sock puppets are never a bad idea.
But what about those Video Marketing award winners?
To learn about the winners of the 2018 Video Marketing award categories and how they've used video to get more attention and generate more pipeline, check out the following post: How The Top Video Marketers of 2018 Use Video to Generate More Pipeline