April 25, 2023
·
8 min read
Why Every Sales Team Needs a Digital Sales Room: 3 Key Benefits
Welcome to the digital sales room, a collaborative space where every stakeholder has the information they need to keep deals moving efficiently.
Digital sales rooms—the sales community is excited about this emerging technology because it represents a quantum leap forward in eliminating the inefficiencies of the typical sales process. With these online spaces, sellers can make it much easier for buyers to quickly and seamlessly move through the deal cycle. That means more signed deals toward your quota—and quicker.
This article will explain the three main benefits of digital sales rooms and key tactics to win more deals.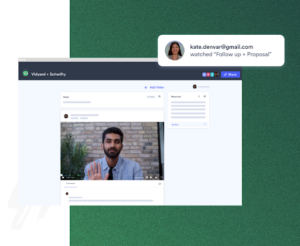 Vidyard Rooms: Open doors. Close deals.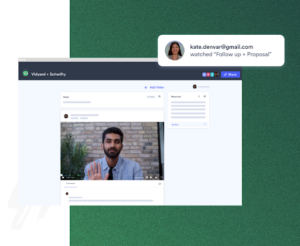 Bring stakeholders together in a central collaboration space.
Learn More
Contents
What Is a Digital Sales Room?
A digital sales room is your central hub for getting your deals done. It's a virtual space to host content, share videos, and collaborate with buyers on deals. Also known as deal rooms, they make it easy for any of your stakeholders to quickly understand what you're selling and how it can solve their problems. Digital sales rooms often host content like pricing proposals, video demos, meeting recordings, mutual action plans, and marketing collateral.
Digital sales rooms eliminate the need to send multiple emails, share documents from a drive, or trade Slack messages. Instead, it's one central hub where all sales activities happen. Folks from the buying committee can invite decision-makers into the deal room. From here, everyone can discuss objectives and objections, consume helpful content, and tag the sales rep when they have questions.
3 Undeniable Benefits of Digital Sales Rooms
Digital sales rooms offer a plethora of benefits for both buyers and sellers. Here are three major advantages you'll gain from a virtual deal room.
1. Elevate the Buyer Experience
Digital sales rooms make evaluating products and services easier and more efficient for modern buyers, who increasingly prefer self-service sales options throughout the buying process. They want to be able to find your pricing quickly and review it on their own time without having to book a call with a sales rep.
According to research from TrustRadius, nearly 100% of buyers want to self-serve for all or part of the buying journey. They also report that two in five buyers said "having to contact sales for a demo or free trial" was among the top three things vendors do to make them less likely to buy.
Digital sales rooms give these buyers a veritable buffet of resources to find what they want. Using video in a deal room is particularly effective since people are much more likely to remember details from videos versus text.
"Vidyard Rooms truly meet our sales needs by providing a hub to keep our prospects in one place so they are not chasing 50 different emails and trying to remember where things were shared. I love that they can find it all here and bring in other stakeholders to quickly get up to speed."—Nicole Kocemba, Lead Business Analyst at Houghton Mifflin Harcourt
Trends toward digital sales are only becoming more entrenched. Predictions are that B2B suppliers and buyers will conduct 80% of their sales interactions via online channels in the coming years. The companies poised to win their markets are the ones that make it easy for their buyers to self-educate.
2. Accelerate Sales Cycles
In today's volatile job market, stakeholder turnover is high, with 68% of decision-makers frequently changing during the software buying process. For nearly half of B2B organizations, rep turnover rates are 30% or more. Digital sales rooms expedite deals by allowing quick onboarding of new stakeholders during the process. Without them, new buyers might have to rely on their team or sales rep to locate and provide updates on all the content and discussions shared up to that point. But with digital sales rooms, you can send a single link to the new stakeholder to view the entire history of your conversation with their team.
Digital sales rooms remove much of the manual and repetitive work of sending collateral to prospective buyers, including new stakeholders. Populate it in their deal room once, and it's there forever for everyone's reference. With the increasing complexity of online software purchasing, digital sales rooms help sellers manage that complexity to keep deals moving quickly. 30% of global B2B software buyers say there are 10 or more steps in their company's software purchasing process. And an average of 22 distinct roles are involved in the typical buying process.
With more steps and stakeholders than ever, the need for a unified and seamless sales experience has never been greater. The vast majority of buying groups (95%) report having to go back and revisit decisions at least once as new information emerges. And 71% said that additional stakeholders are always or frequently added over the course of the buying journey. With deal rooms, sellers can rest assured their hard work will remain easily accessible throughout the entire deal cycle.
3. Increase Engagement and Encourage Collaboration
Since digital sales rooms are a lower friction experience than the typical sales tech stack, they encourage more collaboration. It's quicker and more casual, so buyers are more likely to fire off their questions without considering composing an email. They entice stakeholders to engage in a way you can't match with just email and Zoom. For example, you can comment within the room, tag members, and get your questions answered. You can tag a teammate and say, "Hey @Lucille, you missed this call, but I need you to look at this pricing proposal or this video."
Digital sales rooms also give insights into who is engaging. Sales reps can identify if any new stakeholders they haven't met have entered the room. This allows sellers to jump in and support these conversations you otherwise may not have known were happening. One in three buyers says that collaboration amongst stakeholders has increased since the pandemic. Digital sales rooms support this increased collaboration at every stage of the sales process.
How to Effectively Use Digital Sales Rooms
Personalize Your Sales Room
People love it when experiences are personalized to them, like a barista who remembers their exact order. Digital sales rooms are no exception. Start by giving your sales room a name like "[Your company] x [Prospect company name]" and uploading their logo. Then add a description for the room that summarizes the problem you're solving from your customer's perspective. For example, "A space for us to discuss how Acme Corp can help [Prospect company name] scale their ABM efforts."
We highly recommend populating your digital sales room with a personalized welcome video. (And if you're not used to selling via video, take a peek at this comprehensive primer first.) Video allows you to respect your buyer's preference for asynchronous communication while still providing some of the benefits of a live call—your personalized attention. Plus, you have the opportunity to show off your warm, sparkling personality. Your prospect, meanwhile, can reap these benefits without having to fix their bedhead to get on a video call.
In addition to the branding, make sure to personalize what content you're uploading to meet the buyer's needs and address their particular needs and objections in any video content you create and upload.
Populate Your Deal Room with Content
The possibilities for content in a sales room are endless. Some common collateral includes product one-pagers, pricing information, recordings of past calls, demo recordings, and marketing content.
Buyers have made it clear they prefer self-serving content. So they'll have a much better experience if you populate your digital sales room with the resources they need to move the deal forward quickly.
Knowing various customers may have different learning styles, it's wise to present a variety of formats. Such as including video content for audiovisual learners and PDFs or web content for those who prefer to read.
Share and Engage on an On-Going Basis
While digital sales rooms are all about letting customers self-serve, they're certainly not a passive tactic. Buyers want to engage with information on their own terms, then have quick and easy access to your expertise when they're ready. Prospects can comment at any timestamp on a video and tag team members with questions. Make sure to monitor your deal room and be ready to answer questions as they arise. You'll be notified via email or platform notification when prospects engage so you can respond promptly.
Share the digital sales room with everyone involved in the deal. In addition, encourage prospects to share it with any new stakeholders on their team that join the process later. This has the added benefit of allowing you to identify stakeholders in the buying committee you didn't realize were influential. If your prospect sends the deal room to the VP of Finance, you now know they're an important part of the buying committee. You'll then be able to tailor your content choices and communications to this individual.
Modern Sellers Are Embracing Digital Sales Rooms–Don't Get Left Behind
Virtual sales technologies have been evolving at a breakneck speed over the past few years—and this rapid pace is only expected to accelerate. While change can be overwhelming, embracing emerging technologies as an early mover is also an opportunity.
"Adoption of digital sales room software is growing 2.5x as sales leaders seek to support asynchronous digital buying experiences." —Bryan Brown, Co-Founder & Chief Analyst at GTM Partners
If you can embrace the digital sales room today, you'll set yourself up for a lucrative career as a star sales rep in the future.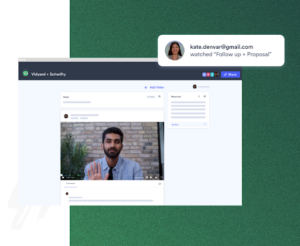 Vidyard Rooms: Open doors. Close deals.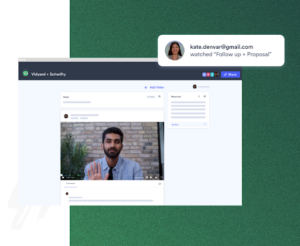 Bring stakeholders together in a central collaboration space.
Learn More