The secret to being heard in an overcrowded marketplace
1. Why marketers everywhere aren't being heard
Getting noticed in the digital era is a real struggle. If you're a marketer, you aren't just in a room with ten competitors. You're in a stadium filled with tens of thousands of companies from all industries shouting at the top of their lungs.
Are we surprised, then, that our prospects are hard of hearing? Of the 2,900 messages they receive each day, most go unseen. A majority of the 121 emails directed their way, go straight to spam. Their attention span—that precious consideration that marketers so desire—has slipped from 12 to just 8 seconds.
For those of you keeping score at home, that means 33 percent more Squirrel! moments and significantly less engagement or brand recall. It's also a reason that email response rates, once so reliable, languish in the low single digits. Only 18 percent of all marketing emails get opened and of those, only two percent get clicked.
Given the acoustics of this stadium and the roar of the audience, how on earth are you going to get heard? The answer isn't a louder vuvuzela—though that's tempting—it's playing precisely the note your buyer wants to hear. And you can only do that with personalized video.
In this guide, we'll explain how hundreds of organizations like Marketo, Influitive, Reltio, and The University of Waterloo are being heard in a crowded marketplace with personalized video.
[box]"By 2018, organizations that have fully invested in all types of personalization will outsell companies that have not by 20%." – Gartner[/box]
2. Modern buyers only hear personal messages
Despite all the noise, plenty of messages still get through to prospects. That's because people have the ability to selectively hear and they filter things that come from their friends, peers, and professional network. The difference, then, between being noticed and ignored, is being personally relevant.
[box]"People don't care how much you know until they know how much you care." – Theodore Roosevelt[/box]
We see this applied everywhere today in marketing. Wherever folks are merging names into emails, they're seeing spikes in click-through rates. Wherever they're curating web experiences based on visitor firmographics, they're seeing boosts to engagement. And wherever sales reps are sharing relevant posts with prospects on social media, they're seeing their lead conversions improve.
[box]"Remember that a person's name is to that person the sweetest and most important sound in any language" – Dale Carnegie[/box]
But, we can do better. Most current technologies, including those mentioned above, personalize through curation. That's when marketers find ready-made assets such as eBooks and articles and slap them onto popups or into emails. The content might be relevant, but it isn't personal. Prospects know you didn't write that eBook just for them. With video, however, marketers can actually individualize assets to each viewer.
Stop curating and start individualizing
When you insert dynamic elements into videos, viewers get the uncanny sensation that everything was crafted just for them. Videos, especially well-produced ones, have a cachet as high-value assets. Both marketers and buyers assume they take a substantial amount of time and budget to make. When these assets are personalized, say, to mention the prospect's industry, buyers are impressed and are more likely to engage. But when they'reindividualized—that is, personalized down to the individual level to include a first name, profile picture, or job title—prospects are awed, and you have their full attention.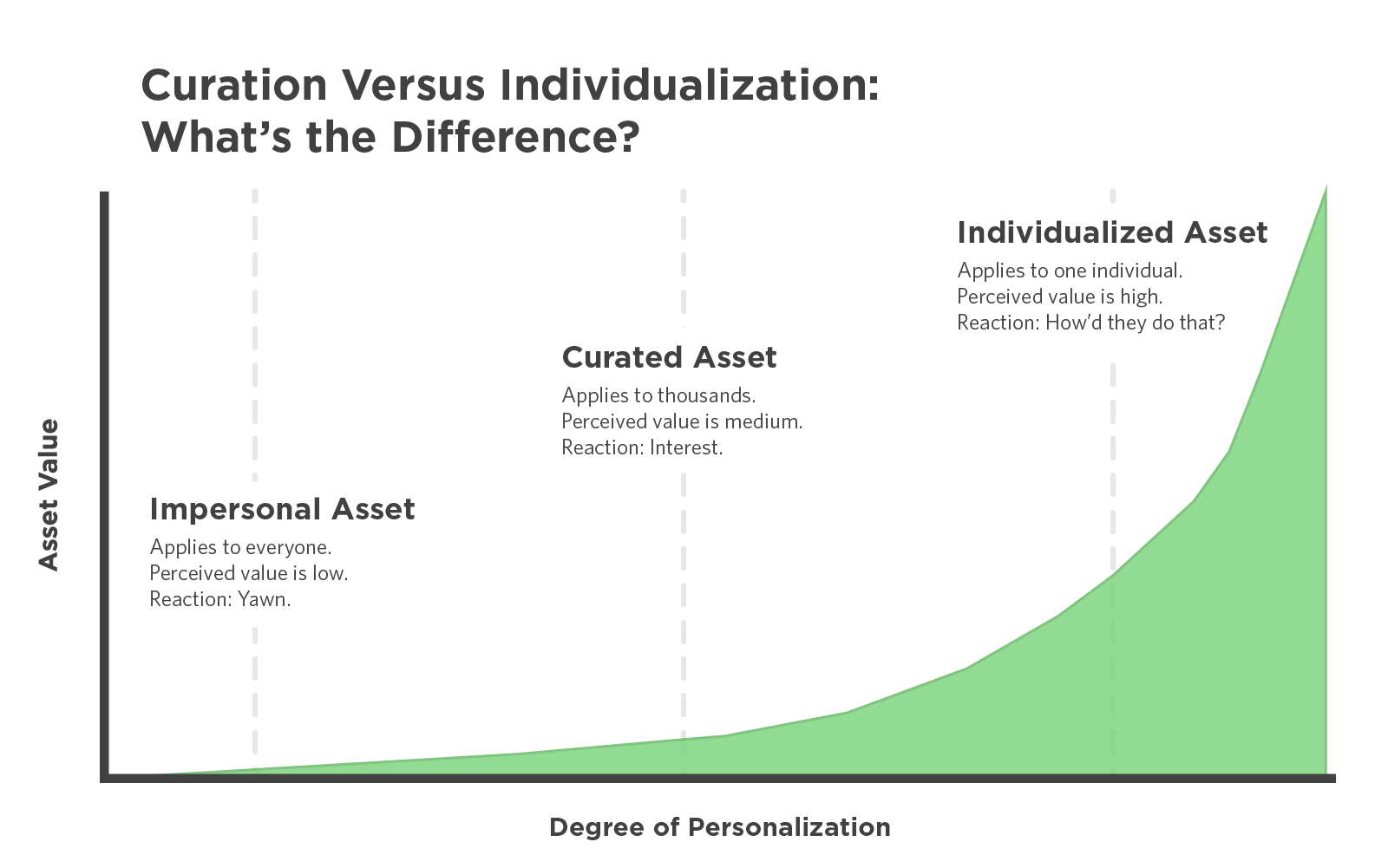 When it comes to personalizing content, the bar for what excites buyers is set pretty low. Only 29 percent of B2B marketers are using personalization of any kind according to research firm DemandWave, and buyers around the world are still surprised when websites or emails get more than their first name right. If you're able to present prospects with a thumbnail like the one below which shows their first name, it's a bit of a shock. Often, they click out of pure curiosity.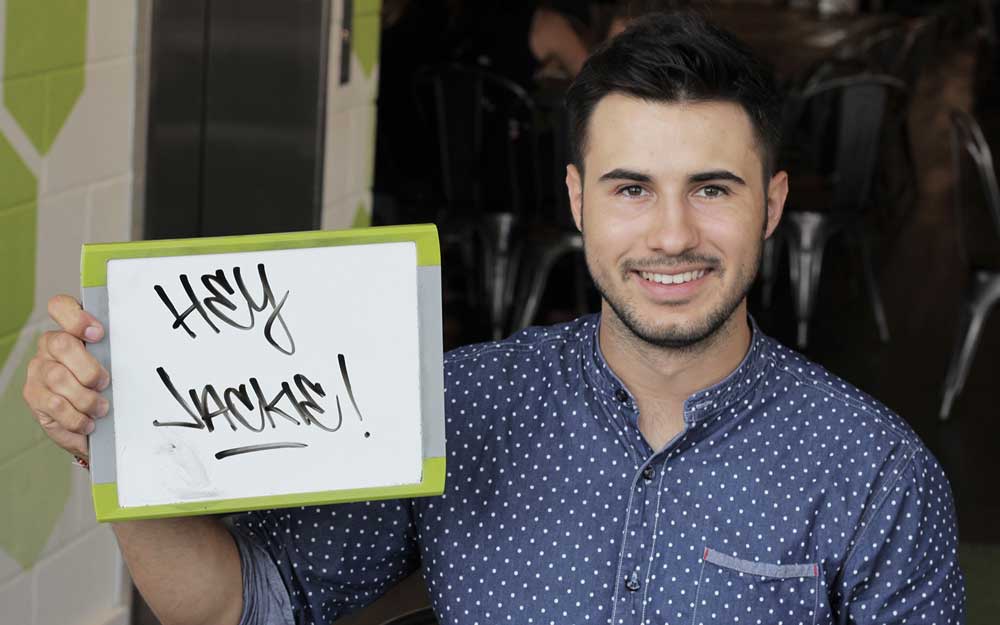 Personalizing to the individual level is more than just fun—it has a dramatic quantitative impact on your marketing success:
Individualization is the modern marketer's answer to ever-shrinking attention spans. When people only selectively hear messages from friends and colleges, they're primed to be interested in videos that include them. Individualized videos earn their consideration.
[box]With video personalization, you will:
Attract – Personalized video thumbnails pique the interest of prospects.
Stand out – Your customers can't help but take notice when you speak directly to them.
Retain viewers – Personalized videos keep people engaged well beyond the 8-second attention span.
Convert more leads – When people feel connected with a brand, they're more likely to act.
Be more memorable – Personalized videos are worth remembering and sharing.
[/box]
So, interested in seeing what this looks like in practice? Let's explore how companies are actually using it.
3. How are B2B companies using personalized video?
Hundreds of organizations around the world are using video platforms like Vidyard's Personalized Video (which you can try out yourself, by the way) to improve conversions at each stage of the funnel. Here are a few examples broken up by category:
Awareness and nurture campaigns
Financial Force's video recreates more than just your cubicle—they put your name all around the office and then free you, the viewer, from drudgery with professional services automation.
Lenovo's video drops you into a world where IT meets rap. If you didn't already relate to lines like "did you try turning it off and on again?", you will: apparently you work here.
Event promotion and engagement
Flip my Funnel's video puts Janet, a marketer with a dysfunctional funnel, in touch with you—her peer. Together, you two find out that attending #FlipMyFunnel is the answer to your lead-gen woes.
Marketo's team puts you in the hot seat. They're none too happy that you're late for their Marketing Nation summit, and you have no excuse for missing it. Everything from the invitations to the event app show that you've registered to attend.
Culture and customer appreciation
The YMCA shares the love by putting viewers who have donated into the video where they can see the facilities they've funded and the children's lives they've impacted.
And, with these videos, we've only begun to scratch the surface. Personalization opportunities are endless and once you begin to think in terms of individualized video, it changes how you shoot the videos, further driving up performance.
But, don't take our word for it. In the next section, we'll cover some great examples of how leading B2B companies have used personalized video, and the amazing results they've seen.
Okay, but show me the numbers!
Personalized videos are fun, but are they effective? We'll allow you to be the judge of that. Below are examples of companies like Reltio, Influitive, and The University of Waterloo who are converting leads, increasing attendance, and recruiting more students. Each of them gets something very right.
The University of Waterloo drove 253% higher click-to-open rates
The University of Waterloo is synonymous with excellence. Just ask any of the 30,000 students or 500,000 alumni why they chose UW. Likely, it's because the university offers a terrific experience from recruitment through graduation—an experience that the university's marketing team was able to capture with personalized video.
The click-to-open rate for this video was 70.7 percent, a massive increase over the university's average of 20 percent for other recruitment emails. And, with its strong emotional pull, it's not hard to see why.
According to Sal Aziz, Marketing and Recruitment Specialist at the university, "Video is such an important medium to convey an emotional response. I wanted the decision to come from the left brain, not the right brain." The effect is pure magic.
Influitive saw 8x higher click-through rates
Advocate marketing software leader Influitive wanted to triple attendance for its second annual customer experience and advocacy conference, Advocamp. To stand out from all the other marketing conferences, Influitive created a series of personalized videos.
Personalization made a huge difference. Compared to previous Advocamp promotions, the click-through rate was 8 times higher and the click-to-open rate 4 times higher.
Influitive's video results: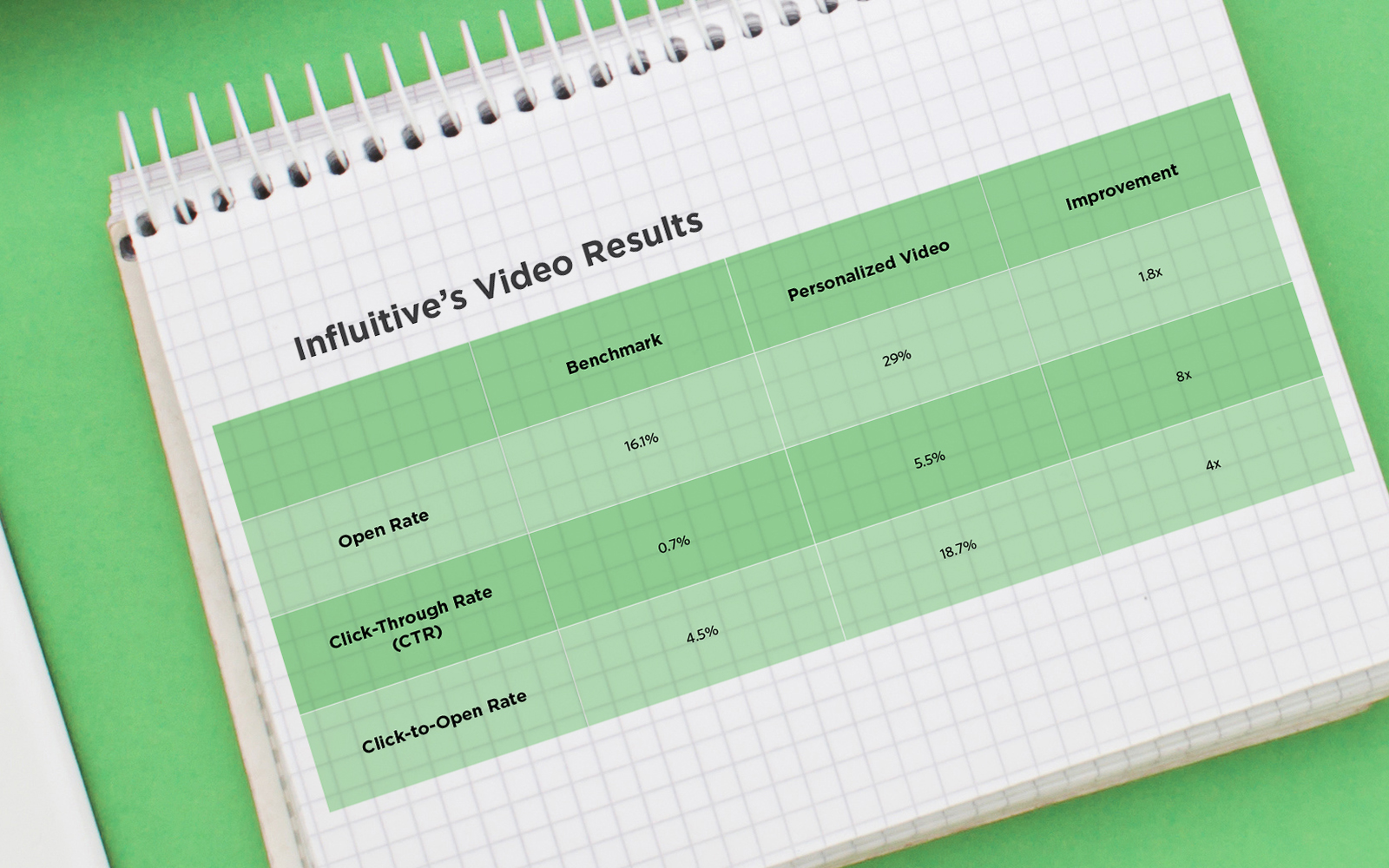 Reltio drove 10x higher open rates
"Everyone says their conference is the best, the most interesting, and the most important to attend, but anyone who's attended these events knows that's not always true," said Jim Williams, Vice President of Marketing at Influitive. With video, Influitive was able to show, not tell, what theirs would be like.
Reltio, a data management platform, was looking to build awareness and drive interest in its flagship product offering. To economize their video creation efforts, the marketing team created just a few videos and then personalized them for a list of 10,000 contacts, including individualized thumbnails.
Recipients opened these emails at a rate 10 times higher than the company's average. Nearly 30 percent of them clicked, viewed, and engaged.
"We were blown away by the performance of our personalized video campaign and how well it worked to engage both warm and cold prospects," said Ramon Chen, Chief Marketing Officer at Reltio. But it didn't end there. Reltio is now using Vidyard's A/B to split test thumbnails and has reported follow-up campaigns with even better results.
But wait, are you curious how all this is happening at scale? Let's learn how these videos actually work.
4. How does video personalization work?
At this point, you're right if you assumed that there's some automation under the hood. Truly bespoke one-off videos might make sense for the crème de la crème of your ABM accounts, but for your entire database? Unimaginable. That's why video marketing platforms like Vidyard allow you to personalize existing videos dynamically based upon the recipient.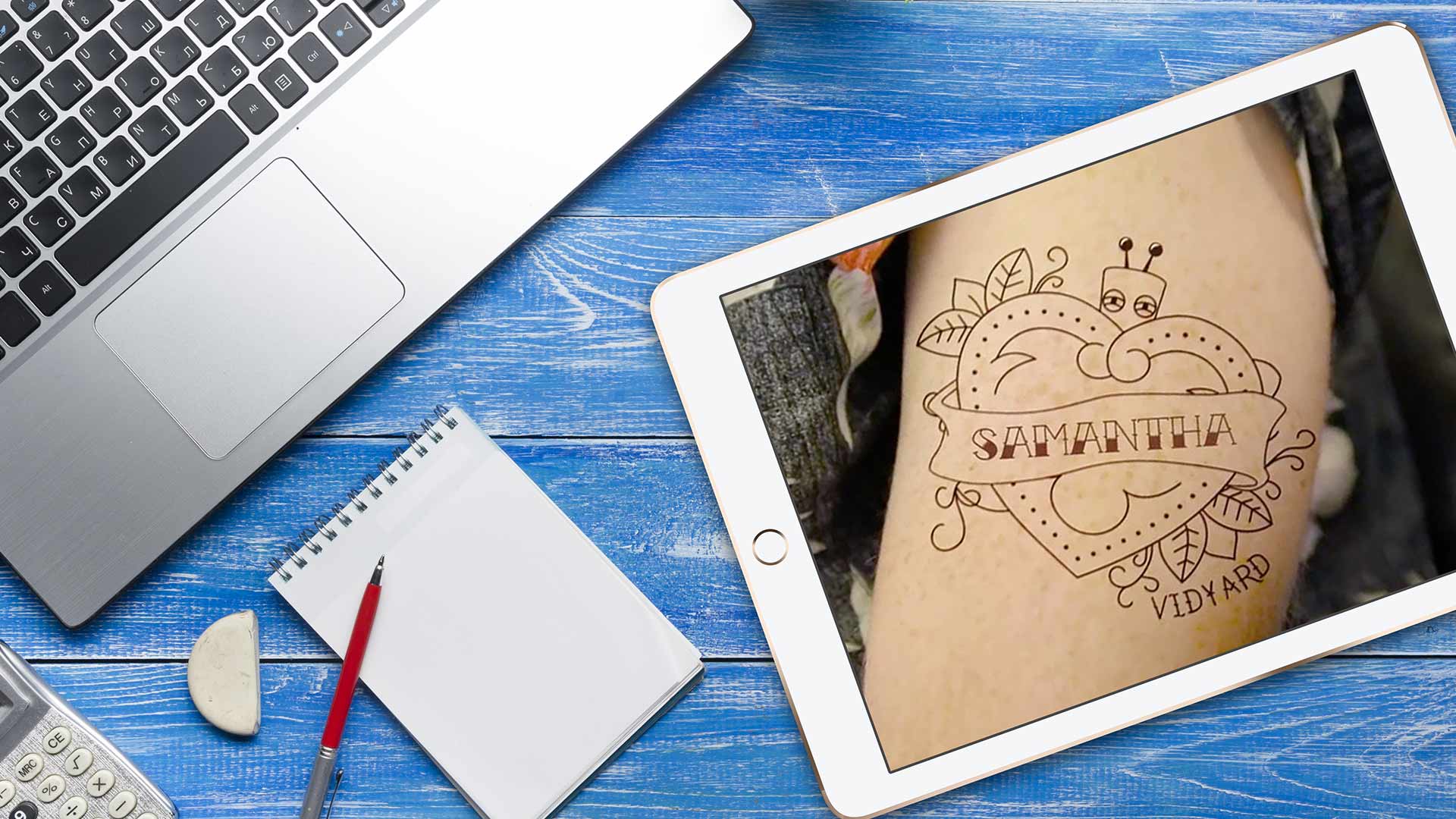 You can select elements within your video you'd like to personalize. This works great with flat surfaces where you can alter text or images and add the prospect's name to a name tag, the company's logo to a building, the prospect's headshot to a resume, and virtually anything else you can dream up.
[box]The most common use cases for personalization are:
Adding names to tags, lists, and paperwork
Inserting pictures into frames and headshots
Adding logos to buildings, vehicles, objects, and clothing
Switching out products
Switching out entire scenes
[/box]
Because video marketing platforms such as Vidyard integrate into marketing automation and CRM systems, you can insert elements from virtually anything you know about your leads or accounts. There's plenty of room to get creative and intrigue your viewers with a touch of marketing movie magic.
Here are 12 ways you can use Personalized Video
Top-of-funnel content
Branded campaign videos – Attract audiences by adding their name into the story.
Verticalized campaigns – Double the effectiveness of your verticalized content by dynamically recommending products.
Explainer videos – Include a viewer's company logo or job title to keep them watching longer.
Fun culture videos – Brighten up that holiday intra-office montage by inserting prospects' or employees' names. Here at Vidyard, our holiday greeting shows gifts addressed to the viewer.
Mid-level funnel content
Webinars – Make your audience feel like you've curated and designed webinar content specifically for them. Add their name, company, and job title to the first screen or to the presentation's footer.
Product tours – Save your sales engineers' time and personalize product tours so that these videos feel more like scheduled demos. Add the contact's name, photo, and more right into the screenshots of the product.
Events – Invite a customer or lead to your booth with a personalized video. We've found that some prospects will visit just to find out how you did it.
Video selling
Prospecting – Allow salespeople to send content to a lead which inserts a picture of the lead's website, title, or product.
Account-based marketing (ABM) – Personalized videos save sales teams' time by addressing each member of the account by their name, chief complaint, and business unit.
Customer onboarding – Add a human touch to the onboarding experience by including the customer's name and a photo of their success manager.
Technical support videos – Increase video clarity as well as your NPS and CSAT by including personal or product-specific information.
Recruiting videos – Send potential hires a video that helps them envision life on your team. It's a powerful first impression and gives you a leg up on your competitors.
When viewers are woven into the story, they feel a deeper connection. They're more likely to click, watch for longer, and remember what they've seen. It's a way for marketers to be heard as if addressing prospects one-to-one on a mass scale.
So, what's left but to begin marketing with your own personalized videos?
5. How do I get started?
If you're convinced of the value of individualized video marketing, getting started is as easy as laying out a video marketing strategy. Begin by setting goals for your video marketing. For example, are you trying to drive leads? Downloads? Attendance? Put those on paper.
[box]Goals that video personalization can help with:
Driving additional leads
Driving higher quality leads (perhaps to supplement ABM)
Creating additional pipeline
Accelerating the buyer journey
Increasing event attendance
[/box]
Next, determine which buyer personas video can have the greatest impact on, and at what stage. Perform some preliminary personalization by segmenting these videos by use case or industry. Then, you're ready to create campaigns and individualize them.
To manage these videos at scale, you'll need a powerful video marketing platform like Vidyard. The platform includes tools to individualize existing videos in your library, A/B test to optimize those videos, and advanced analytics.
With video personalization, you'll find that you're no longer just one vendor among tens of thousands shouting in a stadium: you're just one, sitting face to face with the customer who knows you have something they need.
And that, dear friends, is how you get heard.
Ready to try video personalization? Click here to see your own personalized video right now!