April 11, 2023
·
4 min read
The Top 10 Video Marketing Benefits
Still not sure why video marketing matters? This popular tactic has a ton of benefits, from increasing traffic to growing revenue.
Companies need many things to thrive: visionary leadership, a compelling offering, exceptional service, and more. But in an overcrowded marketing landscape, your brand needs a story.
Stories make for better marketing because they elicit emotion. They can influence who we trust, play on our nostalgia, and help us make sense of complex information. A really great story can communicate the entire character of a brand in less than three minutes. Plus, clever stories can help you become incredibly persuasive.
Video marketing is now essential to help bring those stories to life. It's a powerful way to increase brand awareness and engagement and help build pipeline.
Read on as we explore the top 10 benefits of video marketing that can help power your business. From growing revenue to increasing traffic and getting more backlinks, you'll learn how video marketing can significantly impact your success.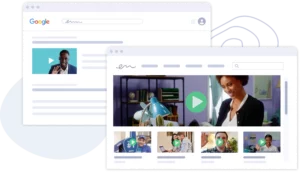 Video Hosting

Made Simple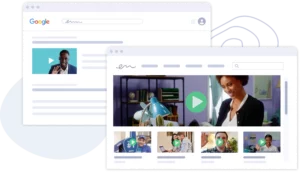 Vidyard Hosting makes it easy to leverage the power of video across your business.
Learn More
Contents
2.1 Increase Revenue
2.9 Rack Up Shares
Why Use Video Marketing?
Video is critical to your content strategy because it's snack-sized, memorable, and measurable. These aren't just the components that make it perfect for your audience who crave short, engaging pieces. They're also the features that make video every marketer's dream format.
Because it's incredibly visual, you can use video to teach complex concepts (what is content for if not to make things more straightforward for your audience?), to share stories about your customers, and to inspire marketing-specific actions (things like demos, trials, subscriptions, and more).
But beyond video's unique ability to convert like no other, the medium has become especially valuable to data-driven marketers. This is because you can track and measure audience engagement for video meaningfully.
You can tie your videos directly to the deals they're helping to influence and see which assets are resonating based on content engagement analytics. This is the reporting that marketing desperately needs to identify their most engaged leads faster and prove the value of game-changing initiatives.
10 Video Marketing Benefits to Power Your Business
Video marketing offers numerous benefits for businesses looking to grow their visibility, engage customers, boost conversions, and reach decision-makers quickly. Here are the top 10 video marketing benefits to consider when creating your own campaigns.
1. Increase Revenue
Video marketing can be used to create targeted ads and persuasive product or service videos that can help drive sales. By producing high-quality content that resonates with viewers, businesses can increase their revenue through increased brand awareness and engagement.
2. Influence Buying Decisions
Consumers often rely on visuals when deciding what products or services to buy. Viewers are more likely to remember information presented in video format than if it was introduced in text format. Videos can also demonstrate how a product or service works before purchasing, helping customers make an informed decision.
3. Gives Customers What They Want
By leveraging the power of video marketing, businesses can provide customers with the content they want, whether it's tutorials and onboarding resources, corporate videos highlighting company culture, or customer testimonials vouching for their product's effectiveness. Think of how you approach purchasing in your own day-to-day. You want to do your research and make an informed decision before talking to sales or processing that digital shopping cart.
4. Increase Web Traffic
Utilizing keywords related to the industry helps optimize videos for search engine algorithms, driving organic traffic from search engines like Google and YouTube and social media platforms such as TikTok, Facebook, X, and LinkedIn, where people actively search for relevant content related to their interests.
5. Get More Backlinks
Sharing videos on other websites is an effective way of building backlinks which boosts SEO rankings in SERPs (Search Engine Results Pages). This means that your website will appear higher up in search engine results pages which drives more traffic toward your website leading to more potential sales opportunities.
6. Boost Conversions
With engaging visuals and audio cues embedded into videos, you can quickly grab the attention of viewers who may not otherwise read long blocks of text. Additionally, by adding calls-to-action (CTAs) at strategic points throughout your video, you can encourage viewers to take specific actions, such as signing up for a newsletter or downloading an eBook directly from within the video.
7. Reach Decision Makers Quickly
Decision makers typically don't have time to read through long emails, so presenting them with a short informative video is much more effective for getting their attention and communicating key messages quickly. Plus, with robust video analytics, know precisely when identified viewers have watched and for how long.
8. Crush Email Sends
Adding video emails to your marketing campaigns can improve clickthrough and engagement rates. An eye-catching video thumbnail attached to a quick and engaging promo video could be the difference in standing out in overcrowded inboxes.
9. Rack Up Shares
People love watching captivating or hilarious videos, so giving them something worth sharing increases the chances of them not only watching the whole thing but also sharing it with their networks.
10. Create Memorable Experiences
Finally, turning creative ideas into video content will make you more memorable and resonate with your audiences. You'll leave a lasting impression on your viewers, help build relationships with new prospects, and strengthen relationships with existing customers.
It's Time to Maximize the Impact of Your Marketing with Video
Video marketing is a must-have for any successful marketing strategy. It's perfect for marketers (and sellers) to teach complex concepts, encourage marketing-specific actions, and accurately measure audience engagement. It can tell your brand's story better than any other medium, increase awareness, and win more customers.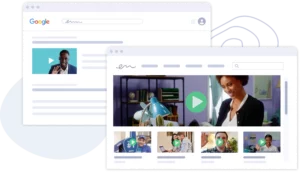 Video Hosting Made Simple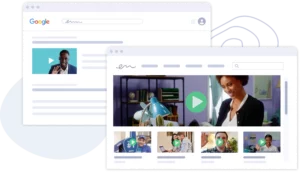 Vidyard Hosting makes it easy to leverage the power of video across your business.
Learn More
This post was originally published on December 3, 2018. It was updated on April 11, 2023.