October 20, 2021
·
6 min read
14 Benefits of Video Marketing for Small Businesses
There are many benefits of video marketing for small businesses including boosting sales, building brand reach, and increasing conversions. Learn how you can use video to your advantage.
Chances are, if you're a marketer for a small business, you wear many different hats. Some of them probably aren't even marketing hats. From product marketing to content creation, social posts to event presence—even sales—you name it: It's on you. So why would you want to and add video marketing on top of all that? The truth is, there are A LOT of benefits of video marketing for small businesses.
We've got 14 reasons why you should care about video—along with examples of how video can help your business and save you time and money in the long run.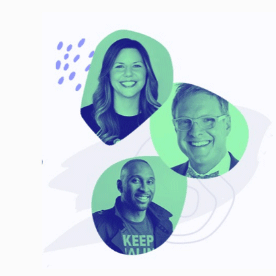 Fast Forward

Virtual Summit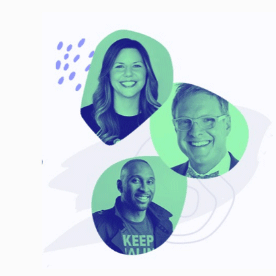 Learn from the best in the biz on how to humanize your sales and marketing outreach.
Watch Now
14 Benefits of Video Marketing for Small Businesses
1. Get on the Second-Largest Search Engine in the World
With over a billion users who watch over 250 million hours of video each day, YouTube is the second-largest search engine in the world. It's where your potential buyers are searching, so you'd better be there. "How-to" searches are among the most popular on YouTube, making educational content a strategic opportunity in this space.
Make the most of the platform by understanding how YouTube content fits into the buyers' journey.
2. Rank Higher in Search
While YouTube is the second largest search engine, Google is the first. Adding video to your website can increase your search rankings on Google (and others like Bing and Yahoo) significantly.
The truth is, adding a video to your website increases your chances of ranking on the first page of Google results. That makes it well worth the effort—especially when 75% of people never venture past that first page!
Learn From the Pros
Our Chief Video Strategist, Tyler Lessard, explains best practices for video SEO in this Vidyard Chalk Talks.
3. Increase the Understanding of Your Product
Products can be complex, and it's essential that your audience understands yours before they make a purchase. Lucky for you, website visitors are 64 to 85% more likely to purchase after watching a product video.
An explainer video gives you a chance to show—not just tell—potential customers what you're offering and how it solves a problem. It tops our list of recommended videos to make first for video marketing for small businesses. So if you don't have one yet, get on it!
Learn From the Pros
Product tour software company Chameleon's colorful graphic explainer video has racked up thousands of views, helping their audience better understand what they do.
4. Offer Your Consumers the Medium They Want
51.7% of global internet users aged 16 to 64 say that watching videos, TV shows and movies is their primary reason for using the internet! On top of that, 86% of people would like to see more video from brands. Out of these, 36% say they'd most like to see more educational/explainer video style content, with 14% wanting to see more product demos.
Without a doubt, video content is your audience's medium of choice. Knowing that, why not give the people what they want?
5. Boost Email Click-Throughs
Using video for outreach can help break through inboxes and earn 3x more responses.
The best way to include video in email is not to embed the video itself. This is because most email clients don't actually support inline playing of the video. Even if they do, large video files increase the likelihood of your email getting caught in spam filters. Instead, include a thumbnail from the video in the email body that users can click to view the video on your website or landing page. You can even set the player to autoplay for the fewest clicks.
See what it looks like in the screenshot below.
The Boost Your Emails Need
Start sending video emails today.
Sign Up Free
6. Build Stronger Brand Affiliation and Connection
Watching a video provides both audio and visual stimulation. The mere activation of both of these areas of the brain means that viewers are more engaged and therefore naturally develop stronger affiliation and interest in the content they're consuming.
This is crucial for a small business striving for brand recognition and dependent on loyal customers who keep coming back for more. In 2020, 94% of marketers reported that video converted the same or better than any other content form, which is worth building on!
7. Capitalize on the Low Barrier to Entry
A lot of small businesses (and businesses in general) think that there are high costs associated with video marketing for small businesses and a long list of equipment that makes getting into the video marketing space tricky. It turns out, that's all a myth.
Chances are, you have at least a 1080p camera in your pocket or on your desk right now. Maybe you're even reading this post on it.
All you actually need to get started is a smartphone and some basic editing software. Even something like iMovie can be all the muscle you need to get started. So play with the big kids—you're ready now!
8. Show Up More in Social Feeds
Social media feeds (Facebook and Instagram, specifically) do a great job of showing people what they want to see. Algorithms based on users' previous activity, make it hard for small businesses to be discovered by new audiences.
At the same time, in 2020, 93% of businesses landed a new customer because of a video on social media. People are more likely to stop mid-scroll for eye-catching video content and those interactions will always help your reach. So when it comes to social, video is your express route to being seen.
9. Create More Low-Touch Education Options
You don't have to have a big team to excel at video marketing for small businesses. So the more you can encourage your audience to educate and help themselves throughout the buyer's journey, the better.
By creating low-touch educational video content, you make it easier not only on the buyer but also on the sales team. (Especially if that sales team is you!)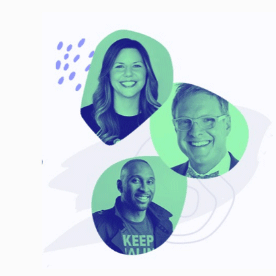 Fast Forward Virtual Summit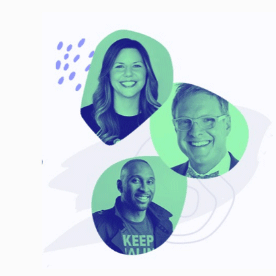 Learn from the best in the biz on how to humanize your sales and marketing outreach.
Watch Now
10. Tell a Stronger Story
There's no better way to reel buyers in than with a compelling story. And who better to share your story than your biggest advocates: Your customers? You can record customer testimonials in person, but that isn't always possible.
Luckily, there are other ways to make the magic happen. Getting a customer on video can be as simple (and as low-cost) as asking them to record themselves on their webcam or phone (use a free tool like the Vidyard Chrome extension to make it even easier). You can provide them with a list of possible questions to answer or let them run with things completely unscripted. Either way, it's powerful to have a real person explain in their own words why they love your product, your brand, and your team.
11. Increase Conversions
Conversion rates double for websites using video. Nearly 90% of sales professionals report the importance of accessing video viewing data to qualify leads, engage prospects, or influence deals. Your website is dying for a play button.
12. Track Potential Buyer Consumption Patterns
As video evolves, so do video metrics. It's now not only possible but easy to track how long people are watching and what areas of your video are being re-watched or skipped.
Wait: It gets better. If you're using a video platform that's integrated with your marketing automation platform (MAP), like Hubspot, you can see this info for each of your potential buyers. That means you can create targeted follow-ups and have a more accurate idea of who's interested and most likely to buy. If you have HubSpot, find out how to add video to your campaigns natively from your account.
13. Make Friends with Authentic Video Footage
While you may think that high-budget, Hollywood-style videos are the ultimate goal, they may not be. And your smaller budget might actually pay off.
Today, buyers want to connect with brands, and creating scrappy webcam videos or screen shares can start to build that relationship authentically. Free video creation tools like the Vidyard Chrome extension allow you to create, track and share these videos with three clicks of a button.
Get your CEO behind the camera and get going!
14. Get More 'Bang for Your Buck'
As many as 40% of consumers state that video increases the chance that they'll purchase a product on their mobile device.
Companies that use video are growing revenue 49% faster than those that don't. The numbers speak for themselves, but we'll say it anyway: You need video.
Now that you know why small businesses need video content, just remember that it's not only video that will help your business grow, it's how you use it. For more information on where you should be using video, check out our video buyer's journey infographic.
Put Your Videos to Work
Create, host, manage, and share your videos.
Sign Up Free
This post was originally published on June 20, 2019. It was updated on October 20, 2021.