October 27, 2019
·
11 min read
How to Use Video Distribution
When it comes to video distribution, there are tons of options: Embed them on websites, send them in emails, share them on social channels, and more.
You've got a strategy, you've made some videos, now what?
It's time to share your creations with the world.
If you're not releasing your video marketing content where your market already exists, or you don't make it easy for them to find, they're not going to see it.
In general, the more places you share your video, the better. However, there's no point in distributing video in locations your target prospects would never visit. Be strategic and selective, and always measure your results. And, once you've figured out what works, don't forget to include it in your video marketing strategy.
Video distribution is much easier if you get organized first. Drop all of your team's videos into a video library and organize them around topics that matter to your business, such as vertical, use case, or persona. This way, you'll be able to find a relevant video to launch on each video channel.
Below, you'll find some of the best places to let your video content live.
Contents
1.1 Website
1.2 Landing Pages
1.3 Email
1.4 Blog
2.1 YouTube
2.2 Facebook
2.3 LinkedIn
2.4 Instagram
2.5 Twitter
Watch and Learn
Want to learn about video distribution via video? We made a video version of this blog, so you can do precisely that!
In under eight minutes, Vidyard's Social Media Manager Charlie Rogers runs through the five most important channels you need to consider for your video sharing—and what you need to know about each one.
Online Video Distribution: The Most Important Channels
Website
It's an established fact that buyers go through nearly 70% of the buying process on their own before ever talking to sales. That makes it more important than ever to offer the information people want to see—such as guided product tours—on your website. You have to lead visitors, even if they think they're leading themselves.
Embedding videos on your website helps improve your site's ranking on search engine results pages (SERPs) by including video content. But it also increases the amount of time people spend on a page (known as dwell time), an important factor in search engine optimization (SEO).
This means that if your viewers click and watch a two-minute video, those two minutes will end up making your site content more sticky and thereby more likely to appear in Google search results. Cha-ching!
You can embed videos on relevant pages, like your homepage, about section, product pages, pricing section, and support channel. Your own site is a particularly good destination for evergreen content that will remain accurate, informative, and interesting over time (meaning less frequent updates and changes for you).
Learn From the Pros
Advocate marketing solution Influitive uses videos throughout their website to educate visitors about advocate marketing, explain their offering, and highlight happy customers.
Clicking on any of the three videos featured on their homepage (as shown in the screenshot below) opens the video in lightbox mode. This effect allows visitors to focus in on the video content by minimizing distractions.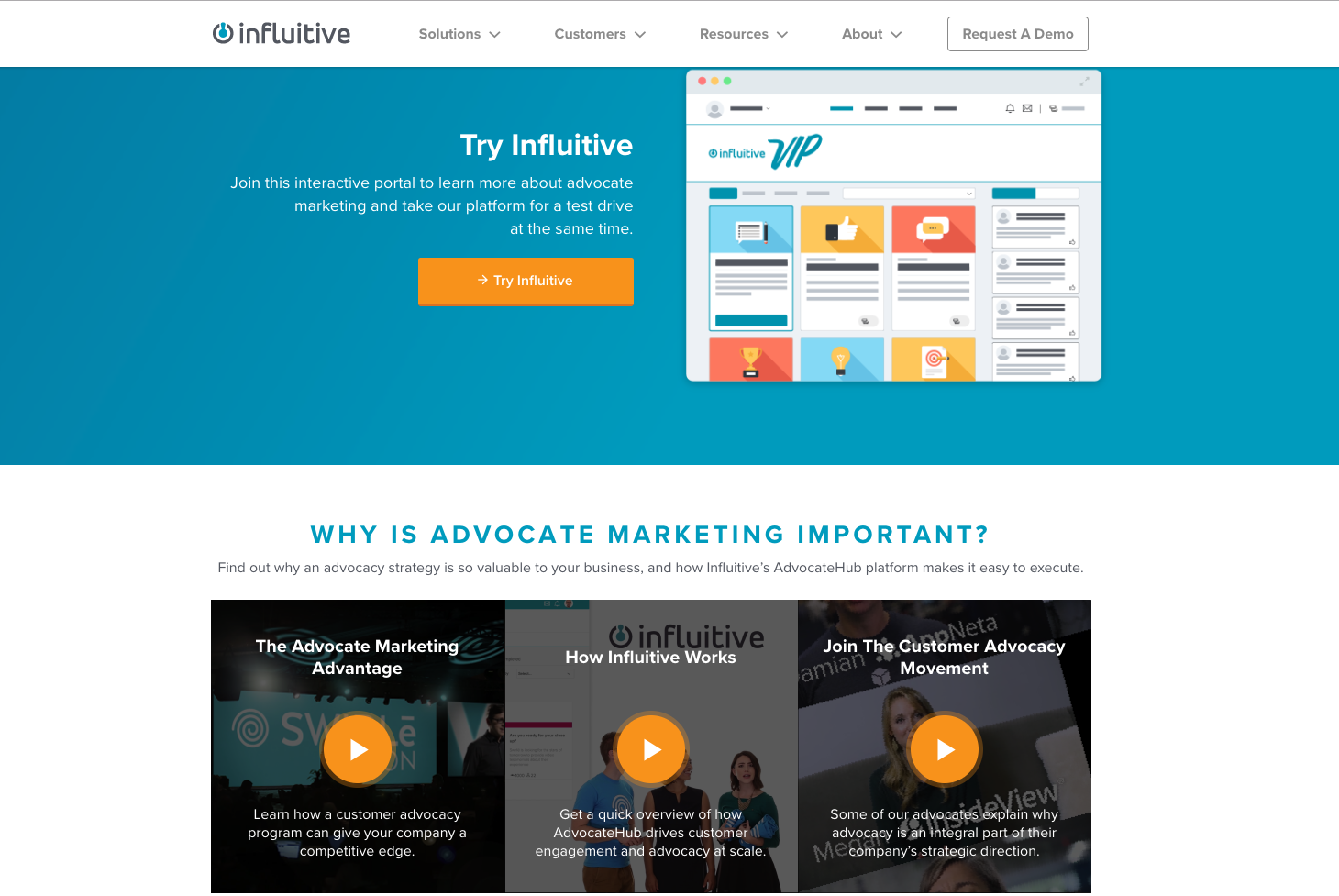 Leveraging a Video Library on Your Website
Depending on the volume of video content your team produces (and its purpose), you may also consider creating a video hub.
Video hubs allow you to keep all of your branded online video content in one place and provide a destination where visitors can explore your videos without getting lost in a cat video-filled vortex, the way they might on a certain popular video sharing platform (*cough* YouTube *cough*).
A dedicated video hub can do wonders for your brand's search strategy too. You can have each of your videos appear to search engines as individual web pages and if you properly optimize each asset (by adding things like detailed descriptions and tags), you can increase your likelihood of appearing in search results for the topics of the videos in your hub.
Uses for a Video Library
Video libraries and hubs are great for more than just marketing: Sales, customer service, HR, and internal communication teams can all find uses.
Some popular options include:
Storing videos for sales training
Offering a video self-help portal for customers
Creating an employee resource library
Locking sensitive videos so they can only be viewed internally
Landing Pages
If you run campaigns of any kind, then you likely already have landing pages. And, regardless of whether they're part of your own website or hosted on a separate platform, video content can improve them.
In addition to engaging visitors, embedding videos on your landing pages can help increase conversion by 86%, according to EyeView Digital.
But how do you do it? First off, make sure the video is relevant. In many cases, you'll want to create a video specifically for this page, as nothing hurts click-through rates like expecting something specific to the page you're visiting and getting something generic. Next, make sure it's the main attraction and isn't surrounded by excessive text or graphics. Lastly, make sure your video pushes people to take your landing page's desired action. After all, that's the point.
Best Practices for Using Video on Landing Pages
There are a lot of possibilities when it comes to using video on landing pages. These are a few of our favorite tips and tricks:
Place the video above the fold
Keep it short
Choose an engaging thumbnail
Experiment with GIF thumbnails to capture attention
Include a call to action (CTA) in the video
Don't be afraid to include other content as well (just make sure it supports the video experience, so it isn't jarring for visitors who consume both)
Use appropriate sizing—sometimes the video should jump out at you, other times, it needs to be one part of a larger experience
Email
Video email marketing has been increasing in popularity as an effective way to engage recipients and drive clicks.
Using the word "video" in an email subject line can increase open rates. And that's just the subject line.
Including a video in the actual body of an email can also increase click-through rates. And senders of automated emails decreased subscriber opt-outs by 75% when they incorporated videos into their emails, according to Eloqua.
The Boost Your Emails Need
Start sending video emails today.
Sign Up Free
Need we say more? An increase in engagement makes including video in an email a no-brainer. And your email marketing campaigns and email nurtures aren't the only places where video has that effect.
Multiply that by the number of employees at your organization, and… just think about the valuable real estate that exists in your team's email signatures!
At Vidyard, we offer employees a few different email signatures to choose from, ranging from a standard demo video signature (in the screenshot below) to ones promoting special events.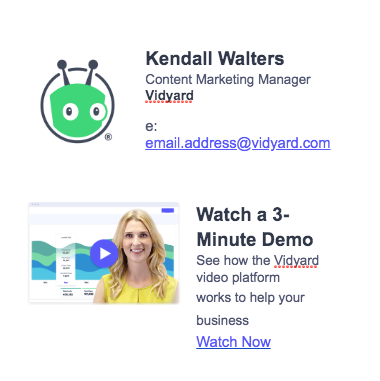 Best Practices for Using Video in Email
Learn more about how to use video in your email marketing campaigns. We've pulled a few of our favorite hot tips:
Embed a thumbnail in the email—for added interest, try using a looping GIF thumbnail
If you're directing viewers to a landing page, consider using autoplay on the video embedded there to reduce the number of clicks needed
Aim for between 30 and 90 seconds for top-of-funnel (

TOFU

) campaigns and anywhere from one to 30 minutes for recipients further down the funnel
Leverage calls to action (CTAs) in your videos to encourage action (whether that's viewing additional content, sharing the video on social, or filling out a form)
Use a marketing automation platform (MAP) to track and measure your video email campaigns
Blog
Videos help blogs for all the reasons they help websites: They're exciting, they're easier to consume than pages upon pages of text, and, if your videos are helpful, people look forward to them. At Vidyard, we frequently fill our own blog with all sorts of videos: How-to's, examples from industry leaders, and tips from experts.
If you use your blog for generating leads, prospects may even go there expecting videos.
Remember, search engines like Google can't understand what happens in your video. So if you want your posts to appear in searches, you must add descriptions. You might also consider repeating your video's key phrases in the text to make sure it gets indexed.
Learn From the Pros
Inbound marketing agency IMPACT regularly uses video on their blog.
In the screenshot below, you'll see an embedded video that blog contributor Liz Murphy created specifically for her post about getting comfortable on camera.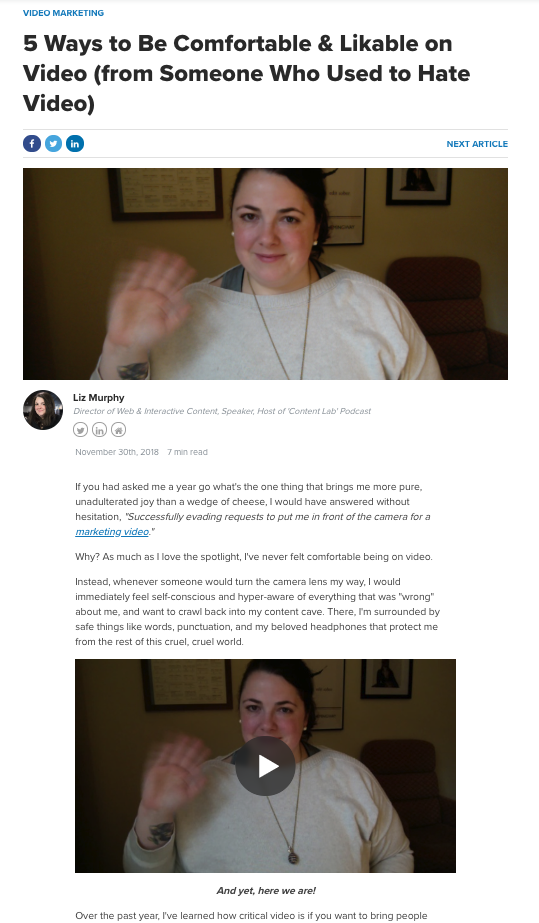 Other Video Channels Worth Thinking About
You'll want to consider distributing your videos in these locations as well:
Sales assets—reuse relevant video content where appropriate
Press releases—for a chance to have your videos included in online articles
Partner blogs—contact your industry partners and ask if they'll feature your videos on their blogs
Video advertising—video is a powerful option for paid social, video ads in Google Ads, and other advertising avenues
Put Your Videos to Work
Create, host, manage, and share your videos.
Sign Up Free
Social Video Distribution
Social networks are incredibly popular channels for video distribution. And while YouTube is probably the first thing that comes to mind, don't underestimate the power of other video channels like Facebook, LinkedIn, Instagram, Twitter, and even TikTok
Remember to tailor your content to each social network. While it appears that overall, people on social media prefer videos that are entertaining, funny, informative, or educational (according to HubSpot), each one has its own quirks, and viewers on each platform are there for slightly different reasons.
Share Linked Videos Across Social Media
Share unlimited video links on social.
Sign Up Free
YouTube
YouTube is one of the first spots you'll want to upload your video content. The video-sharing website has 2 billion users—a potential audience so large it's impossible to ignore.
But while it's great for search, YouTube alone is not a comprehensive video strategy. The whole platform is designed for people to get lost watching other people's recommended videos (the cat video vortex is real).
Your goal should be to use your YouTube channel to gain attention and drive viewers to your website. Once there, they can consume more of your brand content free from distraction. As a bonus, once they're back on your website, you'll be able to track their behavior with video engagement data.
Best Practices for Sharing a Video on YouTube
Be careful not to cannibalize your own search engine optimization (SEO) efforts when uploading to YouTube.
Using the same content in two different locations can harm SEO in both places. Consider changing your title and description slightly, so it doesn't perfectly match the video that's on your website.
Facebook
By the numbers alone, Facebook could be considered a video network to rival YouTube. Of its 2 billion users, nearly all watch video for 8 billion average daily views, reports TechCrunch.
Unlike YouTube, where every post is a video, videos on Facebook compete with posts that are text and images and so stand in great contrast. If anyone appears in your video, remember to tag them.
Learn From the Pros
Community-driven hospitality company Airbnb uses its Facebook page (along with many other social accounts) to share videos that introduce followers to their top-rated hosts, highlight unique experiences offered by hosts, provide travel tips, and more.
The majority of the videos Airbnb shares on Facebook include captions or other text so that viewers can understand the content and enjoy the story, even without turning on sound.
A whopping 95% of Facebook visits happen on mobile devices, so playing with different video orientations such as square and vertical could significantly impact performance.
Also, a word of caution: 85% of videos viewed on Facebook are viewed without sound. So if your video has dialogue, make sure it has captions.
Best Practices for Facebook Video
Facebook provides some advice for shooting video that works well on the platform:
Make your brand easy to identify from the outset using colors, themes, and imagery that connect back to it
Plan for silent playback
Make sure the framing, dimensions, and story work well on a small screen
Continually test and experiment to find out what works
LinkedIn
While it's always been possible to share video links on LinkedIn, the platform has really embraced video in the past few years and made it easier to record and share. You can upload videos from your browser, or you can record videos through LinkedIn's mobile app.
LinkedIn users love video. They share it 20x more than any other content type, according to LinkedIn's Video Product Manager. The platform also launched LinkedIn Live, a live streaming option, to select users early in 2019. Those using it to broadcast live content have seen 7x more reactions and 24x more comments than on standard video content.
Given LinkedIn's focus on professional networking, it's ideal for focusing on your area of expertise when shooting and sharing videos on the platform. If you write longer-form content on LinkedIn, consider embedding a video to keep readers engaged. You may also want to consider LinkedIn video ads, depending on your goals.
If people appear in your video, such as an interviewee, be sure to tag them in your post. And be sure to add topic hashtags, a recent LinkedIn addition that can give you greater reach. As with Facebook, many LinkedIn users prefer silent playback: 80% of LinkedIn users watch video with the sound off, and video designed for silent viewing is 70% more likely to be watched all the way through.
Best Practices for LinkedIn Video
LinkedIn offers some tips for sharing video on the platform:
Try to engage your audience in the first 10 seconds
Focus on visual storytelling by leveraging graphics, people, and text
Optimize video for silent viewing
Include subtitles or captions
Aim for under 30 seconds for brand awareness videos
Test out a longer video for

demand generation

goals
76% of viewers are more likely to watch a humorous video, so don't be afraid to be funny
Tailor your headline to your target audience—86% of LinkedIn users say they're more likely to watch a video if it's relevant to their job, while 75% say they care if it references their specific industry
Instagram
Perhaps the most visual of all social networks, Instagram has long been a popular place for video. So much so it's been placing more and more focus on video-based reels content.
Though there's a 60-second maximum length for videos posted in feeds, users and brands alike have gotten creative with the medium, often posting teaser videos that drive people back to their site to finish watching. And according to the network, video on Instagram is growing faster than any other type of content—at 80% year-over-year.
Instagram has also released different video formats and options. Users can post videos to disappearing Stories, and now there's IGTV, a new home for long-form vertical video, which allows hour-long videos.
Best Practices for Instagram Video
Videos play automatically when users scroll over them, though at first, they play on silent. Once a user turns on the sound for one video clip, it remains on until they either turn it off again or leave the app.
Because of these settings, we recommend not including any audio key to a user's understanding at the beginning of your video. Use enticing visuals to encourage users to tap for sound, but don't expect it.
Twitter
Don't let Twitter's lower-than-most user count (321 million) throw you off: It's a thriving social network and an important place to be if it's where your audience is. Within some niche business circles, people post upwards of 5x per day.
With 93% of Twitter interactions happening on mobile, it's a great place to reach people wherever they are, on the go.
Best Practices for Twitter Video
While you can't tag people in videos, you can tag them in the Tweet. Take full advantage of those and hashtags to appear in the feeds of the followers of individuals who appear in your video.
Hook viewers right away—Things happen fast on Twitter. You'll need to grab their attention in the first second or two.
Cut videos into bite-sized chunks—Attention spans on Twitter are typically lower. Don't be afraid to post the same content multiple times.
Repurpose existing content—Twitter is a great place to play teaser videos for longer-form content.
There are several options for getting your videos on Twitter: Record them from the app, upload them, or "go live" with a Twitter feature called Periscope, where a lack of polish is expected.
"In fact, genuine personality, impromptu ad-libbing, and a bit of scrappy creativity are what make Periscope streams so interesting," says the Twitter team.
Learn From the Pros
Multinational conglomerate General Electric makes frequent use of video on its Twitter account. The company often uses video to help educate followers about what they do, like in this Tweet about power generation.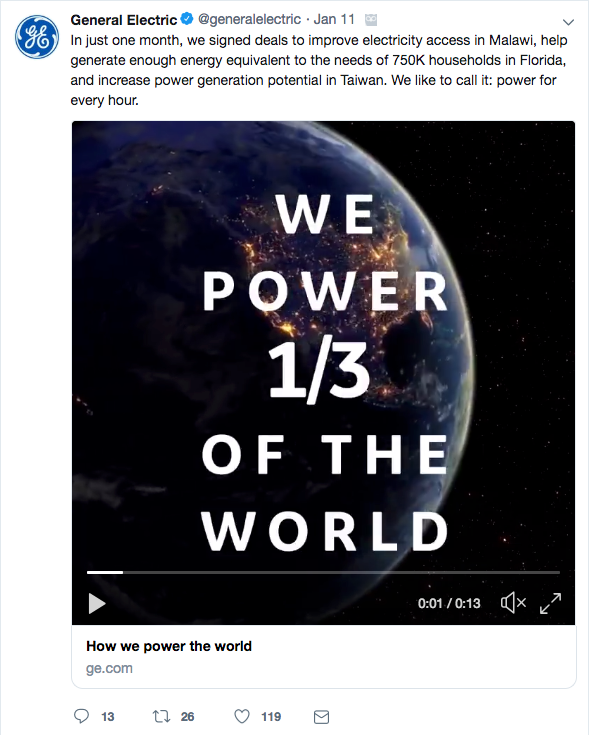 Distributing your videos through digital and social channels is a great way to ensure people see your content.
Put Your Videos to Work
Create, host, manage, and share your videos.
Sign Up Free
This post was originally published on December 3, 2018. It was updated on October 27, 2019.