February 4, 2014
How to use Video Marketing to Generate Leads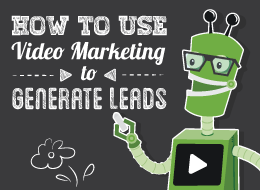 Even though you're using video assets, my bet is that you're not using them to their full potential.
You might be releasing top-of-funnel content to boost brand awareness, but you're probably looking for increasingly measurable ways to tie your videos to ROI.
Fortunately, you can use videos to solicit more information from potential customers when they are most engaged because videos make for great lead generation tools once they're optimized.
Here are some tips on how to turn your videos into lead generation machines:
Put Your Videos to Work Create, host, manage, and share your videos.
Sign Up Free
Gate Your Video Content
The simplest way to capture prospects' contact information is to set up an email gate. Asking viewers to enter their email address before gaining access to a video allows you to create a new lead as soon as a prospect expresses interest.
Similar to other pieces of content, this lead capture method is best suited to mid-funnel videos, as it does require some buy-in from the viewer. However, if you select a mid-funnel video to restrict access to, the email gate can act as a qualifier.
For example, if you have a trail of content leading to a detailed product demo, you could gate the demo to see how many viewers will volunteer their info having already received quality un-gated content beforehand. If you've piqued their interest with good top-of-funnel content in advance, you'll score high quality leads as they've watched a few videos before the mid-funnel email gate.
So, how can you add a video email gate?
One option is to create a landing page requiring an email address or other information prior to full version content on the redirect link. You may already use this method, but it's not always ideal as it can involve long page load times, more clicks, and the landing page is open to sharing and won't be private. Ultimately a generic email gate like this isn't great for video you might want to share securely with select customers or groups.
At Vidyard, we wanted to make lead generation easier, so we let you put optional email gates directly into your video assets. Here's what the start of your video looks like with an email gate: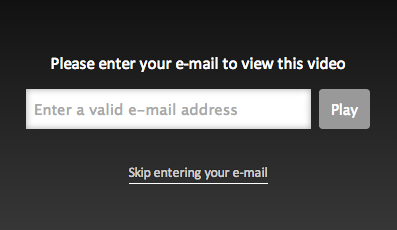 The email gate advantage
If you're working with a marketing automation platform like Marketo or Eloqua, a gate can be especially powerful because your MAP will automatically create a contact record for a lead once the viewer fills out the field, and it will track the rest of the lead's viewing behaviour once they have watched your video.
Unlike YouTube where you merely know how many people are watching, once you gate your video content, you'll be able to attach identity to viewership and nurture your leads more effectively based on their video viewing history.
If you notice Lily watched a series of four of your videos and opted to give her email address to view the case study video, then not only is she interested, but you should follow up with some targeted content matching her specific product interests right away.
Use strategic calls to action
As mentioned before, not every piece of content should have an email gate. If your main objective is full visibility, then you want to make the viewing experience as easy-access as possible, which is where video calls to action fit in.
A well-placed CTA can prompt viewers to engage with other content, or fill in a contact form to give you more insight into what they're looking for and it's all a bit less direct than an email gate.
Try YouTube Annotations
A good free way to prompt viewers to take action is with YouTube annotations. YouTube allows you to set text-based annotations anywhere in your video, and you can use these to get viewers to subscribe to your channel, or link them to other content you want them to view.
For example, if you discuss a specific service or concept in your YouTube video, you could use an annotation to link to a landing page with a gated white paper that dives deeper into this topic. Your video can work as a sort of trailer for this expanded, gated content for lead gen. It's win-win.
Pop-out CTAs and contact forms
While YouTube annotations are easy to set up, they are still only text and links. If you want to get even more direct data from your viewers using a CTA, you'll need to look at including form fields directly within your video call to action.
We used both a pop-out CTA and an end-of-video contact form in a recent campaign for Eloqua Experience – see how this works by watching until the very end of this video.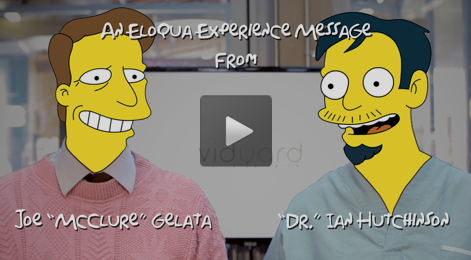 Ultimately, forms like the one below push your collected leads into your MAP or CRM and you're able to follow up more effectively whether that be with more nurture content, or a call from your sales team.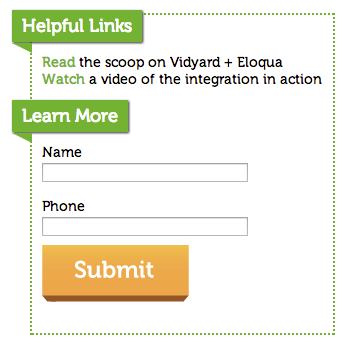 Show Me The Data!
Here at Vidyard we split tested whether adding a call-to-action to the end of our home page video would affect how prospective customers signed up for trial accounts. Our findings? Viewers who clicked on the CTA at the end of our video converted to trials at a rate of 21% versus 1% of viewers who didn't get the CTA.
Adding an immediate CTA to the end of your video ensures that engaged prospects who watch this far are given an immediate opportunity to act on their initial impression, eliminating any missed opportunity.
Ultimately, you don't want your videos to fade to black, and where possible, you'll want to gate videos to collect as much information as you can without being annoying (the more fields there are, the less likely viewers will bother).
Try out some of these tips to generate leads with your next video and see how you do!
Put Your Videos to Work Create, host, manage, and share your videos.
Sign Up Free