July 22, 2015
5 Things you Need to Consider when Building a Marketing Tech Stack
A marketing tech stack may not be as delectable as a warm pile of soft and fluffy, freshly cooked pancakes, dripping with butter and bathed in sweet syrup. Those plump blueberries, delicately chocolate-dipped strawberries, and … oh, whoops – this is not a post about pancakes. But the truth is, a well-put together marketing tech stack is almost as good as this mouth-watering pancake stack, in a different way.
A well-built marketing tech stack can save the company money and time, and gain the company more efficiencies, more leads, faster conversion rates, better analytical insights … and more.
By definition, a marketing tech stack is the collection of tools used by marketers to collect,  organize, and utilize data surrounding customer behavior and marketing activities. And in less jargon-y terms, it's a combination of (generally) software that helps marketers optimize processes throughout the buying cycle.
From social management to email automation and through-the-funnel analytics, many organizations have a plethora of tools making up their marketing tech stack. In fact, according to Radius, the average marketing team has more than 17 tools in their stack.
That's a lot of tech to manage on one functional team, but this fragmentation isn't surprising given the growth of the MarTech market. In just 1 year, the number of marketing technology companies playing in the industry grew from 947 in 2014 to 1,876 in 2015. It now looks something like this: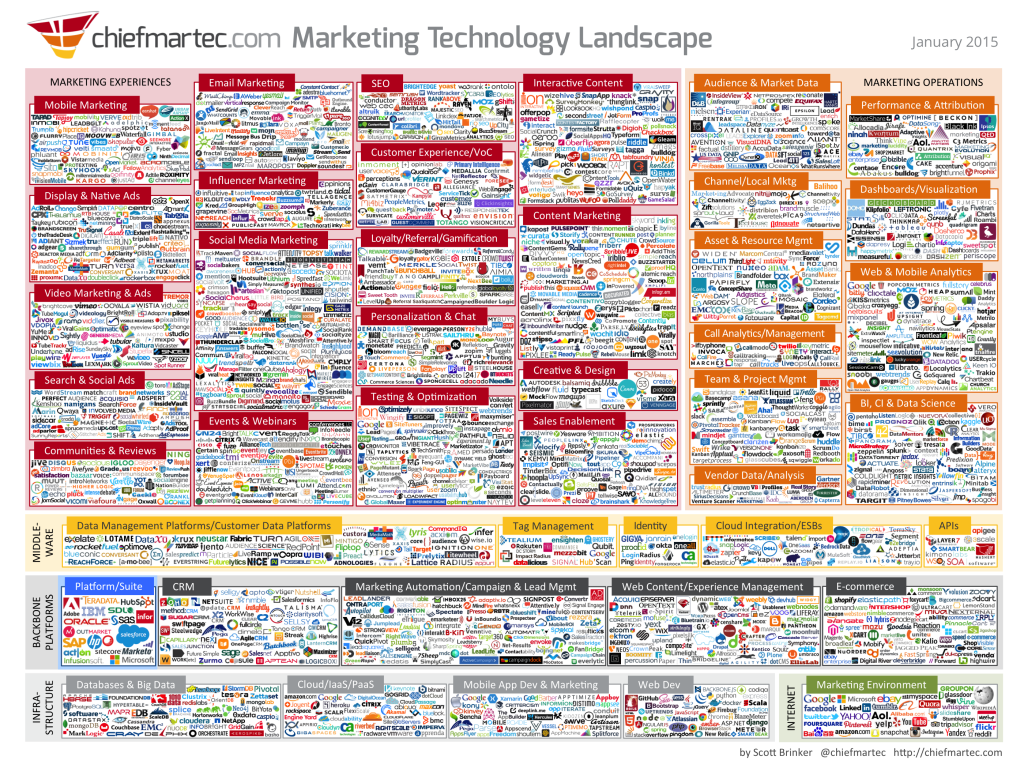 Umm … ah! There's certainly no shortage of choice, that's for sure!
Put Your Videos to Work Create, host, manage, and share your videos.
Sign Up Free
Getting a Handle on Your Own Stack
When you're faced with so many options, sometimes it can be helpful to have a framework or basis of which to make these decisions. Check out the 5 key components listed below to help you build a productive, organized, and value-adding marketing tech stack of your own.
1. It gets the job you need done, done
It's easy to get caught up in the capability of all of these tools. But at the end of the day, you're 'hiring' them to do a job for you. Make sure you're clear about what you want to accomplish with these tools and what the major pain point or opportunity is for the business before venturing out into the world of features and endless possibilities.
On the same note, make sure your solution isn't too heavy. The lighter and slimmer your tech stack, the more likely it is to be flexible and adaptable to your changing processes and the less likely it is to hold you back (as long as it's meeting your basic needs). … Just make sure it's scalable for when you do need some of that extra support (see #5).
2. There's exceptional support and customization options
It's rare that you'll find two identical marketing stacks and even more rare to find similar tech stacks in conjunction with the same usage and marketing team processes. As a result, the option for individual support and customization can really save you.
3. It's easy to measure
You're adopting this set of technology for a reason. And it's not likely to add another line to your budget or to complicate the setup for your IT team. Chances are, your goals for technology implementation fall somewhere along the lines of improving team productivity, increasing funnel size, or speeding up funnel velocity. And at the end of it all, the benefit must outweigh the cost. So before you invest in any component of a tech stack, determine how you will measure its impact and if the technology is set up to do so.
4. There's alignment throughout the stack
Remember the last time you played Jenga? As you slowly pulled out that last block, it's that one that made the whole stack crumble. That's what happens if you're missing key components of your tech stack, or if segments of your stack don't fit well with other components.
If each building block isn't supporting the other, then there's really no point to the whole stack, is there? So make sure that each piece you add can support other components. Is the data transferrable? Are you able to track the same customer data throughout all platforms – and track it back to that customer, specifically? Can you share files? When you make a change in one location, are other tools automatically updated?
5. It's scalable
Sure, you're implementing a few components of your stack today, but you want to set yourself and your team up for long-term success. These tools are supposed to, in part, be streamlining processes, so make sure you're asking yourself the questions as to whether or not this current solution will scale with you as you grow.
Want to learn more about building the ultimate marketing tech stack? Join us for one, a few, or all of our 5 days of MarTech from August 10-14.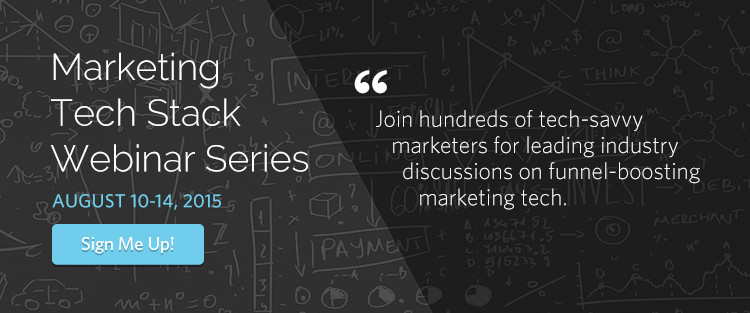 Put Your Videos to Work Create, host, manage, and share your videos.
Sign Up Free