September 26, 2017
Vidyard Extends Video Messaging Leadership with the Release of Vidyard GoVideo
Vidyard expands capabilities of free video messaging app for business professionals, changes name from ViewedIt to Vidyard GoVideo to reflect bolder vision.
KITCHENER,Ontario – Sept 26, 2017 – Vidyard, the leading provider of new generation video platforms for business, today announced new capabilities, a new name and a bolder vision for its revolutionary video messaging app. Now named Vidyard GoVideo, the free application formerly called ViewedIt makes it easier than ever for business professionals, organizations and third-party app developers to create, share and track personal videos from within the tools they use every day.
"Video is the most powerful way to connect and communicate, but it's still too difficult and largely inaccessible for the average business professional," says Michael Litt, co-founder and CEO at Vidyard. "With Vidyard GoVideo, we're changing that. We're making it easy for anyone to capture and share personal video messages and screen recordings from within their application of choice. We're helping end users and businesses go video in a way that simply connects with how they do business today."
With more than 130,000 users in over 100 countries, Vidyard GoVideo has been embraced by business professionals as an easy way to record, share and track personal video messages and screen recordings. Business users have embraced video as a better way to connect with prospects, customers, partners and colleagues, just like they have done in their personal lives with apps like Facebook, Instagram and YouTube. With new capabilities announced today, Vidyard GoVideo makes it even easier for individuals to leverage video in their professional lives, and for application providers to embed video capabilities within their existing solutions.
Expanded Capabilities for Video Messaging and Sharing
Vidyard GoVideo now enables anyone to add video communications to their day-to-day business activities with the following capabilities:
Create

personal video messages and screen captures with one click

Optimize

viewership with engaging animated GIF thumbnail images

Share

videos instantly via Gmail, Twitter, Facebook, LinkedIn and now YouTube

Track

audience engagement with video view notifications
With Vidyard GoVideo Enterprise, businesses can unlock new capabilities to boost the performance of sales, support, marketing and other teams across the business:
Empower

employees with instant access to shared libraries of video content

Track

video viewing insights centrally within common marketing and sales tools

Enhance

videos with custom forms and overlay annotations to drive action

Secure

internal videos with access controls and enterprise-grade security

Leverage

the Vidyard GoVideo partner ecosystem to easily record and share videos from within a variety of other business apps
Powering Video Experiences Across Business Applications
Today, Vidyard has also introduced the Vidyard GoVideo partner ecosystem program, a growing community of SaaS technology vendors who are adding video capture, sharing and tracking capabilities to their own applications powered by Vidyard GoVideo. Sales, marketing and customer experience technology leaders including Bolstra, Drift, Engagio, Gainsight, Influitive, Madison Logic, SalesLoft, Uberflip and WorkRamp will leverage Vidyard GoVideo to enable their own users to go video within their applications.
"With Vidyard's GoVideo Partner Ecosystem, we're delivering on our mission to make it easy for anyone in business to leverage video in a way that is simple, integrated and connected," says Steve Johnson, president, and COO at Vidyard. "We believe this is just the beginning of what's possible when it comes to integrating video within the workplace, so we invite those interested in learning about partnership opportunities with us to connect with our team today."
To learn about partnership opportunities or to apply to Vidyard's GoVideo Partner Ecosystem program, send an email to govideopartners@vidyard.com.
How are People Using Vidyard GoVideo? Let Us Count the Ways…
Earlier this summer, to celebrate its 100,000th user, Vidyard released an inspired list of 50 ways that the community is using personal video messaging to transform the way they communicate. With its new partner community, Vidyard expects to see video messaging become a seamless part of hundreds of different business apps to make video simply a part of how we do business.
"Vidyard is constantly championing a movement for all businesses to go video. Whether it's helping businesses use video for more personalized communications, or enabling applications to bring video experiences to their customers, they make embracing video easy for everyone," says Jill Rowley, chief strategist and startup advisor.
More Information:
Get Vidyard GoVideo

(for free):

www.vidyard.com/govideo

Apply Now:

To learn about partnership opportunities or to apply to Vidyard's GoVideo Partner Ecosystem program, send an email to

govideopartners@vidyard.com

with your name, title, email, description of your product/technology, how many end users do you have approximately, and your development timeline.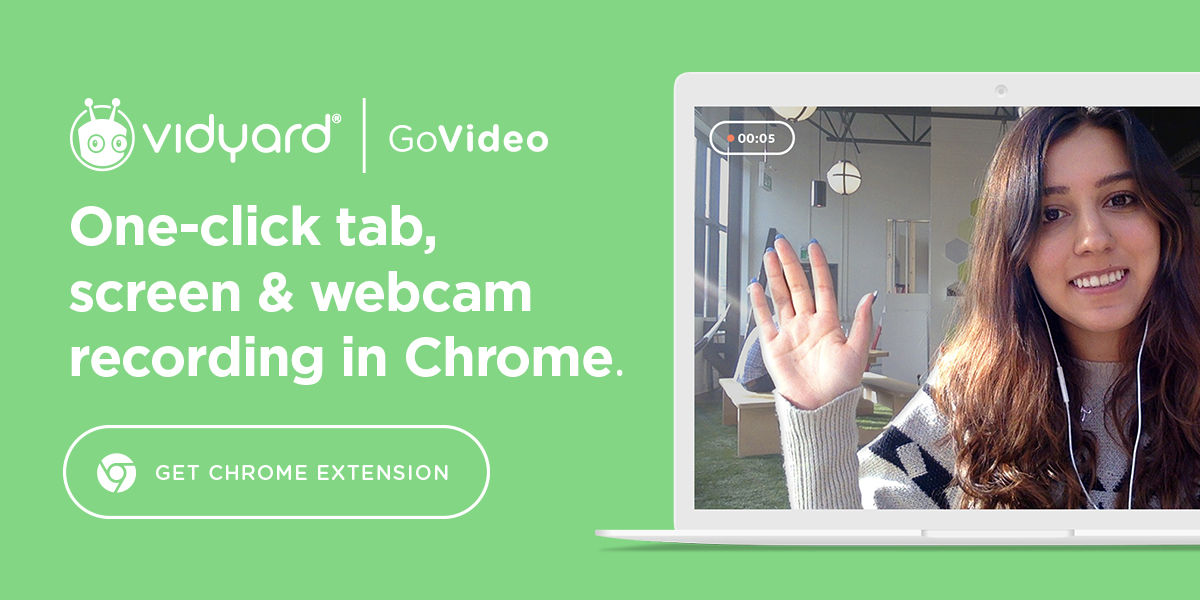 About Vidyard
Vidyard is the new generation video platform for business that helps organizations drive more revenue through the use of online video. Going beyond video hosting and management, Vidyard helps businesses drive greater engagement in their video content, track the viewing activities of each individual viewer, and turn those views into action. Global leaders such as Honeywell, McKesson, Lenovo, LinkedIn, Cision, Citibank, MongoDB and Sharp rely on Vidyard to power their video content strategies and turn viewers into customers.
Media Contact:
Sandy Pell, Senior Manager, Corporate Communications.Vidyard. Email:press@vidyard.com